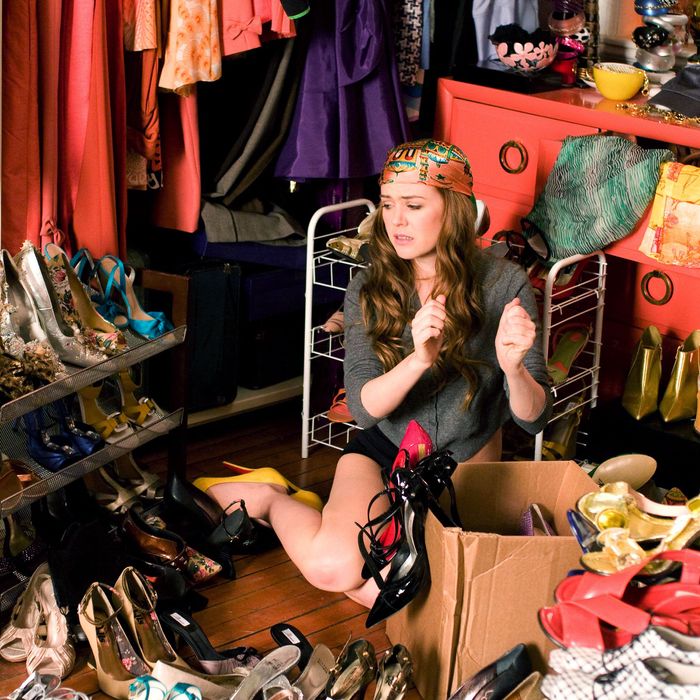 Photo: Touchstone/Kobal/Shutterstock
Whether you're a sneakerhead or a Manolo devotee, you've likely grappled with the question of how to store all of your precious shoes in a cramped city apartment. Keeping them in their flimsy boxes just won't do, and a jumble of mismatched pairs cluttering your entryway isn't a great look, either. To find the best storage solutions that will also keep your shoes in tip-top shape, we asked 18 professional organizers for their recommendations. To help you choose from among the experts' suggestions, we've organized the products based on their consensus but also on how easy they are to incorporate into any closet or shelf you may have. So we're starting with smaller solutions that can make a big difference in organizing an existing closet, then moving on to larger shoe-storage options like cubbies, over-the-door racks, and even furniture.
Best easy-to-incorporate shoe organizers
Photo: Courtesy of Retailer
These clear plastic shoeboxes from the Container Store are the most recommended shoe-storage solution by our organization experts. They're easy enough to put in a closet or on a shelf, and they'll hold up far better than the boxes shoes come in, according to one pro. "We never encourage clients to keep shoes in their original shoeboxes," says Jamie Hord of Horderly Professional Organizing. "Clear, uniform shoeboxes let you see exactly what you have, maximize your space, and give you an aesthetic look in your closet that makes it impossible to mess up." The boxes, which come in standard, large, and tall sizes (for heels), work for shoes that are worn regularly as well as ones that need to be stored for the off-season. Plus, they're stackable, which helps "to mimic creating shelves in some way," explains Amanda Wiss, the founder of Urban Clarity. They're easy to label and, as Jeni Aron of Clutter Cowgirl notes, "If you're done with a pair of shoes, you can use the box for something else not even shoe related (bathroom, kitchen, pet stuff, meds, etc.)."
Photo: Courtesy of Retailer
Also from the Container Store, these boxes that can each hold two pairs of shoes came recommended by three of our experts. "You don't have to unstack them to get the pair of shoes you want," Emily Matles of Emagine Simplicity says of their appeal. Hord agrees: "These create an exact home for every shoe with super-easy access and give your closet a beautiful yet functional aesthetic." Jessica Decker of Become Organized is their third fan, noting that each box's "closed drawers keep shoes protected from dust, while small ventilation holes allow shoes to breathe."
Allison Dunn, the founder of Neat Rules, told us about these clear boxes made for storing shoes with heels. They come in three sizes — low, mid, and high — meaning you can store sandals and flip-flops in the smallest ones and stilettos in the tallest without worrying about any space going to waste. Like the clear boxes at the top of this list, Dunn notes that these "are stackable so you can see your shoes easily."
Photo: Courtesy of Retailer
To squeeze even more space out of your shelves, Decker suggests trying these Shoe Slotz, which "increase storage space and prevent shoes from getting damaged sitting on top of each other." They're similar to ones that Strategist contributor Alison Freer recommends and that she says are "like individual, two-story condos for every single pair of footwear." She continues, "As everyone on the island of Manhattan knows, the Golden Rule of creating more space is always to go up rather than out, and because the Shoe Slotz allow me to stack two shoes on top of each other within the same footprint, I essentially halve the amount of space each pair takes up on my shoe racks." Natalie Schrier, the president and founder of Cut the Clutter, uses something similar, saying, "They are a game-changer for sandals and flats because they literally double the amount of shoes you can store on a flat rack or on the floor." Schrier also told us she adds rubber bumpers to the bottoms of hers to keep them from sliding around on a shelf.
Photo: Courtesy of Retailer
Storing boots — especially tall ones — is trickier because of their high shafts and how much real estate they take up. As Apartment Jeanie's Jeanie Engelbach notes, boots are often made of "supple leather or suedes" that require a little extra TLC to stay fresh. That's why, if you have extra space in your closet, Engelbach and Anna Bauer of Sorted by Anna suggest hanging boots up with these handy clip hangers, which keep them stored in a way that doesn't mess too much with their construction.