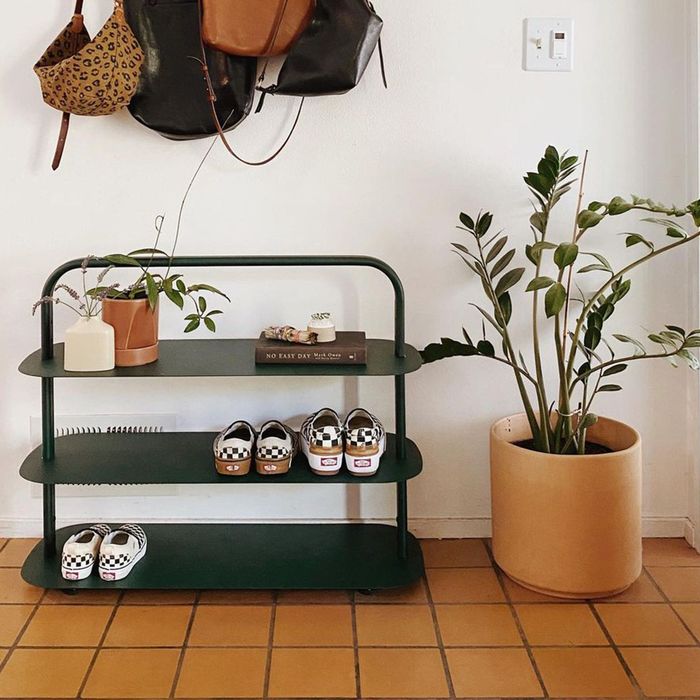 Photo: Courtesy of retailer
Take it from a shoe obsessive who color-codes her collection: The more pairs you own, the harder it becomes to store them — so much so that you might find limited-edition Stan Smiths in a pile at the bottom of the closet, Prada loafers in the entryway, and buffed-up Docs under the bed. A shoe organizer is the smartest solution because having all your kicks in one dedicated space means more time wearing them and less time trying to find them. But the best for you depends very much on the size of your collection and space. And then there's the design element — a plastic underbed container may feel too sophomoric, while a mismatched wood rack could clash with the rest of your furniture.
To find the best shoe-storage solutions, we put together a panel of professional organizers and got their recommendations, which include ones they've used on the job and in their own homes. Below, you'll find their favorites, from shelves for muddy boots in mudrooms to colorful racks for the aesthetically minded.
Best overall shoe organizer | Best over-the-door shoe rack | Best shoe organizer for closets | Best stackable shoe organizer | Best under-the-bed shoe organizer | Best overall shoe rack | Best-looking shoe rack | Best shoe rack with wheels | Best shoe cubby | Best shoe cubby for small spaces | Best mudroom shoe storage | Best shoe organizer for boots | Best shoe storage bench | Best wall-mounted shoe storage | Best shoe cabinet for entryways | Best shoe-storage solution add-on
What we're looking for
Storage space: This might be an obvious point, but most organizers will list how many shoes they can actually accommodate. That's important for two reasons: You'll know if your current collection will fit and if you have space to add to it down the road. The official number is important, but there can be an unofficial number: Some of our organizers let us in on their tricks to make a rack hold even more shoes, which we've detailed whenever possible. If you go for a full-on furniture piece that doubles as an organizer, we've included an approximate tally or range instead.
Form and functionality: Is an organizer stackable? Does it have shelves? If it's meant to go over the door, are there plastic partitions between each pair? When it comes to shoe storage, how an organizer is designed is important to consider. An open rack won't be as protective against dust if that's a top concern. An in-closet option might mean each shoe in a pair is pressed tightly together. Any standout design features are noted within each recommendation from our organizers.
Degree of difficulty: More storage space is better — sort of. A larger storage solution (a cubby, for example) will fix the problem of shoes everywhere, but it'll be bulkier in a room or in a U-Haul when it's time to move. Meanwhile, a smaller solution like a mini boot rack can still make a big difference in an existing closet. Dimensions are helpful, but it can be difficult to actually imagine something in a room. That's why we rated the picks below as either easy, medium, or hard based on how difficult each is to incorporate into an existing space.
Best overall shoe organizer
Photo: Courtesy of Retailer
24 pairs | Clear front pockets and open sides | Easy
By far, our experts were the most enthusiastic about over-the-door organizers, which offer a more out-of-the-way system that won't overwhelm a closet or take up prime floor real estate, making these practical for spaces big and small.
The Container Store's 24-pocket organizer comes recommended by three pros, earning the title of the most mentioned over-the-door organizer. According to Nicole Abramovici of Genius Organizing, while many over-the-door organizers can accommodate only 12 pairs, "this gem has 24 pockets and fits one pair per pocket. Life-changing!" Plus the surprisingly spacious pockets can hold heels and chunkier shoes, according to Natalie Schrier, founder of Cut the Clutter. And you can easily zhuzh the organizer up with decorative nails or hooks to mount it to a door, suggests professional organizer Ann Sullivan.
Best over-the-door shoe rack
36 pairs | 12 tiers with a white resin finish | Medium
If you dream of a Devil Wears Prada–esque shoe closet, this over-the-door solution is a good place to start. Home organizer Caroline Solomon recommends it for those with lots of footwear and nowhere to put it. "The beauty of this setup is that it