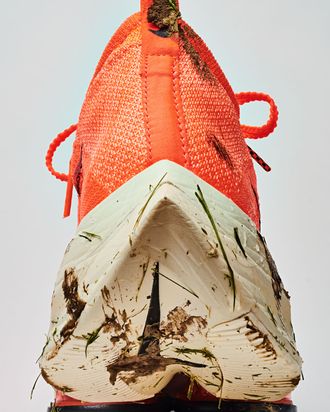 If you were fitted for running shoes sometime in the past decade, you likely ran on a treadmill as a salesperson watched for signs of overpronation, an excessive inward rolling of the foot upon landing that's often linked to low or flat arches. Based on your gait, you were probably recommended a stability shoe (which has a dense piece of foam, called a medial post, underneath the arch to prevent your foot from collapsing inward) if you did overpronate or a neutral shoe (without a medial post) if not. The process was based on the thought that uncorrected overpronation would lead to injuries, but two large-scale studies have failed to prove that hypothesis. Among the thousands of participants in these studies, there was no link between injury risk and wearing the "correct" type of shoe.
So how should you choose your running shoes? Benno Nigg, a professor emeritus of kinesiology at the University of Calgary, says it all comes down to one word: comfort. One study has shown that participants who ran in footwear that they ranked the most comfortable experienced far fewer injuries than those who ran in a control shoe. "Everybody's got their own preferred movement pathway, and their footwear should support that," says Ben Langley, a lecturer in sport and exercise biomechanics at Edge Hill University in the U.K. "Something that you find more comfortable should be enabling you to move in that way."
Comfort can be hard to quantify, though. JJ Hannigan, an assistant professor in the physical-therapy doctorate program at Oregon State University-Cascades, explains that along with getting a shoe that fits right (you should have a full thumb's width between the tip of your big toe and the end of the shoe because feet swell and tend to move forward in a shoe as you run), you'll want to pay attention to how a shoe feels when you're actually running. The right shoe should feel like an extension of your foot, allowing you to run naturally and not forcing you into a certain posture or form. Watch out for any spots where the shoe pokes or rubs up against your foot. Any mild discomfort will only be amplified as you take thousands of steps on your run.
You'll also want to think about the type of running you'll be doing in the shoe. For easy, long-distance, recovery-type runs, you might prefer something with marshmallowlike cushioning in the midsole. For tempo runs or intervals at a fast clip, consider something a bit firmer — with lighter, bouncier foam. And if you're looking for something to help you shave a few seconds off your 5K time, there are performance shoes, which come decked out with propelling carbon-fiber plates and extra-responsive foam. Use the categories below to determine which type of shoe you're looking for and then try on a few within that category to see which one is most comfortable for you. So if you're shopping online, make sure you choose a retailer with a generous return policy.
Start here if you'd rather not think too much about your running shoes: Not too soft, not too firm, these reliable workhorses will suit most runners, whether you're hopping on the treadmill a few times per week or training for a marathon.
The Pegasus has been a dependable part of Nike's running lineup ever since it was introduced nearly four decades ago. Its cushioning comes from a generous layer of Nike's proprietary React foam in the midsole. Olivia Young, founder and owner of the Soho fitness studio Box + Flow, runs in the Pegasus and says, "They have just enough support, are balanced between soft and structured, and allow me to run like the wind."
Like the Pegasus, the Asics Gel-Cumulus has been around for decades and continues to be a favorite among runners. Along with lightweight foam, the Gel-Cumulus features a pod of Asics's signature gel in the heel for shock absorption. If you tend to land on your heel (most people do) and like the slightly firmer feel of gel (compared to straight-up foam), it's likely a good match.
While Asics shoes stand out for their gel components, Mizuno shoes can be easily identified by their wave plates. Inserted into the mid-foot underneath the heel, the wave plate is designed to distribute impact shock throughout the foot. Older versions were made from hard plastic, but today's plates are composed of Pebax, a thermoplastic elastomer that's become increasingly popular in running shoes because it's exceptionally light and helps with energy return.
Hannigan says one study has shown that some runners who overpronate do have a lower risk of injury when running in stability shoes — even if they were overprescribed in the past. If you know you like a shoe with this type of structure, the Brooks Adrenaline features GuideRails, or extra support on both edges of the shoe to keep the foot aligned without forcing it in one particular direction. It's far less restrictive than stability shoes of the past, with a solid amount of ethylene-vinyl-acetate foam cushioning.
Often compared to pillows or marshmallows, these ultracushioned shoes have a soft feel suitable for everyday jogs or tackling long distances at an easy pace. Don't let their chunky looks fool you: These shoes use innovative types of foam that keep them lightweight.