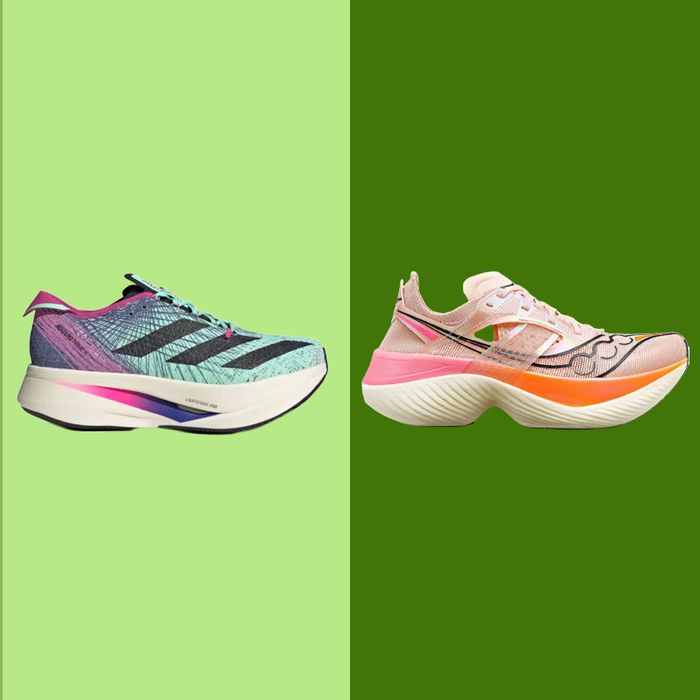 Photo-Illustration: The Strategist; Photos: Retailers
Running is hard. Who could blame you for wanting a little help? I know I do, and one of the easiest ways to get it is with what are called super shoes. These running sneakers are designed from the ground up to help you move fast, embedding rigid plates — mostly made from carbon fiber — within a substantial chunk of super-lightweight, bouncy foam that propels you forward with less effort than it would take in traditional running shoes (which tend to be designed to increase your stability and comfort, not your speed).
Out of the 13 marathons I've run, I've worn super shoes in almost half. And, for the most part, I keep getting faster. As a certified running coach, I know that's mostly because I'm consistently accumulating more experience — and training smarter. But I don't think it's a coincidence that all those fast times were run in super shoes, either.
When the first super shoe — the Nike Vaporfly 4% — was introduced in 2017, it lowered the amount of energy your body needs to sustain a certain pace by an average of 4 percent, a study published in the journal Sports Medicine determined. The exact percentage depends on your pace, more recent research in The International Journal of Sports Physiology and Performance found, but shoe buyers don't care: 100 percent of super-shoe owners who have raced wearing their shoes believe they helped their performance, according to a 2023 report by manufacturing company ARRIS (that doesn't include professional runners; some of these shoes, based on their design, may be illegal for competition). I'm a believer, too.
The benefits seem to justify the price tags, which top out at $300, compared to $110 for your average running shoe. With that kind of investment, I don't just reserve these for race day. Not only do super shoes increase your speed, they allow for better efficiency, a 2019 study in Sports Medicine found — which means your legs won't feel so trashed, no matter how fast you're going.
In the past, once I raced in a pair, I'd then wear them to better protect my legs during long runs or hard workouts. Now, brands are starting to introduce super shoes specifically designed for training, not racing. But should you wear super shoes for every run? That's kind of up in the air, since research on the negative effects is limited — although one recent study published in Sports Medicine found that carbon-plated shoes may be causing an increase in bone stress injuries. I don't wear them on every run, but that's more because I know (and research confirms) that alternating between two or more shoes is better for injury prevention — not because wearing this type of shoe puts me at risk. Plus, I want to really feel that super-shoe magic on race day.
For me — and a lot of runners — super shoes make running feel better and build confidence. Here's a rundown of my personal favorites, whether you prefer marathons or shorter distances or just want a better walking shoe.
The original super shoe was the Nike Vaporfly 4%. For that shoe, the brand created a new foam called ZoomX, which it claimed weighed less and returned more energy than any foam compound before it. The 2023 iteration still has that ZoomX midsole and a full-length carbon-fiber plate, but a thinner outsole allowed Nike to pack in a few more millimeters of foam without breaking a rule set by the World Athletic Organization (which governs international running sports) that a shoe's stack height — a.k.a. the amount of material between your foot and the ground — measure under 40 millimeters. It's one of my go-to speed workout shoes; at 5.3 ounces, it feels impossibly light, with a redesigned upper that fits better than past models, and the amount of energy return you get with each step makes it almost hard to slow yourself down.
The "illegal" 50-millimeter stack height on the Prime X would get pro runners disqualified, but, fortunately, I'm an amateur runner who can take advantage of this shoe's trampoline-esque effects (and did, in the 2022 Berlin Marathon). What creates that height is three layers of the brand's Lightstrike Pro foam, which cushion your muscles and joints against ground impact and encase a carbon plate at the heel and five carbon-infused EnergyRods under the forefoot, mimicking the metatarsal bones to add extra oomph to every step. The threaded upper is reinforced at the heel, midfoot, and forefoot for stability — which you'll need, because teetering around on these does take a few runs to get used to. But once you do, you'll feel like you're running on marshmallows.
Hoka just released this revamped version of its Mach style, and I — as the rare runner who hadn't yet hopped on the brand's bandwagon — was surprised by how much I loved it. The foam in its other shoes has always felt a little too firm and dense for my liking, and previous versions of the Mach didn't use a plate, but Hoka nailed the right mix of softness and snappiness in this one. The plate is sandwiched between two layers of foam (one with more cushioning right under your foot, and one with less cushioning closer to the ground), making it the kind of plated trainer I can see becoming a regular in my easy- and long-run rotation. But I also wouldn't be afraid to pick up the pace while wearing it.
The SuperComp Trainer was my favorite release of 2022. It's not designed as a race-day shoe (that would be the FuelCell SuperComp Elite v3), but because I preferred the higher stack height, I wore it in the 2022 New York City Marathon and told a friend at mile 19, "My feet feel incredible." The latest iteration improves on the first: The foam is lighter and less dense, which takes weight off the shoe without sacrificing springiness, and the new engineered mesh upper has a more comfortable tongue-and-collar combo. But it still has a carbon-fiber plate sandwiched between two layers of foam, a rocker geometry that helps you move effortlessly through your stride, and a 40-millimeter stack height ideal for lots of time on feet.
Every time I wear the Endorphin Elite for a speed workout, I'm blown away by how effortless even my fastest paces feel. You've got aggressive geometry on all fronts here: The side cutouts and perforated tongue look a little crazy, but the forefoot rocker helps you powerfully push off the ground with each step, and the brand says the curvy foam returns the most energy to your foot of any of its shoes (there's 39.5 millimeters of it under the heel, just skirting the legal limit). Inside, a forked carbon plate works with the forefoot shape and midsole foam to push you faster than you might even want to go — in one recent workout, I ran my intervals 30 seconds faster than I was supposed to without even noticing.
I ran my personal best marathon time at the Tokyo Marathon this March wearing the Metaspeed. The Sky+ is designed for runners like me, who lengthen their stride when they pick up their pace; for that reason, the full-length carbon plate sits high in the stack of Flytefoam Turbo Blast so it can compress more foam as your foot pushes off the ground. The result: more bounce with every step. (ASICS also makes the Edge+ for runners who increase their speed by increasing the number of strides they take; in these, there's more of a height difference between the heel and the toe to propel you forward). Every time I step into this shoe, I'm blown away by how light it is, and I especially love the airy upper for summer runs — I don't think I've ever had an issue with stinky feet in these, even after 26.2 sweaty miles.
In 2021, I wore the same pair of Alphaflys to clock two new personal-best finish times one month apart at the Chicago and New York City Marathons. If you'd rather know how they affect the pros, Eliud Kipchoge was wearing a pair of these when he set the official world record in the marathon in 2022, running 2:01:09 (he also became the first person to run 26.2 miles in under two hours in an unofficial race while wearing a prototype). It uses ZoomX foam and a full-length carbon plate, and it has two can't-miss-'em Zoom Air pods under the ball of your foot that act like moon boots to bounce you forward. The current iteration is a little stiffer and heavier than the first, but has a wider base for better stability and increases the height difference between your heel and your toes to position you more on top of those Air Zoom pods, maximizing forward propulsion.
This is not my stereotypical maximally cushioned running shoe (it's only 33 millimeters tall, which is a short super shoe), but I love it for track workouts. The Takumi Sen is a responsive trainer that can double as a race-day shoe for shorter distances like the 5K or 10K. It's got the same double-whammy combo of Lightstrike Pro foam (albeit almost 20 millimeters less) and carbon-infused EnergyRods as the Prime X Strung, so you're still going to get a lot of propulsion, but in a lighter, more streamlined package. Runners who prefer more minimalist shoes might even be able to get away with wearing the Takumi Sen in a marathon, but if you're looking for something that falls in between this and the Prime X, opt for the Adizero Adios Pro 3, which has 39.5 millimeters of foam under the heel and regularly appears on race podiums.
Hoka calls the Transport X a "crossover" shoe for runners, one that they can wear during workouts and while going about their daily life. You'll certainly look less ridiculous wearing it at the grocery store than you would in a pair of Alphaflys. With a carbon plate, a firm, responsive foam, and the brand's signature curved outsole designed to efficiently move you forward, it's the kind of shoe you could go for a jog or comfortably walk to work in. For me, it's more of a "running errands" or "running to catch the train" kind of shoe, but I think its versatility will appeal to casual runners and regular walkers who want the feel-good effects of carbon even if they're not running long distances.
Puma has signed some of the best female marathoners recently — at the Tokyo Olympics, for example, Molly Seidel was the first American woman from the U.S. to win an Olympic marathon medal since 2004 — which has made me pay more attention to its shoes. The design of the Fast-R is so fun, and it does make me feel faster! The separated midsole contains two different foams: Under the heel is a less responsive EVA foam, and the forefoot uses the brand's bouncy Nitro Elite, a nitrogen-injected PEBA foam, to push you forward. Each chunk is connected only by the carbon plate, which helps stabilize the shoe while maximizing energy transfer between the ground and your foot. The lightweight, socklike upper keeps your foot nice and secure — a combo that consistently helps me crush my speedier workouts.
The Strategist is designed to surface the most useful, expert recommendations for things to buy across the vast e-commerce landscape. Some of our latest conquests include the best acne treatments, rolling luggage, pillows for side sleepers, natural anxiety remedies, and bath towels. We update links when possible, but note that deals can expire and all prices are subject to change.