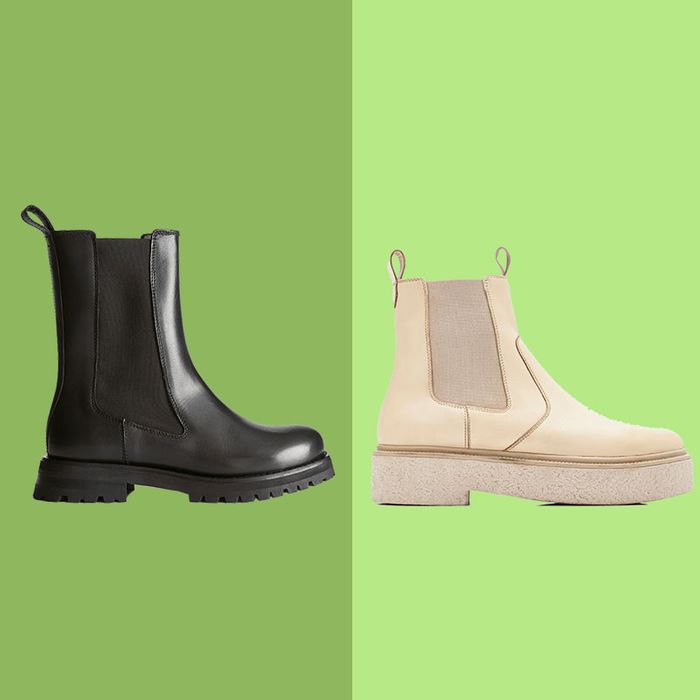 Photo-Illustration: Courtesy of the retailer
The mods might have made them cool, but it's Queen Victoria's shoemaker who's credited with creating the Chelsea boot. Their aristocratic origins aside, there's a reason why they've become such a classic: The boots are simultaneously utilitarian, streamlined, and sometimes even edgy. If you've been searching high and low for a new pair, we turned to shoe-obsessed, stylish women for their favorites.
Best overall | Best less expensive | Best platform | Best less expensive platform | Best chunky | Best small heel | Best less expensive small heel | Best work | Best cowboy-style | Best zipper | Best rain | Best waterproof
What we're looking for
Size range: You know the drill — we're on the hunt for footwear that comes in a broad selection of sizes. Here's where I admit a bit of bias: As someone with slightly wider feet, I always have to go up at least a half size when buying boots. So, for our purposes, there was some preferential treatment given to recommendations offered in half-sizes to accommodate those with wide feet (or just like a little more room for wool socks).
Material: Boots see the worst of the weather — it helps to know what they're made out of so you understand how they'll hold up. Your best bet to extend the life of a pair is to waterproof them. This is especially important for leather (which make up the majority of the ones on this list) and suede, as the material makes for "a shoe that's [like] a sponge," as Edward Andrade of Cesar's Shoe Repair explained to Strategist writer Erin Schwartz. A few of these boots are water-resistant or completely waterproof, which we've made sure to mention, too.
Design details: The classic Chelsea boot hits just a little above the ankle, dipping slightly at its elastic side panels, and sits on a low-to-almost-nonexistent heel, probably taking a cue from men's footwear. That precedent has been played with ever since — sky-high shafts and thick platform soles abound now. For every pick on this list, we've mentioned features like cap toes, pull tabs on the front and back, and anything else that makes a pair different from another.
Price: Brands at all sorts of price points came up in creating this guide, but, as always, we've concentrated on affordability. Each Chelsea boot below is marked as $ (under $200), $$ ($200–$250), or $$$ (over $250).
Best overall Chelsea boots