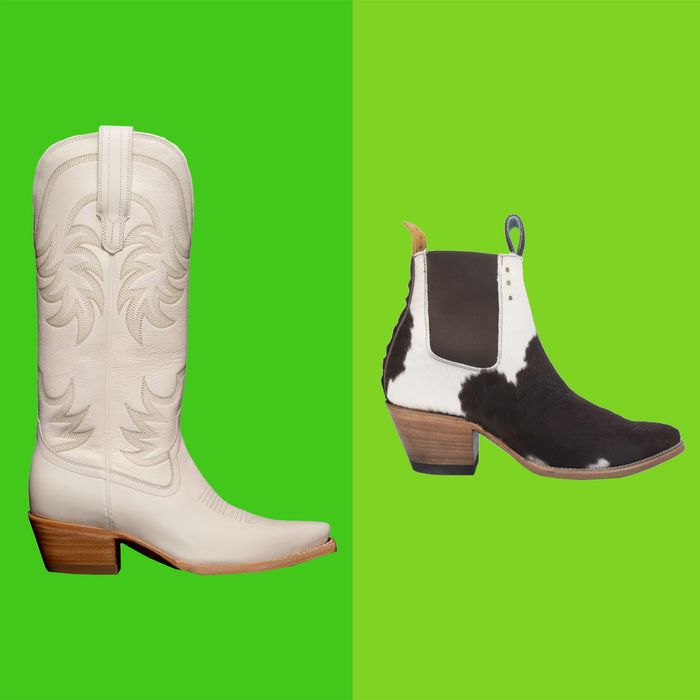 Photo-Illustration: The Strategist; Photos: Retailers
Step into a pair of cowboy boots and something magic happens: Your weight shifts, you pop one hip out to the side, and suddenly the jeans (or yoga pants) you were wearing become an actual outfit. And if they're good cowboy boots, they'll be comfortable too. With cool girls everywhere from TikTok to the streets of Paris wearing cowboy (and cowboy-inspired) boots right now and tons of brands to choose from online offering their take on the Western trend, it can be hard to know which ones are right for you — and harder to tell which of them will leave you with a blister at the end of the night. To help you decide, we asked a wide range of stylish experts — from real-life cowgirls and country singers to stylish teens and women who work in fashion — about their favorite cowboy boots to wear to the office, on horseback, and even onstage.
Of the 15 women we spoke with, five praised these boots from Ariat. Singer-songwriter Frankie Zwick, who spends winters in Nashville and has worked as a wrangler for multiple seasons on ranches in Wyoming and Colorado, says: "I pretty much wear one pair of Ariat boots. A lot of the girls I've worked with throughout the years wear them, too. The boots have rubber soles, so if you're riding or working in the mud, they're gonna hold up really well." Zwick wears her distressed-brown Ariats everywhere and likes that she can go from working on a ranch straight to a Honky Tonk in Nashville without having to change her footwear. She says they stand up well to spilled drinks and getting your toes stepped on too.
Other fans of Ariat include Sam Alexander, an avid horseback rider in Alberta, Canada; Amalie MacGowan, social media manager for Outdoor Voices; writer Jessie Mooney; rodeo barrel racer Keiara Monique; and Nicole Zuelke, a model, actress, and horseback rider. MacGowan likes Ariats as an affordable alternative to higher-end designer pairs. (She also owns a few boots from Ganni and a handmade pair from Brother Vellies). She says Ariat has a ton of great options between $100–$200, all with a genuine cowboy boot look and feel. "If you're gonna do cowboy, you might as well do it full hog," she says. Mooney bought her pair of Ariat Heritage boots in Nashville in 2017 "on the recommendation of my little sister and her most Southern friend," because they hit a sweet spot of comfort and style. Of the options she tried that day, the Ariats were the most comfortable, had a subtle-enough design to wear with lots of different outfits, and fell at just the right place on her calf to keep her from looking "stumpy." Monique, who lives in Los Angeles and has been riding horses since she was 8 months old, wears her Ariats both in and out of the saddle. She says they're by far the most comfortable boots she's worn and tells us her 3-year-old daughter wears them, too. "I had a pair of Justin boots that were okay," she says. "But after a while, they'd start to hurt my feet. I can wear Ariats for over 12 hours. I might be tired, but my feet don't hurt."
Alexander loves that cowboy boots are making a big comeback in the fashion world. She has several pairs of Ariats, including these in all black, that she wears more than any other brand. She says they last for years, even with a lot of wear, and they come with very comfortable insoles that let her walk, work, and ride all day without discomfort. "I used to work as a wrangler at Texas Longhorn Ranch in Ontario. I'd wear my Ariats all day, rounding up horses from the pasture in the morning and taking guests on multiple rides throughout day. Then I'd wear them working cattle in the chutes for my roping friends and whenever I tagged along to watch the rodeos," she says.
Five of the women we spoke to mentioned wearing Frye boots, whether it was a vintage pair they've owned for over a decade or a new pair they're still breaking in. MacGowan's Frye boots, which she bought three years ago, are shorter and less traditional than Ariats, but their heel and snip toe make them still feel sufficiently Western. She says they've aged "like a fine wine" and that she often wears them on planes — a testament to how comfortable they are. Musician Courtney Marie Andrews, who's owned many Frye boots, wears the Frye Western Chelsea boots almost every day. "Once you wear them in, they form to your foot and are extremely comfortable," she says. They also look great with a cropped pair of jeans.
Devine Blacksher, fashion editor at the Cut, describes her Frye boots as super comfortable and high-quality. "I probably wear them three to four times a week, to work and going out at night," she says. For weekend errands, she'll often throw them on with yoga pants. Her pair (the Bruce Pull On) are unfortunately sold out, but these are nearly identical, minus the Western stitching detail.