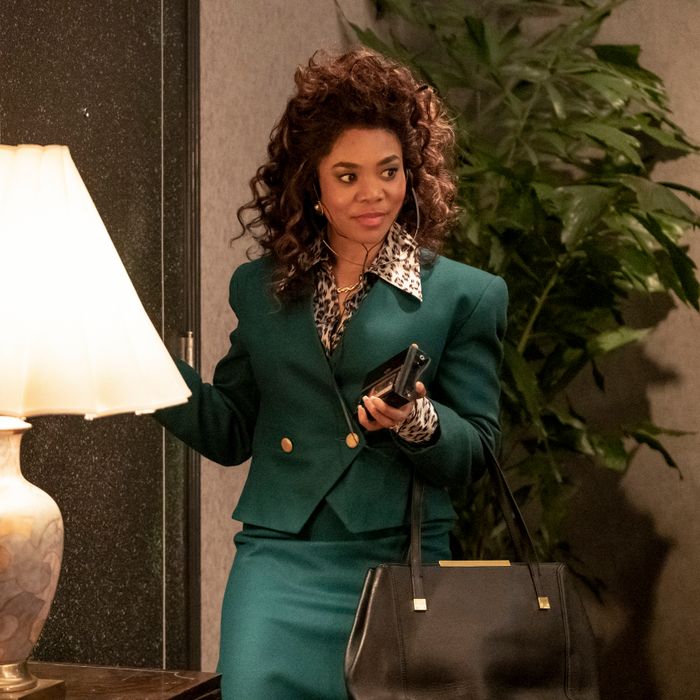 Photo: Showtime/Copyright: 2018 Showtime
Well, it's happening. Things are slowly returning to normal, and that means going back to work … in an office. While some can't wait to get back to watercooler chats and desk salads, others are still figuring out how to get dressed again (let alone doing it in time for a 9 a.m. office arrival). No matter which camp you're in, a new work bag is in order. Honestly, it's mostly about treating yourself, but a new bag could even be a necessity if you're new to lugging a laptop around for hybrid work. Now, the best work bag isn't one-size-fits-all. Sometimes, you need it to do everything at once: Look professional but not too stuffy, accommodate gym sneakers and a laptop, and organize all the miscellany you definitely don't need (reading material, kids' toys, and even the odd wine bottle). Other times, you might just be looking for a stylish pocketbook that fits the essentials and makes you look like a boss (both in the office and at after-work drinks). We surveyed more than 20 industrious women about the multitasking tote bags, backpacks, and over-the-shoulder options they rely on to get them through the workday and beyond. Below are their recommendations, which include open-top work totes, cross-body bags, and backpacks, with many options under $100.
Best
under-$100
work
bags
for
women
Best
under-$150
work
bags
for
women
For a "sleek, stylish, structured" backpack that's just north of $100, Style influencer Bethany Everett-Ratcliffe suggests this vegan-leather option from Calpak. It has a separate, zippered back compartment to keep your laptop secure, a luggage sleeve, as well as several zippered pouches inside the main compartment that help keep the rest of your belongings organized. While the bag is available in classic colors like black and brown, it also comes in blush and mint if you prefer something a little less predictable.
For a waterproof option, Seattle-based knitwear designer and blogger Elisa Yip recommends this classic Longchamp tote. "The bag repels water to protect all my important stuff," she says, including her iPad, phone, wallet, makeup bag, and eyeglasses. Yip adds that it's also a great bag for traveling, since it can fold up and fit into a carry-on, making it a good choice if you're someone who takes a lot of business trips.
If you prefer to keep your daily work essentials tightly edited — that means no laptops or gym clothes — a smart-looking purse can be a stylish (and lightweight) option. "My work bag right now is the Marc Jacobs Tag Tote," says Jane Belfry, the founder of talent agency the Btwn. She likes that it comes in enough colors to not be boring and that "it's not too 'work-y'-looking to take out for drinks or dinner after."
[Editor's note: The Tag tote is currently sold out everywhere, but Marc Jacob's Mini Shopper Leather Tote is nearly identical in size and style. It's available in black for $184 at Saks Fifth Avenue and in pink or blue for $350 at Revolve.]
Best
under-$200
work
bags
for
women
For a versatile bag with some serious structure, try this tote from Dagne Dover that "meets all the needs" of high-school assistant principal Jade Stenger. She trusts it to hold her digital camera, work folders, school supplies, snacks for her little one, and her travel coffee tumbler. A favorite feature, according to Stenger, is that the bag has many interior compartments to keep all those items safe and organized.
Photographer Alice Gao told us that Lo & Sons makes her go-to backpack for working and traveling. While she admits that the bag isn't the most aesthetically appealing option, when she's schlepping all her photo gear and her laptop, it is the most practical. "The back of the backpack has a sleeve that slides over my luggage handles, which is a simple design godsend," she says, adding that the design is "minimal enough and understated." The company no longer makes the exact style she uses, but its Hanover Deluxe 2 Travel Backpack is extremely similar, down to the sleeve that slides over luggage handles that she loves so much.
"I do not have very exciting or expensive tastes in handbags," says Deb Perelman of Smitten Kitchen. "I just need a bag with a handle drop length, so I can shove it over my shoulder while wearing a puffy jacket that holds a laptop, water bottle, and all the toys my kids swear they want to play with that I get stuck carrying home." She's on her second or third Madewell Transport Tote, the most recent of which is a (now unavailable) rose-pink color. But the tote is still available in classic brown and black, which may be more office-appropriate for everyday wear. We also recommend taking advantage of Madewell's complimentary personalization service: It'll give you up to ten characters to play with, so feel free to go for your initials or favorite (short) phrase.
According to graphic designer Meagan Sapashe, this Madewell Transport Tote is "quite literally the perfect medium" because it's big enough to fit all of her day-to-day necessities without being too bulky. It's not as roomy as Perelman's favorite Transport Tote, but like that tote, it has a minimal interior — only a single pocket — which makes it "easy to find what you are looking for," she explains. One detail unique to this Transport Tote, however, is that it has two different sets of straps: Two short top handles, plus a detachable shoulder strap that allows you to wear it across your body.
Baros also told us about Logan & Lenora, a small, Denver-based bag brand that she says is "known for style and craftsmanship." She says the brand's lightweight Daytripper bag has a "cool yet classic look," as well as a weatherproof, stain-resistant, machine-washable exterior made from a poly-canvas material. It also has top handles, a cross-body strap, and a luggage sleeve so you can carry it however is most comfortable on any given day.