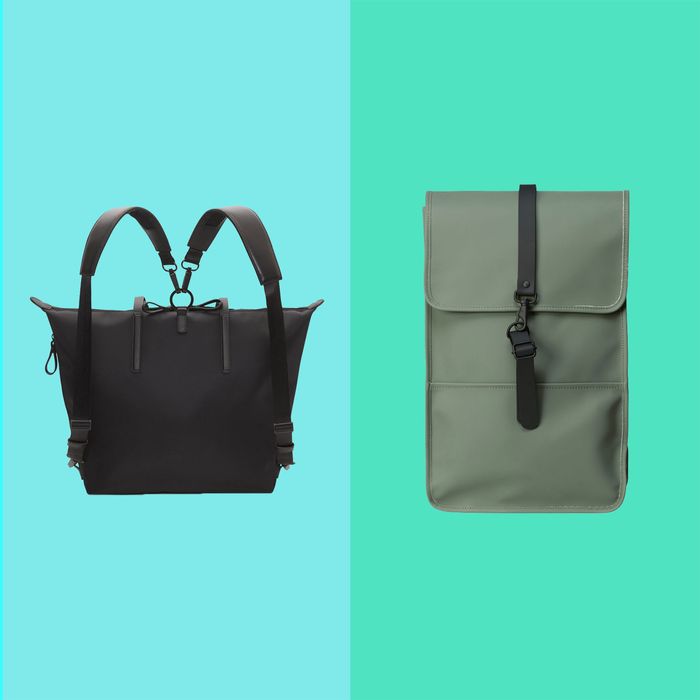 Photo-Illustration: Courtesy Atlas Supply Co.
If you're going back to the office, you might need a new work bag for several reasons. Maybe you got a promotion and want to impress your co-workers with an upgrade, or maybe with a new hybrid schedule, your work-bag needs have shifted. Or maybe you just can't find it after 18 months of working from home. Whatever your reason, you've come to the right place. We've spent a lot of time looking for adult backpacks at the Strategist. That time has led us to find the best travel backpacks, laptop backpacks, and even backpacks with wheels. But the world of practical-yet-stylish work backpacks is a different beast. As anyone who's looked can tell you, it can be hard to find an actually stylish backpack that holds everything you need to make it through a day at the office (or wherever you're working from these days) yet still look nice enough to bring to dinner once you're off the clock. The best work backpacks also look professional, with the same swagger as a briefcase, but are as practical as the backpack you brought to elementary school — even when stuffed to the brim. To find the best backpacks for work that actually look good, we talked to stylish professionals about the bags that you won't be embarrassed walking into the office with.
This Dagne Dover backpack was recommended by two of the people we spoke with, both of whom highlighted the durable neoprene construction, ample storage space, and clean, minimalist look. "The scuba material is weather-resistant for city life, easy to clean, and very adorable," says Emily Griesing, the chief strategy officer at Bossible, who opted for the "dark moss" color (it also comes in unique shades of blue, tan, purple, and more). She adds, "It fits gym clothes, lunch and a laptop — all the daily essentials. I actually had been eyeing the backpack online and then finally saw it in person when a friend had one. When I felt the material, I went and bought it immediately, and I get compliments on it all the time." Personal stylist Cassandra Sethi is also a fan and says that since the backpack is made of neoprene and mesh, "it molds to your body and breathes." Sethi adds that while it can comfortably "hold everything you need" for the workday, it's also great for travel. She says, "It was the perfect backpack to bring along" on her four-country honeymoon trip.
Strategist writer Chloe Anello has the large version of the Dagne Dover backpack and says it was great for her long, two-hour commute from Beacon to our offices downtown. "In the before times, I would work from home on summer Fridays because I would commute the same amount of time I was actually in the office, so that backpack was my favorite for lugging stuff back and forth," she says. She also owns the medium but says the large is the way to go if you are lugging a lot. In addition to her laptop, "it fits a water bottle, a lunch, my over-the-ear headphones, snacks, my wallet, my keys — literally everything imaginable," she says.
Haerfest's Travel Backpack, which is made of nylon with rubberized trim, was also endorsed by multiple professionals. "I really stand behind my Haerfest backpack," says Guillaume Viau, DJ and part of electronic-music duo Flight School. "I've been using this one style for over a year now, traveling all over the world, and it's still in great shape. They really did find the perfect balance between functional and stylish." Haerfest also makes this same backpack in a cotton-twill fabric with leather trim, which, Abby Forman, senior manager of communications at Fiverr, tells us, "two of my male colleagues have and love. It's small enough for them to carry on their backs as they ride their bikes (one rides his bike to work from Williamsburg), but also large enough to fit some extras besides just their laptops." If you do need more room, Forman recommends the larger size, which is available for the same price. "I think women tend to carry more than men, so this is perfect for me. I can fit my laptop, jacket, makeup bag, etc." She has it in gray, which is no longer available, but you can get it in the same black that the small comes in.
Photo: kabir fernandez
Jules Bakshi, the founder of Brooklyn-based dance and "mindful fitness" studio Good Move, told us she is almost always carrying a fanny pack/shoulder bag from Baggu, a brand beloved by many a Strategist staffer. But sometimes she needs something bigger, and when she does, she pulls out this Baggu backpack. "If I need to carry my laptop or extra shoes and clothes, or I'm leaving the city for some fresh air, I'll take the large Baggu sport backpack. It's comfortable and has plenty of room for a change of clothes and shoes, a picnic blanket, water bottles, snacks, etc. Plus there are two big pockets in the front and a cushioned laptop sleeve."
For a less expensive but just as practical work backpack from Baggu, consider this drawstring backpack, which is made of canvas, available in a rainbow of colors (including lilac, nautical blue and white stripes, and, of course, black), and comes recommended by former Strategist writer Lauren Levy. "Yes, it's a more casual canvas, but the thinner straps make it seem less 'I'm coming from class' backpack-y and more 'I have a job during the day, but this is good for my back and also convenient' backpack," she says.
A tote is arguably more professional than a backpack, but it's not always feasible. With this convertible tote from Caraa, you don't have to choose. "The Caraa is really great if I'm going to an event or meeting friends for dinner after work, because it's more professional looking," says Anello. "It works as a tote, but it has backpack straps, so you can wear it as a backpack when it gets heavy or you don't want to carry it." It can hold a 15-inch laptop and has compartments for a water bottle, your phone, and even a change of shoes, which Anello is particularly fond of. "Sometimes I wear different shoes while commuting if the shoes I plan to wear in the office aren't fully broken in yet or not apt for running to trains at the end of the day, and the Caraa actually has this really cool side pocket to slide your shoes in," she says. "They go into the main compartment of the bag, but they're enclosed in a bag of their own that's only accessible from the outside, so your shoes aren't also touching your lunch or headphones, which is kind of gross."
We asked Tiffani Gibson, the senior manager of corporate communications at Lime, specifically about the best backpacks for riding on a scooter, but we think this Rains bag would work in pretty much any situation. She likes it for the weather-resistant material and thinks it's a "great option for rainy weather, especially if you prefer the minimalist look," she says. If you get caught in the rain, you won't have to worry about any of your belongings getting damaged, and on a nice day, it's both a stylish and functional backpack you won't be embarrassed walking into the office with. It has a laptop pocket inside, a hidden phone pocket on the backside, and comes in more than ten pleasant neutral colors.
Gibson is also a fan of this Samsonite backpack. On the outside you get a simple clean look, but on the inside there's room for pretty much everything you'd need for a day at work. It's outfitted with a padded tablet sleeve, padded phone compartment, three card slots, water-bottle holder, and slip pocket. It even has a USB port, which is perfect for the work-from-anywhere environment you might be going back to.
When we asked women about the best work bags, style influencer Bethany Everett-Ratcliffe recommended this vegan leather backpack. She likes that it's "sleek, stylish, and structured" but also super-functional. It has a separate zippered back compartment to keep your laptop secure, a luggage sleeve, as well as several zippered pouches inside the main compartment that help keep the rest of your belongings organized. It comes in work-appropriate black, white, and brown, but if your office is a little more relaxed or you're working from a coffee shop these days, it has more fun colorways, like yellow and purple, available.
Photographer Alice Gao introduced us to Lo & Sons backpacks for work and travel. It's not super-fashionable, but your boss won't call you in to talk about the "office dress code" with this one either. It's large enough to fit all her photo gear and a laptop so it can probably handle your sad desk lunch and gym clothes for after work. If you're on a business trip, this backpack will also easily slide down your carry-on's handle thanks to the back sleeve.
Pia Velasco, the senior beauty and fashion editor at Hello Giggles, calls this her Mary Poppins bag. "It holds so much," she says. "This is what I love the most about it. It fits my laptop, two bottles of wine, all my chargers, makeup bag, a change of clothes, my wallet, and any other shenanigans I may have with me." It's technically a diaper bag, but you'd never know. "The black vegan leather makes it a little edgier and cooler than your typical backpack — it feels more New York than middle-school hallway," Velasco adds. "Working in fashion/beauty, I'm constantly jumping around the city (pre-COVID, of course) and meeting with a ton of beautiful, well-dressed people, so I need my backpack to be somewhat stylish. I feel totally comfortable taking it with me everywhere."
Content strategist and branding stylist Libby Bartley recommends her backpack, another vegan-leather option, from Matt & Nat. In our roundup of the best work bags for women, she explained she likes it not only because it is "ethically made and manufactured with sustainable resources" but also because "the bag features adjustable straps, expandable gussets, and pockets for laptops and smartphones. Not only is the bag multifunctional for work and play — it's a long-lasting investment."
If you're looking for real leather, Atlas Supply's Minimalist leather backpack was recommended by two of the people we reached out to. Alexis Teichmiller, the host of the Laptop Lifestyle podcast and an affiliate manager for Convert Kit, says it's her go-to. "I bought this bag because of how many compartments it has," she explains. "It can hold my laptop, books, camera, and so much more. I even named my bag Blanche, because I love giving everyday things a personality." Tim Melideo, a men's fashion writer at Stay Classic, is also a fan. He's had this backpack for years and uses it for travel, road trips, meetings — "basically everything," he says. Melideo also has the very same backpack in a less expensive canvas-with-leather-trim model, which he loves as well. "The leather is probably the more professional looking, but I guess it depends which profession, right?"