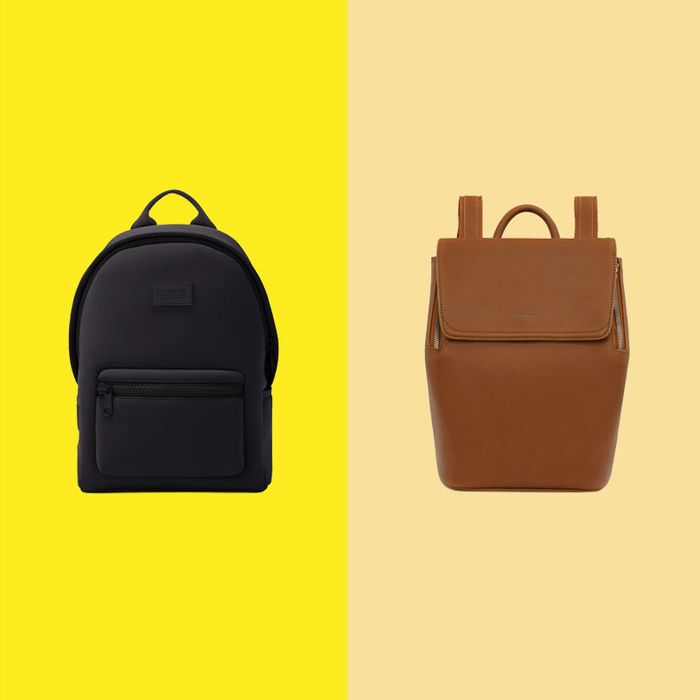 Photo-Illustration: The Strategist
If you're going back to the office, you might need a new work bag for several reasons. Maybe you got a promotion and want to impress your co-workers with an upgrade, or maybe with a new hybrid schedule, your work-bag needs have shifted. Whatever your reason, you've come to the right place. We've spent a lot of time looking for adult backpacks at the Strategist. That time has led us to find the best travel backpacks, laptop backpacks, and even backpacks with wheels. But the world of practical yet stylish work backpacks is a different beast.
As anyone who's looked can tell you, it can be hard to find an actually stylish backpack that holds everything you need to make it through a day at the office (or wherever you're working from these days) yet still look nice enough to bring to dinner once you're off the clock. The best work backpacks also look professional, with the same swagger as a briefcase, but are as practical as the backpack you brought to elementary school — even when stuffed to the brim. To find the best backpacks for work that actually look good, we talked to stylish professionals about the bags that you won't be embarrassed walking into the office with.
Best work backpacks under $100
Jules Bakshi, the founder of Brooklyn-based dance and "mindful fitness" studio Good Move, told us she is almost always carrying a fanny pack/shoulder bag from Baggu, a brand beloved by many a Strategist staffer. But sometimes she needs something bigger, and when she does, she pulls out this Baggu backpack. "If I need to carry my laptop or extra shoes and clothes, or I'm leaving the city for some fresh air, I'll take the large Baggu sport backpack. It's comfortable and has plenty of room for a change of clothes and shoes, a picnic blanket, water bottles, snacks, etc. Plus there are two big pockets in the front and a cushioned laptop sleeve."
For a less expensive but just as practical work backpack from Baggu, consider this drawstring backpack, which is made of canvas, available in neutral colors and fun patterns (including black, khaki, "trippy checkered," and cow print), and comes recommended by former Strategist writer Lauren Levy. "Yes, it's a more casual canvas, but the thinner straps make it seem less 'I'm coming from class' backpack-y and more 'I have a job during the day, but this is good for my back and also convenient' backpack," she says.
When former Strategist writer Jordan Bowman sought out to find the very best laptop backpacks, he surfaced plenty of nice-looking picks, including this eBags backpack recommended by travel blogger Micki Kosman. It's her go-to because it has a padded bottom, separate laptop compartment that easily fits her 15-inch laptop, many pockets for chargers and other electronics, and a larger main compartment for clothes. Plus it comes outfitted with an easy-access compartment that lets you pill out your laptop without digging through your bag. Kosman has the Heathered Graphite color because it's a neutral that hides dirt well, but it also comes in black.
"My Fjällräven backpack is filthy," Strategist staff writer Lauren Ro says. "I carry it every day on the subway in New York City, but I've also taken it hiking in the mountains of Vermont, island-hopping in Greece, on the beaches of Tulum, and through the streets of Seoul and Tokyo." Despite toting it for almost a decade, she promises there isn't a single tear or any loose threads, and the zippers have never once snagged or come apart. What's better is that the bag has a convenient separate laptop compartment, padding on the bottom, comfortable padded adjustable straps, and two side pockets for a water bottle or umbrella. Ro owns it in yellow, but it comes in 12 colors — including this graphite colorway that's on sale for under $100.