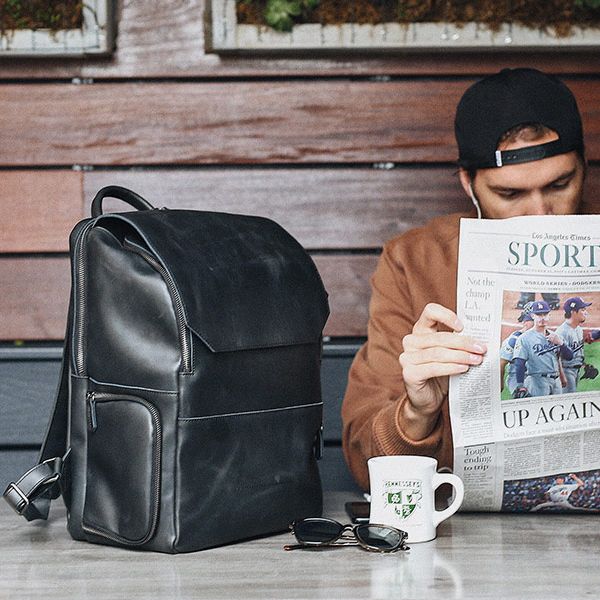 Photo: Courtesy Atlas Supply Co.
We've spent a lot of time looking for adult backpacks at the Strategist. That time has led us to find the best travel backpacks, laptop backpacks, and even backpacks with wheels. But the world of practical-yet-stylish work backpacks is a different beast, because anyone who's looked knows it can be hard to find an actually stylish backpack that holds everything you need to make it through a day at the office (from your laptop to your packed lunch) yet still look nice enough to bring to dinner once you're off the clock. The best work backpacks also look professional, with the same swagger as a briefcase, but are as practical as the backpack you brought to elementary school, even when stuffed to the brim. To find the best backpacks for work that actually look good, we talked to stylish professionals about the bags they rely on, Monday to Friday. Read on for their picks.
This Dagne and Dover backpack was recommended by two of the people we spoke with, both of whom highlighted the durable neoprene construction, ample storage space, and clean, minimalist look. "The scuba material is weather-resistant for city life, easy to clean, and very adorable," says Emily Griesing, the chief strategy officer at Bossible, who opted for the "dark moss" color (it also comes in unique shades of blue, tan, purple, and more). She adds, "it fits gym clothes, lunch and a laptop — all the daily essentials. I actually had been eyeing the backpack online, and then finally saw it in person when a friend had one. When I felt the material, I went and bought it immediately, and I get compliments on it all the time." Personal stylist Cassandra Sethi is also a fan, and says that since the backpack is made of neoprene and mesh, "it molds to your body and breathes." Sethi adds that while it can comfortably "hold everything you need" for the workday, it's also great for travel. She says "it was the perfect backpack to bring along" on her four-country honeymoon trip last year.
Haerfest's Travel Backpack, which is made of nylon with rubberized trim, was also endorsed by multiple professionals. "I really stand behind my Haerfest backpack," says Guillaume Viau, DJ and part of electronic music duo Flight School. "I've been using this one style for over a year now, traveling all over the world, and it's still in great shape. They really did find the perfect balance between functional and stylish." Haerfest also makes this same backpack in a cotton twill fabric with leather trim, which Abby Forman, senior manager of communications at Fiverr, tells us "two of my male colleagues have and love. It's small enough for them to carry on their backs as they ride their bikes (one rides his bike to work from Williamsburg), but also large enough to fit some extras besides just their laptops."
Forman herself uses the larger version of Harfest's nylon Travel Backpack, because she prefers something with a little more space. "I think women tend to carry more than men, so this is perfect for me. A bit larger, I can fit my laptop, jacket, makeup bag, etc." She has it in gray, which is currently sold out, but it's available in this nice blue color.
Photo: kabir fernandez
Jules Bakshi, the founder of Brooklyn-based dance and "mindful fitness" studio Good Move, told us she is almost always carrying a fanny pack/shoulder bag from Baggu, a brand beloved by many a Strategist staffer. But sometimes she needs something bigger, and when she does she pulls out this Baggu backpack. "If I need to carry my laptop or extra shoes and clothes, or I'm leaving the city for some fresh air, I'll take the large Baggu sport backpack. It's comfortable and has plenty of room for a change of clothes and shoes, a picnic blanket, water bottles, snacks, etc. Plus there are two big pockets in the front, and a cushioned laptop sleeve."
Photo: kabir fernandez
For a less expensive but just as practical work backpack from Baggu, consider this drawstring backpack, which is made of canvas, available in a rainbow of colors (including lilac, nautical blue and white stripes, and, of course, black), and comes recommended by former Strategist writer Lauren Levy. "Yes, it's a more casual canvas, but the thinner straps make it seem less 'I'm coming from class' backpack-y and more 'I have a job during the day, but this is good for my back and also convenient' backpack," she says.
Daniel DuGoff, a menswear designer and founder of the swimwear-focused line Homoco, likes Baboon's 22-liter backpack for everyday use. His preferred color is emerald green, but it comes in a variety of options like black and dark blue if the green is too wild for your workplace. The backpack is made of durable cordura nylon, has a built-in padded laptop sleeve, and is backed by the company's lifetime warranty.
Laura Medalia, the New York City–based software engineer behind the Instagram account @codergirl_, calls this backpack from Bartaile (a women-founded startup that was born at Wharton) her favorite bag right now. "It's a sleek, thin, black leather backpack that can be converted into a tote or hand held bag. It matches with all outfits, and has a snug case for my laptop."
Atlas Supply's Minimalist leather backpack was recommended by two of the people we reached out to. Alexis Teichmiller, the host of the Laptop Lifestyle podcast and an affiliate manager for Convert Kit, says it's her go-to. "I bought this bag because of how many compartments it has," she explains. "It can hold my laptop, books, camera, and so much more. I even named my bag Blanche, because I love giving everyday things a personality." Tim Melideo, a men's fashion writer at Stay Classic, is also a fan. He's had this backpack for two years and uses it for travel, road trips, meetings — "basically everything," he says. Melideo also has the very same backpack in a less expensive canvas-with-leather-trim model, which he loves as well. "The leather is probably the more professional-looking, but I guess it depends which profession, right?"
If you're looking for vegan leather, content strategist and branding stylist Libby Bartley recommends her backpack from Matt & Nat. In our roundup of the best work bags for women, she explained she likes it not only because it is "ethically made and manufactured with sustainable resources," but also because "the bag features adjustable straps, expandable gussets, and pockets for laptops and smartphones. Not only is the bag multifunctional for work and play — it's a long-lasting investment."
"I have a couple of bags that I switch between, but this is my go-to backpack," says Jennie De Witt, a Facebook Live vlogger and a travel writer at Townie Tourist. "This bag is a workhorse without a ton of bells and whistles," she says. It's made with premium materials like heavy duck canvas and Horween leather, which De Witt says sets it apart from other backpacks out there. "The canvas is structured so well that the bag is never bulky. And the sturdy comfortable straps and unique leather fasteners make it stylish enough to go from bike to presentation without looking like I am underdressed." She adds that "the best part about this backpack is that it is made in the USA, and hyper-locally" in her home state of Florida. "I love supporting makers from my own state," De Witt says.
Architect-turned-entrepeneur Lori Cheek, the founder of the dating app Cheekd, says people compliment her on this backpack "on an almost daily basis." She loves the look of the gold detailing, and relies on the expansive storage space because, as she puts it, "my office is literally in my backpack and I'm always working 'on the go.'" One of Cheek's favorite features is the "separate zipped compartment" that fits her 15-inch MacBook Pro "perfectly," but she adds that it also "fits everything else I need to successfully run my business and live out my bag from 7 a.m. to 9 p.m., five days a week!"