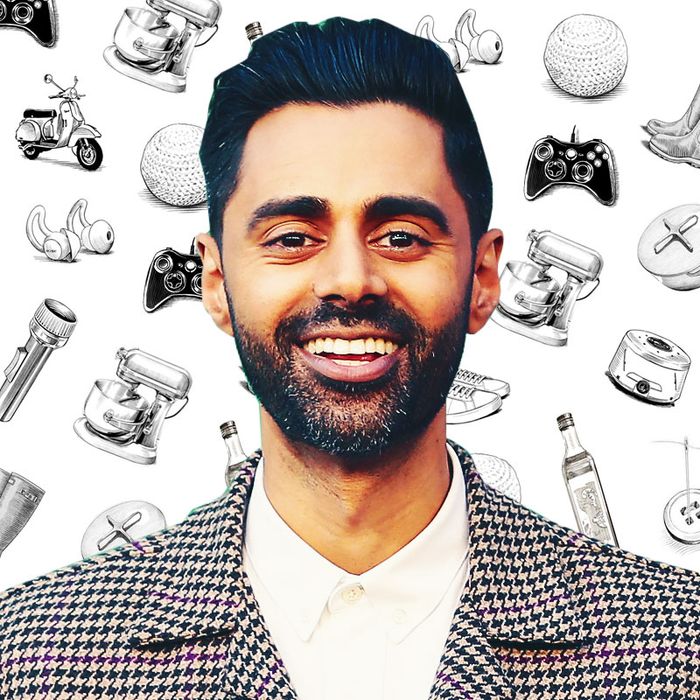 Photo-Illustration: Getty
If you're like us, you've probably wondered what famous people add to their carts. Not the JAR brooch and Louis XV chair but the hair spray and the electric toothbrush. This fall, Hasan Minhaj has been busy: His one-man comedy show The King's Jester debuts this week, and he recently partnered with Madewell on its fall 2021 campaign. But he took some time to tell us about his four essential note-taking tools, an indestructible backpack, and the ice cream that makes him feel like an "old man."
I got this in 2008 when I still had a day job. You know how when you buy a sweatshirt years and years ago, and you're like, "Hmmm, should I get the newest one?" But at the same time, you question if it will be as good. This is like that. I think for good luck, I'm going to keep using this until the bottom rips apart and I literally can't use it anymore. It has been around the world and back with me — every New York subway, international airport, every trip to Europe, India, Asia, even South Africa. People ask me, "Why don't you get something more high-end or stylish?" I will admit I have thought about it. Jason Sudeikis has this backpack that I thought looked really cool. It's leather and really nice. But when I unzipped it and tried to feel around, I said, "Nope." Everything would just slosh around in that one because it has so few compartments. It looks cool, but it's not functional. I'm all about functionality. But I only want this one because it has the perfect amount of compartments. It fits everything, but in an organized way. I don't want my stuff to be all loose and wiggling around in my backpack. It's like cargo pants: People may hate on them, but there are few things that are as functional as cargo pants.
This is seriously awesome. [My wife] Beena's cousin bought it for her on our wedding day. When I walked into their little hotel suite, I saw this kit filled with all the things that Beena might need on her wedding day. There was Tylenol, a lint roller, so much stuff. It has all these different mini-pockets. I thought to myself, Why don't I use something like this? I walk around with these idiotic little Dopp kits that are so overrated. They have no separators. Everything is just jammed together. I never have to go digging around for anything with this kit. Honestly, though: Why aren't more purses and bags like this, especially women's purses? You throw something in there and it's gone forever. But with this, I know where everything is because I can see it. It is so organized.
Like a lot of Asian guys out there, I have really thick, straight black hair. When I come out of the shower and dry my hair, it'll lay flat and look like a bowl cut. And the temperatures here on the East Coast are getting pretty wild, so it makes my hair even more of a messy challenge. The Baxter's clay pomade is thick enough where I can rub it together in my hands, then put it in my hair, and it will hold it all together in the way I want. It's not super-shiny or greasy; it has a pretty clean finish. And I don't have to put a lot in my hair because a little bit really does do the job. The makeup team for The Daily Show first introduced me to this product. I'm notoriously the guy who steals products from them. Well, no — I don't steal them, per se. But when I leave a show or project, I kindly ask, "Hey, can I borrow this?" And almost always they say, "Why don't you just take it?" I will gladly take it.
I get my hair cut every two weeks. I have a very good relationship with my barber. People fight over barbers in New York. There's certain barbers that people covet, and you can wait a very long time to get an appointment with them or to become a regular. He makes sure my hair and beard are very proportional and look sharp. But when I need to trim my beard, especially when I'm on the road, I do it myself with this trimmer. I have very dark, coarse beard hair, and I have to trim it when it gets long. This trimmer is very reliable. But I will only use it in hotel bathrooms. My wife and I share a bathroom, and there is nothing worse than clipping toenails or leaving beard hair all over the place. I made this joke recently about it, actually: I treat hotel bathrooms the same way the United States treats its foreign policy. I'm going to go into a foreign territory, mess it up, then walk away like it was never my problem to begin with. I'm sorry, but at the same time, I'm really not sorry. I cut my toenails there. I trim my beard there. I do things I would never do on home soil because I don't want to mess up my home bathroom. I respect my wife too much. Any man who does these things in the bathroom they share with their significant other is a monster.
This is yet another thing the makeup department turned me onto. They really raised me. I'm extremely clumsy. I spilled something during lunch on my clothes — it was a white dress shirt — and I went to them, kind of embarrassed, and was like, "I'm so sorry I did this." They didn't panic. They just pulled out the Tide pen and fixed it. I was so grateful. I keep it handy at all times. It's right next to my pens and highlighters in my backpack.
Each piece of my office material plays a very important role in my life. I don't know what I would do without each thing. There is no pressure when I write in my yellow legal pad. I don't have to write a novel or my treatise. And it's easy to just flip through pages. I'll just carry it around and take it out when I want to write really quick ideas, whatever comes to my mind at that moment that I want to remember. I keep a notebook for journaling, so this is all just ideas. If I'm sitting down and need to beat out this inspiration that just hit me — like, boom, an idea hits me. I pull this out and get it down because who knows if I'll have these thoughts again or if this idea will become something.
Wow, this sounds crazy, but bear with me. So my Post-it Notes are for super-quick, on-the-go thoughts. I absolutely look like a crazy person, because I will pull out a bunch of Post-it Notes from my pocket — I keep them in my pocket with a pen — and I'll just scribble down thoughts in a park or a public place or the subway. Whenever I have a quick thought that I need to remember, I use these. My legal pad is more for ideas that need to be fleshed out a little more, or that I want to come back to. These are more little things, like I have one here that says, "Get Beena a cappuccino," and this one says, "Elevate Act Three." So I have to get a cappuccino and elevate Act Three — very important tasks. These are some of my most prized possessions. I'm not kidding.
This is the perfect pen. This pen is working-class enough that it's readily available at any Staples, so you don't have to go to a crazy speciality store in Switzerland or Japan to acquire it, but it's also operating at a really high level. It's the pen for the proletariats. It doesn't come in hot then quickly runs out of ink really fast. It has just enough flow. It's thick enough so you can write quickly, and it will still be legible. It's at a price point where I can buy five or ten at a time and not feel like I'm splurging. I write everything down. So, I have my highlighters, my Tide pen, and my actual pens all together in my backpack.
I worked at an OfficeMax in high school. I sold printers. So maybe that plays into why I'm so particular with my office supplies. People who don't have strong opinions on stationery are very questionable people, in my opinion. I am very discriminatory when it comes to my highlighters. It has to be yellow. And it has to be thick. I use Sharpie. If you get a darker shade of highlighter pen, the dark color actually makes the page unreadable. Blue, green, purple, whatever are all unusable. I highlight all sorts of things. My notes on all forms of paper are covered in highlighter marks. I need it. It helps me organize my thoughts when they're on paper.
Adulthood is about trying to do the best you can given the circumstances you're put in. I cannot down a pack of Swedish Fish the way I used to, so these SmartSweets give me just enough of that Swedish Fish vibe for me to feel happy. They are not exactly the same. I will not sit here and tell you they taste exactly the same. But they are very, very close. The sweets we have in America are super-sweet. If you go to Europe or wherever, the candy is not as sweet. Our sugary snacks are very potent, so it's kind of hard to replicate in a better-for-you way. The fact that they made these close to the real thing is impressive.
We got this as a gift when our daughter was born. It's an amazing maternity- or paternity-leave present. People give you all sorts of stuff when you have a baby, but this just says, "Hey, I know you're getting all sorts of stuff, but I've been thinking of you and hope you're doing okay." When it shows up, it comes in this big dry-ice container. You feel like you're opening up a hidden treasure, then you see all these unbelievable flavors in there. I felt like a little kid. Everyone gathered around the table to see what was in it and to look at all the flavors. Now we just buy it. The almond brittle one is one of my favorites. I feel a bit like an old man when I say these things out loud, but I really like it. As a kid, I used to love rainbow sherbet, but as I got older, I found it actually kind of disgusting. I feel that way about Sunny Delight, too — I cannot believe I drank that. Calling a flavor like almond brittle your favorite ice-cream flavor is just a part of growing up.
I like to classify my style as Americana with a dabble of swag on it, like a cool sneaker with some jeans and one or two pop pieces. This is an everyday sweatshirt for me. It's super-soft, super-comfortable, super-nice. I wear it around the house. I will wear it when going to the airport. It layers really well because it's not too heavy, so I rock it underneath a denim jacket. I've really been embracing the earth tones recently, too, and I love the purple-y mauve kind of color it comes in. I think the color looks good on me.
The Strategist is designed to surface the most useful, expert recommendations for things to buy across the vast e-commerce landscape. Some of our latest conquests include the best acne treatments, rolling luggage, pillows for side sleepers, natural anxiety remedies, and bath towels. We update links when possible, but note that deals can expire and all prices are subject to change.