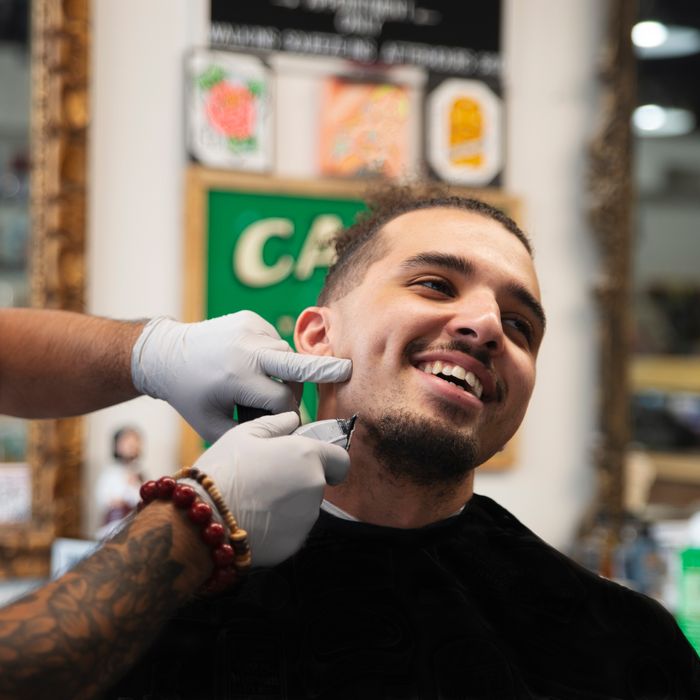 Photo: Getty/Getty Images
Over the past year, so many of you grew beards that we figured you could use a little help keeping them groomed just so. We asked more than 20 experts — stylists, barbers, and guys with good beards — about the trimmers they use. But first, some pearls of wisdom from our pros on how best to use them. As a general rule, trim when your beard hair is dry. "If you're cutting it wet, you can't really tell how long it is going to be when dry," explains Mark Miguez, co-owner and barber at New York City's Friend of a Barber. If you're new to the tools, the experts also say to start with a longer guard or dial setting when trimming as another way to ensure you don't cut your facial hair too short. It's one of the mistakes first-timers commonly make, according to Floyd's 99 Barbershop's technical director Patrick Butler. "Less is more! Always be conservative throughout because you can always go shorter, but can't put it back once it's come off," says Raquel Fajardo, a regional Fellow Barber manager in Los Angeles. And last, in addition to cleaning your trimmer's blade after each use (more on that below), you should wash your face when you finish. As Rob Mac of Mildred New York told us, "Beard trimming is still shaving," so you'll likely have some stray hairs and stretched skin afterward that would benefit from a good rinse.
Best overall beard trimmer
Seven of the grooming professionals we spoke to say Wahl's Cordless Magic Clip might be the most powerful, sharp, and capable beard trimmer on the market. "It gets the job done whether your beard is long or short," says Fellow Barber founder Sam Buffa, citing the fact it comes with multiple (but not too many) guards to get the length just right. He also told us the quality of a Wahl blade makes this trimmer "the most bang for your buck" when compared to other models at similar prices, as Wahl's blades stay sharper for longer, according to Buffa. Miles Wood Smith, the head barber at Murdock London, is another Magic Clip devotee, praising it for its combination of lightness and power (these qualities make the cordless Magic Clip one of the best hair clippers, too, according to barbers). "It's important to use a trimmer with enough power to cut your facial hair consistently, but also one that's light enough to be able to maneuver around your beard easily by hand," Wood Smith told us, adding that he loves to use this on both himself at home and his clients at work. "It's the top product to own if you want to re-create a barbershop experience in the comfort of your home," he says, a statement that was echoed by fashion stylist Neil Cohen, Miguez, and Alejandro "AJ" Albano, a barber at Tuft NYC.
Note that, like with electric razors, we found that professionals sometimes use different-looking beard trimmers than those you might see in a commercial or on a drugstore shelf. The experts that recommended this one promise there's no reason it wouldn't work for anyone, regardless of their trimming experience (to wit, podcast host Ronnie Parisella told us he also uses the Magic Clip on his beard). But there are more options on this list that non-grooming professionals swear by, too. Also: In searching for the trimmer that's right for you, the most important factor to pay attention to is how coarse your beard hair is, according to barber Julien Howard (a.k.a. the Velo Barber), who says he's seen guys of all races with beards of all hair types. Howard says that this and other trimmers from brands like Wahl, Andis, Philips Norelco, and Oster typically have motors and blades strong enough to handle the coarsest of beard hair (or any that's finer, too).
Best (less-expensive) beard trimmer
When we asked Miguez how he keeps the famous beard of his client, style writer David Coggins, so fresh, he told us his go-to tool is Wahl's corded Peanut Clipper. It's cheaper than the Magic Clip, but that isn't why he likes it — Miguez says, in his opinion, cordless trimmers are overrated. "I find that trimmers which you can plug into the wall have the power to last years, compared to wireless ones where the battery slowly gets worse." Aside from having a cord, two other things he likes about the Peanut are that it has the quality of any Wahl product and comes with four attachments that he says are "perfect lengths" for trimming a beard down from a bush in the winter to Astroturf in the summer. The Peanut is also the favored beard trimmer of Chris Black, who praised it because it's "cheap, dependable, and fits in your designer Dopp kit perfectly." If you prefer cordless tools, the Peanut also comes in a cordless version (and Wahl also makes a corded version of the above Magic Clip for anyone who might prefer that, too).
Best beard trimmer for most people
While the grooming professionals we spoke to overwhelmingly named Wahl as the maker of their favored trimmers, it was Philips Norelco that received the most praise from the regular bearded guys we talked to about their preferred tools. This checks out for barber David Kim, who tells us amateur cutters can "generally trust Philips Norelco's more-affordable products to work well and maintain a neat beard, as long as they're not trying to do something too complex or fancy." This Philips Norelco trimmer, specifically, came recommended to us by no fewer than five guys. Fashion stylist Cohen is a fan, as are stunt performer Adam Rinn and DJ–slash–digital strategist Mac Joseph, who told us he he likes how this trimmer has a vacuum feature that sucks up most of your hair as you go, meaning there is less to clean up and therefore less of a chance of squabbling with roommates or partners over the state of your sink. "I'm Black, so my hairs are super curly and get everywhere," Joseph says. "The vacuum is very important to me, because I share a bathroom."
Conrad Quilty-Harper, an editor at New Scientist, also uses this at home because "the vacuum means less mess while I'm trimming." Joseph, who told us he also bought one of these for his dad, adds that he loves how the trimmer's radial dial has clear, easy-to-read settings to set the length of its blade. "I'm blind as a bat, so if I'm not wearing my glasses, I can mess up the shaving settings," he says. "The display on this is really good and bold." When Strategist contributor Kurt Soller tested beard trimmers, this was his favorite of the bunch, too, for many of the same reasons that the others like it, including its radial dial with 0.5 mm increments, and the "godsend" vacuum sucking feature that collects "up to 90 percent of the hairs, according to the company."
Best (less-expensive) beard trimmer for most people
Two bearded guys (who aren't barbers) told us about this more affordable Wahl beard trimmer that comes with multiple guards and a "nose-hair and detail trimmer, too, which are great for reaching tough-to-shave areas," according to public-relations executive Nick Roberts. He's used this for a year and a half to tend to his "very thick" beard, telling us that, "when a beard is thick, some trimmers don't cut the hair evenly, but this does a great job of always giving me a nice and even cut." Roberts also notes that, while the battery "holds for a really long time" (six hours, when fully charged), it needs only a one-minute charge to work at full capacity for five minutes, which is usually all the time he needs to shave in a pinch. Plus, he says this trimmer just feels great in your hands. "It's stainless steel, so you can drop it without panicking, and it has a little weight to it, which helps me feel more secure when using it. But it's not heavy." And, he adds, "you can lock the power button, so when you're traveling it won't go off in your bag without you knowing." Chef Jeremy Blutstein told us he also uses this trimmer as both a beard and a body trimmer (he says he has two of them to keep things sanitary).
[Editor's note: This trimmer is currently on backorder on Amazon for a couple of weeks, so if you can't wait, you can also get it directly from Wahl.]
Best (even-less-expensive) beard trimmer for most people
For less than half the price of the Philips Norelco Series 7200 trimmer, you can get this one from the brand that promises to trim not only beard hair but head and body hair too. To do all that, it comes with 23 pieces, including 14 trimming guards, as well as a nose-hair-trimming head and a foil-shaver head you can use to create the neatest possible hairlines. It's the beard trimmer this writer (Louis Cheslaw) has used for more than a year. I've found it more than capable of providing a proper cut, whether I'm shaving daily, weekly, or (for two dark months back in the early fall) monthly. Beyond its trimming ability, the gadget has a waterproof steel body that makes it fully washable and durable, with comfortable rubber padding in all the places you want a little more grip. For $40 more, you can get a slightly newer version of the product — the Multigroom 9000 — but all Philips Norelco really did there was boost the battery life (from five to ten hours), which some may not consider worth the extra money. But that model does come expert-approved, as it's a favorite of Butler's. He particularly likes it for stubble, since you can choose one of the smaller lengths to get the look, and there's a lot of lengths to choose from.
Best beard trimmer for teens and beginners
Waldman believes this trimmer is the best for beginners because of its versatility. "You can use it in the shower, with shave gel, or for a quick dry trim," he says. And its easy-to-use adjustment dial for different hair lengths is a standout. "There aren't a bunch of attachments to misplace or clutter your bathroom drawers." For a beginner, that means much less time fidgeting around in the morning and getting straight down to business — with just a turn of a dial.
If your skin is on the more sensitive side, Waldman recommends using a trimmer with wet and dry functions, which this one offers. The trick to not irritating sensitive skin is to soften your beard and lubricate your skin before using a trimmer, Waldman explains. After washing and moisturizing, you can "keep your beard area covered with a damp warm washcloth for about two minutes to further soften the hair," he says. Then you can go in with this trimmer — whether you're shaving in the bathroom sink or in the shower.
Best beard trimmer for styling
"Between barbershop appointments, the best thing you can do at home to maintain your beard is to keep your cheek lines and neckline neat," Wood Smith told us. "And the Andis Slimline Pro is easily maneuverable to trim even hard-to-reach hairs on the neck." In fact, all the barbers who praised the Magic Clip told us they will use this trimmer to make beards look as neat as possible. "It's going to get incredibly close, so professionals use it to create neat lines, and then put the attachments on to trim the beard itself," explains Karac Ruleau of Mott NYC. Miguez agrees, saying that while he wouldn't use it as his main beard trimmer, it's the first thing he picks up to keep the area around his clients ears and the back of their neck clean. Albano, another expert who says the Slimline Pro is great for styling, adds that it is "super-light, super-sharp, and built to last." And Mac, yet another Andis fan, told us he knows from experience that this product works on facial hair of all types and textures, and holds its charge for a long time.
While it's great for styling, our experts note you could use it for a full trim, too. Fajardo echoes other barbers — this trimmer is easy to handle. That's why she recommends it for those just starting to grow a beard. The T-blade "makes it easy to line up and create symmetry," which will strengthen the shape and add more definition.
Best (slightly less-expensive) beard trimmer for styling
Photo: retailer
This less-expensive trimmer for styling comes recommended by barber Perry Petit-Beau. It's corded, meaning you won't need to worry about charging a battery, and as for its performance, Petit-Beau says he "likes the finish and power of the blade," adding that while it comes with guards for properly trimming a beard, when used without a guard, you get an "exposed blade for outline detailing and a close shave." Exposed blades don't sit inline with the body of the trimmer, but rather jut out from it, and some barbers prefer them for creating outlines because the shape makes it easier to reach more sensitive areas, according to Petit-Beau. "With most clippers, there's normally a hump under the blade that makes it hard to get closer," he says, "but an exposed blade allows you to get to those hard to reach areas."
Butler likes this trimmer for tightening up mustaches since it has a T-blade, which gets its name from the edges of the blade sticking out from the trimmer like the top of the letter T. The curved edges allow you to get into the nooks and crannies under the nose and around the corners of a mustache, according to him. "This will give you more control and potentially help you avoid cutting too much hair off of an area you are working in," Butler says. He, like Petit-Beau, appreciates that the trimmer is corded, allowing it to deliver consistent power. You don't want to end up with only half of a handlebar mustache, after all.
Best (even-less-expensive) beard trimmer for styling