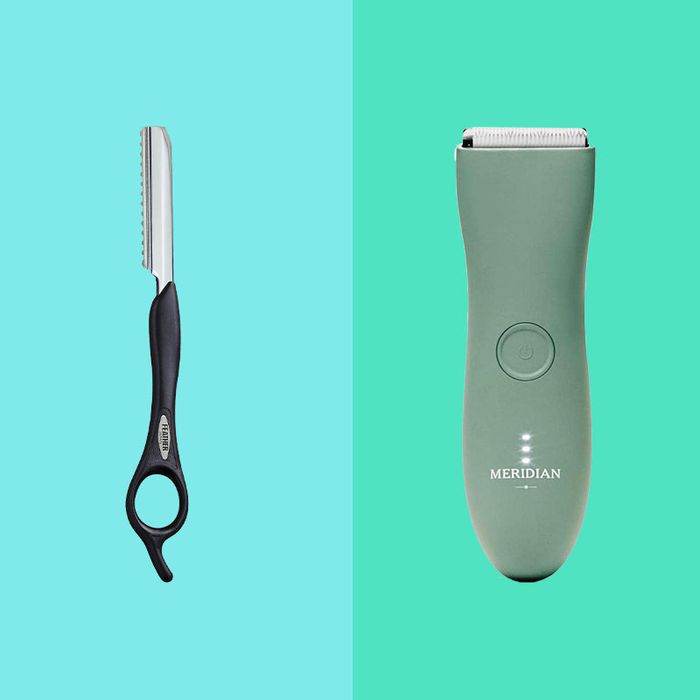 Photo-Illustration: Universal Pictures
"Manscaping" basically refers to the grooming (or removal) of any unwanted hair on a man or male-identifying person's body. But it's not as easy as just grabbing whatever razor you have in the bathroom and getting to work. "Guys who shave their chest with razors — at least when they first begin — always complain about how awful it was," says Mike Gilman, the founder of the Grooming Lounge Barbershop and Men's Spa. "Their skin will break out, or they'll cut themselves." Grooming below the belt puts you at even greater risk of cuts and irritation, according to Friend of a Barber's Mark Miguez, "because that's very sensitive skin down there. It doesn't see the sun or wind, which hardens the skin on the rest of our bodies." But as Gilman, Miguez, and the eight other experts we spoke to assure, it's easy to avoid these pitfalls with the right tools — and the right prep, says master stylist Yvey Valcin, who stresses the importance of applying shaving cream to avoid irritation. "Often, when it comes to other areas of the body, [men] skip this preparation," he says. "It's important to remember that using a razor will most likely leave razor bumps, so you have to use the same amount of care used for shaving your beard in other areas."
Below, we've covered recommendations for everything from body-hair trimmers and tiny scissors to nose-hair trimmers and tweezers.
The most essential manscaping tool, according to all of the experts we spoke to, is an electric trimmer. Electric trimmers often come with a variety of length guards that are handy for trimming different parts of your body from chest to beard to groin area. But depending on the level of hairlessness you're looking to achieve, and how precise or detailed you are in your removal or trimming efforts, you might want to invest in a few extra tools specifically designed to target areas like your back, neck, and the inside of your nostrils. Of course the best (and longest-lasting) way to completely remove body hair is professional or at-home waxing. But since that's a whole universe unto itself, we're sticking to tools for trimming and shaving in this guide. If you're extra hairy, you may want to assemble a full set of tools to keep things looking neat and tidy. Or you may skip the trimmer all together and go for some tweezers and a pair of scissors. It all comes down to personal preference, and the more you know about the tools available, the easier it will be to find the ones that work for you.
Corded, cordless, or manual
While it may seem strange to buy a corded electric trimmer when so many are cordless and rechargeable, both Miguez and professional groomer Linh Nguyen say a corded model is going to be more powerful and will last longer; Nguyen has had his corded electric trimmer (which you can read more about below) for ten years. With that said, cordless trimmers are more convenient for travel, less cumbersome, and can often be used with water or shaving cream. But the lowest-maintenance tools are those that don't require electricity at all. Not only are scissors, tweezers, and edge razors very precise, they won't die on you and never need to be charged.
The tools you use to groom your body hair should work with, not against, the angles, curves, and folds of your body and skin. They should also be easy to grip and maneuver, giving you the best shot at a close shave without any nicks or cuts. The tools below have been recommended to us in large part for their carefully considered design, whether it's a handle that fits perfectly into your palm, a small size that fits into tight spaces, or a pivoting head that follows your body's topography.
As we mentioned when we wrote about electric razors, the ability to use a grooming tool in both wet and dry conditions is a major plus. According to barber Craig Whitely, "When your hair is wet, it softens, which allows the blade to move much better — preventing any irritation." Dermatologist and author Dr. Sandy Skotnicki also advises that a shave in hot water can prevent ingrown hairs. And there's the added ease of cleaning up any tiny hairs if you do your manscaping in the shower. But not everyone has time to take a shower whenever they want to clean up their hairline or shave their chest, so it's nice to have the option to groom yourself dry too.
Best overall body-hair trimmer
Type of tool: Electric trimmer | Corded | Ergonomic design: Small in size, comes with four guards | Dry use only
The palm-size Peanut from Wahl, a brand barbers always seem to tell us about, comes recommended by two of our experts as both a chest- and pubic-hair trimmer. Nguyen uses the Peanut to trim his pubic hair because its small size lets him get to hard-to-reach places with greater control. (For those hard-to-reach places, he has a very important tip: "When you're doing certain wrinkly areas, you have to stretch the skin out" so it's taut and smooth.) Miguez, who uses the Peanut for his "really crazy" chest hair and around his shoulders, says it is "easy to maneuver and get right up against the shoulder blade and around the neck." The Peanut comes with four guards that range from 1/8-inch to 1/2-inch. Nguyen uses the shorter guards for trimming around his groin area; without one, he says the skin can "get caught in between the little trimming teeth and that's how you end up cutting yourself in places you really don't want to cut." And Miguez uses the longer guards on his chest, which prevent him from "going too short, where suddenly your sharp hairs are sticking out and poking through your T-shirts."
Best multifunction body-hair trimmer
Photo: retailer
Type of tool: Two-sided electric trimmer | Cordless | Ergonomic design: Pivoting head, built-in adjustable guard, and grippy handle | Wet or dry use
While the Wahl Peanut was recommended by our expert sources more than any other body-hair trimmer, the cordless, double-ended Norelco Bodygroom may be a bit easier to use for anyone who isn't as familiar with such devices. It's the preferred body-hair trimmer of professional groomer and hairstylist Ronnie Peterson, who explains that its slightly awkward look is all in the name of increased functionality. One end has a pivoting foil shaver for areas where you want close shaves, and the other has a trimmer with an adjustable guard (ranging from 3-mm. to 11-mm. in length) for when you want to keep a blade further from sensitive skin. That the guard is built into the trimmer means you don't have to keep track of several detachable ones. "Both sides are really ergonomic," explains Peterson. "The adjustable trimmer is better for sensitive areas like the crotch," and the pivoting head "can be used on the chest if you want to go really clean." It's also water resistant (the Peanut is not), so you can use it in the shower or rinse it in the sink for easy cleanup.
Best heavy-duty body-hair trimmer
Type of tool: Electric trimmer | Cordless | Ergonomic design: Built-in adjustable guard and textured grippy handle | Dry use only
Barber Faheem Alexander told us he's been using this clipper to trim his own body hair consistently for the last two years, and he recommends it to anyone who asks. "I have a very diverse clientele, and this is the same clipper I tell them all to use," he says, noting that it would be a very good option for men who want to remove a lot of hair or have particularly thick body hair because the Caliber's magnetic motor is "even more powerful than a rotary motor," which is the type of motor inside the other body-hair trimmers on this list. The cordless Caliber is not only powerful, he adds, but its battery can go for "five or six hours of use without needing a charge."
Best shaver for a close shave
Type of tool: Electric trimmer | Cordless | Ergonomic design: Small and lightweight, with staggered head and hypoallergenic foil | Dry use only 
Both Valcin and master barber Darrius Peace reach for this foil shaver when they want to leave skin absolutely stubble-free. "This is a great tool for individuals who enjoy a very, very close shave," Valcin says. "The best way to use it is to shave the area down to zero with a trimmer, then finish with the profoil Lithium for a smooth finish." With titanium foils and a staggered head, the Lithium provides the close shave of a razor without causing the same irritation or bumps. It's also ultraprecise and easy to handle, so Peace often recommends it to those who're shaving areas a little more sensitive than the face where you'll want to exercise greater caution.
Best pubic-hair trimmer
Type of tool: Electric trimmer | Cordless | Ergonomic design: Small size with a built-in light and two length guards | Wet or dry
Gilman and Miguez really like this very aptly named trimmer that is designed specifically for "below-the-belt grooming," according to Gilman. Unlike the blade of the Wahl Peanut (which Nguyen won't use down there without a guard), the blades on the Manscaped Lawn Mower "are so thin and close together it doesn't grab or yank," Gilman assures. But because it's similar in size to the Peanut, he promises it's "really easy to maneuver and can get wherever you need to get." It's also waterproof, so you can use it in the shower; it has 90 minutes of battery life at full charge; and it can be returned for free within 30 days if you're not happy with it — a nice touch that Miguez says is ultimately what convinced him to try it. He's since made it a part of his regular grooming routine, telling us that "the power is just gentle enough, it cuts really smoothly, and it even has a light — it's just really well thought out."
Best (less expensive) pubic-hair trimmer
Photo: retailer
Type of tool: Electric trimmer | Cordless | Ergonomic design: Two double-sided length guards and a built-in anti-nick shaving guard | Wet or dry
While it doesn't have a built-in light like the Manscaped Lawn Mower, that's about the only noticeable difference between that pubic-hair trimmer and this less expensive model that Strategist associate editor Louis Cheslaw shaves with. Meridian's Trimmer is cordless, waterproof, ergonomically designed, and small enough for easy maneuvering. Its blade is also designed to prevent nicks and cuts on extra-sensitive skin, even when used without one of the two included guard combs. It even has the same 90-minute battery life of the Lawn Mower. Cheslaw says that, with or without the included guards, the gadget has delivered a quick, neat trim every time he's used it. Those guards, he adds, are conveniently double-sided with different lengths on either end (one spans 3-mm. to 6-mm., the other 9-mm. to 12-mm.), giving him four different lengths to choose from and fewer pieces of plastic cluttering his medicine cabinet.
Best razor for neck hair
Type of tool: Edge razor | Manual | Ergonomic design: Ergonomic handle and blade guard | Wet or dry
Nguyen says that whenever he's preparing a client for a photo shoot, the back of the neck almost always needs touching up. Hair grows really fast in this area, he explains, and quickly starts to look messy between haircuts. According to Nguyen, the Feather Styling razor is the perfect tool for cleaning up this often-overlooked spot. As for how to shave the back of your neck: "Put your hand flat against the nape of your neck and make a straight line across with your finger," he says, then just gradually edge the razor over everything beneath that line.
Best back shaver
Type of tool: Double-bladed cartridge body razor | Manual | Ergonomic design: Extra long grippy handle | Wet recommended
This strange contraption, designed for shaving hard-to-reach back hairs, has a goofy "As Seen on TV" quality, but Gilman's customers love it. "We get guys who say, 'I've been trying to shave my back for 30 years,' and after 10 minutes with this they're done, with no cuts." Gilman describes the blade as being more like a comb that's designed to ensure you don't cut your back. The comically large cartridge blades do need to be replaced, but you can simply buy more as you would with any other cartridge razor. As for when to use it, Gilman recommends in the shower so that your skin and hair are soft — just lather up your back with some soap first.
Best nose-hair trimmer
Type of tool: Hand-powered trimmer | Manual | Ergonomic design: Extra small size with textured handle | Dry recommended
While a good electric trimmer will take care of most manscaping needs, certain areas, such as the nose, require specific tools. Gilman says he searched for the perfect nose-hair trimmer for a long time, describing it as his white whale. He discovered this manual Groom Mate trimmer a few years ago, and he's been selling it in his shop ever since, telling us it's the first nose-hair trimmer he's carried "where people aren't coming back and complaining that it broke." Between the stainless-steel construction and lack of an intricate power system — to operate it, you simply put it into a nostril and twist the base back and forth — it is way more durable than the electric options on the market, he says, adding that the only maintenance required is an occasional water rinse. "It lasts forever," Gilman says.
Best scissors for body hair
Type of tool: Scissors | Manual | Ergonomic design: Extra small with curved and pointed or round-end blades | Dry recommended
Miguez prefers to use these scissors to trim his nose hairs. "They're curved and really small, so you can get into your nostril", he explains. He uses scissors rather than a manual tool like the Groom Mate because the latter tends to leave cut hairs stuck in the machine or in his nostril. He likes that with scissors, you can see the hair falling into your sink — so you know they're working — and you can clean and sanitize the blades really simply between uses.
Best tweezers for body hair
Type of tool: Tweezers | Manual | Ergonomic design: Angled tips | Dry recommended
For tackling unibrows or occasional stray hairs anywhere on your body, Gilman says a good set of tweezers comes in handy, too. "Slanted tweezers make it easier to grab the hair," and Tweezerman's are slanted at a 25-degree angle, which the brand claims is the best for guaranteeing a neat look on your first attempt. The company also has a lifetime sharpening guarantee, so if they get dull, you can send them back to Tweezerman for free sharpening.
Some more Strategist-approved men's grooming products
• Faheem Alexander, barber
• Louis Cheslaw, Strategist associate editor
• Alexia Donovan, director of client services at the Barber Surgeons Guild
• Mike Gilman, founder of the Grooming Lounge Barbershop and Men's Spa • Mark Miguez, co-owner and barber at Friend of a Barber
• Linh Nguyen, professional groomer
• Darrius Peace, master barber-stylist
• Ronnie Peterson, professional groomer and hairstylist
• Dr. Sandy Skotnicki, dermatologist and author of Beyond Soap
• Yvey Valcin, Master stylist and founder of Yvey Salon
The Strategist is designed to surface the most useful, expert recommendations for things to buy across the vast e-commerce landscape. Some of our latest conquests include the best women's jeans, rolling luggage, pillows for side sleepers, ultra-flattering pants, and bath towels. We update links when possible, but note that deals can expire and all prices are subject to change.
Every editorial product is independently selected. If you buy something through our links, New York may earn an affiliate commission.