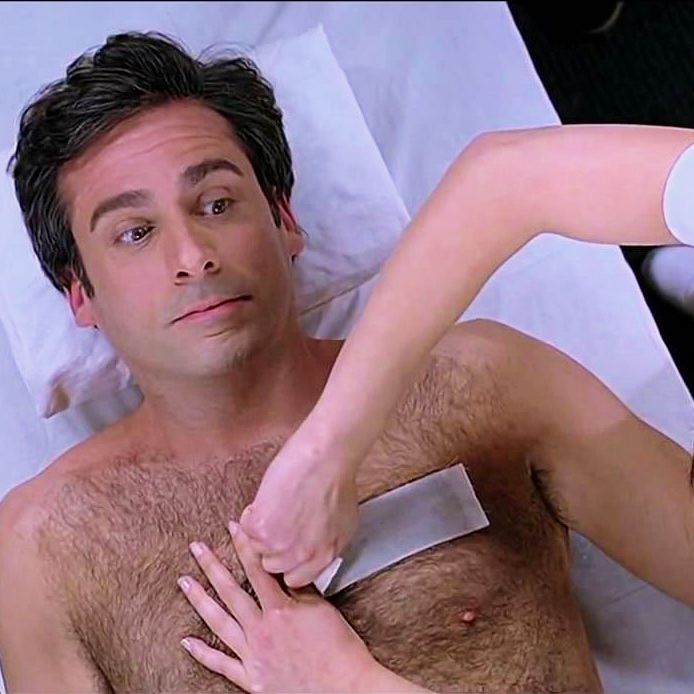 Photo: Universal Pictures
The term manscaping is almost but not quite self-explanatory. A portmanteau of man and landscaping, it essentially refers to the grooming (or removal) of unwanted body hair on men — anywhere it may appear. And it's not as easy as just grabbing whatever razor you have in the bathroom. "Guys who shave their chest with razors — at least when they first begin — always complain about how awful it was," says Mike Gilman, the founder of the Grooming Lounge Barbershop and Men's Spa. "Their skin will break out, or they'll cut themselves." And you're generally at even greater risk of cuts when manscaping below the belt, according to Friend of a Barber's Mark Miguez, "because that's very sensitive skin down there — it doesn't see the sun or wind, which hardens the skin on the rest of our bodies." But, as Gilman, Miguez, and the five other experts we spoke to assure, it's easy to avoid these pitfalls with the right tools. Below, their recommendations for everything you need to manscape, from body-hair trimmers and waxing pads to nose-hair trimmers and tweezers.
Best overall body-hair trimmer
The most essential manscaping tool, according to all of the experts we spoke to, is an electric trimmer. The palm-sized Peanut from Wahl, a brand barbers always seem to tell us about, comes recommended by two of our experts as both a chest- and groin-hair trimmer. Groomer Linh Nguyen uses the Peanut to trim his groin hair, telling us that its small size lets him get to hard-to-reach places with greater control. (For those hard-to-reach places, he has a very important tip: "When you're doing certain wrinkly areas, you have to stretch the skin out" so it's taut and smooth.) Miguez, who uses the Peanut for his "really crazy" chest hair and around his shoulders, says it is "easy to maneuver and get right up against the shoulder blade and around the neck." While it may seem strange to buy a corded electric trimmer when so many are cordless and rechargeable, both Miguez and Nguyen say a corded model is more powerful and more durable. (Nguyen promises, "This lasts forever, I've had mine for 10 years.") The Peanut, both experts add, comes with four guards that range from 1/8" to 1/2" and will make manscaping even easier. Nguyen uses the shorter guards for trimming his groin; without one, he says the skin can "get caught in-between the little trimming teeth and that's how you end up cutting yourself in places you really don't want to cut." And Miguez uses the longer guards on his chest, which prevent him from "going too short, where suddenly your sharp hairs are sticking out and poking through your T-shirts."
Best easy-to-use body-hair trimmer
Photo: retailer
While the Wahl Peanut got more recommendations than any other body trimmer, the cordless, double-ended Norelco Bodygroom may be a bit easier to use for anyone who isn't as familiar with such devices. It's the preferred body-hair trimmer of groomer and hairstylist Ronnie Peterson, who explains that its slightly awkward look is all in the name of increased functionality. One end has a pivoting foil shaver for areas where you want close shaves, and the other has a trimmer with an adjustable guard (ranging from 3 mm to 11 mm in length) for when you want to keep a blade further from sensitive skin. (That the guard is built into the trimmer means you don't have to keep track of detachable ones.) "Both sides are really ergonomic," explains Peterson. "The adjustable trimmer is better for sensitive areas like the crotch," and the pivoting head "can be used on the chest if you want to go really clean." It's also water-resistant (the Peanut is not), so you can use it in the shower or rinse it in the sink for easy cleanup.
Best heavy-duty body-hair trimmer
Barber Faheem Alexander told us that he's been using this clipper to trim his own body hair for over a year and that he recommends it to anyone who asks. "I have a very diverse clientele, and this is the same clipper I tell them all to use." Alexander says it would be a very good option for men who need to manscape a lot or have particularly thick body hair because the Caliber's magnetic motor is "even more powerful than a rotary motor," which is the type of motor inside the other body-hair trimmers on this list. The cordless Caliber is not only powerful, he adds, but long lasting: Its battery can go for "five or six hours of use without needing a charge."
Best (less expensive) heavy-duty body trimmer
New York City hair-removal salon Shobha offers full-body trims for men, and the Wahl Lithium Ion is the trimmer of choice at each of its seven locations, according to the company's founder and CEO, Shobha Tummala. It would also be good for men who have to trim a lot because, as Tummala says, "men's hair tends to be coarser and denser, so you want to make sure you use a heavy-duty razor that isn't going to burn out after a few full-body trims." The commercial-grade trimmer comes with a ton of attachments: 12 combs, ranging from 1/16" to 1", and three additional heads that can be swapped in (including a rotary nose hair trimmer, a narrow precision detailer, and an outline shaver).
Best groin-hair trimmer
Both Gilman and Miguez really like this newer trimmer that Gilman says is designed specifically for "below the belt grooming." Unlike the blade of the Wahl Peanut (the trimmer Nguyen is too nervous to use down there without a guard), "the blades on this are so thin and close together, it doesn't grab or yank," Gilman assures. But because this is similar in size to the Peanut, he promises it's "really easy to maneuver and can get wherever you need to get." It's also waterproof, so you can use it in the shower for easy cleanup, and the product can be returned for free within 30 days if you're not happy with it — a nice touch that Miguez says is ultimately what convinced him to get it. He's since made it a part of his regular grooming routine, telling us that "the power is just gentle enough, it cuts really smoothly, and it even has a light — it's just really well thought out."
Best (less expensive) groin-hair trimmer