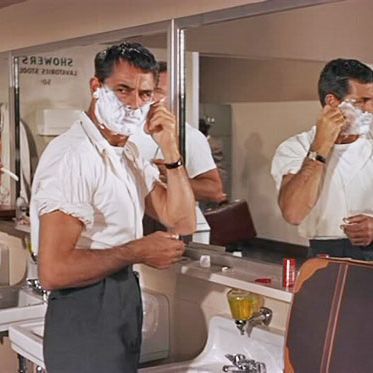 Here at the Strategist, we like to think of ourselves as crazy (in the good way) about the stuff we buy, but as much as we'd like to, we can't try everything. Which is why we have People's Choice, in which we find the best-reviewed products and single out the most convincing ones. (You can learn more about our rating system and how we pick each item here.)
And while we've written about lots of shaving products — including the best women's facial razors and the best shaving creams for men — here we've rounded up the best shaving creams and gels as praised by the most enthusiastic reviewers on Amazon.
Best-rated shaving cream
Hundreds of reviewers mention that this shaving cream takes them back in time. "I'm 50 years old, and I can still remember what an old-tyme barber shop (not a hairstylist) smells like, and it smells just like this," one writes. Another says, "This is exactly what I would expect an old barber shop in 19th-century England to smell like." Many reviewers apply this shaving cream with a brush and use a double-edged safety razor, which several admit is time-consuming, but reviewers think it's worth it. "Yes, it's old-fashioned … but well worth every minute," one writes. "Slow down, savor the ritual, and treat yourself to a delightful shaving experience. Consider letting go of the 'scrape the face with a disposable as fast as possible' rush, and make those moments yours again, to enjoy and ready yourself for … life." Dozens say this luxurious process is still pretty simple, even for double-edged razor novices. "This stuff lathers for days," one shopper writes. "If you're new to DE shaving and haven't quite mastered how to lather other soaps, try this one. It's very, very easy to get great results by adding a few drops of water at a time. You could use this and a cheap badger brush and get the best shave of your life."
Best-rated (less expensive) shaving cream
The consensus among reviewers is that this shaving cream is moisturizing. "It's 100x more moisturizing than any cream I've used before, and the smell is so much better and less chemically than Skintimate and other top competitors," one enthusiastic user writes. "I received a bottle from a friend who swore by it and wanted to 'change my life' and [I would] 'thank her later.' I totally did. This stuff will leave your legs as smooth as the day you were born." Another compares the non-foaming formula to a "smooth and silky lotion," which is "easier to see your legs [through,] and it's actually preferable since you can see the hair underneath or anything you miss." One shopper who admits to using their "husband's reject shaving cream" before Eos is also sold. "This is the first shaving cream I've bought in 10 years, and I love it! So smooth, easy pump, and container doesn't get too gross over time."
And now some micro-picks for every type of shaving cream you might be looking for. 
Best men's shaving cream
Just like the men's-grooming and shaving experts we polled, the everyday user also believes this is the best shaving cream. Many reviewers praise the soothing eucalyptus as a big selling point. "The cooling sensation of the menthol combined with refreshing scent of eucalyptus is just too nice for me to want any other product," one writes. "The lather is also superb on this. Other products go on seemingly thick but seem to dissolve into thin air, but this always stays nice and thick on my face and neck." Another notes, "This stuff results in no stubble or ingrown hairs and a silky-smooth, close shave." While Proraso is marketed to men, ladies have found it works just as well on their skin. One review, titled "LADIES, this will get your pits SMOOTH AF," reads, "Stop buying 'women's' shaving cream. This stuff is the real deal. You know how when a guy shaves and his skin is tight and smooth but also soft and smells like the dad you never had? You can have that … on your pits."
Best shaving cream for cheap razors
Many reviewers say this cream is so good you even get great results with cheaper tools. "Finally," one writes, "after shaving for 20+ years, I finally found a cream that helps even the cheapo disposable razors glide smoothly across your face." Another said, "Even with a cheap razor, I had the best shave of my life." Those who practice the traditional art of shaving recommend using a brush to apply the cream, which is another expense, but one reviewer finds this one lathers up perfectly when he just uses his hands, remarking, "I like that you don't necessarily need that fancy badger brush to agitate it into a fine foam." A majority of the 70 percent of reviewers who gave this cream five stars love the sandalwood fragrance, best described by a shopper who writes, "The scent is light enough to not be bothersome in any way yet good enough for my wife to absolutely love it after I shave."
Best shaving cream for ingrown hairs
One user thinks this shaving cream has the power to start a movement: "No messy foam. Cleanup is no longer a problem. If more men tried this product, there could be a revolution in the shaving world!" Others are fans of the non-foaming formula. "I discovered that I prefer it to shaving cream because there isn't a large amount of foam on your face and it's easier to see where you're shaving," one writes. A majority of reviewers praise this shaving cream more for its ability to neutralize ingrown hairs. "I've been using this for years, after a family member sent it to me while on deployment," one writes. "I always had issues with razor burn, ingrown hairs, and blemishes. But this cream reduced those issues." While many reviewers have been fans of the product for years, you don't have to wait that long to see results: One who "suffered bad razor burn and some ingrown hairs" has already noticed "massive improvement" after just two shaves.
Best natural shaving cream
Over 70 percent of reviewers give this shaving cream five stars, hundreds of whom agree that this tube is long-lasting. "This is the BEST shaving cream I have ever used," one writes. "And let me tell you, they mean it when they say a little goes a long way. I use a pea-size amount for each leg, and that's enough! It lathers wonderfully and moisturizes." Another says, "'It spreads on and protects perfectly with a tiny amount. A tube lasts well over two months, and that's with me shaving six days a week." This cream's vegan, all-natural formula also gets the seal of approval. "Take a peek at the ingredient list; you'll be instantly soothed by the natural ingredients that you can actually understand," one reviewer says. "I had to double-check to make sure it was not a synthetic fragrance, but HOLY COW the scent is a bunch of natural essential oils and extracts."
Best all-over shaving cream
"This cream has given me, without question, the best shaving experience I have had in my adult life," writes one satisfied customer. And based on the reviews, this shaving cream isn't just for beards. Reviewers report using it on every hairy patch from the head on down. "I shave my head and face so I take shaving seriously, and this is my stuff right now," one user writes. "Cheaper than Proraso. Easier to get than Proraso and, for me, similar, maybe better results. My face is as smooth as a baby's you know what." Another says, "As a woman with PCOS, I have had to shave twice a day for many years, as I have always been so self-conscious about facial hair showing or being felt on my chin, but now I can literally go for 24 hours with no trace at all." One thinks it even helps keep her skin moisturized: "It creates a very thin layer of protection between the razor and my legs, and it leaves my skin smooth and hydrated." While all of that's great, David Walters, who wrote for the Strategist, believes this cream's "greatest triumph" is that "this shit lasts forever": "I've been working on the same six-ounce tube for a year and a half, whereas a typical tube of the other gloop would last me three months, tops. That is witchcraft."
Best bikini-line shaving cream
"It's called Coochy Cream for a reason," says one reviewer. "Works great on your coochy. As someone who's suffered through A LOT of bad products, I can assure you this is one of the good ones." Many give this product five stars because it doesn't irritate their skin and leaves them razor-burn free. "This product actually does as promised and has left my uhm … area smoother than smooth and without all the unwanted aftereffects you get with some other products," says one satisfied shopper. Another writes, "No bumps, no burn, no ingrown hairs!" While this product is made specifically for the bikini area, many reviewers note that it works well everywhere, for everyone. "My boyfriend had TERRIBLE razor burn and had prescriptions for his face for it," one writes. "I got him this shaving cream a couple years ago and it's changed his shave completely. No more razor burn and a smooth shave."
Best shaving soap
Over 70 percent of reviewers gave this soap a five-star rating, and many mention how easily this soap lathers, leading one reviewer to deem it great for first-timers: "I was surprised by just how much water you can add, and this soap still makes a great-quality lather. This is helpful for those of us still learning this way of shaving." But seasoned shavers love it just as much. "In over 30 years of shaving, this was the first time using something other than cheap canned shave cream. I wanted to try the whole brush thing and I wasn't expecting anything big by using this shaving soap, but holy cow, what a difference! The double-edge blade glided over the skin without irritation. I never would've thought a difference in shaving cream/soap would've made such a positive impact. This made shaving pleasant again and not just a chore." The sandalwood scent is another selling point for many users, like one who admits, "I bought this after getting Lather & Wood aftershave balm for Christmas and liked the scent so much I wanted to have the matching soap … I was not disappointed. It's of excellent quality and provides a smooth shave with a very pleasant smell. It can hold a ton of water, so lathering is easy and voluminous."
Best shaving gel for sensitive skin
Reviewers with sensitive skin offer generous praise for this shaving gel. "I'm hooked on it for both price and convenience," says one. "I have really dry and sensitive skin and have tried too many to count. I won't go back to another." Echoing this, other shoppers love the value of this item. One who claims to be a "very brand-loyal person" switched because of the price and quality. For one who says they've never "been a big shave gel user," this gel made them sing a different tune: "I'm definitely converted. Smells great and seems to offer a smoother shave than other gels I've used in the past. Plus, my skin is not nearly as dried out afterward." Although it's marketed as a women's shaving cream, it works just fine for men, too. "My husband uses this for his head when he shaves," one reviewer writes. "It leaves his head feeling so soft, and he does not get bumps from shaving … Me and my daughter race to feel his head right after he shaves it."
Best shaving gel to buy in bulk
"Great shaving gel," one reviewer writes. "I have very sensitive [skin], and this gel keeps my legs moist while I shave them and does not dry my skin. A little goes a long way." Another claims to have "no more cuts [and] no more irritation," while a third notes that the "consistency is thin enough not to get clogged in multiblade razors but thick enough to keep your skin moisturized." As happy as reviewers are about the product, they are even more hyped up about the price: "Gillette shaving gel, pack of six, for $11! What a deal at a $1.83 each, nice bargain." Even if you were able to find a cheaper version, one reviewer strongly recommends against it: "It's Gillette, they practically invented shaving. Just go with them, not some imitation. It's your skin, for God's sake. Don't be cheap."
Best shaving gel for dry skin
"Since the day I started to grow hair till this day, I have yet to find a better shaving cream," one user writes. A common theme among reviewers is that this moisturizing shaving gel is a dream for dry skin. "I used to have dry skin on my legs, but this gel seems to keep my legs hydrated," says one, while dozens more note how silky and smooth their skin is afterward. "Works great, makes my legs silky soft, helps give me a nice close shave, and a great price," one writes. Another even says it's so hydrating they "don't have to put lotion on each time" they shave.
Best fragrance-free shaving gel