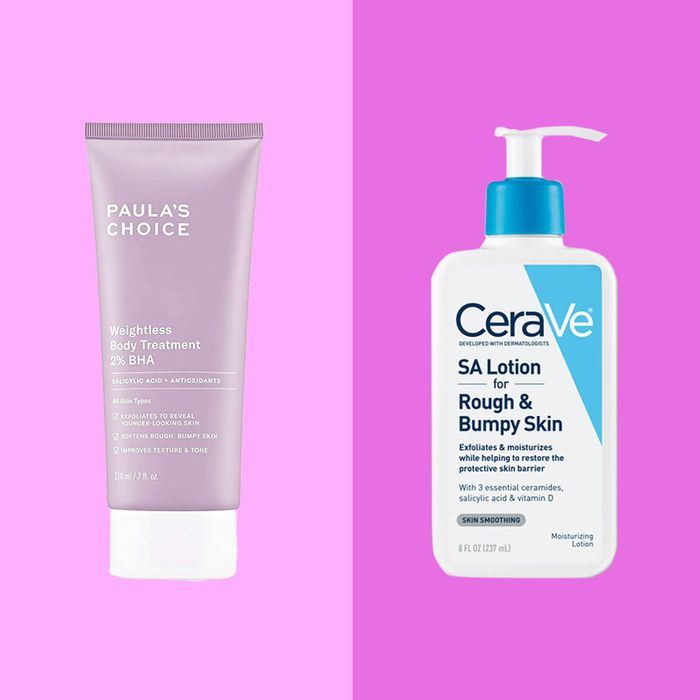 Photo-Illustration: retailers
Those rough bumps on your arms, legs, or cheeks that you call "chicken skin" may be keratosis pilaris. "Keratosis pilaris is caused by a buildup of keratin in pores," explains L.A.-based dermatologist Dr. Annie Chiu. Keratin is a protein naturally found in the body, but it can accumulate in the opening of your pores. And when that happens, your skin gets covered in dry, rough patches and tiny bumps. KP is persistent, almost to the point of being experienced like a skin type rather than an acute condition. While there is no magic cure, there are treatments that can help. The experts we spoke to all agreed that the best course of action for treating keratosis pilaris is through a one-two punch of exfoliation and hydration. Chiu says that, in general, patients should look for products that contain active ingredients like exfoliants; lactic, glycolic, and salicylic acids; and urea, an emollient that breaks down keratin. Below, the exfoliating lotions, cleansers, and scrubs Chiu and six other dermatologists recommend to treat keratosis pilaris on the body and face.
Best body products to treat keratosis pilaris


Best exfoliating moisturizer


According to dermatologist Dr. Ainah Tan, incorporating a moisturizing cream or lotion with a gentle acid into your regimen is a great first step. Acids exfoliate the keratin buildup and dead skin cells that accumulate in the pores, reducing the appearance of bumps, while the emollients go to work on the rough, dry patches. She recommends CeraVe's Renewing SA lotion, which contains a blend of both lactic and salicylic acids. Dermatologist Dr. Camille Howard, the founder of hair-care line Girl+Hair, also recommends SA lotion, adding that the formula's niacinamide is anti-inflammatory and will help smooth rough bumps.
Best (less-expensive) exfoliating moisturizer


Two of our experts were also fans of AmLactin's Ultra Smoothing body lotion, which Dr. Michelle Henry of Skin & Aesthetic Surgery of Manhattan calls a "long-loved and long-recommended" option that is formulated with lactic acid. Tan also recommends AmLactin and offers some application tips: Use creams at least once a day. And apply them within five minutes of showering, while the skin is still damp, to lock in that moisture.
Best body treatment to treat keratosis pilaris


Howard loves Paula's Choice Weightless Body Treatment, which was designed specifically for KP-prone skin. The lightweight cream contains 2 percent salicylic acid, which will help soften the hardened little keratin plugs over time.
Best body scrub to treat keratosis pilaris


Our experts also recommend products that combine both chemical and physical exfoliation. DERMAdoctor is one of the first brands to create products specifically for KP, and this scrub blends glycolic and lactic acids with silica for physical exfoliation. Be patient: "Expect to use a product for four to six weeks before clearing begins," says Dr. Chiu.
Best (less-expensive) body scrub to treat keratosis pilaris


This KP Bump Eraser Body Scrub from First Aid Beauty is a more affordable recommendation that has a 10 percent blend of glycolic and lactic acids as well as pumice buffing beads and soothing vitamin E. It is also certified clean at Sephora (which means it is formulated without a range of ingredients including the sulfates SLS and SLES, parabens, formaldehydes, formaldehyde-releasing agents, phthalates, mineral oil, oxybenzone, and hydroquinone) and cruelty free.
Best fragrance-free body scrub to treat keratosis pilaris


Howard suggests this exfoliator from Nécessaire because it has a "gentle blend" of glycolic acid, salicylic acid, and lactic acids for chemical exfoliation in addition to pumice, which provides physical exfoliation. Nécessaire was launched by Estée Lauder alum Randi Christiansen and Into the Gloss co-founder Nick Axelrod and was designed specifically for sensitive skin. All of the products in their line include a fragrance-free option, ideal if your skin (or nose) doesn't tolerate added fragrance. If you do prefer fragrance, the scrub is also available in sandalwood and eucalyptus scents.
Best kit to treat keratosis pilaris


Dr. Michele Green calls this KP kit from Glytone one of the best ways to treat keratosis pilaris on the body. This "highly effective, targeted treatment" kit includes a loofah and an exfoliating bodywash, which help to loosen keratin plugs, as well as an exfoliating body lotion that also works to reduce the appearance and feel of the rough bumps. Glycolic acid is the main ingredient in both the bodywash and body lotion, which Green says will not only slough off dead skin cells and promote cell turnover but will also help improve the skin's overall texture and tone. She recommends using the kit once a day to achieve the best results but notes that if irritation occurs with daily use, you can switch to every other day or twice a week.
Best face products to treat keratosis pilaris


Best retinol to treat keratosis pilaris


For keratosis pilaris on the face, several of the dermatologists we spoke to highly recommended adding a retinoid to your routine. Retinoids speed cell turnover and exfoliate the top layer of your skin. If you can't get a prescription retinoid from your derm, Dr. Noelani González, Chiu, and Howard all suggested an over-the-counter adapalene, like Differin, an extremely effective ingredient that once was only available by prescription. In addition to treating KP, Differin has been highly recommended by dermatologists to tackle a range of skin conditions, including acne, maskne, discoloration, and scarring, so it's a particularly great option if you have more than one skin concern you're trying to treat.
Best exfoliating pads to treat keratosis pilaris


While you can use physical scrubs on your body, "chemical exfoliants are preferred for use on the delicate skin of the face," says Green. When used properly, they will remove dead skin cells and shrink the appearance of bumps with