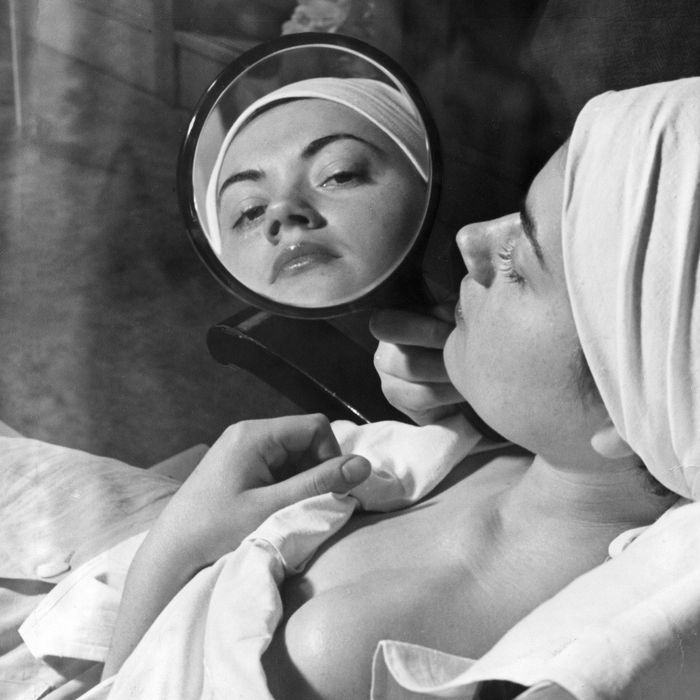 Photo: ullstein bild Dtl./Getty Images
Even if battling zits is a distant memory filed away with high-school gym class and algebra tests, acne marks and scars can annoyingly linger long after the pimples are gone. "If someone gets a very large pimple or cyst, the natural healing process of the skin will create a scar," says dermatologist David Avram of Heights Dermatology and Laser. "The more intense the inflammation, the more likely it will leave a scar."
True acne scars — as in indentations in the skin like ice-pick scars — can be erased only by professional procedures like microneedling or lasers. Fortunately, what most of us refer to as "scars," according to Julia Tzu, founder and medical director of Wall Street Dermatology, are actually marks caused by post-inflammatory hyperpigmentation (brown spots) or post-inflammatory erythema (red spots) that will fade over several months or years. Also fortunately, there are products that can speed up the process.
We spoke with Tzu, Avram, and seven more dermatologists to get their recommendations for treating, preventing, and camouflaging acne marks.
Best overall product for acne scars
Since UV rays and visible light from the sun can further darken acne marks, all the dermatologists agree that it's essential to wear sunscreen daily. "Sun protection can make a big difference in whether or not these marks remain permanent," says Arielle Nagler, a dermatologist at NYU Langone Medical Center. She'll often recommend that patients wait and see what their scars look like after a year of careful sun protection before opting for an expensive or invasive procedure.
A top pick among dermatologists for facial sunscreens, this EltaMD sun blocker is also recommended for fading acne marks. Dermatologist Natalie Moulton-Levy likes that it "contains lactic acid, an ingredient which causes a reduction in post-inflammatory hyperpigmentation," while Debra Jaliman, an assistant professor of dermatology at Mount Sinai's Icahn School of Medicine, says it's rich in niacinamide, another ingredient that works to fade dark spots. Dr. Dendy Engelman of the Shafer Clinic, is a fan of this product because, along with lactic acid, "it has zinc oxide to protect from [UVA/UVB] rays and antioxidants to repair damage."
Another derm-approved sunscreen is this mineral option from La Roche-Posay, recommended by Dr. Michele Farber of Schweiger Dermatology. "It's one of my favorites because it goes on smoothly and has broad coverage as well as antioxidants as an extra layer of UV protection," she says.
Founder of Skin Wellness Dermatology, Dr. Corey L. Hartman, recommends this sunscreen from ISDIN, a lightweight mineral option that doesn't leave a white cast on dark skin tones.
Best hydroquinone products for acne scars
According to several of the derms we spoke with, skin-lightening agent hydroquinone is one of the most effective ingredients for fading acne scars. Naissan Wesley, a dermatologist at Skin Care and Laser Physicians of Beverly Hills, explains that hydroquinone "can help acne marks fade faster by inhibiting the melanocytes [pigment-producing cells in the skin] from making more pigment."
Ambi Fade Cream includes 2 percent hydroquinone, the highest concentration allowed without a prescription. "It also contains soy, which is well known for treating pigmentation issues, and vitamin E, which helps with scarring," says Tzu. While the FDA considers hydroquinone safe, it is banned in Europe and can potentially cause irritation or further discoloration, so remember to patch test and ask a dermatologist whether it's right for you.
Although it's a lot more expensive than the Ambi cream, this serum, recommended by dermatologist Y. Claire Chang of Union Square Laser Dermatology, pairs hydroquinone with vitamin C and glycolic acid, two more proven mark-fighting ingredients. "Glycolic acid helps improve existing brown spots by increasing skin-cell turnover and chemically exfoliating the skin," she says. "[And] vitamin C is a powerful antioxidant that can brighten the skin." Writer Or Gotham is also a fan of the Murad serum and told us he saw "a visible reduction in dark spots" after only three days of using it.
Best hydroquinone-free products for acne scars