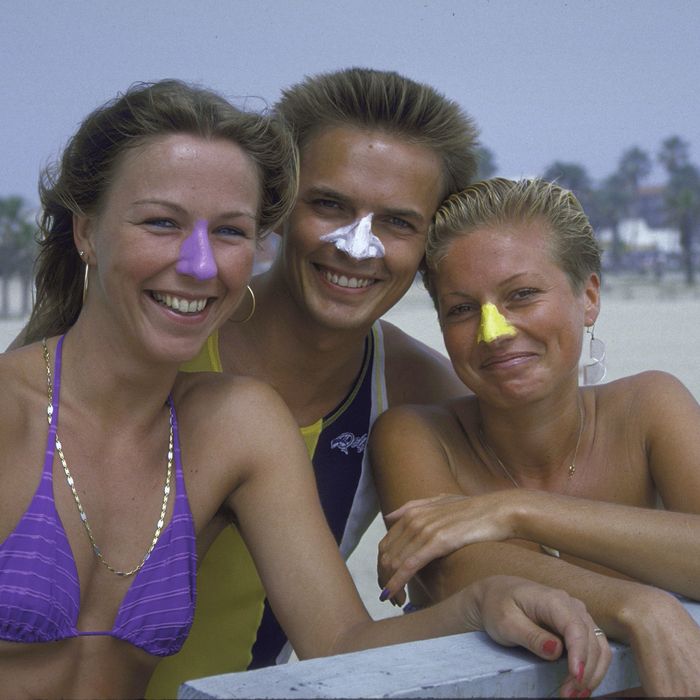 Photo: Getty/The LIFE Images Collection/Getty
Despite the fact that many of us are spending time indoors, or in direct sunlight for short periods of time, it's important to remember that sunblock is actually a year-round, nonnegotiable necessity. Jennifer Stein, a dermatologist at NYU Langone Health, says everyone should generally look for sunscreens with broad-spectrum coverage (which protects against UVB rays that cause burning and UVA rays that cause lasting damage) and an SPF of 30 or higher, and she notes that a high SPF doesn't mean you can go hours without reapplying. You should always reapply sunscreen after every two hours in the sun, Stein says, even if you don't burn easily. And when you're shopping for sunscreen for your face, you'll also want to be conscious of ingredients that address specific concerns like fine lines or acne.
This can be tricky, though, especially if you're prone to breakouts or have sensitive skin. While Strategist beauty writer Rio Viera-Newton loves this K-beauty brand, for example, there are plenty of options out there for all different skin types. To find the best facial sunscreens to use, we asked Stein and 11 more dermatologists and skin-care professionals to recommend sunscreens for different skin types and activities. Read on for their favorites. (And remember: These sunscreens should be used in addition to hats and protective clothing, and wearing any of them doesn't excuse you from spending time in the shade, since no sunscreen can completely prevent sun damage.)
Best overall sunscreen
A longtime Strategist favorite, EltaMD UV Clear is also a top pick among dermatologists. Marnie Nussbaum likes it so much she wears it every day. Patricia Wexler of Wexler Dermatology says her patients love it because it doesn't feel greasy like traditional sunscreen. In addition to being fragrance free and noncomedogenic, EltaMD's sunscreen is especially effective because it's rich in antioxidants that help protect against skin-damaging free radicals, Wexler says. Nava Greenfield of the Schweiger Dermatology Group likes that it includes niacinamide, a vitamin B3 derivative with anti-inflammatory properties that can fight breakouts. Jennifer MacGregor of Union Square Laser Dermatology appreciates that it's "lightweight and oil free, so it won't clog pores," and Dendy Engelman of Manhattan Dermatology & Cosmetic Surgery points out that the formula contains "lactic acid, which will gently exfoliate the skin and regulate sebum buildup," keeping breakouts at bay.
Best sunscreens for acne-prone skin
For acne sufferers, Greenfield suggests "staying away from any generic pharmacy brands because they tend not to have the best formulations." Additionally, Stein recommends that those with acne-prone skin look for liquid sunscreens over thicker creams: "Liquid is just not as thick, so it's less likely to clog your pores" she says. Tizo, which Greenfield calls "really gentle on acne," has a silky-smooth feel that will work for oily skin. Strategist writer Lori Keong has also written about how Tizo can prevent body acne.
While Tizo uses physical sunscreens, like zinc oxide, to block the sun's rays, another option is a chemical sunscreen that absorbs the rays instead. It may sound ideal for acne-prone skin, but there are unfortunately few broad-spectrum chemical sunscreens that protect against UVA rays. Greenfield says one of the few FDA-approved chemicals for UVA protection is avobenzone, a main ingredient in this oil-free sunscreen. She adds that "chemical sunscreen has a nice formulation that doesn't feel sticky."
San Diego–based dermatologist Tess Mauricio likes this light sunscreen for acne-prone skin. "Its particular UV blockers not only provide broad-spectrum protection against sun and environmental stressors, but help with fine lines and wrinkles, too."
Best sunscreens for oily skin
Kim Zimmerman, director of e-commerce and marketing at Rescue Spa, says this sunscreen gets "unanimous love" from the spa's estheticians. While they recommend it for all skin types, Zimmerman says it's especially beloved by customers with oily skin, who like that it's tinted for a matte finish and that it contains "microscopic sponges" for oil absorption.
Since it's oil free and gel based, Nussbaum says this Supergoop! sunscreen is one of the best out there for oily skin. "It dries very fast, and it's easily absorbable so, even when someone is oily, it doesn't just come off right away," she says. And unlike other sunscreens geared toward oily types, it doesn't have a pasty finish and it dries invisibly on the skin.
Another option for oily skin is a powder-based sunscreen, like this one from Colorescience that can be used under or over makeup. This brush-on sunscreen comes recommended by Engelman, who says it "can absorb excess oil and be used throughout the day." It's available in a handful of shades to blend with your skin tone, and since it's a powder and not a cream or lotion, it always leaves a matte finish.