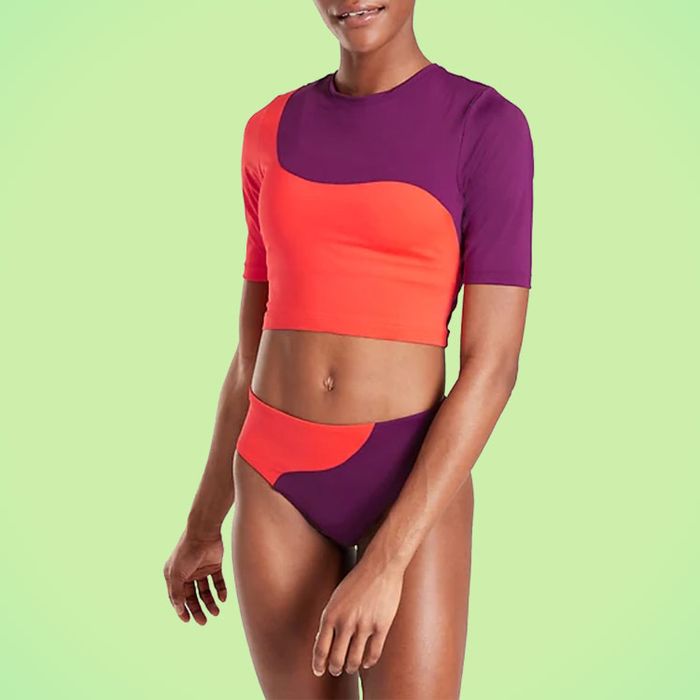 After getting my first bad sunburn of the season — a scalding on my back so red and strangely shaped it resembled a painting by Miró — I started to wonder about UPF clothing. In the past, I'd noticed "UPF" primarily attached to products from outdoorsy brands like Lands' End, which stocks sensible "active five-pocket pants" with a UPF 50 rating, and L.L. Bean, where you can find everything from UPF protective tunics to zip-off convertible pants for kids. But recently, a new batch of UPF-focused brands has emerged, focusing on sun-protective swimwear and daywear that at first glance don't look so technical. There's the minimalist line époque évolution, which produced a UPF protective collection including sleek pencil skirts and crop tops, and Mott50, the Chrissy Teigen–endorsed purveyor of UPF-imbued, avocado-adorned turtleneck one-pieces. J.Crew came out with a line of fairly elegant UPF 50 rash guards, and Athleta made appealing color-blocked sets. All clothing that would allegedly protect you from sunburn and, increasingly, things you'd actually want to wear. I was curious: What exactly is UPF, and is it worth buying clothes that have it?
The easiest way to understand UPF, it turns out, is that it's kind of like having sunscreen built into your clothing. UPF stands for "ultraviolet protection factor," a rating system similar to the SPF rating system of sunscreens and cosmetics. While SPF measures how effectively a sunscreen blocks out the sun's ultraviolet B rays (commonly referred to as UVB), which are thought to be those that do the most damage to skin, UPF measures how effectively a fabric blocks both ultraviolet B rays and ultraviolet A rays — meaning it goes even further to protect your skin from harmful rays. As with SPF, a higher UPF rating means greater protection: According to this very handy chart from REI, a UPF rating of 15 to 20 is good, while a rating between 40 and 50 or higher is excellent.
The UPF rating of an item of clothing depends largely on the textile's composition. "It really depends on the color and weight of the material," says Dr. Evan Rieder, a dermatologist at NYU Langone. The darker the color, tighter the weave, and heavier the fabric, the more UV rays will be blocked. According to Rieder, plenty of clothes in your closet may already have UPF — "I've never seen jeans branded as UPF, but a dark jean, by its very nature, has a superhigh UPF factor," he says.
Of course, the discomfort of wearing a pair of dark-wash jeans on a 100-degree day may rival that of a sunburn — which is where the new UPF-focused brands come in. "Brands like Coolibar and Solumbura are making things that are easy to wear and have sun protection built in because nobody wants to wear a jean shirt in the summer," says Dr. Angela Lamb, the director of Westside Mount Sinai Dermatology. "Does everybody outside every day need to wear it? No. But if you're going to have a lot of direct sun exposure with no shade and without opportunities to reapply sunscreen, then it's really great." And if you're worried about overheating, Dr. Debra Jaliman offers a helpful tip: "Buy SunGuard. It's a laundry aid that you put in with the wash, and it imbues UV protection into your favorite cotton T-shirt. It adds UPF 30 to your clothes for 20 washes."
Some actually stylish UPF clothing
J.Crew's simple, nice-looking rash guard could be worn as your main beach top or could be packed in your beach bag, should you want to throw it on over your bikini top instead of applying sunscreen to your shoulders and back for the tenth time.
The color-blocking on this Athleta set is a far cry from UPF clothing's crunchier roots — we'd even wear the short-sleeved top with some lounge shorts for running errands (but for the beach, some matching bottoms).
A surprisingly chic UPF 50 little black dress from newcomer époque évolution that can be worn as a V-neck or a boatneck and has pockets.
Light-colored clothing naturally has a lower UPF factor than darker clothing, which is why it may be a good idea to look to UPF-focused brands like Coolibar for light but sun-safe pieces. These white "beach pants" have a whiff of early aughts loungewear to them.