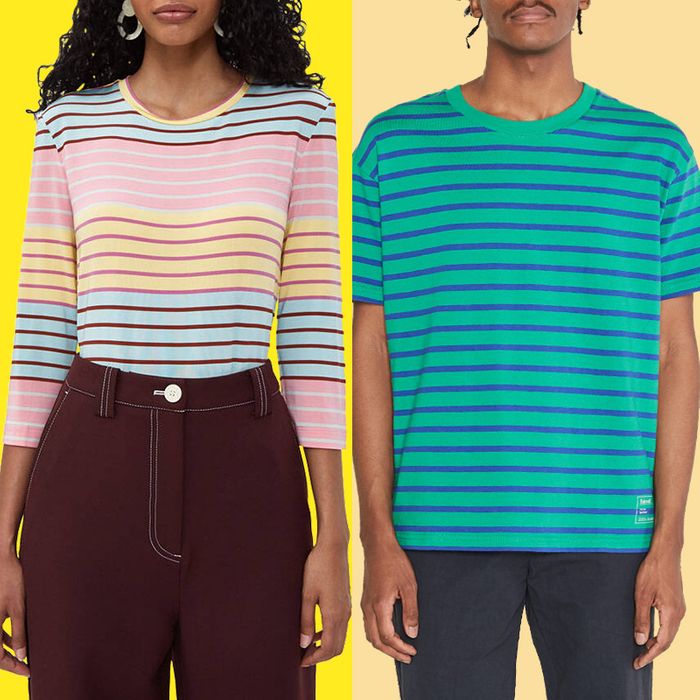 Last fall, we explored the enduring appeal of the striped T-shirt — we tested several new stripes-specific brands, parsed one stripe-obsessives' (hefty) collection, and even stood on a street corner in Soho for three hours counting how many we saw (94). Which is to say: you wouldn't be wrong to assume that we're a bit mad for stripes here at the Strategist. Stripes of all kinds catch our eyes: classic mariner, preppy, grunge, minimalist, maximalist, ones like Jean Seberg's in Breathless and ones that would make Ernie and Bert proud. Stripes are one of the few patterns it's nearly impossible to get sick of — and especially now, when designers are making versions for all matter of stripe enthusiast. Below, we've rounded up some winning striped tees for practically every kind of person.
For the Francophile purist
Saint James is one of the oldest stripes brands out there (the company celebrated its 130th anniversary last spring) and continues to make long-lasting striped tees in cuts and sleeve-lengths of all kinds. Their Minquiers Moderne is made of a lightweight cotton and has a straight cut, making it ideal for tucking into jeans or shorts.
For the one who likes her stripes a little off-kilter
Photo: Retailer
The stripes on this top from Uniqlo's Marimekko collection are oh-so-subtly wavy (and come in navy and white, too).
For the one who prefers a V-neck
It's breezy, will go with practically anything, is available in plenty of sizes, and better yet, is on sale for almost half off.
For the one who thinks it's a helluva town
An orange and blue striped number from New York-based stripes-only brand Kule (which also happened to be our favorite when we tested stripes brands last year).
For the one who's a fiend for crop tops
A ketchup-and-mustard striped option, to go with their highest high-waisted shorts.
For the one who likes a nautical vibe
The yellow and white stripes with pink trim remind us a little of the sail on a Sunfish sailboat.
For the one who only owns baby tees
The shoulders are cut slightly higher than usual on this tee, meaning it has a snugger fit.
For the one who prefers a slouchy fit
The raw-edge finish on the hems and drop-shoulders give this one a particularly casual, lounging-around-the-house feel.
For the Creamsicle fanatic
Listen: if ever there were a top that reminded us of a Creamsible, this orange-and-white striped tank is it.
For the one allergic to anything that clings
An Everlane tee with a cut so boxy that there should be no stickage, even on on the sweatiest of summer days.
For the rugby enthusiast
A sleeveless take on bold and sporty stripes.
For the rugby enthusiast who prefers long sleeves
We can imagine throwing this one on as it gets cooler at night, and wearing it right into the fall.
For the Carhartt obsessive
For the one who can't decide between short and long sleeves
Just a candy-striped, three-quarter-length sleeve T-shirt, almost 80 percent off, from Stine Goya.
For the embroidery lover