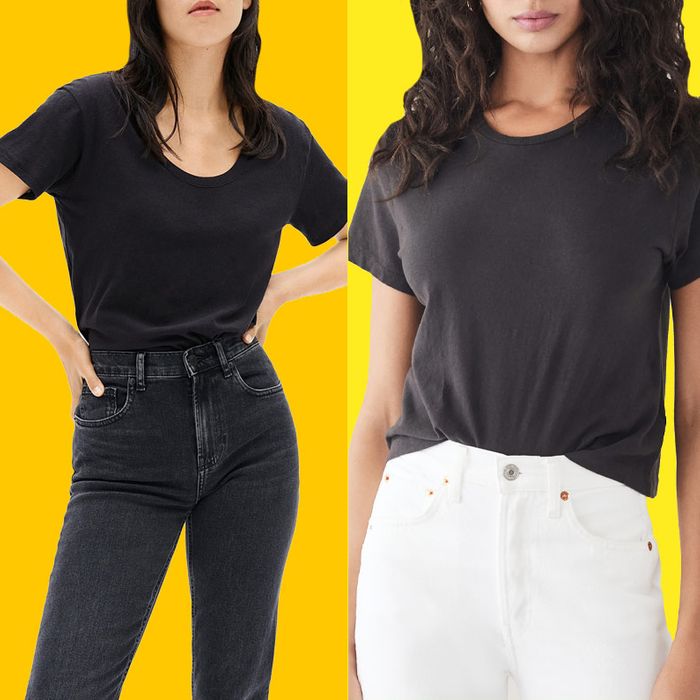 Photo: Courtesy of the retailers
You don't have dress go head-to-toe goth to appreciate a good black T-shirt. Like black jeans and black dresses, black T-shirts are pretty much universally flattering. But since there are a gazillion options to search through, we asked a varied group of stylish women which plain black T-shirts they own and covet. Whether you're looking for something boxy and cropped, slinky and slightly transparent, or the perfect tee to tuck in to high-waisted jeans, we've got you covered. In reporting this story, we heard about a few brands and specific black T-shirts a lot more than others. So this list begins with those tees that got multiple recommendations, then groups any other recommended black T-shirts by style — from V-necked to crewnecked to cropped to boxy.
Best overall women's black T-shirt
In talking to folks about their favorite black T-shirts, no brand came up more times than Buck Mason. Four people recommend its T-shirts to us, including three Strategist staffers, one of whom (Liza Corsillo) is a writer of this story. "I have loved Buck Mason T-shirts for years now and happily wore the men's ones, saving them for special occasions so they wouldn't get worn out," she says. But after the brand recently launched its womenswear line, she started to wear this style. "It is just as good as the men's with one exception: It fits my body correctly." The other writer of this story (Chloe Anello) is a second fan of this T-shirt, which has a regular fit and is made from soft, breathable pima cotton.
Best overall women's cropped black T-shirt
For those who prefer more of a cropped fit, this style from Buck Mason also got two nods. Aishwarya Iyer, the founder and CEO of olive-oil brand Brightland, describes it as "soft, comfortable, and perfect for hanging at home or wearing out and about in." Strategist senior editor Simone Kitchens adds that the shape is the "ideal combination of boxy and cropped: It doesn't feel too tight anywhere — especially under the arms — it just hangs in this cool, easy way." Both like to wear it with high-waisted jeans; Kitchens notes that it "looks especially good with faded black Levi's."
Best (less-expensive) women's black T-shirt
Everlane tees have been recommended to us a lot (by all kinds of people) because they're a reliably good deal for the money. Chelsea Scott, a fabricator in Brooklyn, and Taylore Glynn, Marie Claire's beauty-and-health editor, both say the brand's box-cut tee is their favorite black T-shirt. Glynn told us she has "a large bust and smaller ribs, so certain tees can end up looking wonky on me: too loose, and the shirt balloons out under my bra cups; too snug, and I get that overly-tight stretch across the chest." This one, she says, "is perfectly proportionate." Scott appreciates that you get something of quality for the price. "It feels like it'll last forever," she says. Corsillo is a third fan and notes that the slightly cropped style is still modest enough. "It looks great with high-waist pants," she adds, "and feels kinda vintage."
Best women's V-necked black T-shirts
Scott's second-favorite black T-shirt is this V-neck from Madewell. "Madewell tees are so soft and work perfectly with a simple, toned-down outfit."
This V-neck came recommended by Cat Kron, a Los Angeles–based art critic who has a policy of only wearing V-necked tees. "J.Crew's linen V-neck tee doesn't cling but falls off your frame effortlessly (as if you were Lauren Hutton)," she says. "The nubby, linen material makes it feel dressy enough for tailored pants, but it's 'machine-wash, air-dry' dressy, which I love."
Best women's crewneck black T-shirts
"As someone who wears black pretty exclusively (typical New Yorker, I know), I'm picky when it comes to my black T-shirts," says writer Mary Anderson. "It needs to breathe (i.e., cotton) so that I'm not sweating bullets when I step off the train, but also to give some shape (i.e., some synthetic materials). The H&M ones last surprisingly long, and for about $15 I can buy three to four at a time and replace them as needed."