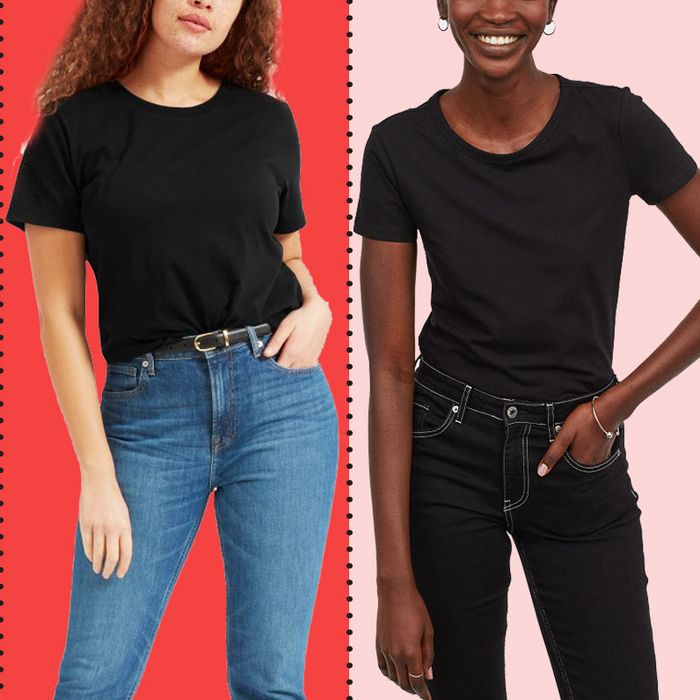 From left to right: Madewell, Everlane, H&M.
Photo: Courtesy of the retailers
You don't have dress go head-to-toe goth to appreciate a good black T-shirt. Like black jeans and black dresses, the T-shirts are pretty much universally flattering, but since there are a gazillion options to search through, we asked a varied group of stylish women which plain black T-shirts they own and covet. Whether you're looking for something boxy and cropped, slinky and slightly transparent, or the perfect tee to tuck in to high-waisted jeans, we've got you covered.
Best overall black T-shirt
Everlane tees have shown up a lot on the Strategist (for men and women) because for the money they're an incredibly good deal. Chelsea Scott, a fabricator in Brooklyn, counts it as one of her two faves. "My two favorite plain tees lately are the boxy cut from Everlane and the V-neck from Madewell." Women — this writer included — love the slightly cropped but still modest cut of the box-cut tee, and Scott — who admits to being a black tee expert — appreciates its lasting quality. "The Everlane is more of a square fit and feels like it'll last forever."
Best black V-neck pocket T-shirt
Scott's second-favorite black T-shirt is this V-neck from Madewell. "Madewell tees are so soft and work perfectly with a simple, toned-down outfit."
Best affordable black T-shirt
"As someone who wears black pretty exclusively (typical New Yorker, I know), I'm picky when it comes to my black T-shirts," says writer Mary Anderson. "It needs to breathe (i.e., cotton) so that I'm not sweating bullets when I step off the train, but also to give some shape (i.e., some synthetic materials). The H&M ones last surprisingly long, and for about $15 I can buy three to four at a time and replace them as needed."
Best slinky black T-shirt
Three separate women we talked to recommended black T-shirts from & Other Stories. Risa Miyamoto, who works as a makeup artist, said, "I like this T-shirt because of the fabric, which is super silky and soft and hugs my body softly without being too tight. I like wearing not-too-tight T-shirts that are very lightweight with a cooler temperature compared to cotton."
Editor's Note: This shirt is no longer available, but there are other black & Other Stories shirts here.
Best rolled-sleeve black T-shirt