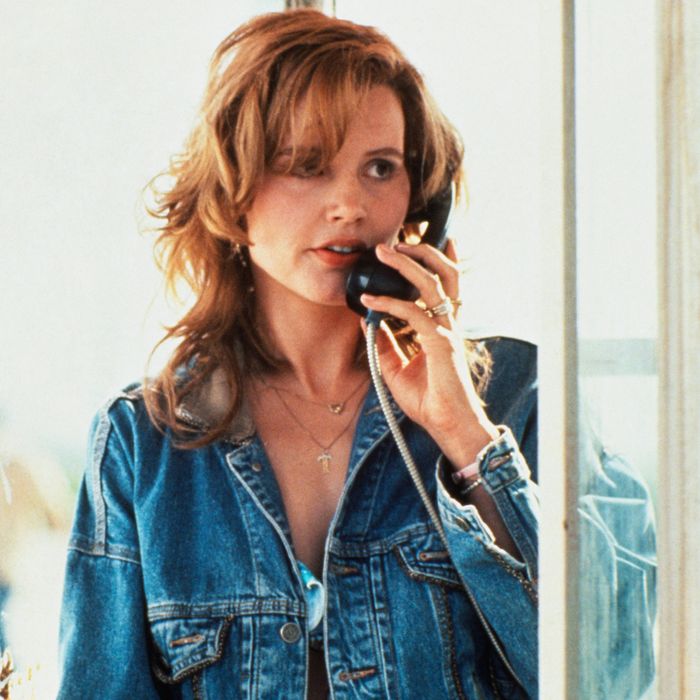 Photo: Fotos International/Getty/Getty Images
Like sweatshirts and T-shirts, denim jackets come in so many styles and cuts that you can always convince yourself to buy one more. So if the recent drop in temperature (or just a chilly gust of wind) has you on the hunt for a new jean jacket, we say happy hunting. We're itching to add a few more jean jackets to our collections too. To help us (and you) find the best ones, we asked a bunch of cool and stylish women to tell us about their favorites. Unsurprisingly, a lot of the people we talked to love their vintage jean jackets above all others — as much for the jacket as for the thrill of finding something unique and perfectly worn in on Etsy or eBay. But they also shouted out a healthy range of flattering and practical new jackets to buy online from Calvin Klein to Old Navy. Here are their picks.
Best new jean jackets
New York–based creative consultant Michele Janezic has several vintage and new Levi's jean jackets. "One is a well-loved boxy classic, another is a fitted '70s orange tab, and another is an oversize boyfriend fit," she says. For vintage, she recommends Slash in Berkeley, California. But she also has this new Levi's oversize trucker jacket in medium wash on permanent rotation now that the weather is changing.
"For years, I had a denim jacket with horribly placed pockets that made me look busty as hell and was way too big for my frame," says Strategist writer Nikita Richardson, who finally found the perfect fit in this medium-blue denim trucker jacket from Urban Outfitters. She likes that this timeless look will never go out of style and that it looks good with everything she owns. "We call those foundation pieces, people, and this jacket is one of the foundations of my closet," she says.
Strategist junior writer Chloe Anello says this jacket is designed to fit like one you would otherwise have to buy a few sizes bigger than you wanted. "I like that I didn't have to size up to get that oversize fit, but it's not bulky looking — it looks like I'm wearing a women's jean jacket, instead of one for men." She's also a fan of the material, which she describes as not too heavy to wear in summer but still sturdy enough to feel like high-quality denim.
Anello also told us about her Calvin Klein jean jacket, which she bought because it's a little different. "It's made from super-sturdy denim, and even though I bought it in my regular size, it's still very oversized," she says. The color-blocking version Anello has is almost sold out, but it's still available in the dark-blue denim pictured here.
"RE/DONE has such perfectly worn pieces," says Haein Dorin, VP of client services at Highsnobiety, who recently bought this deep-blue denim jacket to wear this fall and layer under her puffer this winter. The brand upcycles vintage jeans and jean jackets, taking them apart at the seams and rebuilding them with a more modern fit in downtown Los Angeles.
This oversize jacket comes recommended by Janezic. It's made by the independent, woman-owned brand B Sides, which she loves for its vintage styling and finish.
This stylish budget option comes recommended by model and actress Lily D. Moore, who plays Rebecca on the Netflix show Never Have I Ever. She's had this deep-blue jean jacket for three years and still wears it all the time. "I love wearing this jean jacket because it goes with everything, and it's warm and cozy," says Moore.
If you like rich and sturdy indigo denim and classic, functional designs, Janevic recommends the Japanese brand Orslow. The company's denim is made in small, limited runs and is modeled from original Levi's fabrics. This jean jacket draws influence from the short and boxy silhouettes of the '60s.
Best vintage jean jackets
Vintage denim jackets are just as coveted as vintage jeans, with the same few big-name brands in constant demand: Levi's, Wrangler, and Lee. Rare pieces like this can get expensive fast, especially if they're from the 1960s, arguably the most desirable era for American denim — when it had just started to become more of a style choice than workwear but with fabric that was still durable enough to get you through actual work.