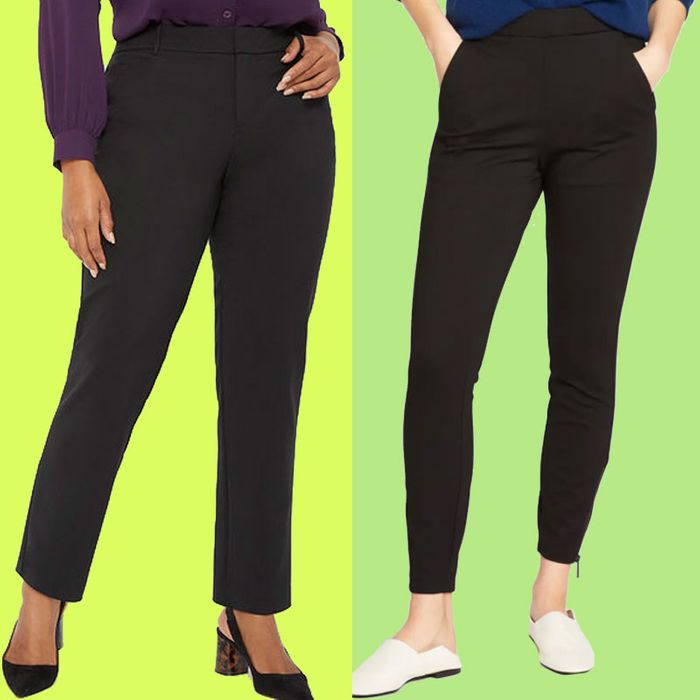 Photo-Illustration: Courtesy of the retailers
As the Great Return to the Office becomes a reality, we've all been wondering how working IRL will actually go down — and what we'll be wearing. The easiest answer to the question "What's work appropriate anymore?" is (still) a pair of black pants — there's no workhorse quite like them. They make a T-shirt look like it's from The Row. With a matching blazer, they become corporate-core. The black-trousers/white-button-down combo is a classic. So a reliable pair is a must, whether you're starting to commute again or just need to feel more dressed up on cloffice calls. To help, we asked women who practically live in black pants (well, during business hours) about their favorite pairs — a few from our archives are featured here, too.
Best overall | Best for plus sizes | Best wide-leg | Best cropped | Best pull-on | Best ponte | Best jeans | Best less expensive jeans
What we're looking for
Sizing: One thing that's strikingly apparent when you start shopping for work pants: Not many are made in plus sizes. It was important for us to include pants that are offered in a range of sizes, and we've noted when pants come in different lengths as well.
Material: A work pant has to wear nicely and look polished even after the standard eight-hour workday; how well it does this depends on what it's made of. Polyester is popular, in no small part because it's machine washable. Linen lets your legs breathe. Crepe won't crinkle easily. For every recommendation, we listed the main material that makes up a pair.
Stretch: For comfort's sake, most work pants will have some amount of elastane or spandex. Just like jeans, the 2 percent stretch mark should be enough, says style coach Kim Hancher — anything far above that can look like technical fabric (as in exercise gear), which could break your office's unofficial business-casual rules. Each pair is marked as either not stretchy, stretchy, or very stretchy.
Cut and design: The work-pants space isn't known for its inventiveness — "tailored" is the name of the game. Some options can feel a little too buttoned up, however, so to help, we detailed the cut of each pair and called out any interesting design details, such as menswear-inspired pleating or cuffed hems to show a bit of ankle.
Price: A five-day work wardrobe can come with a high price tag. Sure, you can invest in Eileen Fisher, but Everlane can do pretty well, too. This list was designed to be as affordable as possible, with each pick designated as either $ (under $50), $$ (under $100), or $$$ (under $150).
Best overall black work pants
Sizes 0–20, tall and short inseams | Polyester | Very stretchy | Slim straight leg, elastic-back waistband | $
I wore black work pants almost every day of the week before the first "WFH until TBD" memo. This habit means I've tried many — including pairs from Loft, J.Crew, H&M, and Cos, to name a few — but no company does work pants better than Banana Republic. Its trousers make me feel like the Working Girl career woman I wish I was. (I'm not the only one who agrees: Parsons School of Design fashion marketing student Tammy Lee wears her Averys like a uniform.)
Of all the work pants I own, none have been put through the ringer like my Haydens. They did especially well on my pre-pandemic commute — somehow surviving the car ride, NJ Transit, subway, and walk to work and back. Nowadays, they just move from my desk upstairs to my table downstairs — but make me look much more put-together than the sleep shorts I usually wear. That's because these have a bit of a trompe l'oeil effect: The flat front and faux fly make them look traditional, but the pants have an elastic waistband in the back that's easily hidden with a blazer. (My co-workers never noticed I was wearing glorified sweatpants.) And in terms of fit, the pants were full-length when I bought them in the "regular" length and slightly cropped in "petite." (I'm five feet one for reference.) I have both lengths to change up my work uniform. Last time I checked, I owned five Haydens — and I'll be stocking up again soon.
Best black work pants for plus sizes