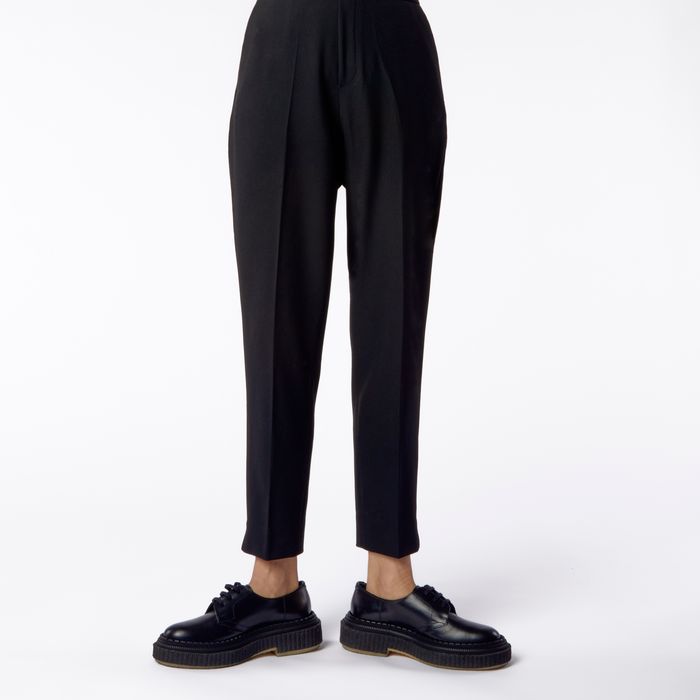 If you're back in the office IRL but struggling to figure out what to wear, the easiest answer to the question "What's work appropriate anymore?" is (still) a pair of black pants — there's no workhorse quite like them. Before I officially started working from home, I had a drawer dedicated to them; they symbolized "I mean business" in a way my jeans never could. They make a basic T-shirt look like it's from The Row. With a matching blazer, they become corporate-core. The black-trousers-and-white-button-down combo is a classic. But even though there's no shortage of black pants out there, it can be hard to find a pair that you won't want to rip off after the workday (not to mention the commute). I should know — I've tried out so many that could barely put in a hard day's work. Read on to find out about the ones that actually earned a good performance review, and for recommendations from women who practically live in black pants (at least during business hours).
One shortfall that's strikingly apparent when you start shopping for work pants: Not many are made in plus sizes. It was important for us to feature pants that come in a wide range of sizes — and that includes those with different inseams. So you'll see the inseam lengths of each pair noted, below, to accommodate a number of heights.
A work pant has to wear nicely and look polished even after the standard eight-hour workday; how well it does this depends on what it's made of. Polyester is popular, in no small part because it's machine washable. Linen lets your legs breathe. Crepe won't crinkle easily. For every recommendation, we listed the main material that makes up a pair.
For comfort's sake, most work pants will have some amount of elastane or spandex. Just like jeans, the 2 percent stretch mark should be enough, says style coach Kim Hancher — anything too far above that can look like technical fabric (as in exercise gear), which could break unofficial business-casual rules. Each pair is marked as either not stretchy, stretchy, or very stretchy.
The work-pants space isn't known for its inventiveness — "tailored" is the name of the game. Some options can feel a little too buttoned up, however, so I described the cut of the legs so you can get the vibe you're going for…
…and called out any interesting details, such as menswear-inspired pleating or cuffed hems to show some ankle.
A five-day work wardrobe can come with a high price tag. Sure, you can invest in Eileen Fisher, but Everlane can do pretty well, too. This list was designed to be as affordable as possible, with each pick designated as either $ ($100 and under), $$ (between $100 and $150), or $$$ ($150 and up).
Best overall black work pants
Sizes:  0–20 with 25- (petite), 27-inch (regular) inseams (tall not listed) | Material: Polyester | Stretch: Very stretchy | Cut: Slimmer straight-leg | Design: Elastic-back waistband | Price: $
I wore black work pants almost every day of the week before the first "WFH until TBD" memo. This habit means I've tried many — including pairs from Loft, J.Crew, H&M, and Cos, to name a few — but no company does work pants better than Banana Republic. Its trousers make me feel like the Working Girl career woman I wish I was. (I'm not the only one who agrees: Parsons School of Design fashion marketing student Tammy Lee wears her Averys like a uniform.)
Of all the work pants I own, none have been put through the ringer like my Haydens. They did especially well on my pre-pandemic commute — somehow surviving the car ride, NJ Transit, subway, and walk to work and back. Nowadays, they just move from my desk upstairs to my table downstairs — but make me look much more put-together than the sleep shorts I usually wear. That's because these have a bit of a trompe l'oeil effect: The flat front and faux fly make them look traditional, but the pants have an elastic waistband in the back that's easily hidden with a blazer. (My co-workers never noticed I was wearing glorified sweatpants.) I'm five-foot-one, and in terms of fit, the pants were full-length when I bought them in the "regular" length, which has an inseam of 27 inches. (I could still wear flats with them.) I also have them in "petite" (the inseam is two inches shorter), which hits right about at my ankle. Having both lengths lets me change up my work uniform. Last time I checked, I owned five pairs of Haydens. (And these have become a best seller with our readers, in case you needed another reason to stock up.)
Best black work pants for plus sizes
Sizes: 14–28 with 27-(petite), 29- (regular), and 31-inch (tall) inseams | Material: Cotton | Stretch: Very stretchy | Cut: Straight-leg | Design details: Hook-and-bar closure with hidden button, flat front pockets | Price: $
Eloquii was the most mentioned brand in our guide to plus-size work pants, with several experts saying it's their go-to for workwear. The Kady pant was name-checked twice. Lifestyle blogger Ashley Carter calls them high quality, adding that the fabric allows them to keep their shape, something that can be hard to find in plus sizes. The Kady is the company's "signature work pant" and one of its best sellers. Content creator Ashby Vose appreciates that the pants come in three cuts designed for different body types: Classic (which we're featuring here) for hourglass shapes; Viola for those who are more pear-shaped; and Gena for anyone with a fuller midsection and narrower hips and thighs. (The Viola and Gena also go up to a size 28, one size more than the Classic.) And while the "regular" inseam comes in at 29 inches, you can also choose between long (31 inches) and short (27 inches).
Best wide-leg black work pants
Sizes: 0–16 with 27- (short), 29- (regular), and 31-inch (tall) inseams | Material: Crepe | Stretch: Not stretchy | Cut: Wide-leg | Design details: Front pleats with some drape | Price: $$
Aritzia was popular among our panelists. And the Effortless pant lives up to its name — the high-waisted, wide-leg, and full-length trousers are easy to wear, well, anywhere. They're a favorite of interior designer Gillian Segal, who pairs them with the brand's matching oversize blazers for a power-suit look. (The pants are made with a drapey Japanese crepe the brand calls "crepette," which adds to their easygoingness.) Outside of office hours, Segal will wear them with either a bodysuit and heels or sneakers and a hoodie for "a Hailey Bieber–style moment." Personal stylist Allie McKenna agrees that "everyone loves the Effortless" (including those "day in the life" TikTokers), but she prefers a different Aritzia style: the Alanyas. They're not "the Audrey Hepburn classic black trousers," she says, but they're super-comfortable with a little more room at the waist than the Effortless pant. Meanwhile, Lara Mahler, founder of wedding-planning company The Privilege is Mine, recommends Aritzia's Chopins — she's sometimes on her feet for 12 hours at a time and says they don't get creased.
Best lower-rise wide-leg black work pants
Sizes: 2–14 with a 28-inch inseam | Material: Wool | Stretch: Not stretchy | Cut: Wide-leg | Design details: Front pleats, back darts, concealed adjustable-button tab | Price: $$
Though these pants have traditional tailored features like front pleats and back darts, there's more slouchiness to the wide leg. "The bagginess means they are exceptionally comfortable," explains Strategist associate editor Jenna Milliner-Waddell, who's currently in a self-imposed "anti-jeans era." She describes how they balloon enough to skim over her hips — a look she usually can't find as someone who's curvier, because many pants aren't cut generously enough. Their wearability also comes down to the adjustable waistband, with buttons — one on each side of the hips with three closure options — you can shuffle through to get the right fit. "You can decide whether you want to wear the pants low-rise or on the waist," she says. "But it's also a great feature for the proportionally blessed." Milliner-Waddell has been sporting the pair in the New York office and notes that in between trips to the dry cleaner, a quick pass with an iron will take out any wrinkling.
Best splurge-worthy wide-leg black work pants
Sizes: XS–L (no inseam listed) | Material: Wool | Stretch: Stretchy | Cut: Wide-leg | Design details: Split hem, concealed hook-and-zipper closure | Price: $$$
"You never have to think twice about putting these on," says Nadine Abramcyk, co-founder of Tenoverten, about the Baltrum pants from French brand Loulou Studio. That's because they have the sophistication the luxury label is known for — tailored from wool — with a split hem that reveals a hint of ankle. The wool doesn't wrinkle, holding up through her days of back-to-back, sit-down meetings without any "strange creases." The petal-like hems lighten up the feel of the fabric, along with giving "your shoe a nice moment to shine." One of other details Abramcyk likes about the pants is that they don't have belt loops, "as opposed to most black pants that do have them and look almost naked without a belt." And the pant "grazes the floor just slightly" whenever she's wearing flats (she's five-feet-nine, for reference).
Best black suit pants
Sizes: 00–18 with a 25.5-inch inseam | Material: Wool | Stretch: Very stretchy | Cut: Slim-cut, suit-style leg | Design details: Hook-and-zip closure, front slant pockets | Price: $$$
Theory's Treecas "are the business-casual equivalent to the perfect pair of boyfriend jeans," says Catherine Smart, co-founder of Not Just Co. These have the slightest of crops, hitting right above her ankle on her five-foot-four frame, with a "flatteringly narrow" cut that doesn't "date me as an aging millennial," she jokes. Smart credits these tailored trousers with helping her navigate corporate workwear — before starting her own business, she worked as a personal chef. The pants are modeled after formal pantsuits while featuring a slimmer-cut leg. Made from wool, they "smooth out lumps and bumps," but the generous amount of elastane in them has a "glorious give" — without the "sad saggy bum" appearance that sometimes happens with other pairs," Smart explains. Plus, the deep pockets also hide sweaty palms when she's been schmoozing.
Best pull-on black work pants
Sizes:  XXS–XXXXL with a 27.5-inch inseam | Material: Cotton and modal | Stretch: Very stretchy | Cut: Tapered, relaxed leg | Design details: Pintuck detailing, elastic waistband | Price: $
The Dream pant came to Sloan Symington, marketing and strategy director at Stratia Skincare, in a moment of desperation — when returning from maternity leave, she was trying to find a pair that would have the look of slacks with the feel of sweats. Now the pants are a staple. She describes them as having an ultrastretchy fit, which is camouflaged by their more tailored-looking legs. "You'd never know I was wearing such comfy pants," Symington says. (They double as an alternative to her high-waist black skinnies, too.) But maybe most important, the Dreams don't end up rumpled after a long day, she says.
Best black work pants that double as sweatpants
Sizes: XS–XL with 26- and 29-inch inseams | Material: Recycled polyester | Stretch: Very stretchy | Cut: Track-pant-style leg | Design details: Zippered front pockets, hidden drawstring | Price: $
Though these were the most-mentioned pair of pants I heard about, the Zephyrs lean toward athleisure — reminiscent of old-school sweats — which might not work in some corporate circles. Still, I thought the Zephyrs deserved a spot on this list because, if you can get away with wearing them, you should. (It helps that the tapered leg makes them more tailored than typical track pants.)
Her Place founder Joyce Lee wears them for work and working out. Though they are billed for exercise — breathable with drapey legs and flexible with an elastic waistband — she calls them "the perfect everyday pant." The fabric is even wrinkle-free, which makes them ideal if you're traveling for work — "I wouldn't need to change my outfit after landing for a meeting," says Lee. Emma Wartzman, Strategist kitchen and dining writer, adds that they are the "epitome of comfy but put-together" and "easy as can be to clean." Strategist managing editor Kelsie Schrader is another Zephyr devotee — she bikes to work in hers and doesn't end up "drenched in sweat" when she arrives at her desk. And since this story was last updated, the Zephyrs now come in two inseams, 26 and 29 inches, and the site has a guide on where they will fall depending on your height.
Best black ponte pants
Sizes: 00–40 with a 27-inch inseam | Material: Rayon | Stretch: Very stretchy | Cut: Legging-style leg | Design details: Option of zipper on hem or no zipper | Price: $$$
Traditionally, ponte pants are slimmer through the leg, appearing almost like leggings. And that's what you're getting with the Moro, which has appeared twice in our archives. The first time was courtesy of freelance editor (and Strategist contributor) Maya Kosoff, who was pants-allergic until she tried these on. Unlike other bottoms that would leave her "contemplating a life that involves never wearing pants," the Moros have a waistband that lays flat around her hips and cuffs that taper perfectly around her ankles. "When I tried them on, I liked them so much I (yes) tweeted about them," Kosoff says. Writer and life coach Reneice Charles also previously told us that the Moro pant is a foundational piece in her wardrobe.
Another ponte pant to consider — if your size is still in stock — are the Colettes from Maeve, one of Anthropologie's lines. Helen Patrikis, founder of public-relations firm HP-PR, calls the Colettes "wardrobe warriors" for holding their shape, not wrinkling, and packing well. Their versatility is what makes them work so well, according to Patrikis, with a classic silhouette punched up with patch pockets.
Best black work leggings
Sizes: XXS–XXL with a 27-inch inseam | Material: Cotton | Stretch: Very stretchy | Cut: Fitted | Design details: No details of note | Price: $
While the conventional wisdom in some corporate circles is to dress up even while working from home, you might not want to, like former Strategist senior writer Casey Lewis. "I am not one of those people, so I'll be WIL — working in leggings — until further notice," she says. This pair from Madewell, which she owns eight of, is what she wears practically from morning to night. What's especially impressive about them is their sturdiness, which Lewis describes as substantial but not suppressive. The thick, right-below-the-belly-button waistband doesn't roll down. "It expands comfortably if you're lounging on the couch or working from bed, but it also retains its shape," according to Lewis. And importantly, these aren't see-through so you can rest assured when you take them out to the office. Or go with private chef Stacy Seebode's pick: These Uniqlo jeggings fool everyone who thinks she's wearing jeans. "No, they're stretchy pants for extra comfort — and more eating," she says.
Best black work jeans
Sizes: 23–33, with 26-, 28-, and 30-inch inseams | Material: Cotton | Stretch: Stretchy | Cut: Straight-leg | Design: Button fly, five-pocket style | Price: $
The Wedgies are the jeans we've probably written about the most at the Strategist — and they come in black. Le Whit co-founder Liza Curtiss swears by black Levi's as work pants. The Wedgies in particular are a standout for their high waist, allowing her to wear shirts tucked in or out while always looking polished. "I always feel like I can go anywhere in them," she says. Another bonus is that the pockets are actually deep — important for a self-described "no-purse kinda person." Curtiss also appreciates that they're cropped in a way that hits her just right on the leg — a sentiment we heard before from Tessa Jennifer of Auralie who, as a petite person, describes them "the easiest pair I could perfectly fit into without having to alter the length." Having a choice of three inseam lengths — 26 inches, 28 inches, or 30 inches — will let most people achieve a similar look no matter their height.
Best (less expensive) black work jeans
Sizes: 0–30 with 27.5- (petite), 29- (regular), and 32-inch (tall) inseams | Material: Cotton | Stretch: Stretchy | Cut: Skinny leg | Design: Button fly, five-pocket style | Price: $
If your workspace is more casual than conservative, consider these even cheaper Old Navy jeans. Rolling Stone senior writer Alex Morris admits her job is more dressed down than most, but she loves how comfortable the Rockstars are: "They're tight but also supersoft and stretchy — almost like wearing leggings. And they seem to sort of suck you in in the right places," she says. These have the most range of any of the pants on this list, coming in low- and high-rise styles along with regular, petite, and tall lengths.
Some more women's black work pants we like
• Nadine Abramcyk, co-founder of Tenoverten
• Ashley Carter, lifestyle blogger
• Reneice Charles, writer and life coach
• Liza Curtiss, Le Whit co-founder
• Kim Hancher, style coach
• Tessa Jennifer, founder of Auralie
• Maya Kosoff, freelance writer and editor
• Joyce Lee, founder of Her Place
• Tammy Lee, Parsons School of Design fashion marketing student
• Lara Mahler, founder of wedding-planning company The Privilege is Mine
• Allie McKenna, personal stylist
• Jenna Milliner-Waddell, Strategist associate editor
• Alex Morris, Rolling Stone senior writer
• Helen Patrikis, founder of public-relations firm HP-PR
• Kelsie Schrader, Strategist managing editor
• Stacy Seebode, private chef
• Gillian Segal, interior designer
• Catherine Smart, co-founder of Not Just Co.
• Nicole Snow, founder of Darn Good Yarn
• Sloan Symington, marketing and strategy director at Stratia Skincare
• Ashby Vose, content creator
• Emma Wartzman, Strategist kitchen and dining writer
Additional reporting by Lauren Ro
The Strategist is designed to surface the most useful, expert recommendations for things to buy across the vast e-commerce landscape. Some of our latest conquests include the best acne treatments, rolling luggage, pillows for side sleepers, natural anxiety remedies, and bath towels. We update links when possible, but note that deals can expire and all prices are subject to change.