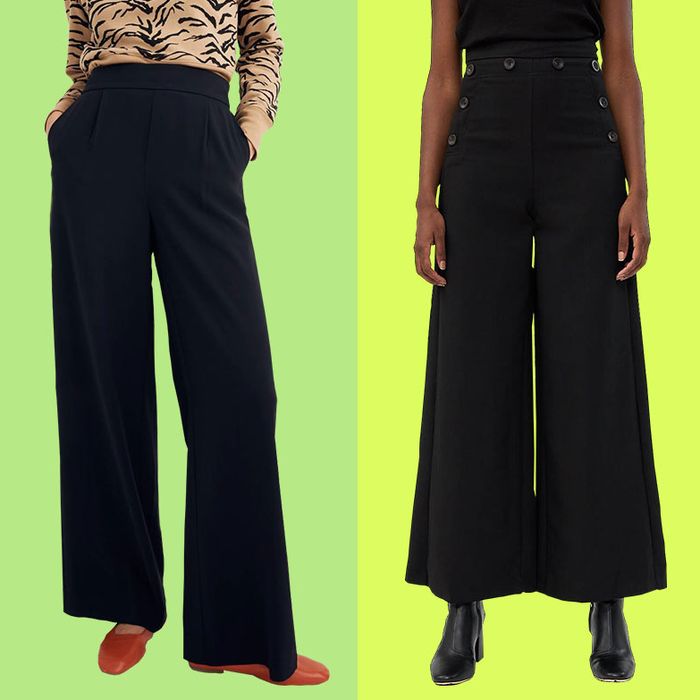 Photo: Courtesy of the retailers
Whether you work in an artist's studio, an office where the dress code is business casual, or from home, owning a good pair of black pants can go a long way toward helping you feel polished — and can make getting dressed every day so much easier. But, as with jeans, there are so many options out there that it can be difficult to separate the wheat from the chaff. So, we consulted 18 stylish women who practically live in black pants as part of their professional uniform to help us find the best pairs — including black jeans. Hopefully one (or two) of these will also become the workhorses of your wardrobe, so that you can spend less time figuring out what to wear each morning and more time on everything else.
Best black pants for work
Rachel Bullock, co-founder of outdoor furniture company Laun, wears black pants at least six days a week. "It's not unusual for me to be on a dirty construction site, in a client meeting, at a metal shop, and at an event all in the same day, so black pants are a godsend for me," she says. "They are classic, they hide dirt, they are easy to dress up or down, and they go with everything." For everyday wear, she especially likes J.Crew's Easy Pants, saying that she appreciates that they come in tall (she's six feet tall), and that they're "comfortable, affordable, and — very importantly — machine washable."
Writer Alexis Cheung swears by these "inexpensive but not cheap-looking" pants that she found at Madewell a few years ago. "They're essentially the equivalent of wearing sweatpants to work: They're comfortable and require zero ironing," she effuses. Cheung adds that "The fabric is neither scratchy nor shiny," and told us she appreciates that the silhouette is "lean, slouchy, and wide-legged." She also likes how the pants' rise allows them to be worn with any number of tops and shoes. "The high waist looks good with tucked sweaters, tight turtlenecks, or flimsy vintage tees," she says. "I wear mine with sneakers but have contemplated a pointy-toe kitten heel."
Anne Read Lattimore, a co-founder of Lake Pajamas (who would know a thing or two about comfortable clothing), loves these affordable, stretchy cotton pants from Everlane, which she says have a more fitted silhouette but still look put-together. (The extremely palatable $50 price tag means you can stock up on multiple pairs and even experiment with a little color — like a brighter navy.)
If a slouchier look is what you're after, consider this baggy, cropped, and pleated pair of black pants recommended by Refinery 29's Eva Lee, who calls them "a nice twist on the traditional black pants." They have a high waist and a roomier wide leg, making them a bit more casual. But they're still polished, thanks to the front pleating.
Elizabeth Simikoff, a project manager at The Muse, pointed us to these stretchy tapered trousers from ADAY. She particularly likes this pair because she can bike to work in them and not have to change into something more work-appropriate when she gets there. "They're fitted and they still look professional, as they have a very tailored look." She also appreciates the fact that, as a short person, she doesn't have to get them altered. She's apparently not the only one who likes these pants — they're a best seller for ADAY, and currently on backorder, but you can still preorder a pair for when they're back in stock.
For something a little breezier, Simikoff also loves these, calling them her "go-tos." She admits that "they're pricey" — though less so now that they're on sale — but says the pants are worth the investment because they're comfortable and make her "feel like the most professional person ever when I wear them." And it's no secret that we love Eileen Fisher here at the Strategist. As writer Laura Perciasepe put it, "I'm either evoking a kind of Nancy Meyers–playwright aesthetic, or business-lady power vibe, or languorous-Italian-lunch scene," every time she wears this black shirt. We think these pants have the same effect.