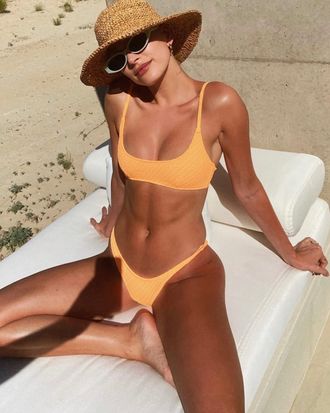 The photo that sent me spiraling.
Photo: Hailey Bieber via Instagram
Last July, new to the unrelenting sunshine of Southern California and deep in lockdown-induced boredom, I found myself obsessing over the perfect sun hat. For the first few months after moving to Los Angeles from New York — the place where I had gotten married, brought home two children, and lived more or less happily for 14 years — I had worn my beloved and battered the Odeon cap with pride. But the dreamy optimism of a place with perfect weather can weaken even the flintiest east coast resolve. I had already given in to buying a wetsuit and $19 pistachios at Erewhon and now I yearned for a sun hat I could wear to buy rhubarb at a farmers' market without feeling like a tool. I scoured all the usual sites and feeds, but every option I found was too something. Too stiff or too floppy. Too un-packable. Too Gone With the Wind. Far too precious.
And then, the algorithm shined its light on me. There, in the middle of an endless scroll, was Hailey Bieber clad in a sherbet-orange bikini and seated atop a pristine desert daybed. On her gorgeous cocked head she wore a woven sun hat the color of toasted pizza crust with just the right amount of flop and a refined, medium-depth brim. The way the photographer (Justin?) framed the shot, the hat almost seemed like an afterthought — it's even slightly cut off. But, of course, it's all I could see. There had been other sun hats before, sure, but this sun hat was different. This sun hat fucked. I tapped the image for credits. Nothing. Surely, my fingers must be sweaty. I tapped again. Nothing. Okay Hailey, I thought, so that's how you want to play it? 
After firing up OutfitID, a must for anyone hoping to identify obscure celebrity gear, and scouring a grip of Hailey's tagged photos (looking for the brand's eventual swipe-to-buy brag post), I did what any good journalist would do: I went fishing. I may have fewer than 2,000 Instagram followers, but some of those people are stylists, publicists, and fashion editors I met over the decade I spent working at magazines like Elle and Glamour. Like me, many of them had watched their work prospects all but evaporate over the past three months. "Fashion IG," I typed over the screenshot of Hailey Bieber. "Can someone please find me this hat?"
Less than two hours after my initial posting, a fashion PR slid into my DMs to identify her client as the designer of the hat … only to walk the statement back 30 minutes later. "Shit, it's slightly different," she wrote apologetically. A friend of a friend suggested I ping Eva Chen. No, Diet Prada! Then someone said I should I enlist the help of controversial momfluencer Hilaria Baldwin who it only occurred to me while writing this is Hailey Bieber (née Baldwin)'s aunt. "They all seem to follow each other," she wrote. "She's very active on insta. Maybe she can find out!" Five hours after the original post (and several hat-related updates), someone else messaged me that she knew Hailey's stylist and would ask for me. Yes, I said. Now we're thinking. While I was waiting for the stylist and Hilaria Baldwin to get back to me, my friend and Glamour digital wiz Perrie Samotin, broke the thing wide open: "Apparently it was a gift from the hotel in Utah, according to an account that tracks her outfit," she wrote.
Here we go. A quick Google revealed that Hailey had been staying with her husband Justin at the pricey Amangiri resort in Utah, which of course made perfect sense once I considered the matter of a pristine daybed inside the literal Aggro Crag. Each Aman resort location is handpicked for its staggering, heartbreaking natural beauty. Think they'd sell a crap hat? I picked up the phone and placed a call to Utah.
Now, at this point in the story, it's worth noting that I'd had a few glasses of wine. I told the receptionist that I had recently stayed at their lovely resort and had lost the hat only people like us know about and was swiftly transferred to the gift shop voicemail. I recorded the whole thing and posted it to Instagram. Then I went to bed.
The next morning, I woke to a slight headache and a surprising photo and text from my sister-in-law Lauren: "Is this the hat? Are you looking for it, or is someone else? I was having a hard time following," she wrote. There, nestled beneath a straw fedora, was an undeniable dupe of Hailey's sun hat. I squealed with disbelief. "Omg I think so. What brand is it? Does it say?" I wrote back immediately. "No brand," she said. "It is the hat from Amangiri in Utah." She had just gone to the Amangiri, she reminded me, with my sister and her family and my mom. All three of them had the hat. It was cute, but kind of itchy. She then sent me pictures of my mom and sister wearing the hat, which sort of ruined things, but not really. I couldn't stop laughing at the absurdity of it all.
The following month, I finally got my paws on the hat. It's a great color and I can't say enough kind things about the brim length. There are also some cool details you can only appreciate in person: It is made from 33 concentric circles and has an uneven brim, likely the result of hand stitching. I can see why Hailey likes it. Though a publicist for the hotel politely declined my request for information about the hat, I called back and was told that it is exclusively supplied to Amangiri from a vendor in Indonesia and can be purchased for $50 by calling the hotel directly.
These days, I keep the hat in my closet next to a far more breathable Tommy Bahama version I wear with much more frequency. As with so many conquests before, owning the thing took away some of its power. Turns out, I don't look just like Hailey Bieber when I wear it. And, to be honest, it is kind of itchy. Still, I kind of worship it. At a weird time in my life, a hat provided me with a very welcome distraction. It gave me a riddle to solve, a story to crack. And an excuse to reach for connection without feeling like a tool.
A few dupes for Hailey's Amangiri sun hat
Lose the little tie and honestly it's pretty close.
This woven raffia style has a UPF rating of 50+ and a bit more of a rolled brim.
Definitely large-brim territory, but the chunky woven pattern is similar.
Not the closest example, but still a lovely hat. The lighter "natural" version of this bucket hat appears to be sold out everywhere, but you can get it in chocolate (as well as black and chestnut on Janessa Leone's site).
The Strategist is designed to surface the most useful, expert recommendations for things to buy across the vast e-commerce landscape. Some of our latest conquests include the best acne treatments, rolling luggage, pillows for side sleepers, natural anxiety remedies, and bath towels. We update links when possible, but note that deals can expire and all prices are subject to change.