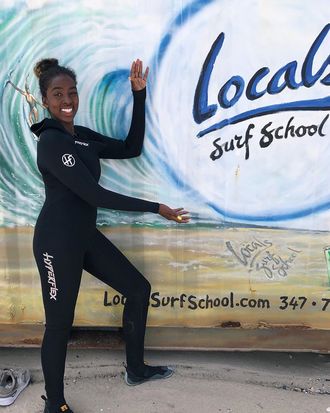 Photo: Courtesy of the author
Early last summer, I made the trek to Rockaway Beach to get on a surfboard for the first time in my life. Now, after nearly two seasons of riding the waves (and making one cross-country move to be even closer to the beach), I can call myself a surfer. Not a great surfer but a surfer nonetheless.
I've always been mesmerized by the ocean, but growing up in the inner city, I had limited access to water to swim in and I never learned as a kid. Even after passing a mandatory swim test in college, I spent years sitting in the sand watching surfers from the sidelines.
When I finally found the nerve to take my first lesson — thanks, in part, to the following Black pro-surfers like Nique Miller — I fully committed to learning how to surf and never looked back. I've made a lot of mistakes along the way, both in and out of the water. On my initial trip to the beach, I hauled two cumbersome tote bags worth of stuff and wore a flimsy swimsuit — never again. I've since streamlined my routine by talking to pros, including the folks at my favorite surf shop, Station, asking friends, and, of course, researching online. Ahead, everything a beginner needs to hit the waves.
The wetsuit
I rented a wetsuit for over a year before buying one of my own. There are endless options, and the fear of commitment (and price tag!) made me unable to make a decision. At the start of the season, though, I thought about zipping myself into a suit worn by a stranger during a global pandemic — and decided to make the investment in my own. I asked my friend and fellow N.Y.-based surfer Sue Williamson what she wore, and she recommended a 4/3-millimeter suit from Billabong. I hit purchase immediately.
The most important thing to know when purchasing a suit is that the numbers in the name — 3/2, 4/3, 5/4 — refer to how thick the suit is. The colder the water you surf in, the higher the number should be. A 4/3-millimeter suit is thick enough that it'll keep you comfortable in cold water, like New York's, but it's also thin enough that it'll work in slightly warmer water, like in Los Angeles. This one is relatively easy to slip in and out of and moderately priced, compared to others on the market. Considering suit rentals can run upwards of $40 per lesson, this one pays for itself after a handful of surf trips. Bonus: You don't have to worry about anyone else's germs.
The swimsuit
For my first lesson at Rockaway, I really wanted to make a splash — so I wore my cutest swimsuit. I quickly learned that while it may have looked good, it lacked actual support, which is a must when getting tousled around in the ocean. Since then, I've stuck with this high-performance Speedo One Piece (a classic in red!) nearly every time I hit the beach. It stays in place, so there's minimal tugging or rearranging in the water or when peeling off a thick wetsuit. While I'm personally a fan of the crisscross back and fuller coverage this one offers, any one-piece suit made with thicker, stretchy, supportive material will do the trick.
The waterproof bag
It took me way too long to figure out that investing in a good bag is essential. For more than a year, I made my weekly journey with my things packed inside of a recycled canvas tote bag and an extra plastic bag for my wet swimsuit. No matter how much I tried, my bag would always end up soaked and oftentimes leaking on the subway platform.
Things got even more complicated when I invested in my own wetsuit and had to lug an extra canvas bag for it to slosh around in. After seeing me struggle with two damp totes, someone at Station surf shop recommended a waterproof surf bag. A game changer! I love this one from Ucon Acrobatics because it comes in a bunch of fun colors, has a separate pocket for your laptop, and feels extra secure because of its Velcro closure, but there are a number of brands that make them. The most important thing to look for is that it's waterproof and has different compartments to chuck your stuff into.
The waterproof shoes
I wore sneakers to my first lesson and was stuck with sandy, wet feet for a two-hour train ride home. I quickly realized I needed shoes that were fast-drying, easy to slide on and off, and sturdy enough to handle slippery, wet feet. (The last thing you want are your shoes to break on the beach.)
After testing out several different options, these are by far the best I've found. The supersoft, foamy bottoms make them feel like a massage for sore feet after a surf session. They're super-easy to clean — all you need is a bit of water and sand slides right off — and they don't get too hot when left in the sun.
The post-surf poncho
You might think a towel is a must-have for surfing, but for me, they're too bulky and don't provide adequate coverage if I all of a sudden have to change in a public area (which happens, trust me). Instead, I bring along a changing poncho. You slip it on pre- or post-surf and change into or out of your swimsuit or wetsuit without baring yourself to the whole beach. This one from Slow Tide is also made with microfiber material, so it dries quickly and with a few shakes, most of the sand is gone. It's also cute enough that if you don't want to slip back into your outfit, you can wear this for a little while and no one will know you're essentially wearing a towel.
The reef-friendly sunscreen
What I look for in an everyday sunscreen — something that doesn't leave my deep brown skin with a white or ashy cast and that absorbs quickly so I can smoothly put on makeup — is very different than the sunscreen I reach for before surfing. When I'm hitting the water, the only thing I'm worried about is that I don't disturb the ocean's ecosystem, so I swap my usual formula for one that's considered reef-safe, meaning it won't dissolve into the ocean. There are lots of options out there, but most of the surfers I know use Sun Bum. It's much thicker and chalkier than the sunscreens I wear every day, but I don't mind since it's less harsh on the environment.
The wave-proof hair ties
I can't count the number of times I've lost a hair tie mid-surf and then spent the rest of the day with my hair tossing about and thrashing across my face. Now I stick with these spiral hair ties that provide a better grip and that can wrap around ponytails and braids several times without breaking. Since making the switch, I've yet to lose one in the ocean again.
The Strategist is designed to surface the most useful, expert recommendations for things to buy across the vast e-commerce landscape. Some of our latest conquests include the best acne treatments, rolling luggage, pillows for side sleepers, natural anxiety remedies, and bath towels. We update links when possible, but note that deals can expire and all prices are subject to change.