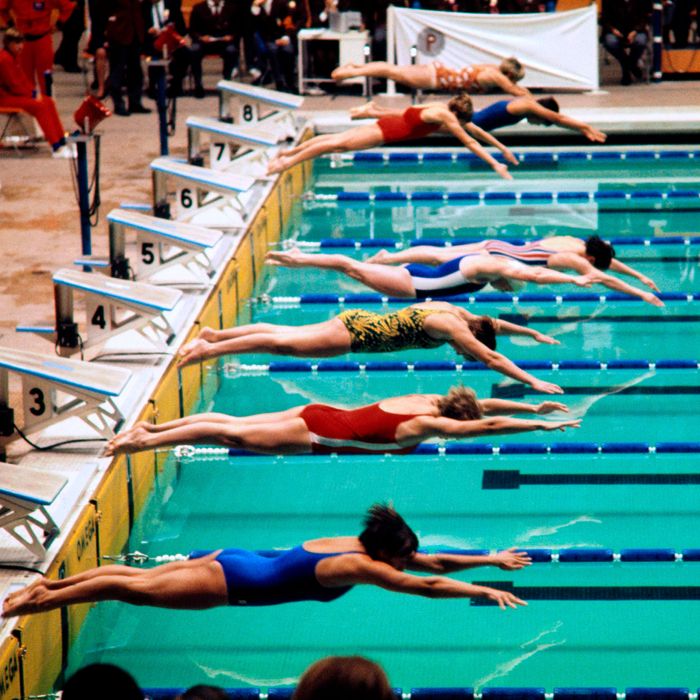 Swimming laps in a string bikini meant for lounging on the beach would basically be like jogging in jeans and a sweater. Technically you could do it, but you'd be much more comfortable in a swimsuit specifically designed for exercise. "For training, the most important factor is fit," says Hailey Hewitt, a coach for the Asphalt Green Unified Aquatics swim team. "If a suit is too tight, it can jeopardize your ability to swim with proper technique and full range of motion. If it is too big, the suit can slow you down and have a similar effect."
A properly fitting suit is also important to prevent painful chafing, according to Christine Frietchen, a two-time Ironman triathlete and former president of the Brooklyn Tri Club. "Chafing happens when fabric rubs your skin repeatedly as you move," she says. "So for training and racing, you need a suit that's tight, so it won't move around and rub your skin." Frietchen generally suggests looking for suits with narrow-set straps or straps that crisscross in the back "so they don't move around or impede shoulder rotation," and with backsides that offer "enough coverage that it's not going to ride up." Below, she and six other experts (including swimmers, coaches, and swimwear buyers) share their picks for the best training and racing women's suits (including some that are fashionable enough to hang poolside in).
Best solid women's training bathing suits
Swimmers love this minimal style for a durable everyday training suit. "The TYR Cutoutfits are a go-to for training because of the design and fit of their straps," according to Hewitt, who says her top swimmers wear TYR. "They are comfortable and allow you to train without worrying about your suit getting in the way." This suit is also a favorite of Kasia Sawicz, an assistant coach of the Chelsea Piers Masters Swim Team, who likes its thin, flexible straps. "When the straps are too constricting, it affects your overall swim," she says.
Like the TYR suit, the streamlined design of this Nike cutout style allows serious swimmers to focus on their stroke — not their suit. "It is not only comfortable, but very durable," says Julie Stupp, a 2012 Olympic trials finalist swimmer and in-house product reviewer for SwimOutlet. "The Nike Cut-Out also has thin straps that don't dig into your shoulders and back. These suits will last through hours and hours of training."
Best patterned women's training bathing suits
"Speedo is the iconic swimming brand for a reason," according to Stupp. "Their suits fit impeccably and they always have the best designs." Kristina Parsons, another assistant coach of the Chelsea Piers team, says she often chooses Speedo "because the fit is consistent; I know what I'm getting and [that] it will work before I get in the water." Elaina Cuoci, senior manager of the aquatics category at SwimOutlet, agrees that Speedo is "an iconic brand" and says that this printed training suit combines a "best-selling back style fit with an on-trend conversational print." The cheery lemon pattern offers a just-kitschy-enough departure from your standard solid suit.
TYR fans needn't ditch their preferred brand to get in on the print action, according to Frietchen, who likes this abstract-patterned suit. "The rear coverage is generous, and these suits last me a good year of swimming [as many as] 9,000 or 10,000 yards per week before they start to stretch out," she says. A suit's durability is often proportionate to its polyester content, explains Cuoci. "The more polyester content a suit has the longer it will last in the water." Most suits are a blend of polyester and spandex, but this one boasts 94 percent polyester (which is more than many).