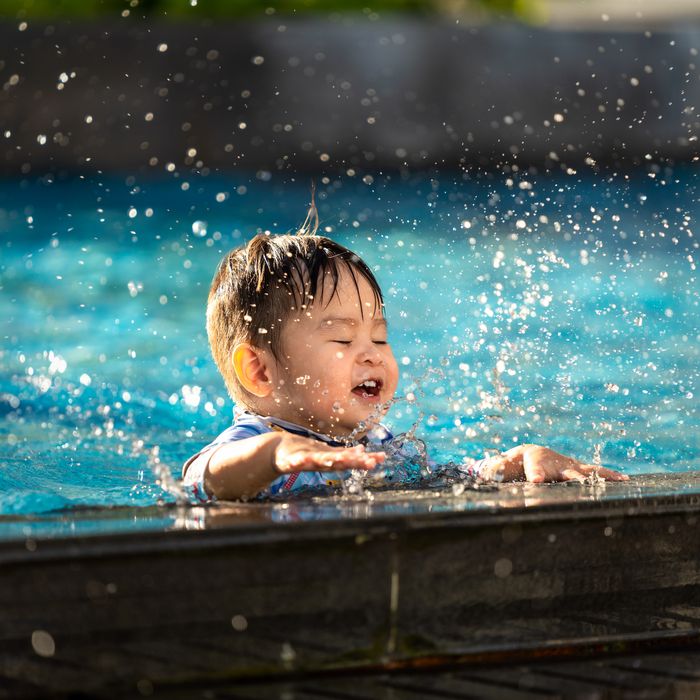 Photo: Getty/Getty Images
As we approach summer and prepare to (hopefully) spend a lot of time at the pool or the beach, you may be thinking about what you'll need for your baby to join the festivities — especially if there's a kiddie section at said pool or beach. And that's a good thing, according to the swim instructors we spoke with, who told us that the best way to encourage a love of water is to get little ones in it as soon as possible, so they're comfortable by the time you can sign them up for more formal lessons (which the folks we talked to highly recommend, as drowning is the second-leading cause of death among children ages 1 to 4 years old, according to the Centers for Disease Control.)
Luckily, it doesn't take much to introduce babies to water (hello, bath time!), and there are programs all over the country that can help when your kiddo is ready to go from tub to a bigger pool. There is also a lot of gear — including swim diapers, wetsuits, and even toys — to help make that first dip fun enough for your little one that she'll want to go back for more, according to our experts. Read on for the best things that our pros — among them Jim Spiers, the CEO of New York City– and Houston-based aquatics education program SwimJim; Heidi Reiss, a co-owner of Brooklyn-based kids' swim school Aquabeba; Brendan O'Melveny, chief aquatics officer and baby swim specialist at Imagine Swimming; and Mary O'Donoghue, senior aquatics director at the YMCA of Greater New York — recommend using to introduce babies 36-months-old and younger to the water.
Best overall swim gear for babies
Depending on the program, babies can start swim lessons as early as 2 months. At this age, they're not exactly swimming, but rather — along with their parents and caretakers — learning to be comfortable in the water. All a baby needs to get started is a pair of reliable swim diapers and a swimsuit, which together are crucial for keeping fecal matter contained, our experts say. (If poo does escape into the pool, it has to be shut down for health reasons.) Three of our experts recommend reusable swim diapers, and both O'Melveny and Reiss prefer ones by Finis. "Swim diapers should have stronger elastic around the waist and thighs. The less openings, the better," says Spiers. O'Melveny agrees that Finis diapers work well: "They're simple, effective, and have a wide range of sizes, colors, and prints to choose from."
When it comes to swimsuits, Reiss and O'Melveny say you don't necessarily have to get your baby a traditional one if you get a good swim-diaper cover, like a Happy Nappy from British company Splash About — which Reiss requires young swimmers to wear at Aquabeba lessons. "Splash About has the best product on the market to date," says Reiss. "It is made of neoprene and fits over the swim diaper. It's secure around the waist and thighs to lock everything in." O'Melveny agrees, saying that the wide bands keep everything solid from getting into the pool, which in turn keeps water (and swimmers) healthy. Reiss also likes that they look like bathing suits, and says they're even good for older babies who might be potty trained, but still have to wear a diaper in the pool and might not be thrilled about that. "Children forget to use the bathroom when they get into the water," she says. "They need that layer of protection, and because it mimics a swimsuit, it's not stigmatizing or traumatizing." The Happy Nappies come in a bunch of fun prints and colors in sizes from newborn up to 3 years.
Best disposable swim diapers
Two of our experts say using disposable swim diapers is also fine — as long as they're covered by a swimsuit — noting all the major brands make them, like this inexpensive set from Huggies. Reiss says you could even put a disposable one under the Finis diaper if you're really worried about accidents in the pool. Regular diapers, however, should not be used under any circumstances, according to our experts. Because they are designed to absorb liquid, they will become bloated in the water and eventually erupt, spilling gel beads everywhere. "Swim diapers do not have that," says Spiers. "They're literally just to contain any kind of fecal accident, and not necessarily the urine and stuff like that."
Best wetsuit for babies
While the swim instructors we spoke to say they try to keep the water temperature warm enough to be comfortable for young children — around 90 degrees at Imagine Swimming, for instance — sometimes that isn't possible, especially if it's a shared public pool. "Most pools are much colder, and a wetsuit can be really helpful," says O'Melveny. So if you want to put your baby in wetsuit for more coverage, he recommends one by Warm Belly. But, he cautions, "if you have a warm pool less is more," because "if their bodies are all covered, they don't get the tactile sensation of being in the water," which he says offers all kinds of neuromuscular benefits, especially to infants. "They get so much more feedback from the water than when they're moving in the air," he says. "We generally recommend getting them in the pool with a diaper and diaper cover, but if the water or air is cold, it's better that they're warm enough to stay in the water for more than a few minutes."
Best rash guard for babies
Spiers agrees that a wetsuit may not be the best choice for a child learning to swim. "If you're doing swimming lessons, wetsuits are not the best choice because they make the children more buoyant, creating a false float," he says. "So I would use a bathing suit, and if the child does get cold in the water, then use a rash guard on top of that, or a sunscreen shirt." We like this one from Coolibar, the brand that topped our list of dermatologist recommended sun-protective clothing for kids.
Best life jacket for babies
O'Donoghue says that life jackets are introduced during at least one session of the YMCA's eight-week infant program, Swim Starters. "One of the things that is a big key to our program is getting them used to wearing life jackets," she explains. "During the summer and other times depending on where you live, there's a lot of boating activities. The best way to ensure the safety of young children is to have them in life jackets. Sometimes our class is the only time they get to try them on, see what they're like, and how to move in them. Suddenly you're going boating somewhere and you're like, 'I've never put this on my young child before.'" If you're looking to buy one for your child, O'Donoghue says (and the other experts agree) that the key is to look for something that fits securely and is approved by the U.S. Coast Guard, like this one by Puddle Jumper. Aside from life jackets — which generally should only be used on a boat or in low-visibility, open-water swimming — our experts discourage the use of other inflatables, as they provide a false sense of security to both parent and child, and can get punctured and malfunction. And even with a life jacket, "there's no substitute for focused adult supervision," cautions O'Melveny.
Best goggles for babies
When the baby is ready, another item to consider is a pair of tiny goggles, which O'Melveny says "can be a big motivational tool." But he stresses that before you introduce the goggles, it's important for babies and toddlers to swim without them "so they get used to the sensation of water in their eyes." This is all about safety: "If a baby ever falls into the water accidentally, there's a good chance it won't be wearing goggles," O'Melveny says, so swimming without them at first will help prepare little ones for such incidents. But once the youngest swimmers are familiar with being in the water, he adds, goggles can help them actually see underwater and make what can still be a foreign situation feel a bit less scary. He recommends introducing goggles around the time a child starts to walk and having them swim with and without a pair "to make sure they're comfortable both ways." O'Melveny's preferred goggles, like our experts' preferred swim diapers, are made by Finis and come in a couple of models. The Fruit Basket style, he says, is "the best all-around fit and seal for children 1 year and older." The Mermaid model, meanwhile, has soft gaskets that make it "great for children who are uncomfortable with anything around their eyes." And if goggles with a traditional rubber strap feel too constricting or don't stay on, he recommends the Frogglez, which have a soft neoprene split strap that provides a bit of cushion and won't tug at hair.
Best swim toys for babies
The experts we spoke to all agreed that swimming for infants should be fun. At the YMCA, for example, "it's all fun and games," says O'Donoghue. "If you think of Barney, or any of the children's programming, it's all about repetition: songs, games, getting acclimated to the water." O'Melveny agrees. "The key to our mission at Imagine Swimming is to foster a love of the water in our students," he says. One way to do that is by using toys. "They're really fun, but they're also intended to teach particular skills," he says, like getting babies used to having water on their face, or going underwater. "Alex Toys makes really good little squirt toys shaped like animals, sea pirates, and all different kinds of stuff. They look great, the quality is good, and you can just fill them up with water and squirt."
Reiss agrees, saying that toys are also a great way to hold a child's attention. She recommends using these bath toys by Munchkin in the pool.
Reiss and O'Melveny both use something like a watering can or rain bucket at their schools to produce a sprinkle of water on their young swimmers' heads. "That can be really fun for kids to play with," says O'Melveny. "It's useful to get them acclimated to having water on their bodies, face, and hair." You can use just about anything that has holes. Reiss recommends a simple watering can, while O'Melveny told us he uses the Adventure Swim Rainbucket at Imagine Swimming. A third option comes from contributor Reagan Stephens, who told us, "A mom friend gave one of these little white clouds to my oldest daughter when she turned 2. You fill the toy with tub water, then use your finger to plug the little hole on top; when you release your finger, water rains down from tiny holes in the bottom of the cloud."
The Strategist is designed to surface the most useful, expert recommendations for things to buy across the vast e-commerce landscape. Some of our latest conquests include the best acne treatments, rolling luggage, pillows for side sleepers, natural anxiety remedies, and bath towels. We update links when possible, but note that deals can expire and all prices are subject to change.