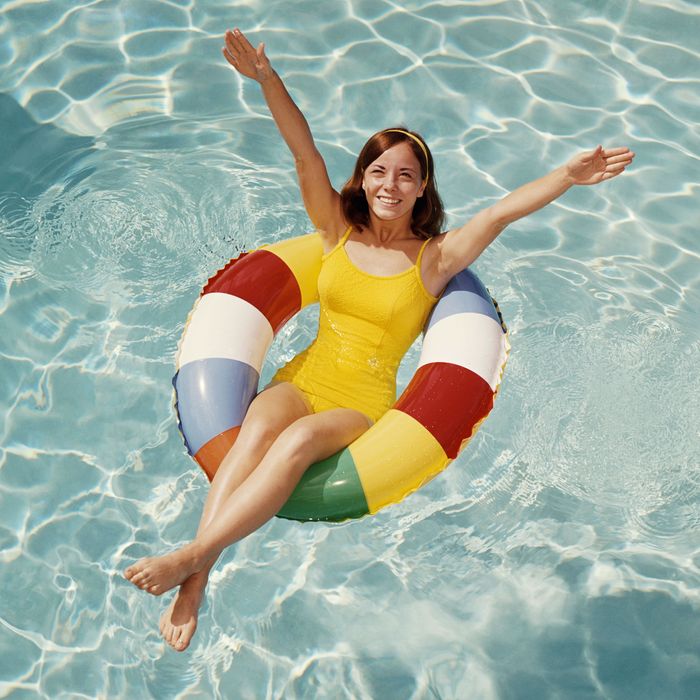 Photo: Dennis Hallinan/Getty Images
Whether you're taking a dip at a pool or heading to the beach, a good float can make the experience much more relaxing. But you probably want one that's easy to pack and inflate, actually comfortable to lie on for hours, and durable enough to last more than just a handful of times out in the sun. So to help you out, we've rounded up the best pool floats — from Instagram-worthy eye-catchers to more traditional options — as praised by the most enthusiastic reviewers on Amazon. And if you're looking for more summertime essentials, we have roundups of the best beach towels, beach umbrellas, and beach chairs, too.
Related Articles: All the Best Summertime Essentials | Best Inflatable Pools
Best-rated pool float
"This is the most dangerously comfortable pool float I've ever been on. Purchase with caution!" warns one shopper. "You will not want to get up/out of the pool. I may not get to my Netflix binging this summer. I already fell asleep in my pool and got a little sunburn." This pool hammock is "compactable and small," making it "great for travel," as one reviewer notes, yet big enough that one purchaser uses it to do water aerobics: "I can sit in it as a hammock and kick or do leg lifts, I can sit in it as a chair and do the skiing/scissor moves, or I can hold on to the inflatable while floating on my stomach and kick my legs behind me. It's become a part of my regular routine in the pool," she says.
Best-rated (less expensive) pool float
Dozens of five star reviewers call out the price of this inexpensive Intex pool float. "Great pool float for the price. Easy to inflate, well-designed … I could float around on this thing all day," writes one. Another says it's the "perfect raft to sit and relax in with your drink in hand," since it's "sturdy and more durable than the other seated lounge chairs." And while it's just 47 inches in diameter, one reviewer who's "a big guy, 6'3" and 290 lbs," reports that his Intex tube "worked great. The design puts you into a reclined position. It was extremely comfortable. Everyone in the family wanted to use this tube on a recent vacation."
Best reclining pool float
Several reviewers praised the Kelysyus for its comfort. "This thing is like taking a Lay-Z-Boy in the water!" writes one reviewer (who is not the only one to compare it to a Lay-Z-Boy). Another says, "I love to lay in the pool and read my books in the summertime, and normally I have just a normal, flat raft. After about 20–30 minutes my neck and back will start to ache from the angle I'm holding my book at, while trying to keep the sun out of my face … This raft solves all those problems! Very comfortable, and the mesh keeps you cool." The float itself is light at just seven pounds, and several shoppers note that it works well for larger adults. One reviewer writes, "It holds 300 pounds, and tall people too," and another says that it "holds my fat ass." There's even room to share: "Even my dog loves to sit on my lap and float with me," says another reviewer.
Best inflatable pool mat
Many reviewers love this float for its portability, and the fact that it's so thin you don't have to deflate it after every use. "They roll up nice, even when inflated, which allows for easier storage," writes one shopper. "They float well too without being bulky." One reviewer comments, "I'm seven months pregnant other thicker floats are to thick for me to lay on my stomach. I can lay on this float on my stomach comfortably and float around the pool."
Best tufted pool mat
This Poolmaster float touts its "French-pocket construction," meaning it has tufted pockets that can hold water and "keep you cool on those exceptionally hot pool days," according to one reviewer. Another reviewer appreciates how durable this float is and adds that the pockets double as drink holders: "My son pointed out to me that red cups or other bottled drinks slide into the holes perfectly and then can float around the pool for the guest to choose from." And a dozen reviewers like how comfortable it is. As one puts it, "Very comfortable and well made … it's dreamy floating in a pool with this."
Best animal pool float
"We got some STRANGE looks in Waikiki, let me tell you!" says one reviewer who gave this float five stars. Many people enthuse over the size of the lobster. "This lobster is huge," writes one. "He's HUGE and so much fun in the pool," says another — which makes for steady floating in water. This float has personality, too — at least two reviewers have named theirs "Larry." "I've seen many other floaties come and go but Larry has hung on for two years," says one wistful purchaser. "Sadly, this past week he met his demise. The neighbor boys [loved] him so much they were planning a funeral."
Best unicorn pool float
It wouldn't be pool season without the classic, Instagram-worthy choice: the unicorn pool float. While there are plenty of unicorn floats out there, this one impressed reviewers for its durability and size. "Super sturdy and stays well inflated after having kids jump on it repeatedly!" one reviewer writes. Many reviewers reported that the float made them the envy of their friends. "This magical steed gallantly carried my husband down the river in the epitome of style. Kayakers and rafters alike stared and jealousy and awe. Some were speechless others came right over and joined our crew. It was perfect," says another shopper.
Best mermaid pool float
Another Instagram-worthy option is this Jasonwell mermaid-tail float, which one reviewer says is the "perfect photo prop." Another reviewer appreciates how fun it is, but they also note that it's "not just a cheaply made novelty toy that's fun for a few pics. It's actually made well and a great size." And a third reviewer originally bought this as a joke but says their "expectations could not have been further from reality." Instead of embarrassing their friend on a river trip, the float was "a hit with everyone in the group and everyone we passed on our journey … Although my expectations were completely wrong, I am delighted by the quality and styling of the tube, and I can say from experience if you are buying this as a prank, expect to be let down."
Best pool float for fans of Free Willy
"As a mid-30s mother of two that just got an above ground pool, I fulfilled my lifelong dream of riding on Shamu," says one shopper. The float has handles, making it easy to ride, and the quality is high for the price. "I am so shocked this inexpensive float lasted so long," writes one shopper. Several commenters who left it inflated at the end of the season report that it survived the elements: "It has sat through ice storms, tornado warnings, extreme heat and cold, it has been jumped on by countless children — and it has survived!" says one.
Best banana pool float
"This banana float has provided hours and hours of entertainment for my children this summer. (A lot for us as well watching them try and master staying afloat.) The memories and videos are going to provide laughs for many years!!" writes one reviewer, adding that it held up even under "all the jumping, playing and fun we've had." It's not the most relaxing of the floats listed — especially for adults, who are typically too big for it — but as one reviewer explains, "The challenge of keeping your balance on it makes it fun … My teenager enjoys this float very much!" It's not just for kids, though. Another reviewer bought this as a "one of a kind gift" for their friend's 40th birthday and reports, "It provided great fun. The banana really is giant and it's very sturdy … I think it will provide laughs and smiles for years to come."
Best avocado pool float
This avocado-shaped Jasonwell pool float is cleverly designed with a beach ball as the avocado pit, which one reviewer says is a "cute addition to have in the pool and toss around for some extra fun." As for the float itself, reviewers say it's made of thick, durable material. "Our avocado float is on its second summer now and showing no signs of giving up the ghost … And that's with two heavyset adults and three tween/teenagers using it almost every day," writes one reviewer, who adds that "it's the family favorite out of a LOT of pool floats over the years!" And because it's so roomy, one reviewer says their six-foot-three husband "loves and feels very comfortable on it. I think it'll last a while because the material seems pretty thick and it has survived being blown out of the pool several times with no scratches or holes."
Best beer-pong float
"I love products that solve problems, and this is definitely one of them," one reviewer writes. "Before receiving this table, there was a constant dilemma of should I play beer pong or should I go swimming. Thanks to this product I can now move on to other life problems." Reviewers had a lot of fun with this float, and one suggests a DIY touch to keep the game going at night: "We used these are our family vacation and honestly — none of us remember the night?! My best advice: Paint the ping pong with glow in the dark paint."
[Editor's Note: You can't purchase this beer-pong float now, but it will be in stock soon.]
Best drink holder pool float
"This is not only cute as can be, but sturdy," writes a reviewer of this floating Jasonwell rainbow drink holder. "We had a ceramic cheese plate, crackers, fruit in the middle of the float and a bottle of beer. Didn't tip or tilt." Plenty of other five-star reviewers are impressed by it, including one who says it "floats evenly in the water and holds not only 12 oz cans but 24 oz ones." And a third reviewer who likes that it makes "a great storage place for goggles and swim toys when the ice chest area is empty" writes, "This is the perfect little pool beverage holder. It's a great bang for your buck pool purchase, we literally use it everyday."
Best pool float for toddlers
"This is amazing! Pretty adorable to watch my three year old walk around the beach with this on putting out all the fires," writes a parent of this Big Summer fire boat pool float. Plenty of other parents and grandparents also report that their little ones are entertained by the float's water squirter. One reviewer particularly likes that the squirter is easy for their 4-year-old to operate, and "it never runs out of water because it's designed to draw in pool water." And a third insists that it's "very stable for kids" and "held up to 2-, 4-, and 7-year-olds even jumping off side of the pool into it … No worries about tipping over. Good durability."
Best pool float for toddlers with sun canopy
Parents of toddlers love this float, which features a mesh seat with leg holes for kicking, and a sun canopy to protect little ones from sunburns and overheating. Reviewers praise how safe the float is: "Overall, the float was safer than having her in my arms where she was slippery and could have slipped out of my grasp." Peace of mind was a theme among reviewers: "I'm a first time mom so I'm nervous about everything, but I felt like he was very secure floating in this." writes ones. Another says, "We call it the 'ring of zen' because so many times my son would just chill in it for extended periods of time without crying and be very content," says one purchaser.
Best pool activity float for toddlers
This float has a canopy to protect babies from UV exposure and also comes with toddler-friendly pool toys. "The little toys that came with it are super cute," one reviewer writes. "My daughter has been using them as little chew toys." Another says, "The octopus and toys are a genius add!" And like the original Spring Float Sun Canopy, this float keeps toddlers safe. My baby went out of her mind in this thing," says one shopper. "She safely floated with her head many inches above the water, so I could take my eyes off her for a second or two to talk to somebody and not worry that there was going to be an accident. But the real seller is the canopy. Babies have delicate skin, and even though we put sunscreen on her, we didn't want her to fry in the sun. All we had to do was rotate her so the sun was behind her and she was fine, no sunburn at all.
Best large inflatable floating mat
Plenty of reviewers are impressed by this "giant" Intex floating mat, including one who says they were "skeptical that this would really hold more than one person and not fold up like a taco." To their surprise, two people were able to "lay on this quite comfortably, moved around, sat up, turn over, etc without any balance issues at all." Other reviewers note that it's a cheaper alternative to other large floats. "For a fraction of the price of the foam pads this is a great deal," writes one, adding that the "best part is that we can let the air out and store or transport [this] easily." And a third reviewer used theirs in a pool and appreciates that "The texture is very smooth, almost velvety. It doesn't stick to your skin like some floaties do or have rough edges. The material feels expensive and of high quality … I can't wait to try it out on the big lake. Hopefully I don't fall asleep and end up stranded in the middle of Lake Michigan."
The Strategist is designed to surface the most useful, expert recommendations for things to buy across the vast e-commerce landscape. Some of our latest conquests include the best women's jeans, rolling luggage, bed sheets, coffee makers, and bath towels. We update links when possible, but note that deals can expire and all prices are subject to change.

Every editorial product is independently selected. If you buy something through our links, New York may earn an affiliate commission.