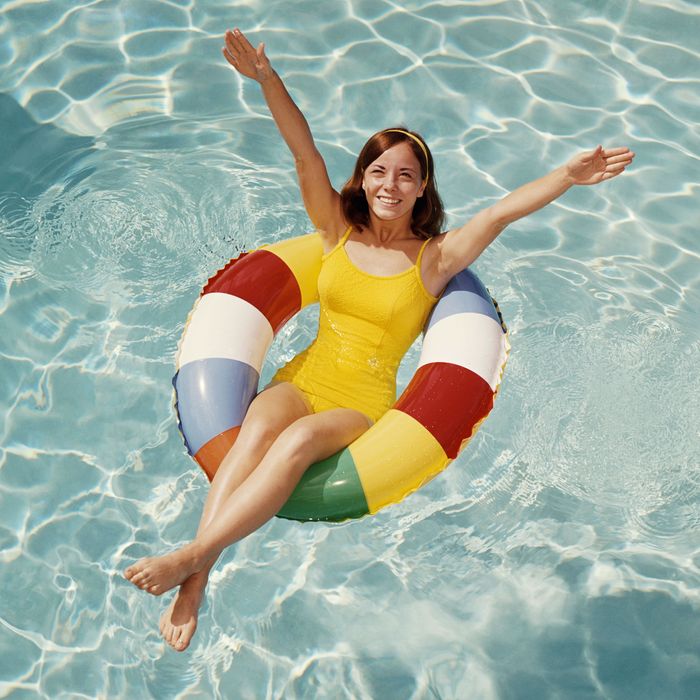 Photo: Dennis Hallinan/Getty Images
Here at the Strategist, we like to think of ourselves as crazy (in the good way) about the stuff we buy, but as much as we'd like to, we can't try everything. Which is why we have People's Choice, in which we find the best-reviewed products and single out the most convincing ones. (You can learn more about our rating system and how we pick each item here.)
And while you might've already picked up your beach tent and beach umbrella, we've collected the best pool floats on Amazon for your sunny Instagrams.
Best-rated pool float
Reviewers have taken these floats everywhere from the Maldives and Jamaica to a resort in Mexico and a small lake in Missouri, and many have purchased more than one. "Mine was the envy of the community pool all year," writes one satisfied shopper. Several reviewers praised the Kelysyus for its comfort level. "This thing is like taking a Lay-Z-Boy in the water!" writes one reviewer (who is not the only one to compare it to a Lay-Z-Boy, either).
Another says, "I love to lay in the pool and read my books in the summer time, and normally I have just a normal, flat raft. After about 20–30 minutes my neck and back will start to ache from the angle I'm holding my book at, while trying to keep the sun out of my face … This raft solves all those problems! Very comfortable, and the mesh keeps you cool." The float itself is light at just seven pounds, and several shoppers note that it works well for larger adults. One reviewer writes, "It holds 300 pounds, and tall people too," and another says that it "holds my fat ass." There's even room to share: "These are the best floats ever!!" one floater writes. "Even my dog loves to sit on my lap and float with me."
Best-rated (least-expensive) pool float
"This is the best float ever for the price," writes one enthusiastic reviewer. "I was expecting something a little flimsy, but wow!" Multiple shoppers praise the sturdiness of the King Kool float, and one remarks it is even tough to withstand the nails of his golden retriever, who "likes to float on these" and has "nails that can pierce thinner plastic, but these hold up." One reviewer even says the float is "able to survive trips in whitewater rivers: "This baby will bump or even ride over rocks with gusto as long as you don't over-inflate it." For those looking for a less extreme floating experience, the King Kool is ideal for relaxing. One shopper says, "It transports you to a pool far far away where there is only sun, warm breezes, birds calling, sea (pool) spray, and cold refreshing drinks at your fingertips."
And now for some micro-picks of every type of pool float you might be looking for.
Best pool hammock
"This is the most dangerously comfortable pool float I've ever been on. Purchase with caution!" warns one shopper. "You will not want to get up/out of the pool. I may not get to my Netflix binging this summer. I already fell asleep in my pool and got a little sunburn." This pool hammock is "compactable and small," making it "great for travel," as one reviewer notes, yet big enough that one purchaser uses it to do water aerobics: "I can sit in it as a hammock and kick or do leg lifts, I can sit in it as a chair and do the skiing/scissor moves, or I can hold on to the inflatable while floating on my stomach and kick my legs behind me. It's become a part of my regular routine in the pool," she says.
Best animal pool float
"We got some STRANGE looks in Waikiki, let me tell you!" says one reviewer who gave this float five stars. Many people enthuse over the size of the lobster. "This lobster is huge," writes one. "He's HUGE and so much fun in the pool," says another — which makes for steady floating in water. This float has personality, too — at least two reviewers have named theirs "Larry." "I've seen many other floaties come and go but Larry has hung on for two years," says one wistful purchaser. "Sadly, this past week he met his demise. The neighbor boys [loved] him so much they were planning a funeral."
Best unicorn pool float
It wouldn't be pool season without the classic, Instagram-worthy choice: the unicorn pool float. While there are plenty of unicorn floats out there, this one impressed reviewers for its durability and size. "Super sturdy and stays well inflated after having kids jump on it repeatedly!" one reviewer writes. Many reviewers reported that the float made them the envy of their friends. "This magical steed gallantly carried my husband down the river in the epitome of style. Kayakers and rafters alike stared and jealousy and awe. Some were speechless others came right over and joined our crew. It was perfect," says another shopper.
Best reclining pool float
This float boasts a headrest, backrest, and footrest, and is praised again and again by reviewers for its comfort level. "Have fallen asleep in it many times," one buyer writes. "I read while floating and my books never get wet," says another. Some of the comfort comes from having room to stretch out: "The larger size gives my ample backside plenty of room and the back works great for sitting up straight or if you scootch down some you can easily relax your head on it," one person comments. Another says: "The backrest on this extra large size float allows you to rest your head, relieving your neck of fatigue."
Best inflatable pool mat
Many reviewers love this float for its portability, and the fact that it's so thin you don't have to deflate it after every use. "They roll up nice, even when inflated, which allows for easier storage," writes one shopper. "They float well too without being bulky." One reviewer comments, "I'm seven months pregnant other thicker floats are to thick for me to lay on my stomach. I can lay on this float on my stomach comfortably and float around the pool."
Best pool float for toddlers
Parents of toddlers love this float, which features a mesh seat with leg holes for kicking, and a sun canopy to protect little ones from sunburns and overheating. Reviewers praise how safe the float is: "Overall, the float was safer than having her in my arms where she was slippery and could have slipped out of my grasp." Peace of mind was a theme among reviewers: "I'm a first time mom so I'm nervous about everything, but I felt like he was very secure floating in this." writes ones. Another says, "We call it the 'ring of zen' because so many times my son would just chill in it for extended periods of time without crying and be very content," says one purchaser.
Best pool activity float for toddlers