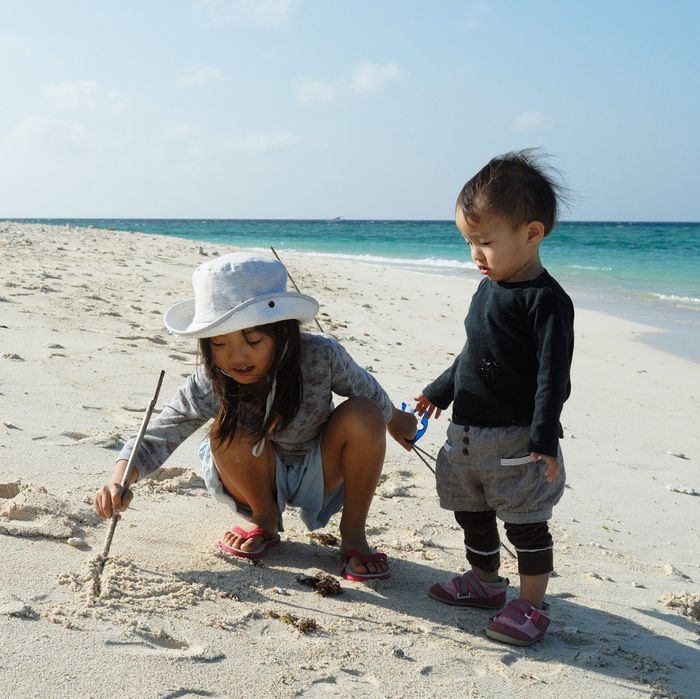 Photo: Gen Umekita/Getty Images
Youngsters have thinner, more sensitive skin, making it essential for parents — and their little ones — to develop good sun-protection habits from the get-go. "Getting kids used to sun protection early is key," says Dr. Heidi A. Waldorf, associate clinical professor of dermatology at Icahn School of Medicine at Mount Sinai. Finding the right sunscreen to slather on is of course important, but the dermatologists we spoke with say finding quality sun-protective clothing is just as crucial — especially for new parents, because babies under six months cannot wear any sunscreen. And even when your child is old enough for sunscreen, experts still recommend using sun-protective clothing because it can reduce the need to reapply and because some kids just don't like the feel of a pasty white film on their skin. "When sunscreen gets too cumbersome to apply and reapply, a good alternative is sun-protective clothing," explains Dr. Ainah Tan.
Generally, clothes with "dark colors and a tight-weave fabric will protect the skin," according to Dr. Jody Levine. But finding garments with a high ultraviolet-protection factor — or UPF rating — is key to getting the best coverage, according to Dr. Marnie Nussbaum. "The average white cotton T-shirt provides a 5 UPF rating, (meaning one-fifth of the sun's rays will pass through that garment), while some sun-protective garments have a UPF rating of 50, which means one-50th of the UV radiation can penetrate the fabric," she explains. Below, Nussbaum and nine other experts recommend their favorite sun-blocking shirts, onesies, and swimsuits (all of which have a UPF rating of 50) for kids and babies.
Best overall sun-protective clothing for kids
Dr. Elizabeth Tanzi, who says she "only applies sunscreen to my kids in areas that are not covered by sun-protective clothing," cites Coolibar as her favorite brand. She is in good company: Seven of the nine other dermatologists we talked to also recommended it. "I love Coolibar. It is one of the original brands for sun-protective clothing and their innovative fabric blocks 98 percent of the sun's ultraviolet light," says Dr. Carlos A. Charles, founder of NYC-based Derma di Colore.
Dr. Samer Jaber of New York City–based Washington Square Dermatology also recommends Coolibar and, as a rule, suggests looking for sun-protective clothing that is both "comfortable and stylish." This surf shirt comes in 21 different colors and patterns, so there is surely an option that'll please even the most persnickety of kids.
These moisture-wicking swim trunks come in a variety of fun patterns and in sizes that will fit babies from 6 months old to age 2.
And for older boys, ages 4 to 16, here's a smart-looking pair of striped board shorts.