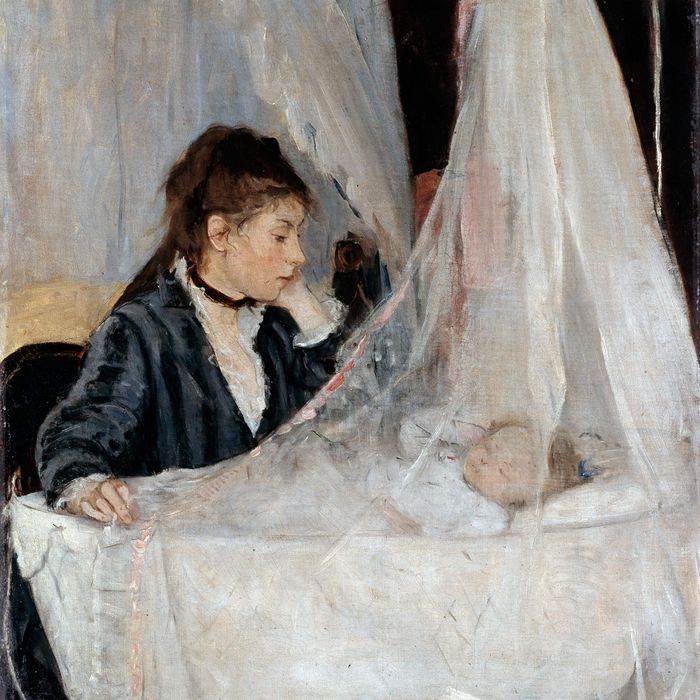 Photo: Heritage Images/Getty Images
As I mentioned in the first installment of this series, when I found out I was pregnant, a fastidious friend passed along a spreadsheet to me of all the baby essentials I'd need for the first six or so months. My secret skill is that I am a powerhouse Googler, so I ended up using my friend's list as a jumping-off point to satisfy my need to obsessively research every possible thing on planet Earth. Now, two kids later, and as founder of a maternity company, I am waist-deep in mama/baby/parent stuff all day, every day. I'll admit that I've probably gone deeper than most (sane) people are willing to go, and have since created my own Google doc that I email around to any friend of mine who I find out is pregnant. I've easily passed this on to 40 friends who have in turn passed it on to their friends in the sisterhood of the traveling spreadsheet fashion. I edited it once after the babe arrived, once more after babe No. 2, and then one more time after hearing from some of my best friends who had kids. The first post featured products for sleeping, changing, feeding and pumping, and transporting. This one includes clothing, bathing and grooming, playing, first aid, and gadgets (plus some things that other parents swear by but that I didn't find particularly useful.)
Onesie, Footed
This one is neutral and has little built-in hand covers if you need them for a scratchy baby. It's also easy to get on and off, and snaps in the crotch for nighttime diaper changes.
Onesie, Long-Sleeve
The crossover onesie is your friend. I'd say a two-pack is good to start. Petit Bateau and Gerber make good everyday options. If you want something a little fancier (that's great for putting on a registry), head to Makié.
Onesie, Short-Sleeve
I repeat, the crossover onesie is your friend. You can see what works for you and your current climate before buying deep on any one item.
Shirt, Long-Sleeve
Great for hanging out at home. These make diaper changes easy early on. They also have built-in scratch mittens if that's becoming an issue for your little one.
Shirt, Short-Sleeve
Same shirt, just without sleeves.
Pants
These pants are cheap and come in solid colors, which is surprisingly rare for baby pants. They're not fancy, but babies grow fast and poop their pants not infrequently, so I try not to be too precious.
Hat
There are a lot (a lot) of options out there, but I was on the lookout for something simple, soft, and neutral, since we didn't know the gender with either kid.
Sun Hat
For babies in sunny places, this is small enough for newborn heads and dries quickly if it gets wet at the beach.
Socks
These were the only baby socks that didn't fall off my kids. That said, most of the time your baby doesn't really need socks.
Photo: Green Mountain Diapers
Booties
These are good for when baby's feet are exposed in the carrier or stroller on chilly days. It's the kind of thing where necessity really depends on where you live and what time of year it is. Not everyone needs wool booties, or any booties really. (Here are some other Strategist-approved baby booties that famously don't fall off.)
Bathtub
The first baby tub we ordered was way too big for our house. I swear I could nearly fit in it. This one collapses, has a hook for hanging, and I personally never had an issue with the infant bar people seem to complain about.
Bath Towels
I have to admit that I picked this solely because it was a neutral color and sans ears, but now I love how soft it is. Since people seem to like gifting baby towels, you may as well have an opinion on which ones you like. The hood becomes much more useful as your kids get older and start walking away from you after bath time. (You can certainly use a regular towel, so I'd say feel free to pass on this one.)
Bodywash
Figuring out how to bathe a tiny baby can be stressful at first, so it helps to have a dedicated no-tears baby soap that's free of additives and chemicals.
Lotion
Not all babies need lotion, and many skin issues resolve themselves anyway. But if your little one has sensitive skin or tends to get dried out, this lotion is not too heavy or greasy. It also has no weird baby scent and a low EWG rating.
Clippers
Babies come straight out of the womb with stabby little finger nails. Sometimes you can get away with biting or peeling them at first, but eventually you do need to figure out some method. These are not revolutionary, but they're small and they work.
Thermometer
The forehead-scanning ones are notoriously unreliable, and you try putting a butt thermometer in a sick kid. I found the ear thermometer to be very user-friendly.
Nasal Aspirator
The hospital has these, so grab one to take home. While you're at it, take whatever else you can grab from the hospital (pads, mesh underwear). But if you forget … this is a good one.