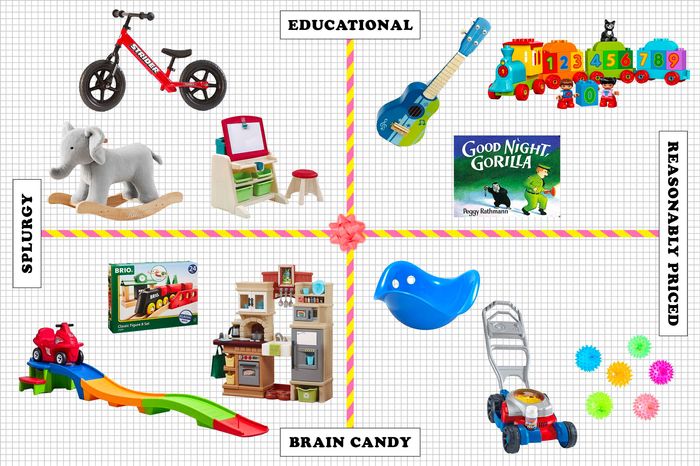 Photo-Illustration: Photo-Illustration: Stevie Remsberg; Photos: Courtesy of the retailers
Shopping for gifts for a 2-year-old? The central piece of advice we heard from Dr. Roberta Golinkoff, a professor of child psychology at the University of Delaware and co-author of Becoming Brilliant: What Science Tells Us About Raising Successful Children, was "Don't constrain them." The ideal toys for this age are open-ended and malleable, so the child can learn new things, develop their imagination, and discover their own ways to have fun — whether that be with a Golinkoff-approved dress-up toy, a universally celebrated balance bike, or the arts-focused subscription box chosen here by a pediatrician (a nice companion to the mess-free markers appreciated by reality-TV star Lauren Conrad).
To find toys that fit that bill, we talked to professionals like Golinkoff as well as highly discerning parents, nannies, and toy buyers to assemble a list of 31 expert-approved gift options for the 2-year-olds in your life. Then we mapped them onto a handy grid whose four sides are "Educational" (say, a butterfly science kit), "Brain Candy" (a broccoli shaped stuffed animal), "Reasonably Priced" (under $50), and "Splurgy" ($50 and up.) The result is this this 2-year-olds edition of the Strategist's Toy Matrix, a kid-centric version of New York Magazine's "Approval Matrix" that applies the model of what falls where on our taste hierarchies to the infinitely expanding toy universe. Each toy in every quadrant comes highly recommended — click here to learn more about our sourcing process and the dozens of experts involved — and every age up to double digits is covered, all of which you can see by also clicking here.
If you already know what you're looking for, you can jump directly to the section that interests you most in the table of contents or read all the way through to get the full picture of what kids are into these days. Whether you're shopping for a birthday or the holidays or any other day, it's a list that keeps on giving.
Educational–Reasonably Priced
"Two-year-olds are definitely interested in being read to," says Dr. Alexandra Figueras-Daniel, an assistant research professor at the National Institute for Early Education Research. "Repetitive texts help to build phonological awareness and draw attention to individual sounds in words as well as rhymes and patterns." That's why she and Shannon Lockhart, a manager at education-research foundation HighScope, both love the book Good Night, Gorilla. Not only does it repeat the phrase good night, allowing children to become familiar with words, it also names each animal as the zookeeper makes his way through the zoo. Lockhart adds that if you're going to give a book, look for one with recurring elements — like the pink balloon found in the first few pages of Good Night, Gorilla — which can help keep kids engaged.
Every day-care classroom has its own "It" toys — the ones that all the kids fight over, for whatever reason, some of them seemingly very random (e.g., the blue ice-cream cone in the pretend food bin, the red squares among the Magna-Tiles). But an especially big hit for the 2-year-olds at Tribeca Kindercare, according to teacher Ms. Kelsey, are the finger puppets. Figueras-Daniel also recommends finger-puppet toys for this age group, specifically citing the ones from Folkmanis, like this owl, because of how super-realistic the brand's puppets are. In addition to helping kids work on their fine motor skills, puppets can "inspire lots of language, as children can speak through the role of the puppet," Figueras-Daniel explains. Plus, she says, you can use the puppets to start teaching 2-year-olds about specific animals.
As with all Melissa & Doug toys, you can count on this cleaning set to be well made and safe for toddlers. And as with many of the brand's toys, this set will engage kids for hours. (One Strategist editor's son was so motivated by the idea of cleaning with it that he took his first official steps while holding the green broom — and still does plenty of sweeping with the set now, at 3 and a half.) Golinkoff says: "Kids always want to be like big people. So if they see you using something, they're going to want to do it, too." And toys like this "require children to be active and can spur the development of the imagination." Plus, when used with another child, "they can increase social interaction."
Golinkoff encourages parents to give young children toys that promote empathy, like dolls or dress-up clothes. This simple but realistic doctor kit is a good choice because it doesn't include a bunch of small parts toddlers could choke on. According to Golinkoff, playing make believe, whether it's with old clothes or store-bought costumes, helps children practice social interaction and experiment with different roles and personalities. She says it's wonderful if they can play dress-up with their peers or siblings, but that parents can also join in on the fun.
Figueras-Daniel says that there isn't a specific stage of development when concepts like science or nature really begin to take root in children's minds, but giving a 2-year-old a bird feeder like this would be a way to "provide them with opportunities to make observations about the world around them." While they're certainly not going to go out and put food in it at this age, she says, kids (including her own) enjoy watching the birds visit if the feeder is stuck on a window in their nursery or playroom. "It attracts all kinds of birds when filled," she says, adding that this can be a gift that grows with a child. "We now keep a journal by the window for drawing and keeping track of all the varieties that come to visit."
"Similarly, watching growing caterpillars and ladybugs can also be a fun way to encourage observations about how living things grow for little kids," says Figueras-Daniel, who recommends Insect Lore's butterfly and ladybug kits. The Butterfly Garden kit comes with a cup filled with five baby caterpillars and nutritious caterpillar food, as well as a pop-up mesh habitat, a chrysalis holding log, a butterfly feeder, food droppers, and a journal. While setting everything up will require the assistance of an adult (the manufacturer recommends 4 years as the starting age for this kit), a 2-year-old will definitely get a kick out of watching the caterpillars metamorphose into butterflies up close — and will perhaps be reminded of a certain classic board book.
This is just about the most interactive book that Strategist writer and mom of two Lauren Ro and another writer of this article (Steven John, who also happens to be a parent) have ever seen. Almost a game, it encourages finding patterns, making predictions, learning colors, remembering sequences, and having fun with a parent, sibling, or other caregiver. After a few readings, your kid will start to know how and when to clap or tap, making it even more fun each time. (You can find many more recommended books for kids here.)
Two of the people we spoke to say that Duplos — Lego's larger blocks designed with tiny hands (and mouths) in mind — are great for this age. One of them is Erica Hill, a consultant at HighScope; the other is Ro, whose son received these two affordable sets for his second birthday. Trains and cars are already beloved by kids at this age, and these combine those vehicles with the cheeriest color schemes — and your basic ABC's and 123's — resulting in a gift that is playful, educational, and not hideous for parents to look at, Ro says. Her now 3-year-old, Augie, loves putting both sets together to create a mega-train-truck that he drags all over the house. When he's not doing that, he loves stacking the blocks as high as possible. Like all Lego products, these are virtually indestructible and thoughtfully made: The characters come in a range of skin tones and sport clothes that evoke the toys' themes, like the car T-shirt one is wearing. And if you want to expand your 2-year-old's universe, the Duplo Town World Animals kit has enough pieces for two kids to enjoy at once, including pandas and giraffes, an airplane and pilot, and a canoeing dad and child.
Photo: retailer
Here's a bath toy that has a little science built into it. It's a favorite of Strategist contributor Regan Stephens and her three girls, the eldest of whom received it as a gift when she was 2 years old and now shares it with her younger sisters. "You fill the toy with tub water, then use your finger to plug the little hole on top; when you release your finger, water rains down from tiny holes in the bottom of the cloud," writes Stephens. "Simple physics, lots of fun."
Learning to play the drums (or any musical instrument) can be a great way for young children to develop critical skills like mathematics. But as Dr. Kathy Hirsch-Pasek, who is Golinkoff's co-author, admits, a toddler incessantly beating drums is not always music to a parent's ears. But for something that will stimulate a 2-year-old and actually sound pleasant to adult ears, consider Plan Toys's lovely little wood drum. "You can drum together and make little drum circles," adds Hirsch-Pasek. If you think your recipient might prefer playing with something that makes a bit more noise, the light-up Vtech drum set recommended by John has a bit more going for it. The set has built-in programs that teach letters, colors, numbers, and so forth. But in his experience, what kids at this age love most about the lap-size toy is the freestyle play it encourages by basically allowing them to sit and bash away at the flashing drum pads and cymbal whenever they need to blow off some steam.
Complete your 2-year-old's White Stripes–inspired duo with this wooden ukulele that New York Magazine deputy editor Alexis Swerdloff bought for her toddler. "It's just the perfect size for his 2-year-old hands and body; he totes it around from room to room and actually has figured out how to 'play' it when his favorite song (currently, 'YMCA') comes on," she says. "Plus, he's thrown it onto our hardwood floor quite a few times and there are no scratches to speak of." It's also tunable, making it as close to the real thing as possible.
There are Kiwi Crates designed to suit every age from birth through the teenage years and into adulthood. The Koala Crates, delivered monthly at $20 a pop (you can cancel any time), are packed with thematic activities perfect for the rapidly developing 2-year-old: an ocean-themed crate with a fishing game that promotes dexterity, a sea-turtle art project, and more. "Play is essential to young children's cognitive, social, and emotional development, and it is under threat," says Dimitri A. Christakis, an MD and editor-in-chief of JAMA Pediatrics (he's not sponsored by KiwiCo, just a fan and believer in the products). He adds that he's been especially impressed "with how KiwiCo uses the science of child development to promote healthy play grounded in the latest research."
Educational–Splurgy
For learning the alphabet (and a bit of word association), Ro recommends these handcrafted wooden blocks that she bought when her son was 2 years old. Made of beech and walnut wood, they come from South Korean–based company OiOiooi, and each letter has a corresponding shape it can connect or slot into. The letter T, for instance, fits into the bed of a truck, while the B makes up one half of a butterfly — so kids not only learn to identify the letters as they play but also some words associated with them. (In addition to the English alphabet, the brand makes a numerical set and one featuring the Korean alphabet.) Admittedly a splurge, Ro notes the blocks are "heirloom-worthy," not least because they come with a fabric pouch and a sturdy cardboard box that has handles, making the set easier to carry — and to store for future generations. The set also includes a hardcover book with illustrations of each letter and its matching shape.
"Kids love to paint," says Golinkoff. This fold-up easel, which converts to a desk, makes it easy for your 2-year-old to experiment with colors and textures on a large-scale canvas. "I don't care if parents get newspaper, butcher paper, or brown paper," she says, as long as the child is free to do as they please. Hill also recommends the easel, pointing out that because kids at this age "paint using their whole body, from the top of their head to their feet," this will give them a big enough surface for doing that. When they're not channeling their inner artiste, they can use the desk for other work.
Balance bikes are a critical step between the trike and the bicycle, helping kids master their balance before worrying about pedaling. "My older son learned how to ride a bike using a balance bike. It allows you to skip training wheels and build their balance naturally," says Zahra Kassam, founder of the at-home Montessori program Monti Kids. John (and thousands of Amazon customers) likes the Strider because of the broad range of ages it can accommodate. Its seat can be lowered down enough for a kid as young as 18 months or raised high enough for the body of most 4-year-olds, with age 2 being the sweet spot. (Strategist senior editor Jen Trolio, whose two kids are now 4 and a half and 7 years old, both started riding a Strider at age 2, passing it down from older to younger. And each one ultimately graduated straight to a pedal bike without a single training wheel in between.) Plus, it just looks very sleek.
Another movement-related winner: A version of this plush rocker appeared many gift guides ago in the print version of New York, where it got a huge reaction from the staff. One employee liked it so much that she bought two for her friends with twins and tells us that one of them was recently regifted back for her own toddler (the fur is a bit matted now, but the solid-wood runners and handles are as sturdy as ever, she reports). According to child therapists, this is just the kind of self-propelling toy — rather than those electric ride-ons with flashing lights and blaring noises — that encourages healthy motor development.
Brain Candy–Reasonably Priced
If you're looking to give a unique stuffy rather than the typical teddy bear or unicorn, Jellycat plush toys should be number one on your list. This plush broccoli (they also make a pretzel, an onion, an eggplant, and an ear of corn) was a hit with the 2-year-old niece of Strategist senior writer Liza Corsillo, who loves to "eat" the vegetable. Not only is it lots of fun to pretend to take a big bite out of the toy, but it's also adorable, super-soft, and just the right size for toddler hands.
Publicist Alisa Richter's kid is a huge fan of this racing ramp — so much so that he once played with it for two hours straight, an eternity in toddler time. "It's a really effective cause-and-effect toy," she says. "He loves watching two cars go down the ramps and zigzag past each other." The bright rainbow racetrack includes seven cars in corresponding colors that "jump" from one ramp to another, making "a satisfying click sound," according to Richter. "My husband calls it a 'more sophisticated fidget toy," she says.
This little mower (which was first recommended to us as a great outdoor toy for kids) proves how much kids love emulating adults, or at least — if you're a city kid whose parents aren't doing a lot of yard work — emulating the idea of adult things. "Toddlers and preschoolers love to copy their parents' activities," says child psychologist Dr. Nicole Beurkens, "which makes 'mowing' the lawn with their very own bubble mower an exciting activity for them." Not only that, says Beurkens, the mower helps with "gross-motor, balance, and visual-perceptual skills." And bubbles are always fun.
"It's fun to feel Play-Doh and to squish it. You may not make anything all that amazing, but who cares? It's just fun to make a ball and sit and experiment with your parent," says Hirsch-Pasek. Playing with sculpture at this early age is similar to drawing; 2-year-olds are excited by the simple fact that they can manipulate the clay. And it's a good workout too. "Play-Doh builds dexterity in their hands and finger muscles," Hirsch-Pasek explains.
A game that promotes physical activity is always a good thing. A game that promotes social interaction is good too. One that does both? That's what you have here. "It's like Twister for toddlers," says Holly Magelof, toy buyer for the Dolphin Bookshop in Port Washington, New York, who has 20-plus years of experience in the toy-buying industry. "You see the kids wiggling and giggling — it's consistently a best seller."
Art is essential for childhood development, but messes are still a serious deterrent for the adults cleaning them up afterward. So do what lots of parents do, and find materials that literally can't make a mess — like these. As Lauren Conrad, the reality-show star, fashion designer, and mom, explained to another magazine, "These little markers only show up on a specific pad of paper." Which means: "If you're on a plane or at a restaurant and they touch it to upholstery or a seat, it's not going to mark."
For another no-mess art experience that's (somewhat) magical, consider this twist on the classic Magna Doodle drawing board, which one of the writers of this story (Ro) bought for her son Augie when he was 2. He received a miniature version of the toy as a party favor at another 2-year-old's birthday and couldn't stop making his doodles disappear with a swipe of the sliding eraser. Ro invested in the full-size version after noticing how obsessed he became with the miniature one. The bigger size comes with four magnetic stamps that create shapes on the drawing surface — which, unlike Magna Doodles of yore, is made up of different colored sections to create multicolored drawings. The toy is lightweight (but still sturdy), according to Ro, who notes that it has a handle that makes it easy for tiny hands to carry it into a car, an airplane, or just another room.
"Two-year-olds love to kick, so balls are just amazing — big balls, little balls, any balls at all," says Hirsch-Pasek. When those balls flash and bounce like these do, they're that much more engaging — plus the soft spikes make them easier to catch and hold.
This weird-looking Swiss-designed Bilibo is for every preposition: sitting in, climbing over, filling up with stuff — whatever comes to the imagination. "It can be a hat or a chair; that's fun," says Golinkoff. "I go by certain principles, and my first principle is that the toy shouldn't control too much of what the child is going to do. Ask, 'Is this 90 percent child and 10 percent toy or 90 percent toy and 10 percent child?' If there's only one thing to do with it, then the toy is controlling everything. This one's more open-ended, so they get to invent their own world with it."
Brain Candy–Splurgy
According to Figueras-Daniel, these rubber "stones" are a fun way to encourage gross-motor skills while introducing an element of make believe. She says they "imitate real stones, which, if discovered in nature, would surely invite kids to naturally balance while they walk across them." The pieces can be arranged to make it easy or hard for tots to hop from one to the next, and because they're compact (the set comes with three large stones and three smaller ones), they easy to store, she adds. While Figueras-Daniel recommends them for 2-year-olds, that's just where the fun starts. According to Trolio, this is the kind of toy that will continue to keep kids engaged for years and years to come. "My 4-year-old and 7-year-old would absolutely play 'floor is lava' with these," she says.
Any good play kitchen can keep kids engaged for a while, but John is particularly a fan of this one. His endorsement comes from firsthand experience of watching how it keeps toddlers cooking for hours on end: It's his daughter's go-to play spot when she and her young cousins are at their grandparents' house, and thanks to the many different components — stove, microwave, sink, fridge, dog bowls, and more, all in a rustic design fit for a home upstate — there are plenty of opportunities for parallel play and minimal arguing. In addition to fostering imaginative play and shared fun, the set also affords parents a minute to do things like actual cooking.
John has watched kids line up one behind the other for the better part of an hour to take turns zooming down a ride-on roller coaster like this. That alone says enough about it: Toddlers actually wait for a turn; they love it that much. And as long as a parent is nearby with a watchful eye, it's perfectly safe for most 2-year-olds to use the rider on the ramp. Steps on either side of this one's platform let kids get on the car all by themselves — and the toy is just as fun to ride on level ground for youngsters not ready for the roller-coaster experience. This model, as its name suggests, packs down compactly when the time comes to hide it away.
Your first train set is a powerful memory for every generation, notes Carey Reilly, a Today-show contributor. And the Brio model is worthy of such a formative experience. "I love that the set is wooden, and it's easy for a child's little hands to use," Reilly says. As with all Brio sets, it can be endlessly expanded with accessories and integrated into play with other kits, even many from other brands.
The Strategist is designed to surface the most useful, expert recommendations for things to buy across the vast e-commerce landscape. Some of our latest conquests include the best kids' items, baby-shower gifts, gifts for a 1-year-old, 3-year-old, 4-year-old, and 10-year-old, and patriarchy-defeating books. We update links when possible, but note that deals can expire and all prices are subject to change.
If you buy something through our links, New York may earn an affiliate commission.