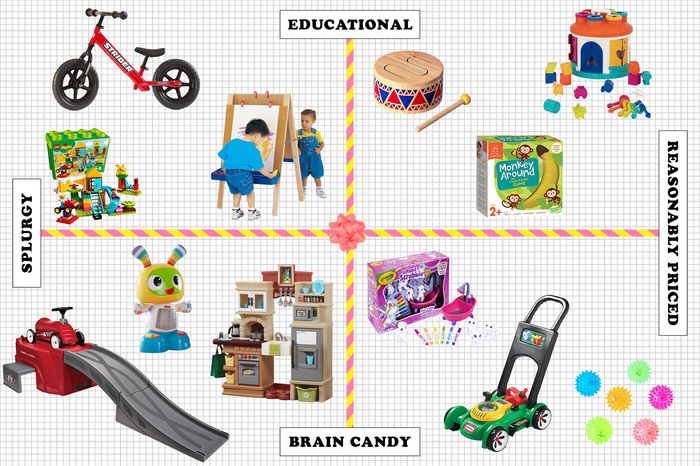 Photo: Photo-Illustration: Stevie Remsberg; Photos: Courtesy of the retailers
You know about New York Magazine's "Approval Matrix." Now, the Strategist has taken that model of what falls where on our taste hierarchies and applied it to toys. In this case, the four sides of the grid are "Educational" (say, a shape-sorter), "Brain Candy" (a mini lawn mower), "Reasonably Priced," and "Splurgy." Each toy in every quadrant comes highly recommended — click here to learn more about our sourcing process and the dozens of experts involved — and every age up to double digits is covered.
Below, we tackle the 2-year-olds. "Don't constrain them" was the central piece of advice given to us by Dr. Roberta Golinkoff, a professor of child psychology at the University of Delaware and co-author of Becoming Brilliant: What Science Tells Us About Raising Successful Children. The ideal toys for this age are open-ended and malleable, so the child can learn new things, develop imagination, and discover his or her own ways to have fun — whether that be with a Dr. Golinkoff–approved easel, a universally celebrated balance bike, or the colorable-and-washable pet chosen here by a toy historian (a nice companion to the mess-free markers appreciated by reality-TV star Lauren Conrad). You can jump directly to the section that interests you most — "Educational/Reasonably Priced," "Educational/Splurgy," "Brain Candy/Reasonably Priced," or "Brain Candy/Splurgy" — or read all the way through to get the full picture of what kids these days are into. Whether you're shopping for a birthday or a holiday or any other day, it's a list that keeps on giving.
Educational/Reasonably Priced
Much as their inner Kehinde Wiley may be yearning to get out, the still-limited dexterity and motor control of 2-year-olds can make art sessions frustrating. The Eyelike Stickers books are the solution — usable for creating collages and decorating physical objects (and even, if they are so moved, clothing). Beyond being a great art medium, these sticker books are carefully curated around themes that help kids learn about, for example, farms (think horses and produce) or wild animals (bears, chimps, and hippos). And they're a distraction that the adults in their life will appreciate: As Dr. Kathy Hirsch-Pasek, who is Dr. Golinkoff's co-author, reminds us, "If you're buying a gift for a child, you're also buying that gift for their parents."
As with all Melissa & Doug toys, you can count on this cleaning set to be well made and safe for toddlers. Also, as with many of its toys, this will engage kids for hours. (One Strategist editor's son was so motivated by the idea of cleaning with it that he took his first official steps while holding the green broom — and still does plenty of sweeping with the set now at 2 and a half.) Dr. Golinkoff says: "Kids always want to be like big people. So if they see you using something, they're going to want to do it, too." And toys like this "require children to be active and can spur the development of the imagination. And when used with another child, they can increase social interaction."
A game that promotes physical activity is always a good thing. A game that promotes social interaction is good too. One that does both? That's what you have here. "It's like Twister for toddlers," says Holly Magelof, toy buyer for the Dolphin Bookshop in Port Washington, New York, who has 20-plus years of experience in the toy-buying industry. "You see the kids wiggling and giggling — it's consistently a best seller."
Art is essential for childhood development, but messes are still a serious deterrent for the adults cleaning them up afterward. So do what lots of parents (including this writer) do, and find materials that literally can't make a mess — like these. As Lauren Conrad, the reality-show star, fashion designer, and mom, explained to another magazine: "These little markers only show up on a specific pad of paper." Which means: "If you're on a plane or at a restaurant and they touch it to upholstery or a seat, it's not going to mark." A five-star Amazon reviewer noted how great they are for car travel, too: "Bought for a road trip. My 2-year-old is fond of coloring on everything. Herself, the table, walls, floor. Really anything." But this set kept the 2-year-old and her 4-year-old sibling entertained — "AND kept them CLEAN at the same time."
This is just about the most interactive book (really more of a game in that way) this writer-parent has ever seen. It encourages finding patterns, making predictions, learning colors, remembering sequences, and having fun with a parent, sibling, or other caregiver. After a few readings, your kid will start to know how and when to clap or tap, but the fun doesn't diminish. (And you can find many more books for kids here.)
"Shape-sorters are my No. 1 favorite 2-year-old toy," Dr. Golinkoff says. "They love them because they're just starting to pay attention to things like shapes and colors, and they can hold things, and they love shoving things through holes. They can put things in, take things out. It's just got it all." This one, in attractive jewel tones, doubles as a little house for pretend play.
Well, as Dr. Hirsch-Pasek admits, beating drums can of course be a bane for parents: "I don't know if you want this in your house," she says. But what a beautiful little wooden drum this is — with different sections so toddlers can experiment while playing. "You can drum together and make little drum circles."
"It's fun to feel Play-Doh and to squish it. You may not make anything that's so awesome, but who cares? It's just fun to make a ball and sit and experiment with your parent," says Dr. Hirsch-Pasek. Experimenting with sculpture at this early age is similar to drawing; 2-year-olds are excited by the simple fact that they can manipulate the clay. And it's a good workout too. "Play-Doh builds dexterity in their hands and finger muscles."
Educational/Splurgy
Duplos are the perfect manipulative toy for so many reasons. They allow for open-ended, imaginative play, yet can also be assembled following instructions, so toddlers enjoy both freedom of choice and practice being sequential. And of course building toys like this does wonders for fine motor control. This Playground kit has enough pieces for two kids to enjoy at once, and none of them present choking hazards. In a testimony from Zahra Kassam, founder of the at-home Montessori program Monti Kids, she says: "Duplo is a favorite in our house. It helps develop fine motor skills and creativity at a young age. There are also endless configurations. We like the kits that include wheels, as well as the basic box that has a variety of shapes."
There are Kiwi Crates designed to suit every age, from birth through the teenage years and literally into adulthood. The Koala Crates, delivered monthly at $20 a pop (you can cancel any time, of course), are packed with thematic activities perfect for the rapidly developing 2-year-old: an ocean-themed crate with a fishing game that promotes dexterity, a sea-turtle decorating art project, and more. "Play is essential to young children's cognitive, social, and emotional development, and it is under threat," says Dimitri A. Christakis, an MD and editor-in-chief of JAMA Pediatrics (he's not sponsored by KiwiCo; just a fan and believer in the products). Considering that, he points out, "Typical preschool children today spend 30 to 50 percent of their time in front of screens." He adds he's been especially impressed "with how KiwiCo uses the science of child development to promote healthy, traditional play grounded in the latest research."
Balance bikes are a critical step between the trike and the bicycle, helping kids master their balance before worrying about pedaling and potentially helping them pass the whole training-wheel phase. "My older son learned how to ride a bike using a balance bike. It allows you to skip training wheels and build their balance naturally," says Kassam. Meanwhile, this writer (and thousands of Amazon customers, by the way) also like the Strider best because of the broad range of ages it can accommodate. Its seat can be lowered down enough for a kid as young as 18 months or raised high enough for the body of most 4-year-olds, with age 2 being the sweet spot. And it looks very sleek.
Another movement-related winner: A version of this plush rocker appeared many "Gift Guides" ago in the print version of New York and got a huge reaction from the staff — a member of which was inspired to buy two of these for her friends with twins; it was more recently regifted one back for her own toddler (the fur is a bit matted now, but the solid wood runners and handles are as sturdy as ever). And according to child therapists, this is just the kind of self-propelling toy — rather than those electric ride-ons with flashing lights and blaring noises — that encourages healthy motor development.
Every day-care classroom has its own "It" toys — the ones that all the kids fight over, for whatever reason, some of them seeming very random (e.g., the blue ice-cream cone in the pretend food bin, the red squares among the Magna-Tiles). But an especially big hit for the 2-year-olds at Tribeca Kindercare, according to teacher Ms. Kelsey, are the finger puppets. If you want to get really specific, the standout in this particular classroom happens to be the wolf finger puppet, but a safe bet for any toddler is starting them off with this set of six classic farm animals, carefully sewn with elastic fitting by the U.K.-based Puppet Company. The puppets naturally engage kids in storytelling and help develop their imagination and fine motor skills all at once.