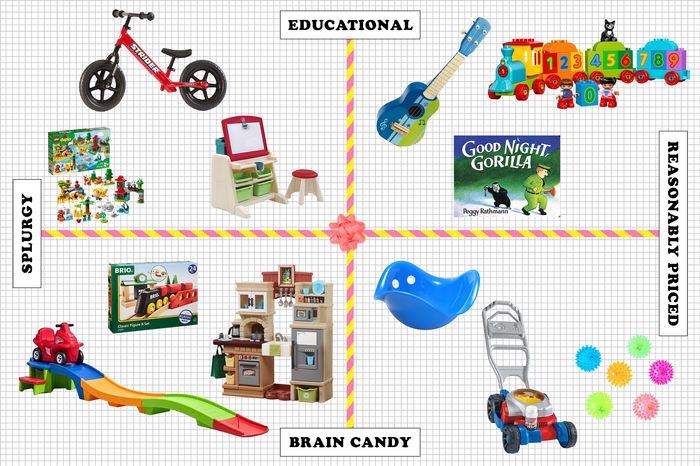 Photo-Illustration: Photo-Illustration: Stevie Remsberg; Photos: Courtesy of the retailers
You know about New York Magazine's "Approval Matrix." Now, the Strategist has taken that model of what falls where on our taste hierarchies and applied it to toys. In this case, the four sides of the grid are "Educational" (say, a shape-sorter), "Brain Candy" (a mini lawn mower), "Reasonably Priced," and "Splurgy." Each toy in each quadrant comes highly recommended — click here to learn more about our sourcing process and the dozens of experts involved — and every age (up to double digits) is covered.
Below, we tackle the 2-year-olds. "Don't constrain them" was the central piece of advice given to us by Dr. Roberta Golinkoff, a professor of child psychology at the University of Delaware and co-author of Becoming Brilliant: What Science Tells Us About Raising Successful Children. The ideal toys for this age are open-ended and malleable, so the child can learn new things, develop imagination, and discover his or her own ways to have fun — whether that be with a Golinkoff-approved easel, a universally celebrated balance bike, or the colorable and washable pet chosen here by a toy historian (a nice companion to the mess-free markers appreciated by reality-TV star Lauren Conrad). You can jump directly to the section that interests you most — "Educational–Reasonably Priced," "Educational–Splurgy," "Brain Candy–Reasonably Priced," or "Brain Candy–Splurgy" — or read through to get the full picture of what kids these days are into. Whether you're shopping for a birthday or a holiday or any other day, it's a list that keeps on giving.
Educational–Reasonably Priced
"Buying gifts for our 2-year-old is always a gamble because I never know what will be a win (the Pikler Triangle was a pricey mistake)," publicist Alisa Richter says, "but this 60-piece animal set was an instant hit." The set is made up of four bundles of animals — farm animals, wild animals, dinosaurs, and sea creatures — and each bundle includes ten animals and five corresponding accessories like plants and trees. "He's spent hours setting them up in intricate arrangements and insists on bringing his favorites to his crib at night," Richter says. Each figurine is accurately detailed and textured, allowing your budding zoologist to get as familiar with the real thing as possible short of going on a safari. Plus the set is great for encouraging imaginative play.
[Editor's note: This specific play set is sold out, but you can still buy this very similar Animals of the World Playset. The 60-piece set features animals in the same four categories listed above, plus over 30 accessories, and is available on Amazon for $30.]
"Two-year-olds are definitely interested in being read to," says Dr. Alexandra Figueras-Daniel, the associate director of Bank Street College of Education's Straus Center for Young Children & Families. "Repetitive texts help to build phonological awareness and draw attention to individual sounds in words as well as rhymes and patterns." That's why she and Shannon Lockhart, a manager at education-research foundation HighScope, both love the book Good Night, Gorilla. Not only does it repeat the words good night, allowing children to become familiar with the phrase, it also names each animal as the zookeeper goes through the zoo. Lockhart adds that if you're going to give a book, look for one with recurring elements — like the pink balloon found in the first few pages of Good Night, Gorilla — which can help keep kids engaged.