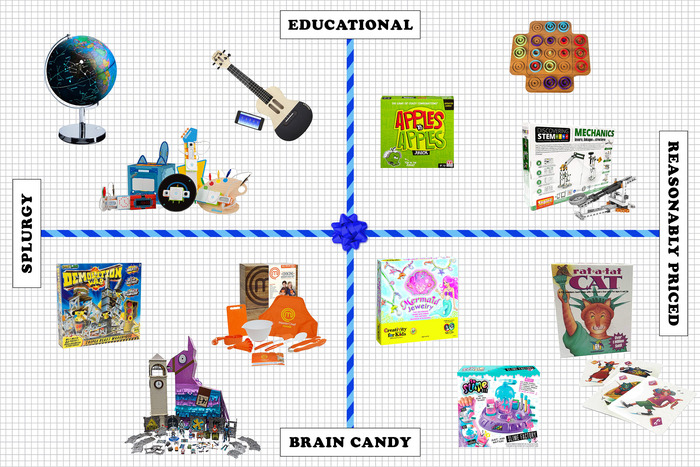 Photo: Photo-Illustration: Stevie Remsberg; Photos: Courtesy of the retailers
You know about New York Magazine's "Approval Matrix." Now, the Strategist has taken that model of what falls where on our taste hierarchies and applied it to toys. In this case, the four sides of the grid are "Educational" (say, a smart ukulele), "Brain Candy" (a slime factory), "Reasonably Priced," and "Splurgy." Each toy in every quadrant comes highly recommended — click here to learn more about our sourcing process and the dozens of experts involved — and every age up to double digits is covered, all of which you can see by also clicking here.
Here, we tackle the 9-year-olds — not yet preteens, definitely no longer little kids. This is a time when "children begin to form real social relationships and friendships," says Dr. George Sachs, a clinical child psychologist who specializes in ADD and ADHD treatment on the Upper West Side in Manhattan. Another distinguishing factor of kids in this fourth-grade zone is that they are "able to focus for longer periods of time," Sachs adds. With such social and attention skills in mind, we homed in on the following conversation card games, catapult-building STEM kits, and 20 or so other gift ideas, which we surfaced with the help of professionals like Sachs, along with many other discerning parents and tween whisperers. You can jump directly to the section that interests you most — "Educational/Reasonably Priced," "Educational/Splurgy," "Brain Candy/Reasonably Priced," or "Brain Candy/Splurgy" — or read all the way through to get the full picture of what kids these days are into. Whether you're shopping for the holidays or a birthday or any other day, it's a list that keeps on giving.
Educational/Reasonably Priced
National Geographic Play Sand
It's hard to attach any particular age to magic sand like this, as it's equally entrancing for kids and adults alike. But this is a favorite of Strategist tech columnist and dad David Pogue. "It's sand to play with, sculpt, squish — but it sticks only to itself! No loose grains … No mess … Nothing left behind on your hands! Kind of amazing." And speaking of sculpting, according to an Amazon reviewer: "National Geographic gets bonus points for using molds of famous structures — for example, Taj Mahal, the pyramids at Giza, and Chichen Itza." So for the grade-schooler studying world geography, this specific magic-sand set is a nifty companion.
ThinkFun Code Master Programming Logic Game
It's an enticing concept — your avatar traveling to an exotic land to collect "power crystals." First you have to write a program for yourself using the included Guide Scroll to set out your pathways along the map (this mimics the step-by-step sequences that need to be followed in computer programming). Once you snatch up all of the crystals on your designed route, collecting "action" tokens along the way, you win. What might not be noticed in all the intensity, though, is just how many fundamentals of programming you're learning (even "conditional loops" and "branches"), which is why this game is a favorite of Lindsay Bell, founder and owner of Bell Family child-care company. Plus there are progressive levels of difficulty: An Amazon reviewer whose husband is an engineer wrote that even he enjoys the harder ones.
Apples to Apples Junior
Considering the newly enhanced social lives of this group — an age when "many children even begin to have best friends and start to have sleepovers with peers," Dr. Sachs says — this card game is a great choice for pajama parties. The original version is a Mensa winner, but this junior iteration is more suitable for a grade-schooler's vocabulary, according to Amazon reviewers. "Each card describes the word and helps players learn new vocabulary and the type of word it is (adverb, noun, etc.)," one reviewer explained. "I purchased it for my 9-year-old niece for her birthday, and she was very excited to receive it. Funny enough, she has no idea she'll be learning the entire time she plays it."
Levers, Linkages & Structures Building Kit
This STEM kit is a great entry point to learning about physics, with instructions on how to build a catapult, a crane, a ladder, scales, and swings. In 2018, the kit was included in the extensively researched "Engineering Gift Guide" from Purdue University's INSPIRE Research Institute, which lists toys, games, books, and applications that successfully engage children in engineering thinking and design. "Children have the opportunity to practice spatial-reasoning skills and develop an understanding of how design is important in the construction of linkages," says the guide's review. "The levers-and-linkages kit offers young children a good amount of play possibilities and the tools to learn more about these fundamental mechanics concepts." For parents, multiple five-star Amazon reviewers boasted, this kit keeps kids occupied (and away from video games) for hours. As one put it, the kit meant "less time on Xbox and more on using brain and building."
ThinkFun Gravity Maze Marble Run
The challenge in this celebrated logic and puzzle game is in using spatial reasoning and problem-solving skills to visualize, build, then run marbles through a maze of towers to a specific target. The Toy Association named it the Specialty Toy of the Year in 2015, and it was included in Purdue's "Engineering Gift Guide" in 2016. Children's-book authors Adam and Allison Grant are also fans of marble runs and say, "This is a toy that our kids come back to time and again. It's great for building and playing independently, in pairs, or in a group."
Rubik's Cube
The 3x3x3 Rubik's Cube and its 43 quintillion combinations has celebrity fans like Will Smith, Chris Pratt, Justin Bieber, and Logic, who have all solved the puzzle on-camera — improving their memory skills, dexterity, and patience levels in the process. Ruka Curate, founder of the Tiny Treasures Nanny Agency, recommends this as a great exercise for the 9-year-old brain. "It's a classic, and people still buy them! Super-affordable," she says. And Westchester grandma and retired kindergarten teacher Annamarie Mazzella says her grandchildren have never outgrown it — one just went into high school and "still asks for one for Christmas every year."
Educational/Splurgy
Otrio Board Game
This Tic Tac Toe–inspired new board game is "visually appealing" and "complex," according to Sophia W., a nanny for the New York–based SmartSitting agency. Involving multiple players and many ways to win, it's also something that the sitters enjoy just as much as the kids. What's more, Sophia adds, "It's well suited for gifted and special-needs children, as the colors stimulate kids who think visually."
Smart Ukulele
"This fun Ukulele helps to teach kids how to play with the included app," says Beth Beckman, a co-founder of the forthcoming site FOMOFeed Kids. "The steep price tag is easier to digest when you realize that you don't need to purchase lessons." With the help of the 72 LED lights on the fretboard and the accompanying app's step-by-step tutorials, kids start memorizing chords as soon as you open the box. And the fretboard not only lights up to teach you chords but also full songs from the 100 titles in its library.
LED Constellation Globe
The classic world globe — that glossy, spinnable centerpiece of geography class and random shut-your-eyes-and-see-where-the-finger-lands games — has been upgraded here. Switch on an LED light to illuminate 88 constellations, stars, and navigational lines. And yet, even with the added bells and whistles (and added layer of STEM learning), this orb still "has the feel and finish of the sort of globe I had in my classroom in elementary school," as one Amazon reviewer put it. "This actually looks and feels like a nice globe, and so many of the others feel like toys."
Kindle Paperwhite
By age 9, children can read fiction and nonfiction and often begin to read independently: "They have a better grasp of grammar, contain higher vocabulary, and can formulate longer sentences," says Sachs. The newest generation of the Kindle Paperwhite is waterproof and lets kids carry a whole library in their backpacks — even though what you're giving them just feels like a fun toy.
Makeblock Neuron Inventor Kit STEM Building Block
Kids won't even realize they're learning how to code with this toy — they'll just enjoy making a smiley face appear on the LED panel, says Strategist contributor and dad Steven John. The kit features a few core "blocks," such as a speaker, a touch-sensitive panel, a compact motor, and the LEDs. "While we started out creating a few of the designs in the Makeblock manual," John notes, "within an hour, our kid went rogue and programmed his own series of flashing lights. He even set up an experiment testing whether electrical current could flow through Mommy and Daddy when we were holding hands. I was so proud." While the kit is recommended for ages 6 and up, it's a chance for 9-year-olds — who are by this point finding enhanced levels of concentration — to put that power to the test.
Tinkering Labs Electric Motors Catalyst
Draw one of ten challenge cards included in this STEM kit and make a robot based on the prompt "Build a creature with spinning arms," say, or "Invent a robot that moves without wheels." Or use your imagination and go off on your own prompt. Each kit comes with more than 50 parts, including motors, wires, and safety glasses as well as various hardware, wooden components, and tools. And as an Amazon reviewer with a 9-year-old daughter noted: "I also like that this toy has introduced some new vocabulary and produced multiple in-depth discussions about how mechanical things work."
Brain Candy/Reasonably Priced
Rat-a-Tat Cat
Rat-a-Tat Cat card game is great for the whole family. "Let's just admit that most games for kids are boring for adults," says Rumaan Alam, a novelist and father of a 7-year-old and a 10-year-old. But not so this old-school Mensa winner, which is perhaps more beloved for its straightforward entertainment — getting rid of high cards (rats) and keeping low cards (cats) — than educational value. Yes, it indeed focuses on strategy, memory, and basic math concepts. "Incredibly, though," Alam adds, "it's also … fun? My kid and I played it tournament style, and it's possible I had even more fun than he did."
Sorry! Game
"I was really surprised at how it held up," says Sachs, after playing this classic with some kids recently. He recommends it as "a very simple game that kids can get right away." Fourth-grade teacher Courtney Caulfield, too, says the kids in her class love it (along with other throwbacks like Monopoly, Trouble, Candy Land, Chutes and Ladders). "They like it because they can play with friends," she says, a big selling point for this age. "And it usually makes them think."
So Slime DIY Slime Factory
"This is the age, where, anything that has to do with slime is huge," says Sachs (he's found it particularly popular with girls: "I don't know why, but girls are totally into slime: making slime, talking about slime. If you go on YouTube, you'll see how many girls at this age are making videos about slime"). Caulfield adds that her fourth-graders of all genders are always playing with this stuff, particularly the glittery and neon varieties: "They love the feeling in their hands, and they insist that it helps them concentrate when they've been doing homework for a long time," she says. YouTube star Jannie "pretend plays" with this kit in a video that's gotten nearly 21 million views.
Poobah, The Conversation Game
As the name suggests, this card game is all about having conversations. Each card asks questions like, "What small thing brings you happiness?," or gives funny prompts such as, "Pretend you are a vibrating cell phone on a countertop ledge." Naomi Davis, a mother of a 7-year-old and an 8-year-old and the woman behind lifestyle blog Love Taza, says her kids usually suggest pulling this game out at the dinner table. "The Poobah questions are thought-provoking and also hilarious," she says, "which means they've given us prompts to have some wonderful deeper conversations with our children as well as some silly moments." Considering how quality time is at a premium these days, she adds, "I am a big fan of any sort of game that helps us connect."
Mermaid Jewelry Kit
If making seashell necklaces ever went out of style, they are definitely back right now. When a Strategist editor asked her fourth-grader niece what her friends are into these days, shell jewelry was at the top of the list. And Tara Maria Famiglietti, jewelry designer of ONDYN (and mom of a 6-year-old), highly recommended this kit as a gift: "It's a bit nostalgic," she says. Plus "your little one can create beautiful necklaces and bracelets with many different options" — the beads and charms include seahorses, starfish, shells, and pearls, plus enough ribbon for four necklaces — "leaving much to the imagination." And, as the Amazon reviews make multiple references to mermaid-themed birthday parties, it's a great gift to give at one of those, too.