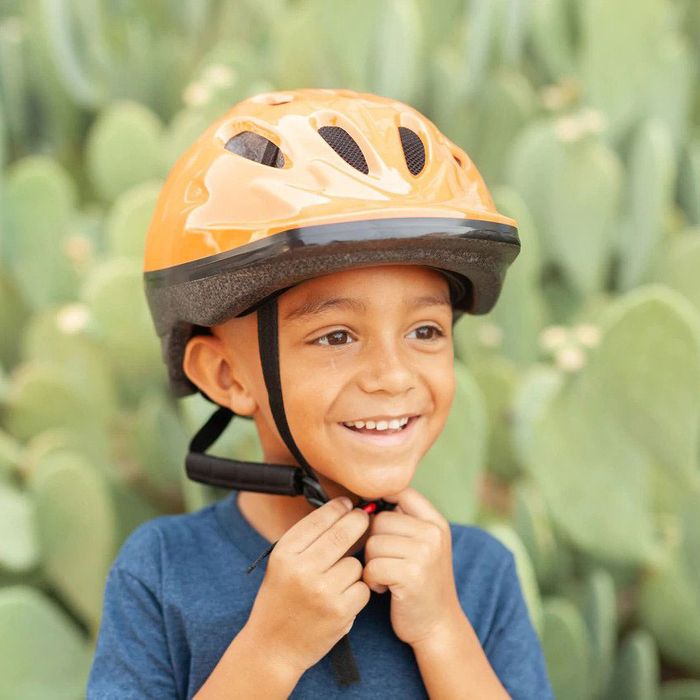 With all the styles, colors, and features to choose from, finding the best helmet for your young cyclist can feel overwhelming. So first, know this: They're all equally safe. Since 1999, the law requires that all helmets sold in the U.S. market meet the Consumer Product Safety Commission standard. Because of this, "impact protection is probably going to be roughly similar for almost all of them," says Randy Swart, the executive director of the Bicycle Helmet Safety Institute.
However, to get the most out of that built-in protection, it's vital that the helmet fits as securely as it can. "Kids' bike helmets are not one-size-fits-all," says Natalie Martins, who runs the popular kids' bike blog, twowheelingtots. She says measuring your child's head is essential to ensuring proper fit and recommends picking a helmet with an internal adjustment system (like dial-adjust knobs) "to ensure the helmet stays squarely on the child's head throughout the ride." While spending more won't get you a safer helmet, our experts say that it will get you a better combination of lightness, breathability, ease of buckling, good fit, and style — the latter actually being a very important factor when choosing a kid's helmet.
"It's a whole lot easier to get kids to wear a helmet if they like it," says Swart. John Watson, the owner of the influential cycling blog The Radavist, recommends letting your child help pick the helmet since they tend to know exactly what they want — usually "bright colors and little characters," he says. Plus, as Dr. Chris G. Koutures, a pediatric and sports medicine specialist at ActiveKidMD, points out, "brighter colors are easier for drivers to see."
One thing to consider is getting a helmet with Multi-directional Impact Protective System, or MIPS, technology. MIPS is a girdle-style liner inside the helmet that's designed to reduce rotational force. It allows for more play on impact, thus reducing other possible injuries like whiplash that can happen when your helmet comes in contact with a hard surface. A lot of helmets come in both MIPS and non-MIPS versions (the MIPS version is typically about $20 more); many people, like Kyle Kelly of Golden Saddle Cyclery in Los Angeles, are all for paying a premium for MIPS technology "if it makes a helmet more comfortable." But as Colin Hemmes, a co-founder of the Bike Dads blog, notes, "A good-fitting non-MIPS helmet is better than a poorly fitting MIPS helmet." In other words: The right helmet will be the one that fits best, as our experts have stressed.
While there are many reasons to shop for a new bike helmet, one time our experts say you should definitely do so is if a helmet you own has endured any kind of crash. As Dr. Kristin Ernest, an assistant professor of pediatric sports medicine at Texas Children's Hospital, The Woodlands, explains, "A lot of people don't realize that if a helmet has already received impact, it should be transitioned out." To help narrow down your search for the best bike helmet for your toddler or older child, we spoke with nine experts — including bike shop owners, doctors, and kids' bike bloggers — about the ones they recommend. Their favorite styles below include easy-to-fit helmets, styles specifically for the youngest of riders, and helmets that can be used for skating and scooting as well as biking. Wherever possible, we've included both the MIPS and non-MIPS version of any helmet mentioned.
Best overall kids' bike helmet
You can't go ten feet down a bike path without someone singing the praises of the Giro Scamp, which is available with or without MIPS technology. "When Giro came out with the Scamp helmet, it was like a sea change," says Watson. Lightweight, well-ventilated, and comfortable, the Scamp is "everything a helmet should be at a very reasonable price," says Martins, who adds it's a consistent favorite with her kid testers. It has a pinch-proof buckle and a wheel that allows you to dial in the perfect fit, comes in lots of cool colors and patterns, and its flat back makes it more comfortable when riding in bike seats. "We sell a ton of these," Kelly says.
Most durable kids' bike helmet
"Kids are hard on helmets," says Dean Mullin, co-owner of Clever Cycles in Portland, Oregon. "They take them off and drop them right where they are," an action that he says can eventually compromise their protective materials, like foam. That's why he recommends the Nutcase Little Nutty: It has a thick plastic shell to help protect the foam from all those little drops and is constructed with a technology similar to what's used in some football helmets. (It also comes with MIPS technology.) Other features include a pinch-proof magnetic buckle, a detachable visor, 11 vents for maximum air flow, 360-degree reflectivity, and both a spin-dial fit system as well as three sets of foam pads for extra customization. "Plus, they have awesome graphics," Mullin says.
Easiest-to-fit bike helmet for older kids