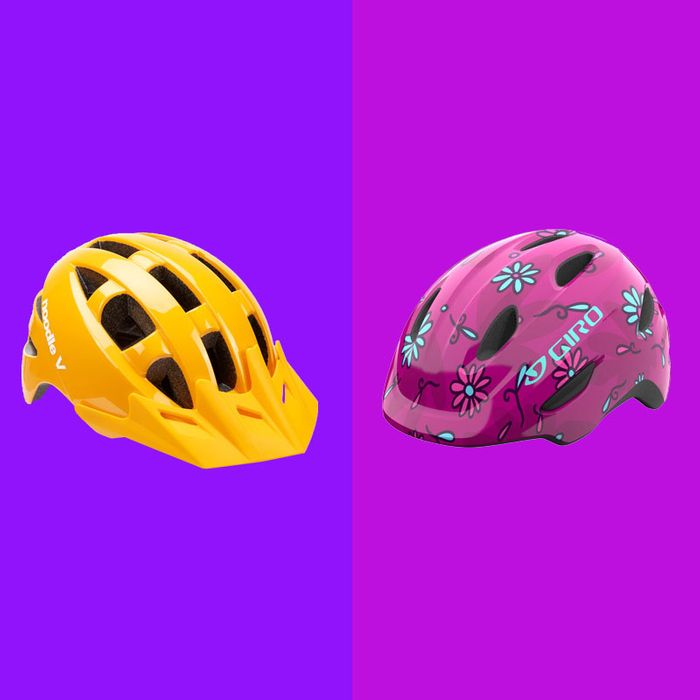 Photo-Illustration: The Strategist; Photos: Retailers
With all the styles, colors, and features to choose from, finding the best helmet for your young cyclist can feel overwhelming. So first, know this: They're all equally safe. Since 1999, the law requires that helmets sold in the U.S. meet the Consumer Product Safety Commission standard. Because of this, "impact protection is probably going to be roughly similar for almost all of them," says Randy Swart, executive director of the Bicycle Helmet Safety Institute. While spending more won't get you a safer helmet, it will get you a better combination of lightness, breathability, ease of buckling, good fit, and style — the last actually being a very important factor when choosing a child's helmet. "It's a whole lot easier to get kids to wear a helmet if they like it," says Swart. Below, find the best helmets for different kinds of young riders, according to a range of experienced kids' cycling experts.
Best overall | Best for toddlers | Best for older kids | Best durable | Best comfortable |Best affordable | Best trail | Best multipurpose | Best affordable multipurpose | Best high-visibility helmet cover
Comfort and fit: It's vital that a helmet fits as securely as it can. "Kids' bike helmets are not one-size-fits-all," says Natalie Martins, who runs the popular kids' bike blog Twowheelingtots. She says measuring your child's head is essential to ensuring proper fit and recommends picking a helmet with an internal adjustment system (like dial-adjust knobs) "to ensure the helmet stays squarely on the child's head throughout the ride." Rachel Varn, certified cycling instructor and founder of PedalPower Kids, agrees. "What we teach is that every time you take the helmet off, open the dial fully, and then retighten it when you put the helmet back on." And while it may seem obvious, remember to upgrade helmets as your kids age. "A lot of times when I teach kids, they come in and they're 8 years old and have the same helmet from when they were 5 — it's way too small," says Bike Whisperer NYC instructor Andree Sanders.
The helmets listed here have a high degree of fit customization, usually via a combination of dial mechanism and removable Velcro padding. For comfort, we also looked for kids' helmets that are lightweight, with good ventilation. To encourage kids to wear their helmet on every single ride, we favored non-pinching buckles, ideally those that clasp on the side of the head rather than the chin.
Appearance: Kids are more likely to wear a helmet that they think looks cool. Plus, as Dr. Chris G. Koutures, a pediatric and sports medicine specialist at ActiveKidMD, points out, "Brighter colors are easier for drivers to see." For that reason, we looked for helmets available in numerous bright colors and patterns, considering both skater and sporty styles. John Watson, owner of the influential cycling blog The Radavist, recommends letting your child help pick the helmet, since they tend to know exactly what they want — usually "bright colors and little characters," he says.
Protection: While all bike helmets sold in the United States have been vetted by the CPSC and will offer good protection against direct skull injuries, some kids' helmets are designed with additional safety features. As Varn notes, kids don't instinctively brace for accidents in the way adults do: "I always recommend looking for helmets that have a visor in the front, because young riders do tend to have more face injuries."
Most helmets on this list also use the rotational mitigation technology known as MIPS. It's a thin web of interior plastic that's designed to flex upon impact, theoretically helping prevent concussions. Whereas helmet manufacturers once produced both MIPS and non-MIPS versions of their best-selling designs, the former category is edging out the latter. Because we're talking about small heads, it's worth noting that a MIPS helmet will be heavier than a non-MIPS one, but either design will be CPSC-approved. As Colin Hemmes, a co-founder of the Bike Dads blog, notes, "A good-fitting non-MIPS helmet is better than a poorly fitting MIPS helmet." In other words: The right helmet will be the one that fits best.
A final safety point: Replace your child's helmet after each crash. As Dr. Kristin Ernest, an assistant professor of pediatric sports medicine at Texas Children's Hospital, The Woodlands, explains, "A lot of people don't realize that if a helmet has already received impact, it should be transitioned out." A solid reason not to spend a fortune, argues Michael Sandler, coach at Star Track Cycling. "Helmets are really a single-use item. If your kid has a crash, you take the helmet, toss it in the trash, and go get a new one."
Best overall kids' helmet