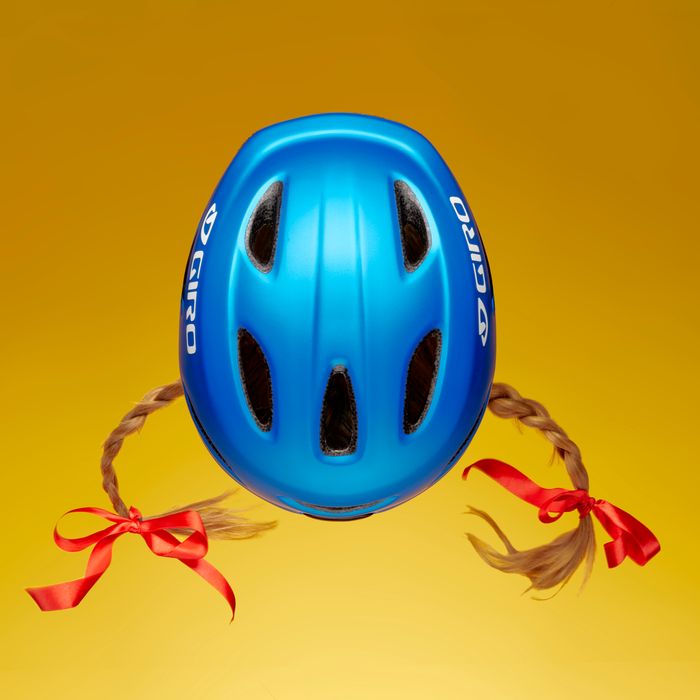 With all the styles, colors, and features to choose from, finding the best helmet for your young cyclist can feel overwhelming. So first, know this: They're all equally safe. Since 1999, the law requires that helmets sold in the U.S. meet the Consumer Product Safety Commission standard. Because of this, "impact protection is probably going to be roughly similar for almost all of them," says Randy Swart, executive director of the Bicycle Helmet Safety Institute. While spending more won't get you a safer helmet, it will get you a better combination of lightness, breathability, ease of buckling, good fit, and style — the last actually being a very important factor when choosing a child's helmet. "It's a whole lot easier to get kids to wear a helmet if they like it," says Swart. In time for summertime rides, find the best helmets for different kinds of young riders (from nervous first-timers to trail shredders and fearless road riders), according to a range of experienced kids' cycling experts.
It's vital that a helmet fits as securely as it can. "Kids' bike helmets are not one-size-fits-all," says Natalie Martins, who runs the popular kids' bike blog Twowheelingtots. She says measuring your child's head is essential to ensuring proper fit and recommends picking a helmet with an internal adjustment system (like dial-adjust knobs) "to ensure the helmet stays squarely on the child's head throughout the ride." Rachel Varn, certified cycling instructor and founder of PedalPower Kids, agrees. "What we teach is that every time you take the helmet off, open the dial fully, and then retighten it when you put the helmet back on." And while it may seem obvious, remember to upgrade helmets as your kids age. "A lot of times when I teach kids, they come in and they're 8 years old and have the same helmet from when they were 5 — it's way too small," says Bike Whisperer NYC instructor Andree Sanders.
The helmets listed here have a high degree of fit customization, usually via a combination of dial mechanism and removable Velcro padding. For comfort, we also looked for kids' helmets that are lightweight, with good ventilation. To encourage kids to wear their helmet on every single ride, we favored non-pinching buckles, ideally those that clasp on the side of the head rather than under the chin.
Kids are more likely to wear a helmet that they think looks cool. Plus, as Dr. Chris G. Koutures, a pediatric and sports medicine specialist at ActiveKidMD, points out, "Brighter colors are easier for drivers to see." For that reason, we looked for helmets available in numerous bright colors and patterns, considering both skater and sporty styles. John Watson, owner of the influential cycling blog The Radavist, recommends letting your child help pick the helmet, since they tend to know exactly what they want — usually "bright colors and little characters," he says. Richard Conroy, the education director of Bike NYC, agrees: "If a kid doesn't like a helmet, they're less inclined to wear one — so, as a condition of wearing the helmet, let them pick the color and style they like."
While all bike helmets sold in the United States have been vetted by the CPSC and will offer good protection against direct skull injuries, some kids' helmets are designed with additional safety features. As Varn notes, kids don't instinctively brace for accidents in the way adults do: "I always recommend looking for helmets that have a visor in the front, because young riders do tend to have more face injuries."
Most helmets on this list also use the rotational mitigation technology known as MIPS. It's a thin web of interior plastic that's designed to flex upon impact, theoretically helping prevent concussions. Whereas helmet manufacturers once produced both MIPS and non-MIPS versions of their best-selling designs, the former category is edging out the latter. Because we're talking about small heads, it's worth noting that a MIPS helmet will be heavier than a non-MIPS one, but either design will be CPSC-approved. As Colin Hemmes, a co-founder of the Bike Dads blog, notes, "A good-fitting non-MIPS helmet is better than a poorly fitting MIPS helmet." In other words: The right helmet will be the one that fits best.
A final safety point: Replace your child's helmet after each crash. As Dr. Kristin Ernest, an assistant professor of pediatric sports medicine at Texas Children's Hospital, The Woodlands, explains, "A lot of people don't realize that if a helmet has already received impact, it should be transitioned out." A solid reason not to spend a fortune, argues Michael Sandler, coach at Star Track Cycling. "Helmets are really a single-use item. If your kid has a crash, you take the helmet, toss it in the trash, and go get a new one."
Best overall kids' helmet
Comfort and fit: Non-pinch buckle, dial fit | Appearance: Ten colorways | Protection: MIPS and non-MIPS versions, visor
You can't go ten feet down a bike path without someone singing the praises of the Giro Scamp, a cute and colorful (yet nice and affordable) helmet that is available with or without MIPS technology. "When Giro came out with the Scamp helmet, it was like a sea change," says Watson. Lightweight, well ventilated, and comfortable, the Scamp is "everything a helmet should be at a very reasonable price," says Martins, who adds it's a consistent favorite with her kid testers. (Strategist writer Lauren Ro's toddler has been happily using his for a couple of years now, too.) It has a pinch-proof buckle and a wheel that allows you to dial in the perfect fit — plus it comes in lots of cool colors and patterns, and its flat back makes it more comfortable when riding in bike seats. This helmet is best for younger kids, Martins notes: "Many of our testers grow out of the largest size when they are preschoolers." From that point on, they're ready for some of the more advanced helmets on this list.
Best helmet for toddlers
Comfort and fit: Non-pinch buckle, dial fit | Appearance: Four colorways | Protection: MIPS, Snell certified
Hemmes calls Specialized's Mio helmet a top pick for toddlers. It has a magnetic closure that he says is "pinch-free and the absolute best for ease of use." Hemmes adds that the helmet's rear coverage is "fantastic" and that its retention system (or the adjustable frame inside it) "is also easy to use and secures a snug fit." Summing it up, he says the Mio "is a definite favorite for the 3-to-5-year-old crowd." While you once had the option to add MIPS to this helmet, it now comes standard. And here's something else we like: The Mio is certified by the independent crash testing facility Snell, which holds helmets to an even higher safety standard than the CPSC.
Best helmet for older kids
Comfort: Non-pinch buckle, spring-load fit | Appearance: Four colorways | Protection: MIPS, visor
Martin, Watson, and Dean Mullin, co-owner of Clever Cycles in Portland, Oregon, all like the Lazer Gekko, a very adult-looking helmet that they say is probably the easiest to fit of any helmet available. "It has a spring-loaded fit system that holds the head nicely every time, so there's no need to use a manual adjuster," says Mullin. This mechanism also means that this one-size-fits-all helmet will to some extent grow with its owner, meaning you won't have to keep purchasing bigger versions as they age. Designed for slightly older kids who are shredding on all terrain, the Gekko is streamlined, has plenty of ventilation, and a sizable visor. A side buckle prevents neck pinching. As with the Mio, while it was once optional, MIPS now comes standard with this helmet.
Best helmet for (more advanced) older kids
Comfort and fit: Dial fit, internal lining | Appearance: Six colorways | Protection: Venting, MIPS
For kids who are already undertaking long road rides, Martins pointed us to this new helmet from Smith Optics. She says it's designed "like many higher-end adult helmets," specifically in terms of its highly adjustable fit. It's capable of handling hot days and high-intensity workouts, with no less than 21 cooling vents, as well as internal padding that's "very soft and moisture-wicking." The (surprisingly lightweight, coming in at just eight ounces) helmet is also designed to integrate with Smith Optics sunglasses and goggles, to prevent fogging.
Best comfortable kids' helmet
Comfort and fit: Non-pinch buckle, adjustable pads, dial fit | Appearance: Six colorways | Protection: Non-MIPS, reflective high-visibility logo, visor
Woom, the Austrian brand that also happens to make one of our favorite kids' bikes, has put a lot of thought into the design of its signature helmet. Recommended to us by Lee Uehara of City Bike Coach, this sturdy head protector is highly adjustable, with padding on its interior and chin straps. Uehara likes its flexible visor that is designed for both sun protection and to cushion any falls. She adds that the rounded straps and non-pinch magnetic clasp make this helmet uniquely intuitive and comfortable to put on and wear. "I just love Woom as a company," she says. "Their bikes are amazing; their helmets are great; they've really thought of things — it's German engineering." Varn agrees, saying that Woom is her "top choice" for kids' helmets because "they're great and super comfy and fit everyone well."
Best durable kids' helmet
Comfort and fit: Non-pinch buckle, dial fit, foam padding | Appearance: Seventeen graphic designs | Protection: MIPS, visor
Varn is also a big fan of Nutcase helmets, "especially for younger kids." The same goes for Mullin. "Kids are hard on helmets," he notes. "They take them off and drop them right where they are," an action that he says can eventually compromise their protective materials, like foam. That's why he recommends the Nutcase Little Nutty: It has a thick plastic shell to help protect the foam from all those drops and is constructed with a technology similar to what is used in some football helmets. (It also comes with MIPS.) Other features include a pinch-proof magnetic buckle that Strategist senior editor Jen Trolio says "greatly reduces" the chances of pinching, a detachable visor, 11 vents for maximum airflow, 360-degree reflectivity, and both a spin-dial fit system as well as three sets of foam pads for extra customization. "Plus they have awesome graphics," says Mullin.
Best affordable kids' helmet
Comfort and fit: Non-pinch buckle, dial fit, extra ventilation | Appearance: Seven colorways | Protection: Non-MIPS, visor
The Noodle is a lightweight, comfortable, and affordable option that comes in a wide range of colors and is available in two sizes for both toddlers and preschoolers. Martins loves the fit and says that kids appreciate the color-coded, pinch-preventing buckle. She also says it's great for kids who ride in bike trailers, bike seats, and on balance bikes. The helmet has plenty of ventilation, and the front vents are covered in mesh to prevent bugs from getting in — a thoughtful feature for kids who are getting down in the dirt. The accessible price point means that this helmet doesn't come with MIPS or any other rotational mitigation technology, but like all the helmets on this list, it's still CPSC-approved.
Best kids' trail helmet
Comfort and fit: Dial fit | Appearance: Four colorways | Protection: MIPS and non-MIPS, visor
For kids getting into mountain biking, Martins loves this "scaled-down version of an adult mountain-biking helmet" for its rubber-grip, dial-adjust knob that's a "cinch to use" and "fixed side-straps that never need adjusting." Available in MIPS and standard options, she says it also has "soft, high-quality, wicking internal pads." Like the Lazer Gekko, above, this helmet comes in universal sizing with a highly customizable adjustment mechanism that should fit snugly on kids' heads big and small. Ideal for those working up a sweat by riding up steep hills, it has plenty of ventilation, and the front vents are meshed.
Best convertible trail helmet for kids
Comfort and fit: Dial fit | Appearance: Three graphic designs | Protection: Optional chin guard, visor, padding
For kids who are already well acquainted with trail riding, Martins likes this durable and full-featured new helmet from Kali Protectives. Though pricey, the Maya (which is also available in adult sizes, should you want to join in the fun) is fully prepared for any accidents that might occur on steep slopes, with a detachable chin guard (the helmet can be safely worn without it if desired) and soft washable padding with anti-odor tech. That full-face protection is vital, Martins says: "Sadly, it is not uncommon for kids to knock out or chip teeth or even bite through their lips as the result of a hard crash on their bike." We also like Kali's unique lifetime replacement guarantee: The brand will swap out your kid's helmet for free in the event of a crash, then take it to the lab for further research into future designs.
Best multipurpose kids' helmet
Comfort and fit: Dial fit | Appearance: Endless colorways | Protection: MIPS, visor, reflective panels
"Other than a car or bus, anytime kids are on something with wheels, they need to wear a helmet," says Koutures. If you're shopping for kids who like to get on scooters and skateboards as much as they like to ride bikes, Mullin says to consider one of Nutcase's Street helmets, which meet the ASTM safety standard for roller-skating and skateboarding. While some skater-style helmets can be prohibitively hot and heavy for biking due to their extra-protective construction, Nutcase Street helmets (which come with MIPS technology) have 11 vents to keep little shredders' heads cool. Each option above has a magnetic buckle, a detachable visor, reflective panels, lots of pads, and spin-dial fitting. Note that these helmets are not technically made for kids, but an adult size small is the same size as a youth helmet, according to the brand's website.
Best affordable multipurpose helmet
Comfort and fit: Non-pinch buckle, dial fit, extra ventilation | Appearance: Six colorways | Protection: Non-MIPS, visor
And at a more accessible price, here's Joovy's take on a visored, dirt-ready helmet that the brand recommends for not only biking but also rollerblading, skateboarding, and scooters. The helmet extends down to the nape of the neck, offering additional protection for rough-and-tumble kids. Like Joovy's standard helmet, there's a pinch-preventing buckle system. Surprisingly lightweight at 0.6 pounds, it also features a sturdy removable visor and plenty of ventilation — essential for such a large helmet.
Best high-visibility helmet cover
Our experts advise that bright-colored helmets are the safest for kids. "The reason we want high visibility is so that other people can see the erratic riding pattern that kids have on a path or bikeway," Uehara explains. "They may turn abruptly and end up in the middle of the opposing side of the bike lane." If your child picks out a more muted helmet, though, she offers this easy solution: "Buy reflective and high-vis helmet covers that you can take on and off and wash." For peace of mind, she purchased one of BTR's affordable, adjustable helmet covers for her son and then ended up getting one for herself, too.
• Richard Conroy, education director, Bike NYC
• Dr. Kristin Ernest, assistant professor of pediatric sports medicine at Texas Children's Hospital
• Colin Hemmes, co-founder, the Bike Dads
• Dr. Chris G. Koutures, pediatric and sports medicine specialist at ActiveKidMD
• Natalie Martins, founder, Twowheelingtots
• Dean Mullin, co-owner of Clever Cycles
• Lauren Ro, writer, The Strategist
• Andree Sanders, instructor, Bike Whisperer NYC
• Michael Sandler, coach, Star Track Cycling
• Randy Swart, executive director of the Bicycle Helmet Safety Institute
• Jen Trolio, senior editor, The Strategist
• Lee Uehara, education manager and coach, City Bike Coach
• Rachel Varn, certified cycling instructor and founder of PedalPower Kids
• John Watson, owner, The Radavist
The Strategist is designed to surface the most useful, expert recommendations for things to buy across the vast e-commerce landscape. Some of our latest conquests include the best acne treatments, rolling luggage, pillows for side sleepers, natural anxiety remedies, and bath towels. We update links when possible, but note that deals can expire and all prices are subject to change.