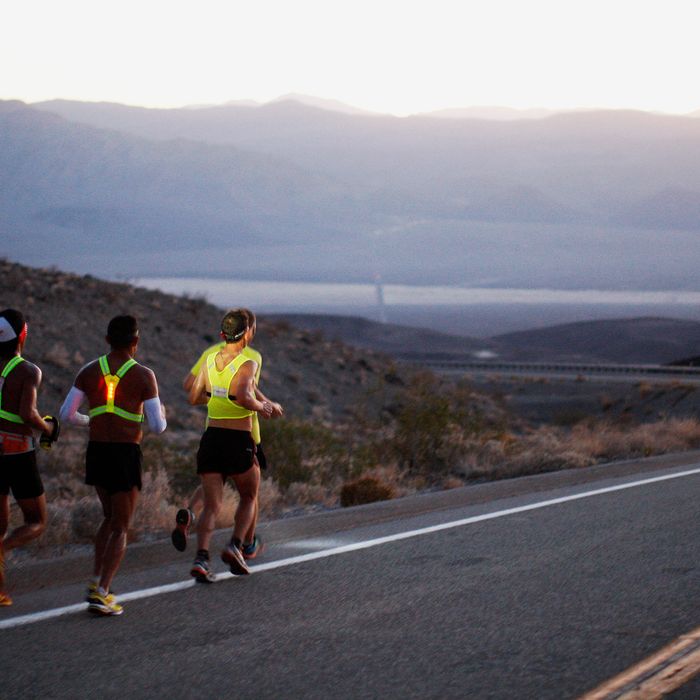 Photo: David McNew/Getty Images
During the summer, running before sunrise or after sunset is often the only way to avoid triple-digit temps and blazing sunlight. While early morning and late-night runs are cooler and more pleasant than jogging in the midday heat, they also come with the added risk of not being visible to drivers or cyclists on the road. Reflective clothing and accessories enhance your visibility and are essential to staying safe on dark summer runs. Below, I've rounded up my favorite pieces of reflective running gear that are also appropriate for hot weather.
This New Balance tank checks all my boxes when looking for a running shirt. It's made of a soft, knit material (which I find more comfortable and breathable than nylon or mesh), has flat seams to minimize chafing, and is moisture-wicking. It doesn't hurt that it comes in a handful of elegant, muted colors not usually seen in the neon-hued running world, like "dusted peach" and "military foliage green." Instead of a tiny reflective logo, the fabric itself is reflective, so the whole shirt shines in the glow of a headlight.
I'm a sucker for Lululemon's fun prints and colors, but I used to think I didn't like their shorts since running in them always left me with inner-thigh chafing. That changed when I tried a pair in "long" length — something I never considered because I'm very short and have never needed a long or tall in anything. With just two extra inches of length, these allow for more freedom of movement and less rubbing in between the legs. The reflective details make this pair extra safe.
A few years back, I bought these shorts two weeks before the New York City marathon and decided I wanted to wear them in the race, even though I'd only gone on a few short runs in them. This flew in the face of one of the most commonly cited marathon-running-gear rules (nothing new on race day!), but my instincts were right, and these felt fantastic for all 26.2 miles. The thick woven waistband is incredibly comfortable, and the lightweight split leg enhances that naked (but better!) sensation. The logo on the shorts is reflective, too, as if I need another reason to love them. A men's version is available here.
I picked up one of these for the Ragnar relay race that required reflective vests for all the nighttime segments. My overnight run ended up being in a totally desolate area of the Adirondacks without streetlights or much of anything lighting the way. But when my headlamp (also required) hit another runner, their vest became completely illuminated. It looks a little geeky, but when adjusted correctly, it feels natural and doesn't add bulk to your summer running outfit.
Triathletes, who need to change into running shoes as quickly as possible, love elastic bungee-style laces. They're also a secret weapon of runners looking for custom-fitted lacing and a shoe that's easy to slip on and off. I like that they allow for a secure, yet flexible fit. And with reflective details, these ensure that you'll be noticed on the roads. Reflective traditional laces are available if that's more your style.