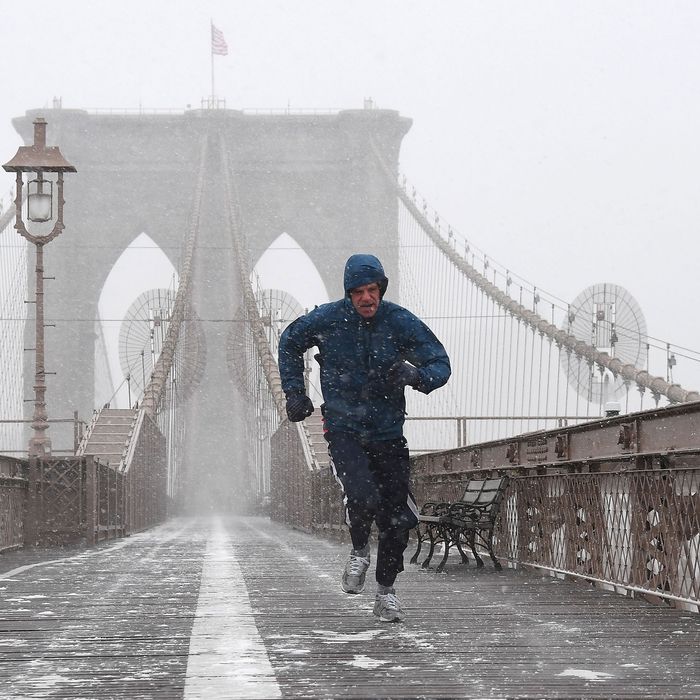 Photo: Angela Weiss/AFP via Getty Images
With gyms closed and kettlebells in scarce supply, many people have taken up running to get their exercise fix during the coronavirus pandemic. The New York Times called it a "back-to-basics exercise boom." It makes a lot of sense — running is naturally an outdoor, socially distanced activity that requires no special equipment. However, as the weather starts to cool down, a simple T-shirt and shorts combo may not be enough to protect you from the elements. As someone who has been running year-round for a decade now, I have a pretty good idea of how to stay comfortable outside even when the temperature drops below freezing — and even when there's snow on the ground.
Layering is key to running in any temperature. Once you have a foundation of layering pieces (which I'll describe in more detail below) you'll be able to mix and match them depending on the weather. Add in some accessories, and you'll be ready to run in whatever conditions winter throws your way.
One thing to keep in mind, though, is that you will warm up while you're running. To account for that, runners generally dress how they would if it were 20 degrees warmer and they weren't running. You may feel a little chilly at the start of your run, but once you get going, you'll be glad you didn't throw on those last two layers.
Base layers
Base layers work like insulation, fitting close to your skin to lock in your body heat. Like all of your running gear, base layers should be made from moisture-wicking material that pulls sweat away from your body. This is usually a synthetic blend or wool, which naturally wicks moisture and helps regulate temperature. Avoid cotton which soaks up sweat and can leave you feeling wet and cold.
My personal favorite base layer, the Lululemon Swiftly top is soft and smooth to the touch. It's seamless so there's no rubbing of chafing against the skin, and it feels dry even when you're working up a sweat. Like a lot of other tops on this list, it has thumbholes, which I love for keeping the sleeves in place and getting some more warmth-providing coverage on my wrists and hands. It's available in a bunch of different colors with new ones coming out all the time — and older ones often popping up in the sale section if you're looking for a deal. Metal Vent Tech is the men's version of the Swiftly and has the same feel and function.
When I asked City Coach co-founder Jonathan Cane about his favorite base layers, he said he has some from Under Armour that are still soft and comfortable after years of use. These shirts also wick away sweat to keep you dry, and they feature a brushed material inside that feels warm on chilly days.