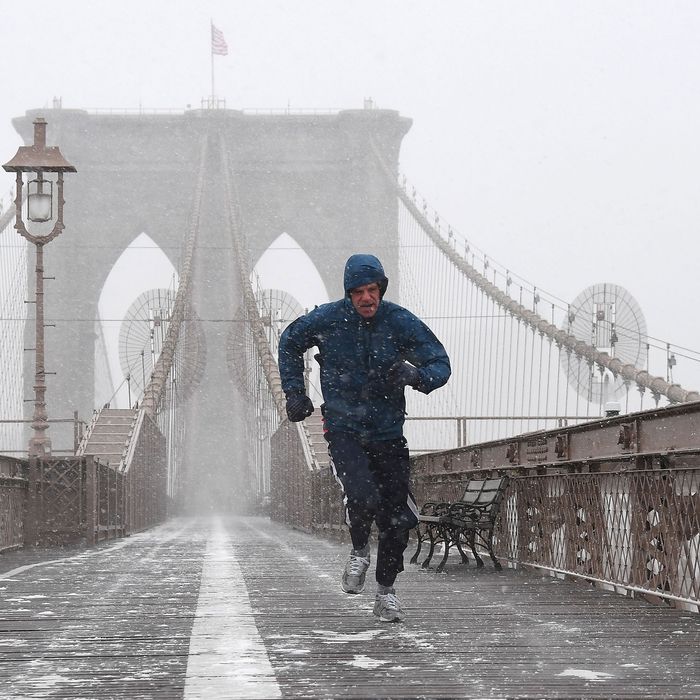 Photo: Angela Weiss/AFP via Getty Images
With gyms closed and kettlebells in scarce supply, many people took up running to get their exercise fix during the coronavirus pandemic. The New York Times called it a "back-to-basics exercise boom." It makes a lot of sense — running is naturally an outdoor, socially distanced activity that requires no special equipment. However, as the weather starts to cool down, a simple T-shirt and shorts combo may not be enough to protect you from the elements. As someone who has been running year-round for a decade now, I have a pretty good idea of how to stay comfortable outside even when the temperature drops below freezing — and even when there's snow on the ground.
Layering is key to running in any temperature. Once you have a foundation of layering pieces (which I describe in more detail below) you'll be able to mix and match them depending on the weather. Add in some accessories, and you're ready to run in whatever conditions winter throws your way.
One thing to keep in mind, though, is that you will warm up while you're running. To account for that, runners generally dress how they would if it were 20 degrees warmer and they weren't running. You may feel a little chilly at the start of your run, but once you get going, you'll be glad you didn't throw on those last two layers.
Base layers
Base layers work like insulation, fitting close to your skin to lock in body heat. Like all of your running gear, base layers should be made from moisture-wicking material that pulls sweat away from your body. This is usually a synthetic blend or wool, which naturally wicks moisture and helps regulate temperature. Avoid cotton, which soaks up sweat and can leave you feeling wet and cold.
My personal favorite base layer, the Lululemon Swiftly top is soft and smooth to the touch. It's seamless so there's no rubbing or chafing against the skin, and it feels dry even when you're working up a sweat. Like a lot of other tops on this list, it has thumbholes, which I love for keeping the sleeves in place and getting some more warmth-providing coverage on my wrists and hands. It's available in a bunch of different colors with new ones coming out all the time — and older ones often popping up in the sale section if you're looking for a deal. Metal Vent Tech is the men's version of the Swiftly and has the same feel and function.
When I asked City Coach co-founder Jonathan Cane about his favorite base layers, he said he has some from Under Armour that are still soft and comfortable after years of use. These shirts also wick away sweat to keep you dry, and they feature a brushed material inside that feels warm on chilly days.
While the two shirts above are made from synthetic materials, the Brighton base layer from Boston-based running brand Tracksmith is a wool blend that feels incredibly soft and is just as good at keeping you dry. The material is very thin — surprisingly so considering how warm it feels — which makes it ideal for layering under a thicker mid-layer or a windbreaker. Andy Docken, director of the Aspen Mountain Ski School, knows about exercising in cold weather (he skis over 100 days per year) and says merino wool is his top pick for base layers. He likes that it's warm and doesn't hold on to odors so you can wear a wool shirt a couple of times between washings.
A turtleneck or mock-neck base layer is a good choice for a colder day for keeping your neck warm. I own this Athleta turtleneck and a women's version of the Under Armour one and can attest they're both very warm, either on their own or layered under a heavier jacket.
Mid-layers
When it's cold out but not cold cold (for me, that's temperatures in the 40s or low-50s, but it may vary for you based on personal tolerance), I'll usually wear a base layer on its own, but when it drops below that it's time to add a mid-layer. Mid-layers add warmth while still being breathable and quick-drying so you don't end up feeling soggy. Again, look for synthetic blends and wool, and even materials like fleece and Polartec for warmer tops. I generally prefer half-zip options that I can easily zip and unzip to regulate temperature on the run.
It's on the thinner side, but this simple half-zip is a long-time runner favorite. It's moisture-wicking and you can zip it up to cover your neck when the wind hits. Paired with a base layer, it'll be warm enough for runs in most conditions. The women's "Element" comes in plus sizes, too, so you're likely to find one that works for you. For something a little warmer, Nike's Sphere half-zip (for women and men) has a thermal lining, along with longer sleeves that you can pull over your hands and use as mittens.
Brooks makes some of my favorite running clothes (and shoes), so I always keep an eye out for their cold-weather thermal pieces, which are as warm as they are functional. I have an older version of this hoodie and it's my go-to for cold days because of the extra-soft fleece lining. This year's version has lots of runner-friendly features like a hood that can be tucked away in the collar when you don't need it so it's not bouncing around behind you, and a handy zip-up pocket in the wrist for your keys or an energy gel. If you don't think you'll need something this warm — like if you live somewhere with milder winters or you just tend to run hot — I'm also a fan of the lighter-weight Brooks Dash half-zip, available for both men and women.
I have a number of decade-old Lululemon mid-layers that are still part of my rotation, and the Rulu Run half-zip is an updated version of my favorite style. It's got a soft and warm interior, zip pockets for storing essentials, and fold-over "cuffins" that turn the sleeves into mittens. The Surge half-zip looks like a worthy men's equivalent.
Outer layers
For most cold days, a base and a midlayer will be all you need. It's only once you start dealing with things like freezing gusts or precipitation that you'll want an outer layer. Outer layers are designed to protect you from rain, snow, and wind. They keep all of the warmth of your inner layers from escaping while adding a water- and wind-resistant exterior to prevent anything wet and cold from getting in. In my experience, it's best to stick with a lightweight outer layer (and rely on your base and mid-layers for warmth) since thicker jackets are less breathable. On a mild day with a bit of wind or rain, you can skip the mid-layer and just throw your outer layer over your base, or go for all three when it's cold and snowy.
For basic protection from light wind and rain, you can't beat the ultra-lightweight Patagonia Houdini jacket. It's a no-frills, water-resistant layer that folds down inside its chest pocket so you can easily pack it away when the rain stops. The jacket's been around forever, so you're likely to find deals on past-season colors.
Talk to anyone who ran in or watched the 2018 Boston Marathon, and they'll likely remember two things: First, the miserable weather. It was unseasonably cold with gusts of winds and pouring rain that forced even some elite runners off the course. Second is that Desiree Linden won the women's race, the first American to do so since 1985. What was Linden wearing when she crossed the finish line? The Brooks Canopy jacket. I'm not saying it'll give you her superhuman speed, but if it was tough enough to withstand 26.2 miles in some of the worst conditions, it'll probably be able to take on your own bad weather runs.
New this year from New Balance, this very warm jacket will keep you cozy and dry in the roughest winter conditions. The wind-resistant outer layer is also completely reflective so it'll light up in the glow of headlights or streetlights, making you visible when running at night. There's also a handy see-through phone pocket on the chest that you lets you access the screen without taking it out.
Tights
These thin tights aren't necessarily the warmest out there but they're my favorite running bottoms for most of the days when it's too cold for shorts. They're extra-stretchy, feel like you're not wearing anything, and have lots of pockets both in the waistband and on the legs. For more coverage, check out the full-length version or these brushed ones that add warmth without any bulk.
Trust me when I say these are the tights for winter running, especially when it gets very cold. I learned about them when I was working at a running store, and I even called them my best purchase of the past decade because they opened up the world of winter running for me. They're lined with a fuzzy, fleece-like material that's super soft on your skin and warm enough for even the coldest days. Sugoi originally designed these tights for cyclists who tend to feel colder than runners since they're moving more quickly into the wind, so you can imagine how warm they feel when you're jogging. One thing to note: They run small so consider sizing up.
The newest addition to my winter-tight wardrobe, these have a warm, brushed interior along with a ton of pockets for holding your phone, keys, energy gels, and anything else you need. What I especially love about Athleta is that their tights come in petite and tall lengths, as well as plus sizes.
Pretty much everything from Seattle-based women's running brand Oiselle is perfect (their long-sleeve shirts have "watch windows" for peeking at your GPS watch while keeping your wrist covered!) and these cozy tights are no exception. The soft "lux" fabric feels like your comfiest loungewear and they have deep side pockets for your stuff.
Underwear
Freezing your butt off isn't just a saying when it comes to running in the cold. Even if you don't normally run with underwear (most shorts have built-in liners), as the temperature drops, consider wearing a full-coverage pair made from moisture-wicking materials to keep your most sensitive parts shielded. I love the merino-wool Icebreaker Sprite boy shorts, and the similar men's pair is popular among skiers.
Icebreaker makes a matching merino-wool sports bra if you also want something warm up top. This racerback model offers light support and is extremely soft to the touch.
On days when it's so cold that it's probably inadvisable to run outside, I reach for the Sugoi Midzero "bun toaster" shorts which work exactly as advertised. Made from the same fleecy material as the Midzero tights, they're so plush and warm where it counts.
Accessories
You're going to want something that covers your head and ears when it's really cold out. I have a few of these Smartwool beanies, and they're fantastic. Long enough to cover everything (you can cuff it to make it smaller if you need), it's extremely soft and not at all itchy. Smartwool makes a few different weight versions, but this one's the heaviest so it'll definitely keep you warm.
It's also a good idea to have a beanie with a smooth, polyester exterior for windy days. This one is wind-resistant on the outside and lined with fleece for warmth against your skin.
My hands are often the first part of my body to feel cold, so a few good pairs of gloves are essential. If you like to use your phone or touchschreen watch when you're running, make sure you look for gloves with touchscreen-friendly fingertips. These aren't always effective (especially when it's very cold or wet out), but they're better than regular gloves. This pair is made from the same plush merino wool as the Smartwool beanie above.
Because they let your fingers share heat, mittens actually keep you warmer than gloves. However, mittens can be a bit unwieldy if you want to use your phone or watch, and you might find you get too hot as you warm up. Therefore, I love having convertible mitten-gloves that let you enjoy the best of both worlds on cold days. These touchscreen-friendly gloves have mittens folded into pockets on the hands so you can pull them over your fingers when you're feeling chilly, and easily fold them away when you don't need them.
For covering your neck, face, and even head when it's cold out, you can't beat the versatility of a simple Buff. It can be worn tons of different ways and it's easy to stuff in your pocket when not in use. When the CDC first recommended everyone wear a mask in public, some runners pulled out their Buffs to use as face coverings since they're so breathable. While one study showed they were less effective than not wearing a mask at all, further research has shown this might not be the case. In general, don't rely on a thin, one-layer piece of fabric as your only mask, but if you're outside and running at a distance from others, it should be fine.
If you do want a dedicated running mask (maybe you run in crowded areas or pop in and out of stores during your run), this is hands-down the best one I've tried. It's very breathable and stays tented over your face so you're not sucking in fabric each time you inhale. Plus, it actually keeps your nose and mouth warm when it's cold out, which is an added bonus.
When it gets seriously cold, switch out your Buff for a thicker gaiter. Runners love this fleece one from Turtle Fur.
Winter brings shorter days, which means there's more of a chance that you'll be running in the dark. I recently bought these lights that easily clip onto my shirt or shorts waistband and can be set to stay lit or flash. I ran with them around 5 p.m. (which this time of year looks like the middle of the night) and was impressed with how bright they are.
Socks and shoes
As we learned while talking to people who live and work in some of the world's coldest places (like an Alaskan fisherman), wool is the go-to material when you need seriously warm socks. Runners are no exception, and I have a whole section of my sock drawer dedicated to wool. Always go with an ankle-length or higher sock in the winter, because you don't want to deal with freezing that tiny strip of skin in the gap between your tights and socks. Brands like Smartwool make socks in a variety of weights and thicknesses so it's a matter of finding what you like best. These are some of my favorites.
Swiftwick makes some of the best ultralight, moisture-wicking synthetic socks (I've run marathons in them and stayed dry and blister-free) and their wool socks are just as good. They're warm without feeling thick or bulky.
Kane 11 is a new brand that offers socks in specific shoe sizes (instead of a small, medium, large range). I'm not sure if that makes a huge difference in finding a sock that fits (maybe worth trying if you have trouble with traditional sizes, though), but the brand sent me a bunch of different styles to test out, and I've been reaching for the merino-wool Madison for winter runs. It does have a nice, snug fit (perhaps proper sizing does matter?) and keeps me warm and dry.
Unless you're running on muddy trails or through streams where you're likely to get your feet wet, you can probably run through the winter with your regular running shoes. If you do anticipate stepping in slushy puddles, though, a trail version of your favorite shoe may be a good idea. Trail shoes (they'll usually have GTX in the name because of an added Gore-Tex liner) are more water-resistant than standard shoes and tend to have more aggressive lugs for getting your footing on uneven terrain. The Brooks Ghost, one of my favorite everyday running shoes, comes in a trail style that's better equipped for weather protection.
Running on snow and ice is the worst. Give me howling winds, an unrelenting downpour, or even subzero temperatures, and I won't complain about running outside (as long as I'm appropriately dressed), but the risk of slipping and falling on snowy or icy surfaces is enough to send me to the treadmill. That was until I started using Yaktrax a few years ago. Like snow chains you put on tires, these cleats stretch to cover the sole of your shoe and are dotted with metal studs and coils to give you traction on slippery ground. They are a must-have if you're dedicated to running in all conditions.
The Strategist is designed to surface the most useful, expert recommendations for things to buy across the vast e-commerce landscape. Some of our latest conquests include the best acne treatments, rolling luggage, pillows for side sleepers, natural anxiety remedies, and bath towels. We update links when possible, but note that deals can expire and all prices are subject to change.