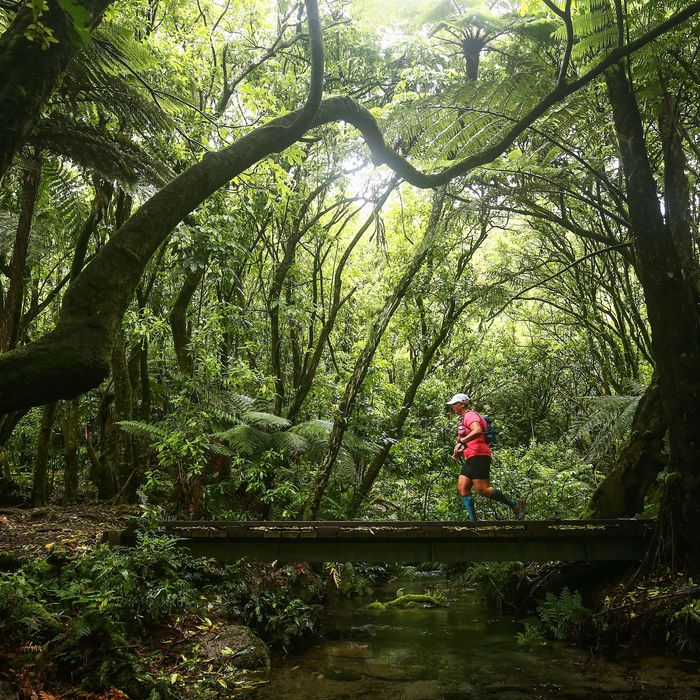 Photo: Getty Images/2016 Getty Images
We're all doing our best to practice social distancing to prevent the spread of the coronavirus, switching from in-office meetings to Zoom calls and boutique fitness classes to Instagram Live workout sessions. If you're fortunate to live near a park or outdoor area (that isn't crowded, of course), trail running is a fun way to get outside while still maintaining your distance. There are a few things to know, though, before you hit the trails — even if you've been running for years.
"Trail running requires a bit more mental focus," says Tiffany Carson England, a running coach with the Run Smart Project. It's easy to zone out if you're running on an open road, but you'll need to pay attention to your stride when running on changing terrain. "Trail running uses lots of tiny muscles to keep you stabilized on uneven ground as you bounce from rock to rock and make quick changes in stride," she says, cautioning that even experienced road runners may find themselves sore after their first few trail runs.
Since trail running requires its own specific skill set, professional trail runner Emelie Forsberg suggests that you "not think about pace or distance in the beginning. Just go out there and enjoy." And that's a lot easier to do when you have the right gear. We asked seven experienced trail runners about their favorite shoes, socks, layers, and apps to help get you started.
Trail shoes
While you can wear your usual running or athletic apparel on the trails, you'll definitely want to invest in a pair of trail running shoes. According to England, "trail shoes are designed to be more durable and give you better traction in order to protect your feet from rocks, roots, mud, and anything else you might encounter on a trail." Zoë Rom, an assistant editor at Trail Runner Magazine and host and producer of the DNF Podcast, says the Hoka One One Torrent shoes "are a great fit for a beginning runner. They're burly but not too stout, light but have a good enough tread for more-aggressive adventures."
"Altras are unique because they are foot-shaped, meaning they are a bit wider in the front of the shoes," says England, who recommends the well-cushioned Timp model. "This allows your toes to move more freely and splay out naturally, which can help keep your balance on the trails." She adds that it's very common for new trail runners to fall a few times as they get used to running on mixed terrain, and the Altra's wide footprint might help avoid this by making you feel more grounded.
The Salomon Sense trail running shoe was recommended by both Forsberg and Rickey Gates, a professional runner and author of Cross Country: A 3,700-Mile Run to Explore Unseen America. Gates calls it "a supportive, light, and not overly aggressive shoe to move onto the trails," and Forsberg says it's "very light but still has good proaction under the forefoot." (Both athletes are sponsored by Salomon.)
Socks
Your no-show socks are fine for the gym or the sidewalks, but if you're running on trails, you'll want a pair with more coverage. Look for socks that go up to your ankle or higher. "This will protect you from poison ivy, oak, and low thorns, and from loose debris getting in your shoes," says Patrick Hammond, co-founder of Educated Running. He likes Swiftwick socks because they "wick away moisture like crazy, don't give me blisters, and hug my foot and ankle perfectly."
Rom says these two-layer toe socks are her "go-to for easy runs and 100K races. You literally cannot get blisters in these socks." Like the Swiftwick socks, they're made from a moisture-wicking synthetic blend that'll keep your feet dry.
Outdoor enthusiasts know that wool makes for surprisingly durable gear that naturally wicks away sweat, regulates temperature, and keeps odor at bay. Those are some of the reasons why Gina Lucrezi, founder of the women's trail-running group Trail Sisters, wears Smartwool socks on her trail runs. "They wear really, really well, and they do a great job with wear and tear," she says. "You put them in the washer, and when you take them out, they're like brand-new."
Hydration
"Since trail running is slower, you may be out there longer, and having some insurance with fluid and fuel is a must," says David Roche, coach and founder of the Swap running team and co-author of The Happy Runner. Gates agrees that "the better prepared you are for being out on the trails for a little bit longer, the more fun you'll have with it." Roche recommends bringing along a handheld water bottle, like this one from Nathan that lets you carry 18 ounces of water and has a zip pocket for small essentials like keys, credit cards, or energy gels. It's the same bottle that Lucrezi takes on her runs. She says, "If you put a cold drink in there, it stays cool," and she likes that items in the pocket don't bounce around as she runs.
For longer runs, you'll want a backpack-style hydration vest with room for a water bladder as well as nutrition and extra clothes for changing weather. England likes that this Salomon pack "fits two front bottles, and a bladder when I need it, and has tons of pockets to stash some snacks or a jacket." It's also Gates's pack of choice. "It has the capacity to fit a full day's worth of gear yet fits snugly and comfortably without movement or chafing," he says.