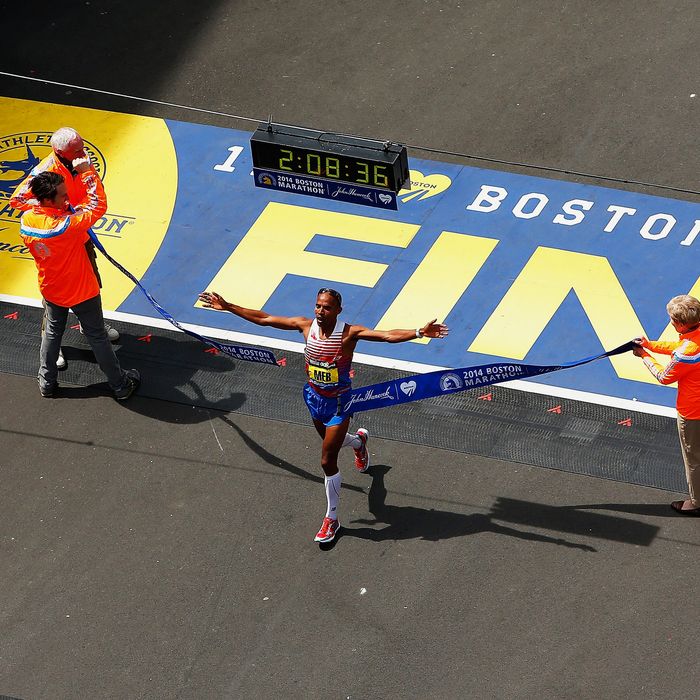 Photo: Jared Wickerham/Getty Images
If you signed up for a fall marathon, like Chicago, New York, or Philadelphia, it's about time to start training. Compared to other equipment-heavy sports, running has a low barrier to entry, but there are still things you'll need as your training ramps up and you start waking up early on weekend mornings for double-digit mile-long runs. As the bulk of fall marathon training takes place in the warm months of summer, you'll want to focus on things that will keep you cool and hydrated.
In the past five years, I've run five marathons — including NYC, San Diego, and Rome — and also spent two years working at a speciality running store, testing out tons of products from a vibrating foam roller to pizza-flavored nutrition gels. Sifting through hundreds of items promising to improve your running can be tough, so I've distilled my essential marathon training picks to the gear below. I'll skip clothing since I've covered that in depth here, and if you've been running for a while, you should know the drill — moisture-wicking fabrics, no cotton, and as few seams as possible to avoid chafing — and have a week's worth of tops and bottoms for training. Of course, this is all based on trial and error, so it's likely that you may prefer a different brand of nutrition gels or a thicker sock, but you can consider this a starter kit of training basics.
For your first marathon, err on the side of cushion and choose a shoe with padding underfoot to protect your joints. A minimal shoe might serve you well on your casual 3-mile jaunts around the neighborhood, but might start feeling flat on a 15- or 18-mile-long run. If possible, get fitted at a specialty running store where a trained sales associate can watch you run on a treadmill and make recommendations based on your form. I'm a fan of the Saucony Triumphs because they're very soft and cushioned, but still feel light and flexible on your foot. Pro tip: Go up a half to full size in your running shoes. Your big toe should be about a thumb's width from the front of the shoe. This will ward off bruised and blackened toenails, as your feet naturally expand when running and will jam up against the front of a too short shoe.
Asics has lots of loyal fans who love the impact-absorbing gel in their shoes' midsoles. The Kayano is a very plush shoe offering stability for overpronation — excess inward motion of the foot when running — which can lead to common injuries like shin splints and knee pain. If you like the feel of Asics cushioning but don't need that extra stability, the Nimbus is a great choice.
Even if you've been getting by in cheapo six-pack cotton socks for this long, it's really time to invest in some running socks. Longer runs mean more sweating and more friction, which can cause painful blisters if your socks are not moisture-wicking. These Balega socks are breathable, lightweight, and designed to support your feet while running — and I'm a little obsessed with all of the bright colors available. For a plusher sock, check out their Hidden Comfort line.
If you need to stock an entire running-sock drawer on a budget, Fitsok makes moisture-wicking socks in more affordable thee-packs. These are solid, middle-of-the-road socks that'll fit most runners' needs. If you aren't sure if you like thinner or thicker sock, start with these mid-weight pairs and go from there.
I've written about Body Glide before, but it totally deserves the extra attention. Your seamless and moisture-wicking clothes can help prevent chafing, but when you're running 18 miles on an 80-degree day (which will happen at some point in your marathon training), there's going to be some chub rub. Rubbing some Body Glide on areas where you typically chafe — inner thighs and underarms for me — really works at protecting your skin.