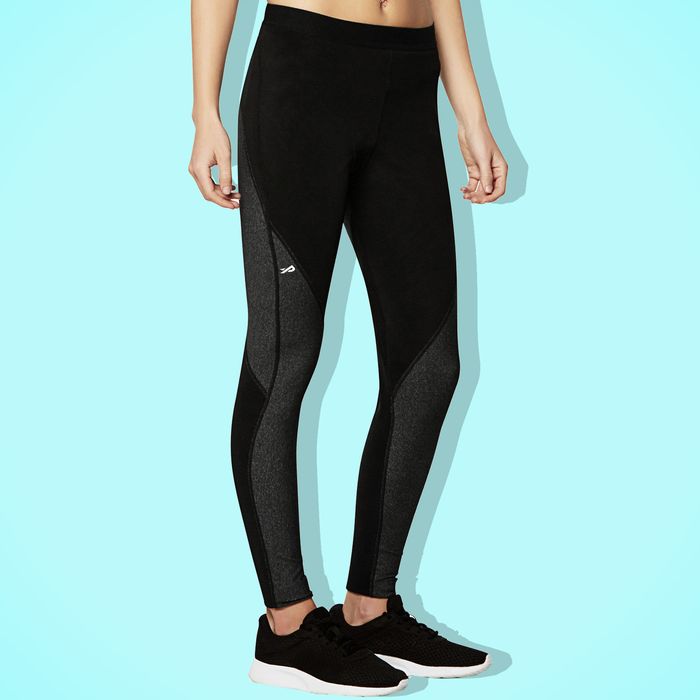 The strength-building pants automatically make your workout harder.
The new Physiclo compression leggings — designed by an "Olympic athlete and a group of medical students" — have built-in elastics that wrap around the leg muscles, and are meant to create resistance. Which is meant to create a better workout (they're available for men, too). After toddling around my apartment in them for a few hours, and getting used to the tightness (almost as restricting as Spanx, but not quite), I spent the next few weeks trying them during a range of activities.
When I first put on the pants, my legs felt heavy — like there were weights strapped to my quads and hamstrings. This feeling went away after about the first half-mile; I kind of forgot I was wearing anything different than my usual cotton leggings. But then two miles into my run, though my mind had perhaps adjusted to the extra resistance, it was clear my body had not. I was breathing heavier than usual, sweating more, hitting a wall. I ended up tapping out a mile short of my four-mile goal. This was a disappointment. But I woke up the next day to an unfamiliar after-run sensation: sore abs. The lower abs, in particular. It was like that time I did an advanced-Pilates class, and my stomach soreness radiated down to my groin. The Physiclos had turned my run day into an ab day.
By the time I got to Barry's I'd been running in the Physiclos for a week, so the treadmill portion of class felt pretty normal. As usual, I noticed that with the added resistance on my quads, my abs were more engaged with every stride. Then came the sprints. Those are always heart-pounding, but this was a new level, closer to cardiac arrest. The slow exercises, like a single-leg dead lift, felt much more difficult to control. This had another unexpected benefit: intensified focus on each movement. Even the pumped-up Barry's instructor noticed me scowling and biting my lip. "You're doing great," he said.
I don't like barre classes. They're boring. Real ballet is less so, and for months I've been going to a few different ballet studios, like Ballet Academy East on Third Avenue. One of the toughest things for me in ballet is to engage my muscles on one leg when I'm doing most of the "dancing" on the other. I usually forget. But when you're wearing Physiclo pants, there's no forgetting — you automatically engage. Every plié and extension was therefore harder — almost like this was a brand-new class. Like the pants, though very expensive, were at least getting me a better value out of my usual fitness routine.
I rarely do yoga — meaning, I never do yoga. So trying vinyasa flow at Yoga to the People with extra pressure on my thighs didn't go well. My body vibrated like a cartoon character on all the leg-heavy poses like Warrior and Triangle. When we finally got to the cool-down portion of class, and I felt a burning pain culminating in the cathartic release of my hips during Pigeon, I realized how all the extra quad work I'd been doing was building up. I highly recommend these pants–just don't forget to stretch.
The Strategist is designed to surface the most useful, expert recommendations for things to buy across the vast e-commerce landscape. Some of our latest conquests include the best workout leggings, gym bags, workout gear, flattering sweatpants, running shorts, and sports bras. We update links when possible, but note that deals can expire and all prices are subject to change.

Every editorial product is independently selected. If you buy something through our links, New York may earn an affiliate commission.