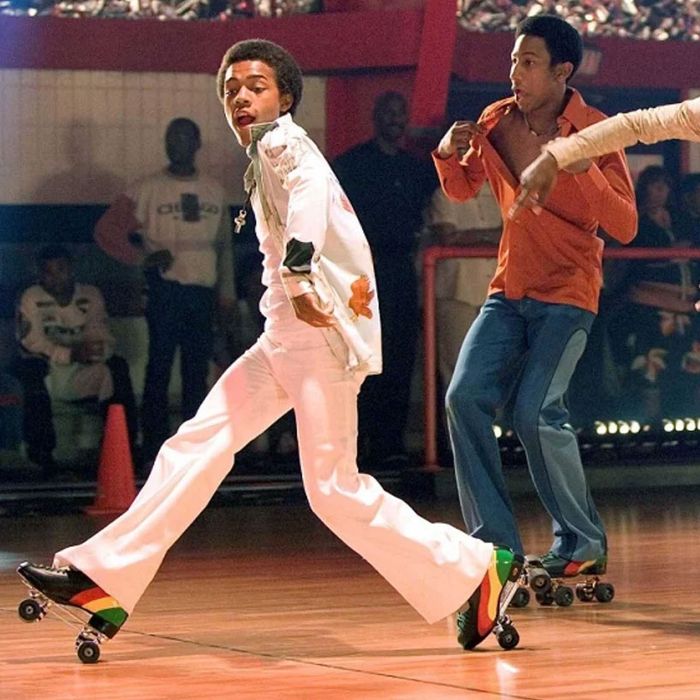 Photo: Fox Searchlight Pictures
Not long ago, we wrote about how roller-blading is back — but that's not the only fun way to pass the time with wheels strapped to your feet. Roller-skating — which first became popular in the late 1930s and early 1940s, according to the book Skate Crazy by Lou Brooks — has also glided back into popular culture of late, thanks to shows like Euphoria, in which Zendaya & Co. tie on some pairs of old-fashioned skates and hit their local rink. But even though roller-skating predates roller-blading, there are lots of new roller-skate brands on the market, making new styles of the Technicolor wheeled footwear of your childhood dreams for all experience levels and budgets.
Of course, if you're thinking about investing in a new pair of skates, there are things to look out for aside from rad colorways. The size and feel of the wheels, the material of the boot, and the type of hardware used will all affect the skates' durability and maneuverability, according to the professional roller skaters we spoke with. As a general rule of thumb, leather boots will last longer and fit more comfortably than synthetic materials, while metal frames and plates are better than plastic. And when it comes to wheels, the smaller the wheel, the better it is for agility and tricks, while larger wheels are better for traveling longer distances. Softer wheels are ideal for outdoor skating, while harder wheels are the move if you're rolling around a rink. And if your skates don't feel quite right fresh out of the box, remember that "you can change the truck, wheels, toe stops, and other parts of the skate to work better for you," says skater Rebel RousHer, who posts roller-skating tutorials on her YouTube channel, Queer Girl Straight Skates. Keeping all this in mind, we asked RousHer and four other pro roller skaters, skating choreographers, and skating instructors about the best skates for rink skating, street skating, roller derby, and more. Read on for their picks.
Best overall roller skates
Best roller skates for beginners
Best (less expensive) roller skates for beginners
Best roller skates for rink skating