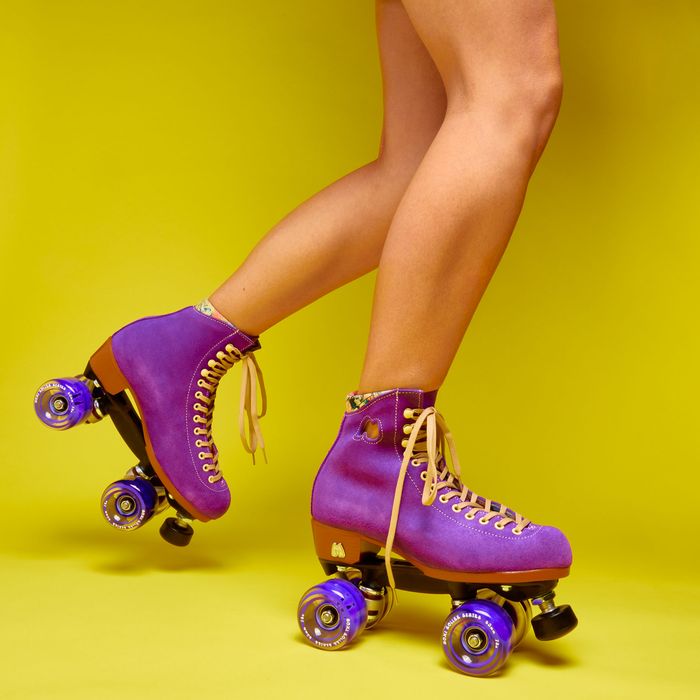 While roller-skating has long been a beloved pastime, it has exploded over the last two years, with stir-crazy people of all ages adopting the hobby as a safer way to spend time outdoors during the pandemic. Inspired by the teens on TikTok, I also decided that spring of 2020 was finally the time to strap on a pair of roller skates, but figuring out which skates to buy was almost as difficult as figuring out how to stop without crashing into a fence. Whether you're an adult newbie like I was looking to join in on the fun or just want to upgrade roller skates you already own, there are now lots of brands out there — both new and old — making the Technicolor, four-wheeled footwear for all experience levels and budgets. But if you're thinking about investing in a new pair of skates, there are of course things to look out for aside from rad colorways. So to find the best roller skates, I asked eight experts for their picks, which include options for beginner cruising, advanced park skating, roller derby, and more.
Best overall | Best for beginners | Best (less-expensive) for beginners | Best hybrid for beginners | Best hybrid for intermediate to advanced skaters | Best for rink skating | Best for rhythm skating | Best (less-expensive) for rhythm skating | Best for street skating | Best (less-expensive) for street skating | Best for park skating | Best for roller derby | Best (less-expensive) for roller derby
What we're looking for
To find the best roller skates, we asked eight experts — including pro roller skaters and skating choreographers and instructors — about their favorites. Their 12 recommendations below include something for most everyone, whether you want to skate on a street, in a rink, as part of a roller derby (or all of the above). When you're looking for your own skates, the size and feel of the wheels, the material of the boot, and the type of hardware used will all affect skates' durability and maneuverability, according to the eight roller skaters I spoke with.
Boot: When selecting a skate, deciding on the cut and material of your boot is one of the most important decisions. High-cut boots offer more ankle support, while low-cut boots offer more speed and ankle flexibility. The material of the boot also matters: Synthetic materials like vinyl are generally more affordable, though they don't have the longevity of a leather or suede boot, which, while typically more of an investment, is more durable over time.
Wheels: Roller-skate wheels come with a durometer rating which tells you how hard they are, typically in a range from 70A to 100A. The higher the number, the harder the wheel. Softer wheels are ideal for outdoor skating, while harder wheels are better if you're rolling around a rink. You also want to consider the wheel size. The smaller the wheel, the better it is for agility and tricks, while larger wheels are better for absorbing shock and traveling longer distances. In general: Larger, softer wheels are used for outdoor skating, while smaller, harder wheels are used for indoor skating.
Plates: The plate of your skate is attached to the bottom of your boot. They typically come in two materials: nylon or metal. Nylon is lighter but less durable, while metal is more durable but heavier (nylon is also less expensive so if you're on a budget it's probably the way to go, especially as a beginner).
Toe-stop: Toe-stops come in two styles: adjustable and non-adjustable (also known as a "fixed" or "bolt-on" toe-stop). Adjustable toe-stops allow you to adjust the height of your toe-stop to suit your particular needs as you develop your skills, while a fixed toe-stop has to be replaced entirely if you want to make any changes. Note that while most "jam" or "dance" skaters typically remove the toe-stop entirely and replace them with a jam plug to execute their moves, every other skate style — including street skating and rink skating and roller derby — requires a toe-stop for safety.
When it comes to the fit of any roller skates, roller-dance choreographer Morgan Weske has this general tip: "You want the skate to fit very snug and move with your foot." Most skates come in men's sizes, so those used to buying footwear in women's sizes should order about a size and a half down from your everyday shoe. And once you buy your skates, Heiden and Weske stress that it is important to check the tightness of the wheels and the truck, which are usually not loose enough fresh out of the box. And if your skates don't feel quite right, remember that "you can change the truck, wheels, toe-stops, and other parts of the skate to work better for you," says skater Rebel RousHer, who posts roller-skating tutorials on her YouTube page Queer Girl Straight Skates.
Best overall roller skates
High-cut suede boot | 65mm/78a wheels | nylon plate | adjustable toe-stop 
Six of the eight experts we spoke to recommended the Lolly skates from Moxi Skates, founded by professional skater Michelle Steilen (aka Estro Jen) and manufactured by Riedell, one of the oldest skate producers in the United States. "Handmade in the USA, these leather beauties come in all colors of the rainbow," says professional roller skater and coach Candice Heiden, co-founder of LA Roller Girls Entertainment. The basic package includes a Powerdyne Nylon plate, Kwik Abec 5 bearings, and soft, gummy outdoor wheels, which are better for "rough terrain, cruising, or slippery surfaces," she explains. Skater Lauren Perrino describes the wheels as being "like marshmallows," adding that they "absorb shock like no other wheel I've skated on." The wheels' larger size gives "better stability for beginners and an overall more comfortable ride for all-day or long-distance sessions," she adds.
This was the second pair of skates I got after learning the basics and I can say with certainty that they are absolutely worth the money. I've gone trailskating and clocked ten miles on these babies and my feet and ankles felt completely comfortable the entire trip. There's a reason you see most skaters wearing Moxi's on their feet, and it's not just because they look cool (though that doesn't hurt).
Roller-skating blogger Kaci Bell agrees that the Lollys are more than capable of handling the rough pavement you'll encounter skating outdoors. RousHer also likes the Lollys, adding that the skates' suede boots "feel so comfortable as soon as you put your foot into them." And skater Marician Dedeaux Brown notes that while "they are definitely an investment, they are worth the money." Because the Lolly skates as is are designed for street skating and can handle ramps, cracks, and concrete, Heiden suggests buying an extra set of wheels if you want to use them for indoor skating.
Best roller skates for beginners
High-cut vinyl boot | 58mm/78A wheels | aluminum plate | adjustable toe-stop 
For beginners, three of our experts suggested going for this less expensive pair of Beach Bunny skates from our best-overall brand. According to RousHer, they have all the durability and support of many higher-priced skates. "You can be sure that they will last through the many adventures, falls, and excitement that comes with being a new skater," she says. Bell says that they give a really "smooth roll on a wood floor," making them great for dance skating on a rink. RousHer adds that the Beach Bunny is a skate that beginners can still use even when they're more comfortable standing on eight wheels. The Beach Bunny skates are versatile enough for basic outdoor skating, too. "This skate has the ability to develop with you as a skater; it is good for if you want to branch out into many types of skating, such as ramps, once you have learned the basics of roller skating," RousHer says. While the boots aren't made of leather, Moore says their sturdy vinyl material offers "better ankle support" for those who may need it because the material is a little stiffer.
Best (less-expensive) roller skates for beginners


High-cut vinyl boot | 58mm/82A wheels | aluminum plate | adjustable toe-stop 
Two of our experts recommended Moxi's newest skates, the Rainbow Riders, as an even less expensive pair that's great for beginners. They have "adjustable toe-stops and a colorful design" that made roller skater Toni Bravo "feel like a star" the first time she stepped into them. Moore agrees: "These are a great go-to, no-sweat skate for basic cruising and beginner jam skating." Like the Beach Bunny skates, the boot is made from sturdy vinyl, but the wheels that come with the Rainbow Riders are softer, making them better for outdoor surfaces. (Given how affordable they are, springing for a set of indoor wheels shouldn't set you back too much more.)
Best hybrid roller skates for beginners


High-cut vinyl boot | 58mm/82A wheels | aluminum plate | non-adjustable toe-stop 
For those who know they'll be skating as much on a rink as they will on the street, a pair of skates with hybrid wheels, like these Impala skates, may be a better choice. Two of our experts recommend them as a great entry-level hybrid roller skate, including Heiden, who says their wheels, aluminum metal plate, and fixed toe-stop make them ideal "for cruising, learning how to skate, and basic dance moves."
Like Moxi skates, Impalas also come in a variety of stylish colors and patterns (lime green and leopard is a particularly wild one), which is why Bell says, "They allow you to roll comfortably and learn in style." (These also happen to be the brand of skates that actress Sasheer Zamata told us she wears.) Although the boot is made from synthetic materials, the skates are a PETA-approved vegan product. And Heiden has a pro tip to make them even better: "Upgrading the bearings is worth spending the extra money."
These were the very first pair of skates I bought as a beginner. Initially, I used them on the hardwood floor of my living room–turned–roller rink. When I felt like I had the basics down I took them outside and found that, as promised, the hybrid wheels handled both smooth asphalt basketball courts and rougher concrete parking lots just as well (though I wouldn't take them out to the skate park or areas with less smooth terrain like the street). The boots, which are made of synthetic materials, are quite stiff which gave me the stability I needed as a wobbly beginner and are also super comfortable right out of the box. However, I highly recommend loosening the wheels with a Y3 tool before lacing up. Most brand new skates from the factory floor will have wheels that are too tight to spin freely, which makes skating much harder. And while I skated on these as they are for a year, in retrospect if you have a little more money to spend, I do think upgrading the wheels and the bearings (as Heiden suggests) is worth it.
Best hybrid roller skates for intermediate to advanced skaters


High-cut suede boot | 58mm/82A wheels | aluminum plate | adjustable toe-stop
For another pair of skates that can handle both indoor and outdoor terrain (including the skate park), Perrino loves the Moon Boot from Moonlight Roller, a Black-owned brand founded by 25-year-old skater Adrienne Cooper. The skates have a "well-cushioned and stable" boot that Perrino says make them great for "dance, jam, artistic, and park skating." That boot is made of 100 percent suede, which is one reason why they're a bit pricier than the Impalas. And their smaller wheels make them better for more advanced skaters — as do their adjustable toe-stops, a feature you'll want for learning more advanced skills and tricks.
Best roller skates for rink skating
High-cut synthetic boot | nylon plate | 57 mm/95A wheels | adjustable toe-stop (except for size 14) 
Bell, Heiden, and Bravo told us about the Fame skates from Sure-Grip. Bell says the "classic style and lightweight hardware" is great if "dancing and gliding is your thing." Indeed, the special wheels are designed for spinning, turning, and gliding, making them ideal for maneuvering on a slippery rink floor. Bravo notes that the skates, which have synthetic boots, only come in black and white, telling us the white pair's "classic look" reminds her "of the skates that folks would wear on Venice Beach in the 1970s." But Heiden says that even though the skates are "limited in colors, they are a great skate." In fact, the Fame wheels are the ones she uses most for roller dancing — and the ones she used in the Chet Faker "Gold" music video. Heiden also notes that you can upgrade the cushions (like bushings on a car), which will "allow for more maneuverability as your skill level increases."
Best roller skates for rhythm skating
High cut leather boot | customizable hardwear 
Rhythm skating is a style of skating that combines elements of dance and roller skating. It requires a specific kind of boot — called an artistic boot — that typically has a higher top for added ankle support and a bit of a heel to shift your weight forward, both of which help you safely execute different techniques. To those who are looking to really bust a move, skater Liz Brazile suggests these skates from Riedell. While they are pricey — the retail price of the boot itself is $289, and that's before customizing it with additional parts, like wheels — she explains that "they're one of the cheapest Riedell artistic-boot models." Brazile adds that these boots only come in black and white; black is available in men's sizing, while the white boots come in women's sizing, so she says to "make sure to follow the sizing charts closely."
Best (less-expensive) roller skates for rhythm skating
High-cut vinyl boot | nylon plate | 62mm/78A wheels | adjustable toe-stop 
For a cheaper pair of skates (that comes with wheels) you can rhythm skate in, RousHer suggests Sure-Grip's funkier Stardust skates. They have a glittery boot (which comes in gold, blue, and pink, in addition to the black shown) with a groovy '70s roller-disco vibe to match your dance routine. RousHer adds that the stiff vinyl boots "are vegan, and the skates come with adjustable toe stops." The Stardust skates also come with harder, smaller wheels that make executing dance moves, such as turning and gliding, easier and faster.
Best roller skates for street skating
High-cut split leather suede boot | customizable hardwear 
If you know you want to get serious about street skating, investing in a high-quality, durable boot is a must. Both Bell and RousHer say that the boots on these Jack Boot skates from Moxi make them a prime choice for street skating. According to Bell, the skates are designed for "taking on concrete, ramps, and rough terrain," and RousHer says they are "perfect for parks" because of their high-performance, padded suede boots that are extra firm and offer superior ankle support. She does warn that "the skates take about ten hours of break-in time, but just like a good pair of Doc Martens, after that break-in time, they feel like heaven and are well built to handle any aggressive skating you are doing." Bell adds that slightly upgrading the standard out-of-the box Jack Boot skates is worth it if you'll be using them a lot. For the perfect setup, Heiden suggests mounting the Moxi Jack Boot on a metal plate with an adjustable toe stop from either Roll-Line or Komplex, and finishing it off with wheels from Rollerbones Team Wheels or CIB Park Wheels.
Best (less-expensive) roller skates for street skating
High-cut synthetic leather boot | 61mm/78A wheels | fiberglass-reinforced plastic plate | non-adjustable toe-stop
At a much more palatable price point, these Chaya Melrose skates with a vegan synthetic boot come recommended by Heiden, who says they make good street skates because they have a bit of heel — like that on rhythm skates — that will automatically shift your weight onto the ball of your foot for increased agility. "Right out of the box, it won't be hard to cruise around town and maneuver obstacles" in these, she says. To get even more bang for your buck, she says to upgrade them by swapping in some affordable long-stemmed toe-stops that not only offer added stability, but make it even easier to stop when you need to because they're lower to the ground.
Best roller skates for park skating
Moxi recently released their Jack 2 boot, which is designed with even greater ankle support and stability than the original Jack Boot. After a doctor prescribed an ankle brace to alleviate strain caused by daily high-impact skating, the founder of Moxi skates, Michelle Steilen, was inspired to improve the ankle support of the Jack 1 and added double-backed, dual-density padding to the Jack 2 that wraps underneath the heel through the top of the ankle and mimics the stabilizations of her brace. Because the Jack 2 is engineered to withstand high stress, it's a great choice if you're taking your park skating to the next level and plan to learn tricks with more high-impact landings, use your skates for multiple hours a day, or just feel like you need more ankle support while skating. It also features a shearling tongue lining for increased comfort and a tongue stabilizer to keep the tongue in place. Because it is the stiffest of the Moxi boots, the brand recommends 20 hours of break-in time before the skates will completely form to the contours of your foot.
Best roller skates for roller derby
Low-cut leather boot | 38x59 mm/91A wheels | aluminum plate | adjustable toe-stop 
Roller derby skates are designed with agility in mind and typically have a lower-cut boot and more padding than rink or street skates. When it comes to roller derby, both Heiden and RousHer like the Antik AR2 Roller Skates for their comfort, durability, customization options, and leather boot that, while low, is a bit higher than other low-cut boots. "When I first tried them on, they felt like an extension of my foot," says RousHer. "The boot is heat moldable, so as you skate in them, they will mold to you."
Best (less-expensive) roller skates for roller derby
Low-cut vinyl boot | 38x59 mm/84A wheels | nylon plate | adjustable toe-stop 
If the Antiks are out of your budget, Heiden likes the Riedell R2 Roller Derby Skates, telling us that, for roller derby, they are the "most popular entry-level skate for a reason." That reason — or reasons — being the durable vinyl boot, lightweight PowerDyne nylon plate, and solid wheels. These have a super-specific cut, so Heiden suggests paying close attention to the sizing specifications.
Some Strategist-approved roller skating pads and helmets, too
Our experts
• Kaci Bell, roller-skating blogger
• Toni Bravo, roller skater
• Marician Dedeaux Brown, roller skater
• Candice Heiden, professional roller skater, coach, and co-founder of L.A. Roller Girls Entertainment
• Jas Moore, roller skater
• Lauren Perrino, roller skater
• Rebel RousHer, roller skater and video creator who posts tutorials on her YouTube page Queer Girl Straight Skates
• Morgan Weske, roller-dance choreographer
The Strategist is designed to surface the most useful, expert recommendations for things to buy across the vast e-commerce landscape. Some of our latest conquests include the best acne treatments, rolling luggage, pillows for side sleepers, natural anxiety remedies, and bath towels. We update links when possible, but note that deals can expire and all prices are subject to change.