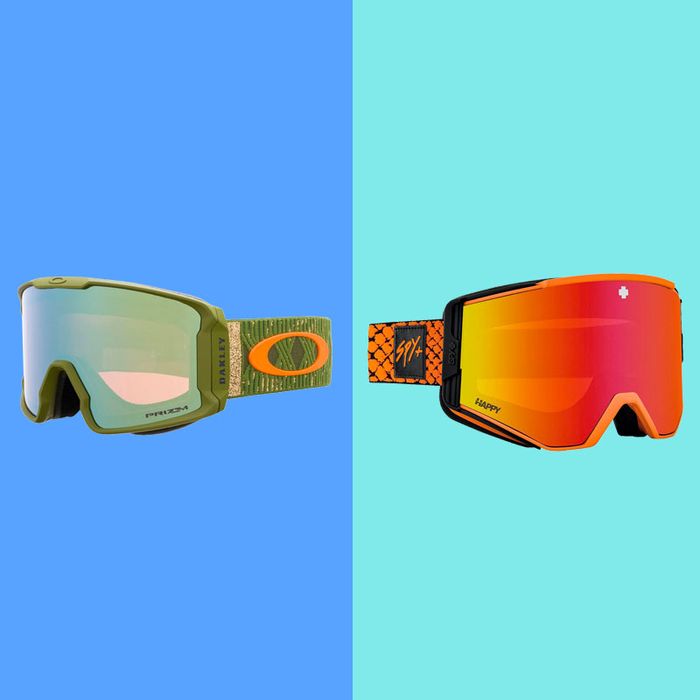 Photo-Illustration: The Strategist
"Even just for a week's trip, investing in a good pair of goggles is well worth it," says Sarah Plaskitt, founder of the Australia-based ski travel company Scout Ski. "Maybe if you get great weather you won't notice a difference using $20 goggles, but if it's foggy or snowy or raining, you'll probably be so frustrated after the first day you'll spend $300 at the resort gear shop." That doesn't mean you need to drop hundreds of dollars for a solid pair of goggles, though. All the experts I spoke with agreed that you could get a well-made pair with quality lenses for between $100 and $150.
Goggles serve a few functions. The first is helping you see, both by filtering out glare and protecting against UV light and, in higher-quality lenses, enhancing color contrasts to help you see depth when the light is "flat" (a shadowless effect from sunlight dispersed by clouds). The second is to shield your eyes from wind in your face, an inevitable and uncomfortable side effect of ripping down a groomer at 40 mph (or even 15). The third is to keep snow — and rain, if you ski in the Pacific Northwest like me — out of your eyes.
If you need vision-correcting aids along with your goggles, there are a few options. Personally, I wear contact lenses when I ski, since they have better depth perception than glasses, and don't require moving my head as much for peripheral vision. Prescription goggles are available, too, if you're not a contacts person. And some goggle styles are specifically designed to accommodate glasses with little notches in the foam to hold the corners of glasses in place. Spherical goggle lenses pair better with eyeglasses, since they have less glare.
There's two main options here: cylindrical and spherical (a few brands make a shape that's somewhere between the two called toric). Cylindrical lenses are generally a little less expensive, but have a slightly more restricted field of vision above and to the sides than spherical ones. Spherical lenses also cause less distortion and glare — overall, the better option if visual quality is a top priority.
Visual Light Transmission (VLT)
An important goggle lens spec, VLT is shown as a percentage. The greater the percentage, the less tinted the lenses, and the more light gets through. So 90 to 100 percent VLT lenses are essentially clear and good for night skiing, while 10 percent lenses are very dark and ideal for full sun. Most skiers and riders will be able to use anything between 30 and 70 percent for nearly all of their skiing with a low-light option around for the occasional evening and early morning lap, night skiing, and really overcast days.
Ultimately, the most important thing when buying goggles is fit, which will vary from person to person. A lot of brands offer many of their styles in a range of sizes, from larger and smaller frames for different-size faces to low-nose bridge fits (also called "Asian fit" by some brands). This means more options if you pick based on style and features as well as fit.
The foam around the lenses should be flush to your face without any openings for snow or water to get in, while still wrapping around the sides of your face as much as possible for a better peripheral view. The only way to know whether a goggle's foam will fit seamlessly against your face is to try it on, but if you have a sense of the measurement between your temples (approximately the same as glasses width) you can narrow down options online based on the goggle's dimensions.
Goggles need to fit not only your face, but also with your helmet. To keep all your skin protected from the elements, the curve of your goggles should perfectly match the edge of your helmet, so that there's not a gap between the two. Generally, goggles and helmets of the same brand will be compatible — but you don't have to stick to a single brand, and either way, Plaskitt recommends trying on goggles while wearing the helmet you'll be using them with.
 "The versatility of dual lenses is really valuable," says Megan Amick, who says at this point she wouldn't buy goggles with a lens that couldn't swap out. There's plenty of goggles for less than a hundred dollars that come with multiple lenses. Of course, if you know that you always (or nearly always) ski in the same conditions, the simplicity (and lower price) of a fixed-lens goggle might be preferable.
Anti-fogging and anti-scratch coatings are pretty standard practice and not worth mentioning as distinguishing features, but many of the goggles on this list come with different bells and whistles, like photochromic lenses (which adjust level of tint when there's changes in brightness) or polarized lenses (which block reflections).
Best overall ski goggles
Lens shape: Cylindrical | VLT: 5.5% – 65% | Frame sizes and width: Medium and large, 165 mm | Interchangeable lenses: No | Other features: Notches for eyeglass frames
Plaskitt and Amick both swear by Oakley's Prizm lenses, as does Strategist editor Maxine Builder. "They're super-clear, great definition," says Amick, who likes how the Line Miners fit. "Personally, out of all the lenses I've ridden with, the clarity and definition you get with the Prizm lens sets it above." Plaskitt agrees, and adds that Oakley's lenses are responsive enough to light to get away with not having a quick-change option on most models. Builder likes the Line Miners so much she opted to get two pairs of them, one with a heavily tinted lens and another with a clearer lens, for different conditions.
Best (less expensive) ski goggles
Lens shape: Spherical | VLT: 13% – 29% | Frame sizes and width: One size, 200 mm | Interchangeable lenses: Yes | Other features: Color optimization technology
Boulder, Colorado-based skier Maeve Axtell uses the Pro Plus on weekly winter trips into the mountains. The frames only come in one size — "definitely a little on the larger side," says Axtell — but the interchangeable lenses have great definition and field of view. "I wouldn't spend more on goggles even if I could," says Axtell. "These have everything I could want."
Best lens quality, cylindrical
Lens shape: Cylindrical | VLT: 6% – 90% | Frame sizes and width: Regular and Asian fit; 200 mm for regular | Interchangeable lenses: Yes | Other features: None
Big enough to have a great field of view but not so large that they're comical on a small face (I use the smaller Asian fit) the Ella has Giro's top-tier lens technology, a sleek frameless aesthetic, and a simple lens changing system. They've been my daily drivers since I first tried them on. Amick also has them in her rotation, and suggests Giro's Vivid lenses — particularly the spherical "Contour" style — as a great option for anyone prioritizing visual quality.
Best lens quality, spherical
Lens shape: Spherical | VLT: 9% – 50% | Frame sizes and width: Small, medium, extra large, low nose bridge; 222 mm for regular | Interchangeable lenses: Yes | Other features: None
Every expert I spoke with mentioned the quality of Smith's lenses. Their goggles also have the widest size and fit range across their styles of all the brands on this list. Emily Lloyd, a ski instructor in Oregon, finds that the I/O MAG holds up as well as any goggle does in the rain and heavy Pacific Northwest snow without any fogging. "My favorite part is how easy it is to switch out the lenses for different conditions," she says.
Best goggles with single lens
Lens shape: Cylindrical | VLT: 5% – 75% | Frame sizes and width: One size, 172 mm | Interchangeable lenses: No | Other features: Photochromic lens
Amick recommends Julbo's Cyrius goggles to anyone who wants to ditch the hassle of carrying around spare lenses without compromising on light protection and visual quality. These photochromic lenses can adjust to all but the darkness of night or the brightest bluebird days, making it a much-sought-after quiver of one.
Best ski goggles for style (and function)
Lens shape: Cylindrical | VLT: 25% – 90% | Frame sizes and width: One size, 170 mm | Interchangeable lenses: Yes | Other features: None
Style is as individual as fit, but some models give you a little more room to express yourself than others. While there's a handful of high-fashion ski goggle options out there, most of the aesthetic decisions are subtle: shape, size, frames, lens, and band color. Miles Hollinger, a former ski instructor in Santa Fe, New Mexico, and Becca Holdhusen, who grew up skiing in Whitefish, Montana, both recommend Spy+ to anyone looking for high-performing goggles that still make a statement with fun patterns and bright colors. "Look good, feel good, ski good," says Hollinger, who also likes that his Aces offer "a good balance between field of view and not being too big for my delicate features."
Best customizable ski goggles
Lens shape: Spherical | VLT: 9% – 50% | Frame sizes and width: Custom size and variable width | Interchangeable lenses: Yes | Other features: None
Only you can decide whether you need a custom pair of goggles 3-D printed based on a scan of your face, but if you do, I can tell you that Smith's technology delivers. Made using the same camera software that enables Face ID on iPhones, the frame of these goggles fit as perfectly against my face as spoons nesting in a drawer.
Our experts
• Becca Holdhusen, skier
• Emily Llyod, ski instructor
• Maeve Axtell, skier
• Maxine Builder, editor, The Strategist
• Megan Amick, gear buyer, Evo
• Miles Hollinger, former ski instructor
• Sarah Plaskitt, founder, Scout Ski
The Strategist is designed to surface the most useful, expert recommendations for things to buy across the vast e-commerce landscape. Some of our latest conquests include the best acne treatments, rolling luggage, pillows for side sleepers, natural anxiety remedies, and bath towels. We update links when possible, but note that deals can expire and all prices are subject to change.
Every editorial product is independently selected. If you buy something through our links, New York may earn an affiliate commission.