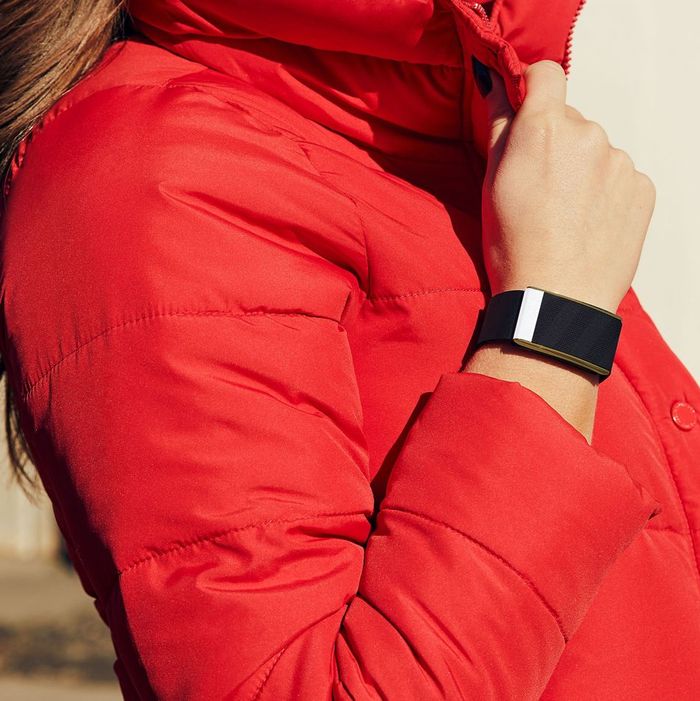 Until recently, my only fitness tracker was a pair of too-small jeans I'd try on every few months to see if they still buttoned. But after a run one day, I limped into the living room to find my husband watching something on YouTube about Whoop, a fitness tracker that coaches your recovery, not just your activity. I was intrigued, so I asked the company if I could try one out.
Recovery is a buzzy fitness metric right now, and of particular interest to me since I'd taken up running early in the pandemic and had suffered the consequences of making every classic new-runner mistake. Starting slowly, warming up, cooling down, strength training, taking days off — I dismissed all that as internet herd-think designed to ruin my good time. I just needed to get out and run for an hour every day and nothing was going to stop me, not even a fresh case of IT band syndrome in my second week. (If you're not familiar with it, and I hope you're not, IT band syndrome is a debilitating overuse injury runners get that feels like an ice pick stabbing the outside of your knee right around mile three, when you're just starting to feel happy. There's no consensus about how or even if it can be treated.)
The strap itself is free, but you will need to pay for a monthly membership, which costs $18, $24, or $30 per month, depending on the length of your subscription
Whoop is a wrist strap that collects data 24/7 and feeds it to an app that you consult, if you're me, constantly. For a monthly fee, the service tracks your sleep and your heart rate like other fitness trackers, along with your heart rate variability (HRV) — the amount of variation between your heartbeats. The higher the variability, the better your heart can vacillate between the signals it gets from both the sympathetic (fight or flight) and parasympathetic (rest and digest) branches of your nervous system. Essentially, the more easily you can go from languishing by a gentle stream to running away from a saber-toothed tiger, the fitter you are.
While there are other trackers that track HRV, Whoop is the only one that measures it during the same phase of your sleep cycle each night, thus providing a more accurate overall picture. It uses your HRV and other data (like how much and how well you slept and how much strain you've endured the previous day) to determine how prepared your body is for training. If you wake up in the red, you should take the day off or do some sort of active recovery, like a long walk or casual bike ride. If you're yellow, you can push yourself, but it's not the day to try for a PR. And if you're green, hit it as hard as you can.
I was surprised how well I took to the strap, which was so light and comfortable, I barely knew it was there, even when it was wet. I was also flattered and delighted to learn of my colossal HRV, which rivaled that of a 20-year-old elite athlete's, neither of which I am. But most shocking was what Whoop told me about my sleep. I thought I was an insomniac whose only sleep came as short intervals of pure nightmare alleviated only by daybreak. But Whoop told me that I typically got eight hours, had few awakenings, drifted back to sleep quickly, and slept better than 90 percent of my fellow Whoopers. (Jesus, what were their nights like?) They say it takes about two weeks for Whoop to really learn you well enough to start giving you targeted advice about how to train and rest, but what I got in the first couple of days was nothing short of transformative. (All the time I used to spend Googling things like "insomnia brain plaques Alzheimer's" could now be spent doing literally anything else, for starters.)
As the days went on, I noticed that how I felt didn't always jibe with how Whoop said I felt. Oftentimes, I woke up feeling strong and refreshed but in the red. Other times, I woke up green but felt awful. Not to be punny, but those colors really colored my mood, and not always for the better. Instead of fighting it, I deferred to Whoop's superior knowledge and followed its recommendation. Eventually, though, I grew weary of Whoop's tone, removed that amazingly comfortable strap, and decided to read my body's signals on my own once again.
It's not that I mind being told when to go to bed, or how favorably I compare to other Whoop users (I like that), or even asked what I ate that day. It's just that Whoop is far too forgiving for my taste. I know when I've worked hard and when I haven't, and spinning my sloth into triumph ("Great job! A low strain day like today will help you build recovery!") doesn't fool me, it irks me. I started to feel like James Caan's character in Misery, with Whoop, my biggest fan, right there with my favorite typing paper and a bottle of "Dom Perig-non" for when I finished my masterpiece. But I know that most people, if talked to any other way, would probably say Whoop was mean, so I understand: It's not Whoop, it's me. I can also forgive the fact that no amount of adherence to red, yellow, or green coaching was able to fix my knees. That was asking too much.
In the interest of science, and with plenty of time and not much else to do during the pandemic, I was able to use my Whoop to discover some helpful health truths that I'm excited to share.
1. When I took on a month of hard-core whole food, plant-based eating, my numbers were abysmal (and not just because it devolved, early in the first wave, into hard-core Oreo-based eating). Seventeen days on keto not only imparted the most apocryphal numbers I'd seen my whole time on Whoop, but it took an entire month to get back back into the green.
2. Any significant emotional distress, including spousal arguments, existential dread, fear of unemployment, homelessness, etc., were enough to plunge me into the red.
3. Wholesome food (roast chicken, pasta, vegetables, that sort of thing), prepared with love and eaten with gratitude while rewatching The Sopranos, gave me the best numbers of all.
Essentially, I learned firsthand that extremes are bad, and balance is good. I suppose I could've just reread Goldilocks and the Three Bears, but that would've been too easy.
If I were training for a marathon, let's say, or someone approaching fitness without a bag of injuries and issues, Whoop would be an indispensable tool: It provides accurate, valuable information and is easy and fun to use. But right now I don't want that level of engagement with anything that can't binge-watch old HBO shows with me, boil water, or wag its tail. And though I've yet to return to running (I found I like HIIT workouts better, actually), I'm giving myself a default setting of "green" each morning. Not necessarily for workouts, but for life — bright, verdant green for whatever I want to do or not do. To me, that's healthy.
The Strategist is designed to surface the most useful, expert recommendations for things to buy across the vast e-commerce landscape. Some of our latest conquests include the best acne treatments, rolling luggage, pillows for side sleepers, natural anxiety remedies, and bath towels. We update links when possible, but note that deals can expire and all prices are subject to change.