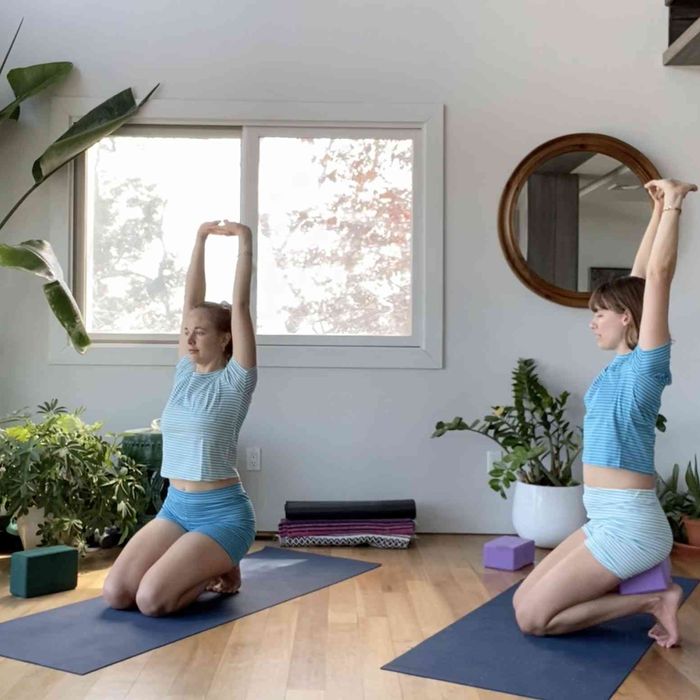 Now that we've been social-distancing for close to a year, we've adjusted — more or less — to spending most of our time at home. And though some things are harder to re-create, like enjoying a happy-hour drink with friends or going to the office to catch up with co-workers, it's fairly easy to get your workout in without leaving the house or entering a crowded, sweaty studio.
To help you figure out which online workout classes and programs are actually worth the money, we asked our writers and editors to share their go-to online workouts, which include yoga and boxing, even dance cardio. We each judged them based on how the classes compare to being there in person (if we've tried it), the likability of instructors, accessibility for exercisers of all skill levels, price, and effectiveness of the workout. Below, 17 workouts we sweat through (and loved) for Pilates, barre, strength training, and more, without leaving the house, organized in alphabetical order.
Ballet Beautiful
Price: From $4 per video, or $40 per month after a $16 one-month trial period.
Type: Ballet-inspired barre.
Length: 4 to 20 minutes; on-demand.
Tester: Chloe Anello, who has been doing Ballet Beautiful three times a week for about two years and almost every day in quarantine.
Tl;dr: If you don't have a lot of time (or the attention span), Ballet Beautiful breaks down targeted and effective ballet-like workouts into as little as four minutes.
What It's Like: I don't remember how I found Ballet Beautiful — probably Instagram — but I do remember thinking, "Six minute videos? I can do that." And in the past two years of trying probably a dozen or so online workout subscriptions, it's the one I've really stuck to. Because former New York City Ballet dancer Mary Helen Bowers, the founder and instructor, breaks the workouts into small, targeted videos that vary from a 4-minute ab workout to a 16-minute lunge routine, I can stay focused on the task at hand. I mostly enjoy her mat routines and think I've seen the most improvements in my strength from those, even though they're at most eight minutes each. I improved my flexibility doing her daily dance stretch routine — which has elements of yoga in it as well as classic (I think) ballet stretches — and I seriously think it's helped me sleep better since I started doing it every night to wind down.
I don't pay for the monthly streaming membership; I actually buy the workout videos because I'm very loyal and stick with the same ones for a few months until I decide I need a new challenge. The monthly membership gives you access to all of her classes — I can only watch the ones I bought — so if you like variety, that route might be a good choice for you. The videos are clearly labeled for beginner, intermediate, or advanced students, so Ballet Beautiful works well for all levels, and I'll probably continue doing it until I become a so-called advanced student.
be.come Project
Price: $35 per month with a ten-day free trial.
Type: Pilates.
Length: 25 minutes; on-demand.
Tester: Dominique Pariso, who picked this workout up about two weeks ago.
Tl;dr: The be.come Project focuses on one Pilates routine per week with demonstrations for how to modify each move based on your body type and accessibility.
I decided to try the be.come Project after reading this review on the Cut, and it's quickly become my new favorite. Founded by SLT alum Bethany C. Meyers, the digital fitness platform posts only one new 25-minute workout every week that combines all the feel-good elements of Pilates, yoga, and dance. I think the most frustrating part of digital fitness is that trying to watch your screen as you move can become distracting. The one-routine-a-week method provides a clever antidote. As the week progresses, and my body learns the moves, the workouts become almost meditative. The platform is focused on accessibility. The other demos in each video are actual clients with a range of body types and Meyers really takes the time to explain modifications. They also post tutorials breaking down common mistakes for each sequence, which has been so helpful. My form has improved a lot, and I'm not waking up in the morning with any back pain. Another brilliant feature is the video player's music mode: Turn it down to hear only instruction, up to hear only the playlist, or keep it in the middle to listen to both.
The Class by Taryn Toomey
Price: $40 per month with a 14-day free trial.
Type: Pilates-yoga-HIIT hybrid.
Length: 60 minutes; live and on-demand.
Tester: Dominique Pariso, who did the 14-day free trial during quarantine.
Tl;dr: For a full-body Pilates workout that's beloved by celebrities, The Class offers live classes seven days a week with access to on-demand videos in their digital library.
I had always been intrigued by The Class — beloved by celebrities like Drew Barrymore and Naomi Watts — but never managed to make it to the studio for an in-person experience. Luckily, they launched a digital platform, which broadcasts classes live seven days a week, and I now have nothing but time on my hands. The Class is basically broken down into three elements: calisthenic heart-pumping moves like burpees, jumping jacks, and squats; mat Pilates–style moves on the floor; and then something I can only describe as a "jumping around" section where you, well, jump around. Periodically, you're asked to pause and place your hands on your body. The intention here is to listen to your heartbeat and your breath while an instructor coos affirmations at you, but I always took it as an opportunity to guzzle water. Overall, I liked the Class, but I do think that figuring out which instructor's style you like best matters. While some teachers like Jaycee and Karla keep me engaged the whole time, there were others I turned off halfway through. After a 14-day free trial, a subscription will cost you $40 a month, and The Class doesn't require any equipment besides a yoga mat to get started. A membership gets you access to livestreamed classes, as well as an on-demand library of 10 to 35 minute Focus classes and 60 minute Collaboration classes led by founder Taryn.
Crunch Fitness
Price: $10 per month with a 90-day free trial, or free with a Crunch membership.
Type: Varied.
Length: Varied; on-demand.
Tester: Liza Corsillo, who joined Crunch fitness a year ago and started the online workouts once quarantine started.
Tl;dr: If you want a wide variety of classes and the opportunity to try something outside of your comfort zone, Crunch online has the most options in one spot.
My partner has been a member of Crunch for years and encouraged me to stop spending my money on individual yoga classes and start going to the same types of classes included in a membership. I pretty quickly realized what a good deal it was, and even though I have never excelled at self-guided workouts, I found that I really enjoyed watching TV while using an elliptical machine. One drawback was that the popular classes — things like Sunday morning Pilates and Caribbean dance — always filled up quickly, and even if I got a spot, I would end up either too close to the front — very embarrassing — or squeezed into a back corner without a good view of the instructor. With Crunch gyms closed, I have started using Crunch Live — an online library of fitness classes taught by Crunch instructors. Because I can do them on demand, I now have access to a much wider variety of classes from straightforward cardio workouts to targeted abs or butt toning, and even a few dance classes taught by the Brooklynettes where I can try my hand at choreography from actual center-court performances. Because I do them in my living room where no one but my partner can see me, I am much more likely to try classes outside of my comfort zone, and each one is like a private training session. I'm looking forward to going back in person one day (the sauna was amazing) but I'll probably continue to do online classes as well.
E.F.F.E.C.T. Fitness
Price: Free on Instagram live or $25 per month.
Type: Boot camp.
Length: Varied; live or on-demand.
Tester: Tembe Denton-Hurst, who has tried a handful of classes on Instagram Live.
Tl;dr: If you want a high-intensity workout set to great music, E.F.F.E.C.T's boot-camp-style workouts will have you sweating in minutes without requiring you to download another app.
When it comes to working out I need it to be upbeat and make me sweat. The music also needs to be good. E.F.F.E.C.T Fitness ticks all of those boxes, and best of all, their workouts are held via Instagram so I can get a sweat in without having to download yet another app. Known for their massive classes (think 100-plus people) and frenetic pace, their videos have gone viral on a few occasions, and after taking a few of their classes I see why. It really does get you sweating, and the pace ensures that you're never bored. The class alternates between quick-paced banded workouts, bodyweight exercises, and cinder blocks for quick step-ups to the tune of mashed up early-aughts and trap music. It's been something to look forward to during quarantine, and makes me want to book a flight once this is over to try the class IRL.
Housework by Sydney Miller
Price: $13 per class.
Type: Pilates and cardio.
Length: 45 minutes; live.
Tester: Hilary Reid, who does the classes two to three times a week.
Tl;dr: If you're looking for a true sweat session, Housework requires little to no equipment (it's soup-can-as-weight and paper-towel-as-slider friendly) and combines Pilates with strength training for a full-body workout.
If you told me three months ago that I would be doing burpees and mountain climbers on my bedroom floor to house music in a Zoom class led by a SoulCycle instructor, I would … not have believed you? But these are unusual times, and Housework, which is led by Sydney Miller, is truly a great workout. Her 45-minute classes combine cardio and Pilates, and are the only at-home workout I've found that leaves you drenched in sweat by the end. The class has four phases: first, a warm up with planking and ab exercises on the mat, then some cardio that usually involves hand weights, then a section with sliders, and then a final cardio push at the end. I heard about the classes through a friend who used to go to Sydney's SoulCycle classes, and who sent me the link to her website, where you can see a calendar of Zoom classes for the week and reserve a spot by paying through PayPal (you can sign up up until half an hour before class starts). Classes cost $13 (part of the proceeds to go COVID-related charities) and are held every day. I've been doing two or three of her classes a week, and the sweatiness of it all makes it an ideal release for quarantine.
Kayla Itsines Bikini Body Guide
Price: $20 per month or $45 for her e-book.
Type: HIIT.
Length: 28 minutes; on-demand.
Tester: Lauren Ro, who has been doing Kayla Itsines's routines on and off for six years.
Tl;dr: If you'd prefer not to use a screen, Kayla Itsines offers her 28-minute-long HIIT workouts in her original book, or you can buy the app if you'd rather be guided.
I was an early adopter of Kayla Itsines's 12-week Bikini Body Guide (BBG) workout. I found her on Instagram in 2014, when she had maybe around 2 million followers (now she has over 12 million) and was impressed with the before and after photos her followers had posted. Her program is based on high-intensity interval training (HIIT) workouts that are 28 minutes long, broken up into four, seven-minute sections. You cycle through a set of exercises the entire seven minutes without taking a break. Then you move on to the next set of exercises for seven minutes. After a longer break, you repeat the first set of exercises, then the second. You do this three times a week, and you're supposed to supplement those with walking and jogging on the off days. Even if you only do the three workouts per week (and don't follow the meal plan, which I didn't), you will see results. And it's perfect to do at home, as you only need a set of weights and a bench (or a chair), if I'm remembering correctly.
The benefit of the app, which costs $20 per month, is that you can see exactly how to perform the moves. (She also has an e-book, but the photos could be hard to follow.) The timer is built into it, so you don't have to fiddle with one yourself. Also, I love Kayla. She's so positive and unpretentious and just seems like a genuinely lovely person! And even though she's more popular than ever, and I think I'm a little too old for her program, I would definitely return to it.
LEKFIT
Price: $20 per month with a seven-day free trial.
Type: Pilates and strength training.
Length: 11 to 60 minutes; on-demand.
Tester: Dominique Pariso, who completed the free trial.
Tl;dr: Lekfit requires equipment, such as hand weights or ankle weights, but offers quick workouts that can be easily done on your lunch break.
I decided to tackle Busy Philipps–approved Lekfit, which is probably best known for their upbeat cardio rebounder classes, but actually offers three different types of classes, all of which require some equipment. The Boost class is perhaps what they are best known for and requires a mini rebounder, as well as ankle and hand weights. Hype has similar cardio and strength training moves to Boost (sans rebounder), while Define is basically Pilates. Since I only have hand weights, I stuck with Define and enjoyed its versatility: you can do it with or without weights depending on how intense you want it to be. Lekfit was also way easier on my joints than the Class, which I appreciated because I'm working with some old injuries. They post new classes each week in addition to their existing library of videos. I also highly recommend their Basics series, which are designed to teach you the fundamentals and serve as quick workouts that are perfect if you want to break a sweat during your lunch break.
Melissa Wood Health