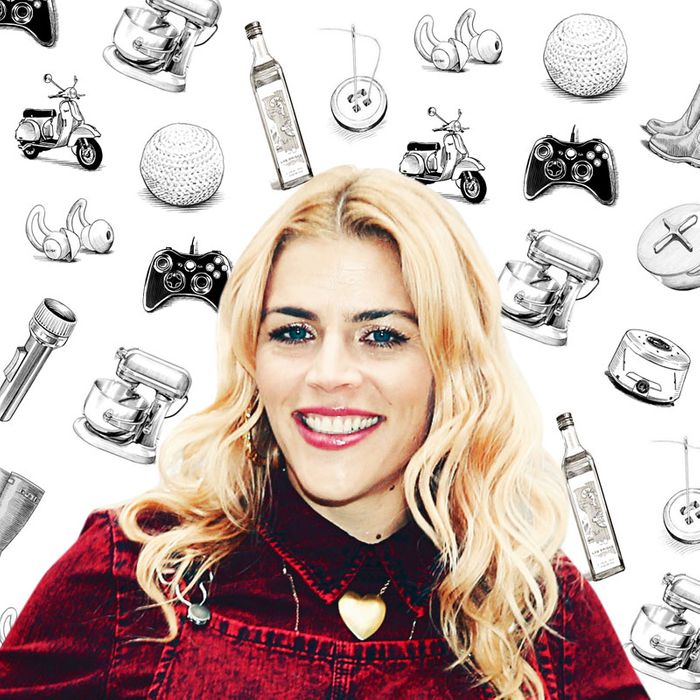 Photo: Courtesy of Getty Images
If you're like us, you've probably wondered what famous people add to their carts. Not the JAR brooch and Louis XV chair, but the hand sanitizer and the electric toothbrush. We asked actress, writer, and director-producer Busy Philipps — who has a partnership with Michaels stores — about the bath salts, electrolyte powder, and red lipstick she can't live without.
They really did it, didn't they? They really permeated the continent with these water bottles. I think that, obviously, the climate crisis is one of the most important things that we need to focus our energy on. While we need change on a governmental and corporate level, we all need to do our part. I'm constantly drinking water, and for me, the Hydro Flask has been the best reusable water bottle. I have a giant one and the slightly smaller one, which I keep in my car. I feel like with some of the other water bottles I've tried, I would get three sips of water and then need to refill them. And if you're out for the day, then you're just trying to find somewhere to refill your water bottle.
Taking an Epsom bath at night is everything. Year-round, but especially in the winter and this time of year, when you're stressed out. It helps you sleep; it helps you feel better; it relaxes your muscles. I like the lavender and I get it at the drugstore.
I just got them and they really work — they really cancel the noise out. Pop them in when you're overwhelmed with your family during the holidays and listen to some music. When it comes to Christmas music, I think less is more. My mom is really into it. But I do like the Sufjan Stevens Christmas album. I have it on vinyl.
I work out a lot and I sweat a lot. Over the summer, I noticed I felt weird, like truly weird. I was spacey and thought I might be getting sick, and I couldn't figure out what was wrong with me. And then someone said, "Hey, have you had any electrolytes?" So I got these electrolytes, took them with water, and within half an hour felt so much better. I feel like people forget about electrolytes. They really help you rehydrate. I like the lemonade powder — for my first Hydro Flask of the day, true story, I add the electrolytes in with the water.
I'm actually wearing one right now; I have four and they go with lots of different things. My hairdresser Kiki ordered some for me last year after I had seen them on Instagram. My targeted ads on Instagram are amazing; I love them.
It's my favorite lipstick. I've gifted this to a bunch of people and it looks good on everyone that I've given it to. It's also a great red lipstick to wear to holiday parties. The best part about it is that it is one of those lipsticks that doesn't come off, so you can eat and drink, and not feel like the middle of your lip won't have lipstick on it. But at the end of the night, when you wash your face, it's not difficult to get it off. Sometimes with those long-lasting lipsticks, you need a jackhammer to take them off. But this is a great color that lasts forever, and then at the end of the night, is super easy to take off.
I've known Lauren — who started LekFit — for a really long time. I love her and I love supporting women that start their own businesses. She was a trainer of mine at another gym nine years ago, and she left when she had kids. And when she decided that she wanted to start training again, she was just doing it out of the back of her house. I ran into her, and she was like, "Oh, you should come!" For me, the mini-trampoline workout combined with the leg lifts and ankle weights has been — first of all — so fun. And it's also not hard on my body and my joints. It's a low-impact, high-cardio workout that has really has changed my view of my body. I'm really strong now. Plus, using a rebounder helps with lymphatic drainage, which is good for your body all around. When I travel, I throw the ankle weights in my bag and use the streaming service. My husband always gets mad because our luggage is always over the weight limit, but he's just got to deal with it. He can take out a pair of shoes; I need to do my workout every morning.