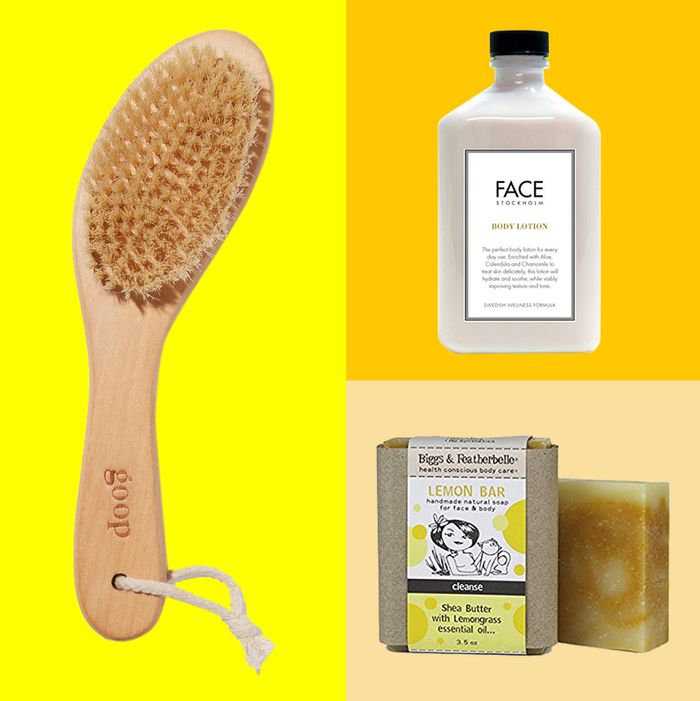 Photo: Courtesy retailers
Confession: Covering the beauty and skin-care arena for the past several decades, I've turned into a product fiend — a hoarder of lotions, creams, serums, and gels. And if they're really good, I extract every last drop from their containers. The items I riff on below keep my neck, chest, haunches, arms, legs, elbows, knees, and feet not just smooth and de-scruffed, but also relatively firm and even energized. There have been so many game-changing, powerhouse skin-care advances lately — especially when it comes to hardworking AHAs, vitamin C, and humectants — that it's frankly nuts not to benefit from them.
Let me add that I love the sensuous experience of taking a soapy shower and then plying certain specific creams and serums — I'm choosy, readers — onto my freshly laundered skin. Being a fragrance fiend, I especially go for the scented goods. "They can enhance our experience, reduce stress, and improve relaxation," agrees the Medford, Oregon dermatologist Lauren Naversen Geraghty, who used to be a beauty writer and editor. (Of course, she also notes that those with sensitive skin are better off sticking to unscented products.)
Dr. Geraghty is one of several experts — a dermatologists, a podiatrist, a fragrance scholar — I consulted in my assessment of the absolute best lemongrass soups and cloudberry moisturizers and Japanese wash cloths for cleansing and indulging myself from the neck down. Here are the items I've come to relish most, in and out of the shower.
For washing and scrubbing
The most exhilarating of all the bath and body products I've ever tried isn't a cream or gel. It's the Goop G-Tox Ultimate Dry Brush, and it's biodegradable, made from the leaves of the Mexican sisal palm — the same agave plant that's given us tequila. So no wonder it packs a punch. The bristles' texture feels slightly softer than those of a straw broom, and I've got to say, swooshing this brush over my limbs and haunches — I usually do it right before I get in the shower — leaves them feeling shimmering and woke. Dry brushing is "a form of exfoliation," as New York dermatologist Whitney Bowe explains it (she's also the author of Dirty Looks: The Secret to Beautiful Skin). "By removing several layers of dead skin cells, other products you use will penetrate deeper" thanks to the brushing, she says, "and it helps prevent ingrown hairs from forming." Just do it in moderation, she adds. "Twice a week is plenty."
Once I'm in the shower, humble, old-fashioned bar soap is my go-to shower cleanser — and not just for nostalgia reasons. Bar soaps are financially as well as ecologically smarter than the liquid varieties, which don't last nearly as long, due to their high water content. And the right bar soap, made with grime-attracting botanicals, can be moisturizing. As is the case with the beautifully scented Biggs & Featherbelle Lemon Bar. Part of an environmentally friendly, synthetic-free product line developed by two health-conscious sisters in Maryland, it's hand-mixed in stainless-steel stock pots with olive, coconut, and palm oils, along with shea butter, antioxidant annatto seed powder, and vitamin E. So mild is this soap, it works as a face wash, too — great for travel. Plus, I love the scintillating aroma, derived from lemongrass essential oil (slightly spicier than lemon). This is a soap for starting the day.
I used to live in Scandinavia and can attest that the Swedes, in particular, have an austere streak, which may explain their partiality to tart and hardy cloudberries. They mash them into jams, they routinely dot them over ice cream and thin pancakes, they stir them into yogurt, and cloudberries are a distinctive scent in several of Face Stockholm's bath and body products. I met with a fragrance scholar to further my education in this realm: Virginia Bonofiglio is Associate Chairperson of FIT's Cosmetics and Fragrance Marketing Department, and in sniffing the Scandinavia Body Scrub, Bonofiglio described the aroma as "eminently wearable — fruity-floral with a sea-mineral note." Not only is it a fantastic wakeup call, but the pert little berries are packed with vitamin C and Omega-3 — which protect them from the icy weather in the Arctic Circle, where the berries grow. As for the scrub component, it whisks away grime but is not too abrasive.
Also for in-shower exfoliation, nothing I've ever used comes remotely close to the Salux Nylon Japanese Beauty Skin Bath Wash Cloth/Towel. Made of a specially treated, heavy-duty 60 percent nylon/40 percent polyester weave, this abrasive scarf-shaped cloth not only instantly and ingeniously lathers up when it comes into contact with soap, but is brilliant at reaching every inch of my back, besides sloughing away dead skin on my elbows, knees, and butt — and it makes for a quick but thorough ear scour, too. Momentarily before exiting the shower, I also give it a swipe across my face. Unlike a loofah, which harbors bacteria, this cloth rinses clean and pretty much lasts forever.
For moisturizing
Immediately after my morning shower, with my skin lightly toweled off but still slightly damp, I smooth on one or more of the five body balms I'm about to discuss. Sometimes I use them singly, sometimes with one layered on top of another. This Aquaphor product always goes on first, whether or not I layer another body product on top of it. And I usually limit its use to really dry areas, like elbows, upper arms, and upper legs. Most of the dermatologists I've ever interviewed adore Vaseline and other forms of petroleum jelly for chapping, softening, irritation, and general skin soothing. But petroleum jelly is infuriatingly gooey. Or, I thought it was, until Dr. Geraghty introduced it to me in aerosol form. The Aquaphor Advanced Therapy Ointment Body Spray's delivery system somehow obligingly turns petroleum jelly into a nonsticky balm that's ideal for parched areas, especially wintry arms and legs. Dr. Geraghty likes it for those "who take medicines that can dry the skin (statins for cholesterol and Accutane for acne are two common ones)." And the aroma is quite refreshing (Bonofiglio agrees).
You know those wondrous exfoliating, cell-renewing AHAs that so many of us use as complexion renewers? They needn't be limited to face products. On the body, too, "They can help keep skin soft and reduce ashiness and flaking," Dr. Geraghty tells me. Lancer the Method: Body Nourish, for one, is a thick, rich, luxury cream that's rife with 10 percent glycolic acid — the AHA with the smallest molecule, which means optimal penetration. It's also got skin-loving vitamins C and E, and moisturizing marula, kigelia, and Kalahari melon-seed oils. And its got a watermelon-y ("herbaceous — not too perfume-y," as Bonofiglio put it) scent.
Then there's AmLactin Rapid Relief, a drugstore staple that delivers a whopping 15 percent shot of skin-sloughing lactic acid — the AHA derived from milk — in easy-to-maneuver lotion form. Yes, it has a slight buttermilk smell, which can be offset with the addition of a perfume oil or, for instance, one of the two following scented body balms in my regimen.
Craving another dose of scintillating cloudberry after showering with it in scrubbing-grain form, I ply it on using Face Stockholm's Body Lotion, which also contains sunflower-seed oil for smoothing. And though it's a lightweight lotion, it seems to have a magnetic attraction to the skin, so it gives non-runny, stay-put coverage.
New York's Union Square Farmers Market's Tweefontein stand is always mobbed. No wonder. It sells gorgeous elixirs and body smoothers, especially its Lavender Balm, with a blissful, long-lasting scent and a texture that reminds me of whipped butter. FYI, Tweefontain is a collective herb farm in New Paltz, New York, that practices permaculture, biodynamics, and homesteading. I use this one whenever I crave a hit of lavender. And it tends to linger like a perfume.
I'm guessing that Moroccanoil's powers-that-be decided, while choosing a name for its syrupy, highly concentrated Night Body Serum, that it was simply too mesmerizing and swoon-inducing for daytime use, so they earmarked it for bedtime. Smart decision. Lately I've been taking late-night showers just so my skin can best absorb its dense argan and tsubaki oils, stress-combating holy basil, and smoothing vitamin C esters. I spread it everywhere, like an invisible layer of satin. As for the scent, Bonofiglio says it reminds her of rose and amber. Whatever it is, it's dark, dense, and erotic.
For hands and feet
My hands have accumulated brown spots, which lately I've been treating with SkinCeuticals Neck, Chest & Hand Repair. This supersmart pourable lotion-cream contains both hydroxyphenoxy propionic acid, a nontoxic hydroquinone derivative for combating discolorations, and vigna-aconitifolia-seed extract, a retinol alternative, for minimizing the sluggish look that also accumulates on weathered hands. And since I suffer from turtleneck malaise (the scruffy, crepe-y texture that descends on my throat area when I repeatedly wear scrunch-neck and roll-neck sweaters—my winter favorites), I find it also tones that bleh area up, at least temporarily. As for passing the sniff test: While it's fragrance-free, a great, citrusy aroma still comes through.
Did I mention? I'm a knitter — the kind who can't resist stopping at any yarn shop I happen to pass. Which is how I discovered that many of these supply stores also sell all-natural hand balms, in solid form, that won't spill onto knitting projects. The idea is to work them onto clean hands before picking up needles and yarn. This way, the emollient ingredients mingle with and lightly scent the wool or other fibers in the yarn. Of course, such balms are divine for other crafts and for non-crafting hands, too. One of the best, and certainly the most lush-smelling, is the heavenly Love + Leche Citrus-Rose Lotion Bar, handmade in New Mexico by a goat farmer-beekeeper friend of Love + Leche's proprietor, who ran a goat and bee farm herself before moving to Santa Fe. The bar comes unadorned, if you like, but I prefer it with a bee and sunflower sculpted on top like scrimshaw. It's sold in an old-fashioned tin, and once it's used up, replacement bars are available.
The smartest mechanical device I've ever used for foot-smoothing is the handy Silk Feet Bladeless Exfoliating Microscreen. No knife. No scalpel. No grainy pumice. Just a framed oval screen, made of rough-hewn but bendable quartz and silicon, that's slightly larger than the palm of my hand. New York podiatrist Kirk Lebensfeld recommends using it pre-shower, on dry feet, and says it's especially effective on the flat surfaces of the heels and soles.
Hey, if my face and body can be chemically exfoliated, why not my feet too? They're the scruffiest of all. And AmLactin, in its wisdom, has a skin-sloughing lactic foot cream as well as a variety of lactic-acid body lotions and creams. Dr. Lebensfeld cites a multipart layering system in Amlactin's Foot Cream that restores and hydrates the skin. Specifically, it's got 12 percent ammonium lactate, plus sodium and phosphate lactates. These not only chemically remove dead skin cells but simultaneously act as humectants, attracting available moisture. Petrolatum and emulsifying wax, meanwhile, have a smoothing effect, and mineral oil prevents water loss. For overnight therapy, Dr. Lebensfeld advises his patients to apply this cream, followed by plastic wrap around their feet, and then a pair of socks.
The Strategist is designed to surface the most useful, expert recommendations for things to buy across the vast e-commerce landscape. Some of our latest conquests include the best acne treatments, rolling luggage, pillows for side sleepers, natural anxiety remedies, and bath towels. We update links when possible, but note that deals can expire and all prices are subject to change.