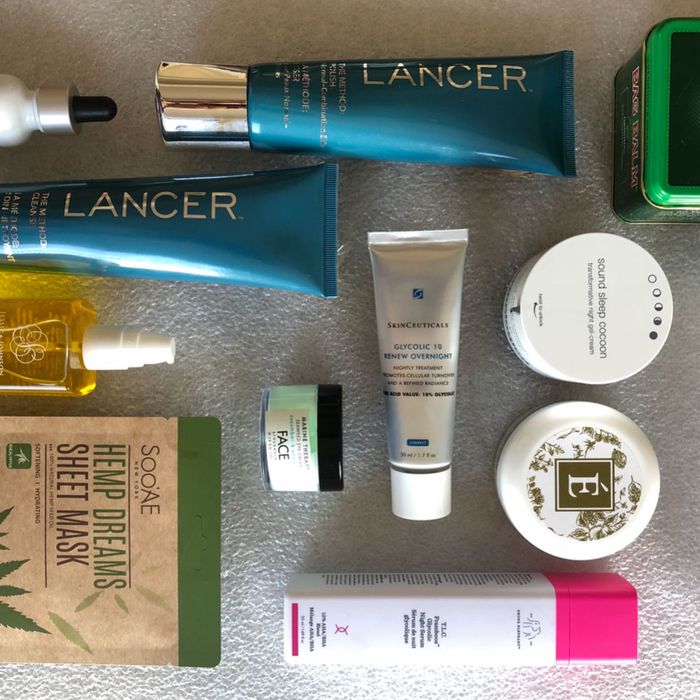 I've been researching and writing about beauty products since the 1980s. So yeah, I may come across as a beauty-product fiend. That is possibly true. Friends routinely ask me for recommendations, and I often get annoyed hearing what they're putting on their skin. (What? You're bothering with THAT?) I've chronicled my daytime skin-care routine here on the Strategist, but when it comes to nighttime products, I've got especially strong opinions about what works and what's an absolute waste. Such as:
First of all, the whole idea that the skin sleeps and restores itself at night is completely ridiculous. The skin is an organ. It can't sleep. We wouldn't want it to. But at the end of the day, when the makeup comes off and our faces aren't disturbed by wind, rain, or sweat — that's a great time to power on hardworking treatment products such as a glycolic-acid serum, with its now-legendary buoyancy-restoring, cell-turnover, glow-giving skills.
Second, today's skin-care market is flooded with a slew of effective and safe treatments. Some are longtime favorites of mine from legacy brands; others come from upstart backwoods suppliers I'd never heard of — not to mention the innovations flowing in from Japan and Korea. All of this is good news for anyone who cares about her or his skin.
Third, on the other hand, I don't automatically buy the hype about all the exfoliators, peptides, antioxidants, anti-inflammatories, etc., that are now added to treatment products. Sure, some of them, like AHAs (my all-time favorite skin rejuvenators) and kojic acid (a skin lightener), have proven credentials. But others — sage … royal jelly … barley — while they may be nutritious when eaten, they don't come with a lot of evidence that they're beneficial when applied to the skin, which, after all, is a barrier.
Fourth, and this one is crucial: I've learned to hedge my bets when it comes to using high-octane treatment products. To get the specific benefits of each, I rotate them from day to day. So for example, I use only one glycolic product per night. And on non-glycolic nights, I'll use just one of my moisturizers. I even take nights off with nothing on my face.
Fifth, a confession: I've developed a taste for scented treatment products. Late at night, my nose appreciates the ones that are soothing. But they're not for everyone. Laurel Naversen Geraghty, a dermatologist practicing in Medford, Oregon (who led a past life as a beauty writer and editor), says, "Fragrance added to skin-care products is one of the most common causes of allergic skin rashes. For anyone with sensitive, rash-y, itchy, or irritable skin, it's safest to choose unscented skin-care products."
Finally, I've learned that nothing terrible happens to my face if I'm too sleepy to cleanse it every once in a while.
Makeup remover
I always start my nighttime face cleansing with the moisturizing version of Andrea Eye Q's Eye Make-Up Remover Pads. Better than any others I've ever used, these little discs pretty much do away with every last trace of eye makeup — even the mysteriously stubborn Moroccan kohl that otherwise stayed on my lids for a couple of days.
Exfoliator
Next comes exfoliation via scrubbing grains, at least several nights a week. Dr. Geraghty recommends this step not only to strip away surface sebum, but very likely "enhance the benefits of a glycolic peel," she says. To avoid irritations, the grains, I've found, need to be tiny and evenly shaped. Lancer. The Method: Polish has them to perfection in the form of quartz and sodium bicarbonate micro-crystals. I also love the omnipresent lavender aroma. Alternatively, I just discovered the brand new Face Stockholm Green Tea Exfoliator, whose scrubbing grains are paradoxically kind of droopy, making for extra-extra soft polishing. Key ingredients are green tea (and yes, it's got that delicate green tea aroma), as well as aloe, and papaya. But it's the addition of cellulose that interacts and clumps up with skin oils and winds up creating the floppy grain effect. Yet even gentle scrubs like these two aren't for everyone. "Sensitive skin types would be wise to start off using glycolic acid on a test spot before committing to a full-face peel," adds Dr. Geraghty.
Next comes exfoliation via scrubbing grains at least several nights a week. Dr. Geraghty recommends this step not only to strip away surface sebum but to very likely "enhance the benefits of a glycolic peel," she says. To avoid irritation, the grains, I've found, need to be tiny and evenly shaped. The Lancer Polish has them to perfection in the form of quartz and sodium-bicarbonate microcrystals. I also love the omnipresent lavender aroma. Alternatively, I just discovered the brand-new Face Stockholm Green Tea Exfoliator, which indeed contains green tea and, yes, has a delicate green-tea aroma. Blended with it are aloe, papaya, and, most important, cellulose — which is there to clump up with skin oils, creating a semi-soft grainy effect as it does so. Yet even gentle scrubs like these two aren't for everyone. "Sensitive skin types would be wise to start off using glycolic acid on a test spot before committing to a full-face peel," adds Dr. Geraghty.
Cleanser
That same lavender scent pervades the Lancer Cleanser, the Lancer Polish's follow-up. I find this cream cleanser incredibly satisfying. It foams, making inroads into every millimeter of my face, giving a psychological spic-and-span impression. Plus, it has a rice-amino-acid complex to rev up hydration and suppleness.
Alternatively, especially when the weather gets cold, I like an oil cleanser. Jessica Johnson 3N1 Hybrid Face Oil, which triples as a makeup remover and light moisturizer, has terrific cling power, and within seconds its light lemongrass aroma bursts through. Maybe best of all, on really late nights, when the last thing I want to do is stand at the bathroom sink, it feels so great left on my skin that I don't bother with follow-ups. FYI, Johnson is a savvy aesthetician who plies her trade in Portland, Maine.
Toner
Next comes a toner. I like the frill-free varieties that feel like they're clearing out any cleanser residue. That's what the water- and alcohol-free Amore Pacific Treatment Toner does using red-ginseng extract as a water replacement and water-lily extract as a very mild astringent. I splash it on with my fingertips, rather than bothering with a cotton puff (which absorbs a lot of the liquid).
Serum
After umpteen years using prescription Retin-A and AHAs, my face doesn't have a ton of wrinkles, but I do get brown spots (which Dr. Geraghty often calls "adult freckles," adding that they're caused by the sun). For stubborn discolorations, I spend a few months spot-treating them every morning and night with a prescription hydroquinone. Then, for the next few months, I switch to SkinCeuticals Discoloration Defense, containing kojic acid, a well-established botanical lightener derived from the same fungi used to make soy and sake. It operates by turning off melanin production and is extra-effective when combined, as it is here, with a couple of other melanin-busters: tranexamic acid, another Asian favorite, and niacinamide (vitamin B3). And since it helps prevent future discolorations, I apply it all over my face. You've got to be persistent and patient with a lightener like this, using it every morning as well as at night. Spots begin fading after a month or two. Just keep at it. And whatever else you do, wear a broad-spectrum consistently. "Otherwise," per Dr. Geraghty, "there's no point to any of it."
I'm a committed glycolic-acid user. The glow and firmness it gives, the wrinkles it reduces … what's not to love? But when they were introduced in the 1980s, glycolics were irritating. They needed calming down. The new generation accomplishes just that. There are two glycolic gels, slightly different from each other, that I value so much I use both, rotating them on different nights after cleansing, toning, and applying a lightener. Each of these gels is lightweight, easily spreadable, and contains salicylic acid, which not only unclogs pores but is a calming anti-inflammatory. One of them is Glycolic 10 Renew from SkinCeuticals, well known for its high-grade treatment products; it's a 10 percent serum with a creamy consistency. It also contains jojoba and vitamin E, to soothe and moisturize, and phytic acid, a pore tightener.
Equally excellent on my skin is the T.L.C. Framboos Glycolic Night Serum from Drunk Elephant, a savvy relative newcomer to high-octane skin care. This one's got a 12 percent blend of glycolic with salicylic, along with those supporting AHAs, lactic, tartaric, and citric acids — not to mention a slew of romantic-sounding botanical ingredients that complement and balance the AHAs. Raspberry extract (that's the "framboos") is added to rehydrate. Cactus? That's for calming, while horse chestnut is said to help reduce the appearance of broken capillaries, and summer lilac is supposed to help curb UV damage. Both the Drunk Elephant and the SkinCeuticals glycolics leave my skin radiant and energized for a couple of days. And they don't need topping off with a moisturizer. That would reduce their potency.
Moisturizer
Then there are the nights when I go glycolic-free. Instead, I turn to the Dermalogica Sound Sleep Cocoon. I admit … its twist-to-unlock-and-pump container, delivering discreet dabs of gel-cream, appeals to the waste-not minimalist in me. And then there's the hit of sandalwood and patchouli — sensual in a soothing way. As it warms on my skin, it almost becomes a face perfume. But those are extra added attractions. This sleep mask also has treatment smarts, depositing a fine velvet-textured haze on my face. (Yes, it is like a cocoon. Good name.) Atypical botanicals in it, like tamarind-seed oil and wu zhu yu (evodia fruit, a Chinese-medicine staple), have a history as anti-inflammatories, while Persian silk-tree extract seems, at least, to leave a firming effect. And yes, my complexion feels firmer the next morning. Lovely!
Years ago, at one of those Monoprix bargain stores in Paris, I caught my first whiff of monoi — a swoon-inducing blend of Tahitian gardenia and coconut oil. It came in a multipurpose beauty oil that I bought and treasured back home … until it ran out. Then just recently I stumbled on Eminence Organic Monoi Age Corrective Night Cream, an overnight moisturizer that's not only got that distinctive gardenia-coconut monoi combo but combines it with argan, evening primrose, jojoba, and grape-seed oil as well as shea butter. It slips onto my skin like fragrant silk, and in the morning my face feels firm and toned. What a find.
Friends and I were hiking the supposedly not very difficult Mount Tom (ha! it was more like killer) outside Woodstock, Vermont, when a tumultuous rainstorm hit. Soaked to the bone, we trudged into town in our squishy boots. That was bad enough. My parched lips were even worse. Inquiring at the local drugstore, I was enthusiastically directed to Vermont's Original Bag Balm — an old-time farmer's remedy originally intended for overworked cow udders. (But plenty of humans use it too.) It came in a retro-looking cube-shaped forest-green tin that I instantly fell in love with. I bought the eight-ounce size. Ever since, I've used it just about every night — not just on my lips but sometimes on my neck and collarbone area, and there's still plenty left. It's that concentrated. Made of lanolin, petroleum jelly, and 8-hydroxyquinoline sulfate (an antiseptic), it's definitely gooey. Yet it clings to my lips not just for an hour or so, like other lip balms, but definitely overnight.
Sheet mask
On other non-glycolic nights, I'll put on a sheet mask. Certain beauty addicts wear them on long-haul red-eyes — hey, why not? The lights are out — but I wear mine for 20 minutes shortly before bedtime. Once I peel it off, I smoosh in the residue, letting it absorb overnight. Sheet masks are all about occlusion — trapping a nurturing, moisturizing, or revitalizing formula on the skin to increase its efficacy. The Soo'AE Hemp Dreams Sheet Mask is one that really stays put and never remotely feels as though it's about to drip. I've yet to decide how I feel about its title ingredient, hemp, derived from cannabis. It may help with moisturization. But this mask also has hydrating coconut extract, plus allantoin, for simulating collagen production, and eucalyptus and pine extract, which give the skin a gentle kick. After about ten minutes on my face, it begins feeling effervescent. Nice!
Eye cream
Eyelid skin is too damn delicate for its own good. Yet there's so little of it, you think … how hard can it be to keep it refreshed? Very. But the Face Stockholm Seaweed Eye Cream does an amazingly good job at keeping that lid skin dewy, maybe because it contains what may be an ideal blend of soothing, gel-like seaweed extract, cucumber extract (high in water content), and neem-leaf extract (a hydration booster). With this one, I wake up with eyelids that don't scare me when I touch them.
The Strategist is designed to surface the most useful, expert recommendations for things to buy across the vast e-commerce landscape. Some of our latest conquests include the best acne treatments, rolling luggage, pillows for side sleepers, natural anxiety remedies, and bath towels. We update links when possible, but note that deals can expire and all prices are subject to change.