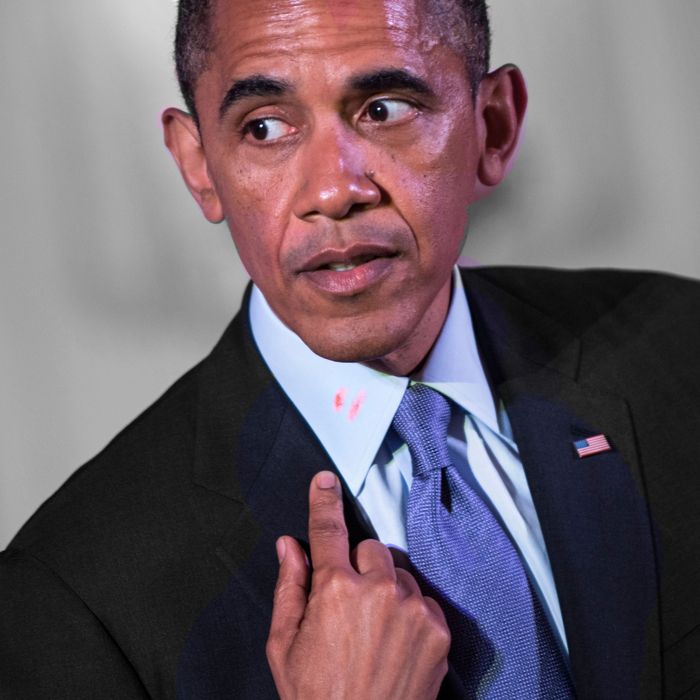 Photo: Brendan Smialowksi/AFP/Getty Images
It is a fact of life that if you wear makeup, you will inevitably get some of it on your clothes. It is also a fact of life that removing makeup from your clothes can be a real pain — whatever makes your eyeliner smudge-proof on your lids makes it just as hard to remove from your white shirt. Luckily, that white shirt is not a lost cause, because with the right tools, you can remove those stubborn stains from eyeliner — and foundation, mascara, loose powder, lipstick, and other makeup — for good. When it comes to what exactly to use to remove makeup stains, "it all depends on what ingredients are in the product that stained the clothes," explains makeup artist Sofiia Strykova. "If the product is waterproof, you would need an oil-based remover to break it down first. If it is not waterproof, then an alcohol-based cleaner is a good option. It's all about the proper chemistry."
To find out the best products and techniques for getting makeup stains off all sorts of clothes, we spoke to seven makeup artists and cleaning professionals for their tried-and-true picks and tricks. Not surprisingly, many of them said the best all-purpose thing to use to get makeup off your clothes would be the same thing you use to get it off your face — makeup remover — whether in liquid or wipe form. But there are less obvious solutions, too, including some things you might already have in your cleaning cupboard. Read on for every product the experts told us about, and how to use it.
Best overall products for removing makeup stains
The best time to attack a makeup mishap is right away, according to the experts we spoke to. "Try to remove all stains as soon as you notice them," says Kadi Dulude, owner of New York City–based cleaning company Wizard of Homes. "Don't give it time to really sink into fabric." Fortunately, the best product to use on a variety of makeup stains is something you'll most likely already have on hand: makeup remover. For waterproof mascara and eyeliner stains, for example, Dulude and makeup artist Shara Strand recommend using an oil-free eye makeup remover to remove stains from garments. "Use what you'd use to get it off your eyes," says Dulude. "Use make-up remover to gently remove the stain. Just make sure it's an oil-free remover, or you'll make the stain even worse." She recommends Neutrogena's oil-free eye makeup remover, and Strand (who created her own oil-free makeup remover for her Shara cosmetics line) says eye-makeup removers like hers and Neutrogena's will even work on stains beyond mascara: "An eye-makeup remover is the best way to remove any makeup stains on clothing, including waterproof makeup. In my opinion, it's the surefire, tried-and-true, tested way to go." Makeup artist Kornelija Slunjski at Honey Artists agrees, saying she uses it on lipstick stains, too, because of their oil-based formula.
To help get stains out when using an oil-free, liquid eye-makeup remover, Strand also arms herself with disposable mascara spoolies and a white towel. But before you work the stain, Strand stresses to first wash your hands: "When you've been around makeup, the littlest bit will travel." Then, she suggests taking a dry mascara spooly and a small amount of the remover — "a little bit travels a long way"— and apply it to the stain either over a sink or a towel. "Gently, without too much force, remove the stain using a back-and-forth motion for about 10 seconds at a time," she says. "I would wait and let it dry. See how it kind of dries out, and then as needed, you can apply it again. You could even take a hair dryer and dry it out so there's no water stain." Strykova also employs a spooly for combatting stains. "I find that using a cotton pad wrapped around disposable mascara wand and soaked into the appropriate cleaner is the best way to work with the stain," she says. "It helps to apply the perfect amount of pressure on the stain."
Best wipes for removing makeup stains
Makeup artist Melissa Bedi also uses makeup remover in the form of wipes to fight stains. "If I have it handy, I first reach for my Neutrogena makeup wipes," she says. "They have a mild makeup remover in them, and if used right away, can eliminate the stain with little effort. Always use a dabbing motion in place of rubbing the stain." They're especially useful for powdered makeup stains, like those from eyeshadow. "You want to take your hand and just dust it off," says Bedi, to prevent spreading and setting. "I find it best to blow off the excess, and then use a makeup wipe or makeup remover on a cotton pad to remove it." Slunjski agrees: "When it comes to stains caused by loose powders, I find that a makeup wipe does the trick, and a piece of scotch tape, if it's only sitting on the fabric."
Best spot remover for makeup stains
Dulude says that "one thing I always try first is to gently rub the stain with dry baking soda," but if that doesn't work, she reaches for this all-purpose spot remover as a first line of attack. "It's an easy thing to try and good to have at hand — not only for makeup stains on clothes but also on stains on rugs and fabric couches," she says. "And as with any stain-removing process, try it out on a small hidden area first to make sure that it won't ruin or fade the fabric."
Best beauty and grooming products to remove makeup stains
Beauty and grooming products are also great for removing makeup stains, according to our experts, three of whom recommended shaving cream for combatting pesky foundation stains. "The best product I have found for removing foundation stains is shaving cream — especially once a stain is set into the material," says Bedi, who keeps Barbasol shaving cream in her kit at all times. Dulude agrees: "The ingredients in shaving cream should help loosen up the stain before the wash." Makeup artist Vanessa Ungaro also uses shaving cream on foundation stains. To get them out, she says to "dampen the area with cold water and apply shaving cream directly onto the stain. Rub gently with your fingers or a soft toothbrush." If you need a little extra potency, Ungaro recommends adding a drop of rubbing alcohol into the mixture and to continue rubbing gently. Then launder the item of clothing in warm water. If you don't have shaving cream handy, Dulude says shampoo is another product she uses to get foundation stains — as well as those from powders and concealers — out of clothes. She recommends this natural shampoo from Puracy.
Hair spray also came up a lot among our panel of experts as another makeup-stain remover that works particularly well on lipstick stains. Dulude uses Boldify hair spray: "Spray a little hair spray onto the lipstick stain, leave it on for ten minutes, then lightly tap and scrub the stain and then wash in the machine as usual." Bedi turns to hair spray, too, as an "in-the-moment solution" that will lock the stain in place and prevent it from spreading. "Just wait for the hair spray to dry, then take a cold, wet face cloth and spot treat by doing pressing motions," she explains. "This will help loosen the stain and remove the hair spray gently. The hair spray I have been using in my kit is Moroccanoil Luminous Hairspray Extra Strong, but any strong-hold, alcohol-based hairspray will do." Ungaro agrees, saying that an alcohol-based hair spray is another of her favorite makeup-stain removers.
Best household products to remove makeup stains
"The most universal cleaning product is any type of rubbing alcohol," says Bedi. Like an alcohol-based hairspray, it's particularly useful in removing lipstick. "Lipstick is waxy and stains, [but] an alcohol-based product, or just straight rubbing alcohol on a cotton ball will take it right off," says Bedi, who uses alcohol on stains caused by eyeliners and lip liners, too. Our other experts agree. According to Theresa Williams, co-founder of Williamsburg laundromat Celsious, "lipsticks and pencils are usually wax-based and lift well by blotting with a cloth or paper towel soaked in rubbing alcohol." Strykova also turns to alcohol in removing non-waterproof makeup stains.
In the absence of alcohol, hairspray, or eye-makeup remover, Slunjski says you can also remove lipstick stains using a grease-fighting household cleaner like Lysol. "Spray it on the stain and let it sit for 15 to 20 minutes," she says. "If I feel the stain will easily come out, I'd hand wash it. Or I'll put it in the washer if it's more 'hard-core' and let my washing machine take over."
Because of its grease-cutting properties, it's not surprising that many of our experts say dish soap will also work like a charm on a range of makeup stains. "Using a degreasing soap works just as well to remove lipstick, lipgloss, and eyeliner," says Ungaro, who says it will work on oil-based foundation stains, too, although it may require a little more effort due to dish soap's heavier consistency. She recommends starting with a prewash spot cleaner (more on that below), but "if you do not see the stain lifting, apply a liquid dish soap with a degreasing agent directly onto it," she says. Dulude recommended Biokleen dish soap (which she uses on stains from self-tanning lotions), but Bedi and other dish-soap advocates say most standard dish soaps, like Dawn, will work. "Just apply detergent to the stain and scrub away," says Bedi. "This is definitely a later move if other techniques are not available. If the stain is still being stubborn, you can sponge the area with some white vinegar, then repeat previous steps." Strykova agrees: "With old stains, you've got to clean first with the appropriate brush cleaner, then follow up with dishwashing liquid, then throw it into the washing machine and add a stain remover liquid for best results."
Best soap stick for removing makeup stains
Williams agrees that soap makes a good a makeup-stain remover, and recommends using this vegetable-oil-based soap stick that — like other vegetable-oil-based soaps — "is extremely potent at lifting grease stains," she says. Williams told us that Meliora's ecofriendly Laundry Stain Removal Soap Stick is the go-to makeup-stain remover at Celsious, where they aim to "tackle even the toughest stains with all natural and non-toxic products that are also easy to use at home." To use it, she suggests lightly wetting the stain with water, then rubbing in the soap with a clean cloth or toothbrush. "Let it sit for five to 10 minutes and then dab the stain with a clean piece of cloth, transferring as much of the lifted product as possible from your garment to the rag," she says. "Repeat and occasionally flip the garment inside out to work the stain from both sides. Once the stain has significantly lifted, rinse the spot under running water. Once the stain is fully removed launder as per garment care instructions."
The Strategist is designed to surface the most useful, expert recommendations for things to buy across the vast e-commerce landscape. Some of our latest conquests include the best acne treatments, rolling luggage, pillows for side sleepers, natural anxiety remedies, and bath towels. We update links when possible, but note that deals can expire and all prices are subject to change.