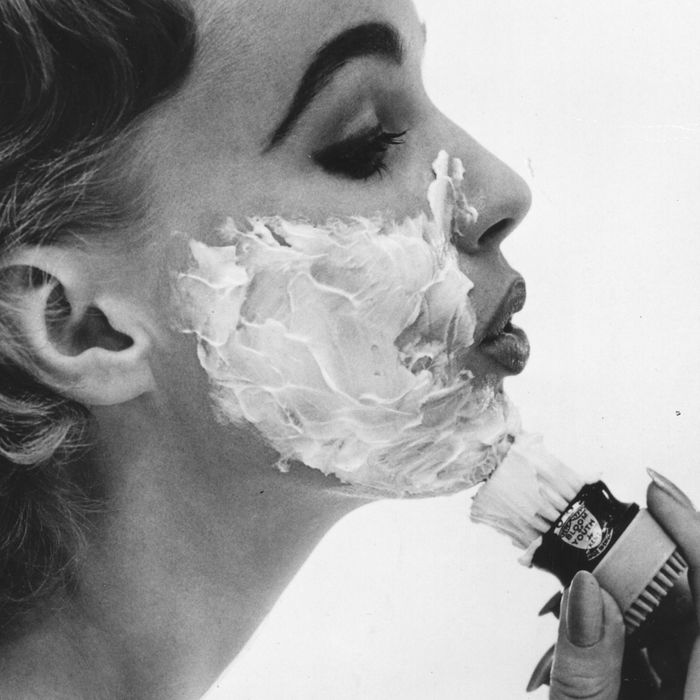 Photo: Hulton Archive/Getty Images
For women, shaving isn't often the first strategy that comes to mind for removing unwanted facial hair, but it's long been an open secret among beauty bloggers that it's one of the best ways to get rid of hair and prep skin for easy makeup application. Now, with endorsements from both celebrity estheticians like Kate Sommerville and Bachelor contestants like Michelle Money, female facial shaving has gone mainstream, and experts agree it has several advantages over waxing or tweezing.
As Jeannel Astarita, founder of Just Ageless Body and Beauty Lab, says, "I never recommend waxing the face. It's tugging at the skin and it very often causes blemish eruptions because the sebaceous glands are attached to the hair follicles. When you pull the hair follicle out with waxing or tweezing, you're disrupting the sebaceous gland and bringing oils to the surface." She also likes that shaving is a "gentle form of exfoliation," that can improve skin texture. And it's not true that hair grows back coarser after shaving. Dermatologist Dr. Janet Prystowsky explains that because a razor cuts hair at its midpoint, which has a wider diameter than its end, new growth can appear coarser. "With plucking and waxing the hair has been ripped out from the root so the next new hair from the follicle will have a finer leading tip," she says. If you're interested in a face shave, read on for five dermatologists and an esthetician's recommendations for razors and shaving creams that'll give you the smoothest, hair-free face.
Best single-blade razors for women
Back in 2016, Kathleen Hou, beauty director at the Cut, introduced us to these Japanese razors with a cult following. She loves that "they're small enough to fit under your chin, with enough of an edge to remove peach fuzz, yet not so sharp that they'll nick you." Dermatologist Dr. Nava Greenfield of Schweiger Dermatology Group agrees that they're a great choice. "The most important thing is to not reuse a razor blade," she says, and since these are cheap and disposable it's easy to use a new one for each shave.
Like the Shiseido razor, the single-blade Tinkle, mentioned by Dr. Robyn Gmyrek, a dermatologist at Union Square Laser Dermatology, is made for the fine hair on women's faces. Despite the name, Gmyrek cautions against actually using it on your eyebrows where a false move could lead to weeks of awkwardly filling in your brows. "I would recommend tweezing that area," she says, "especially if you are trying to achieve a specific shape."
Best multi-blade razors for women
Gmyrek also recommends the Venus, "a triple blade razor with a smooth glide strip," that helps it move effortlessly over the skin. She says you'll have the best results if you "shave in the direction of hair growth, not against the grain, [and] rinse the razor between each stroke."
Best disposable razor for women
Prystowsky says plastic, disposable razors are fine to use on your face and, if you don't reuse them, they can actually be your most sanitary option. "Razors must be changed after every single use to avoid infections and introducing bacteria into the skin," says Greenfield. Astarita finds a twin-blade razor, like this one, easier to use than one with an exposed, single blade that's more likely to nick your skin if you aren't careful.
Best electric shaver and dermaplaning system for women
This electric shaver is another one of Engelman's favorites. She likes that it's "quick and painless, cutting the hair on the surface of the skin. Since it is not pulling hair from the follicle, there is less irritation to the skin."
Depending on your hair type, at-home dermaplaning may also work for hair removal. Astarita says, "I love it for people who have a lot of vellus hair – that soft fuzzy hair or 'peach fuzz.'" In professional settings, estheticians will use a scalpel to gently remove the top layer of the skin (and any hair along with it), and there are now lots of options for getting the same results at home. Dr. Joshua Zeichner, director of cosmetic and clinical research in the department of dermatology at Mount Sinai Hospital, suggests this one from Michael Todd Beauty. Zeichner likes that dermaplaning devices "provide vibrating effects to stimulate collagen and strengthen the skin," and are "extremely safe and have been designed so that you do not cut yourself when you use them."