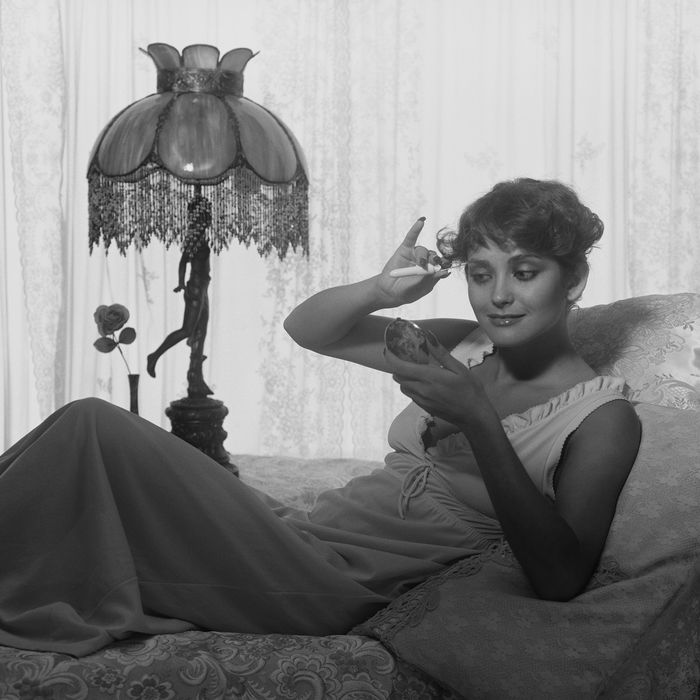 Photo: Tom Kelley Archive/Getty Images
Whether you want to do some upkeep between eyebrow-threading sessions or you prefer to do all of the brow maintenance yourself, having a reliable set of tweezers in your medicine cabinet comes in handy. The right pair of tweezers can make plucking less painful and more precise — not to mention help you banish an errant face hair, ingrown hair on your bikini line, and any number of other fine hairs that might bug you. And while you might have an old faithful pair of tweezers for your brows, they won't always do the trick for other hairs, especially stubborn ingrowns. To find the best tweezers to remove every type of hair on your body, we talked with six aestheticians and brow experts about their favorite tweezers for eyebrow shaping and maintenance, facial hair, and ingrown hairs.
Overall best tweezers
Tweezerman is something of a cult brand in the world of eyebrow shaping, and five of the six aestheticians we talked to named the brand's Slant Tweezers as their go-to, solidifying the brand and the top-selling style as a tried and true classic. "When it comes to finding the perfect tweezers, Tweezerman slant tweezers have never let me down," says Tammy Fisher, founder and CEO of Browtiste. "No matter how many other pairs I've tried, I always come back to them." Fisher says that Tweezerman tweezers are the most comfortable ones she has ever used, meaning that they have a strong grip without feeling stiff. The slanted tip is ideal for lifting hair from the skin before you pull out the strand, which Fisher says is "extremely important for precision" and lets you get closer to the base, which means the hair will be less likely to break when you pull. Malynda Vigliotto a.k.a. "Boom Boom," owner of Boom Boom Brow Bar says that her studio uses Tweezerman's Slant Tweezer, as well, and says, "A sharp slanted tweezer will grab the hair out easily so it doesn't break off and become an ingrown hair." She also notes that the tweezers will "last a lifetime" because you can mail them back to the company to be sharpened. Rebecca Hoffman, owner of Bespoke Brows NYC, praised the tweezers, too, in part because of the sharpening policy and also because the slanted edge makes it less likely that you'll pinch yourself while tweezing. "You can also angle it to just use the pointy edge of the tool for really stubborn hairs," she says.
Best slanted tweezers
Tweezerman's Slant Tweezers may be the best-known design, but there are plenty of other worthy slanted tweezers on the market that we heard about from the brow experts. Lara Kaiser, an aesthetician at Shen Beauty, told us that her favorite tweezers are Tweezerman's gold Ultra Precision. "I have, like, five pairs of them in my kit. They can easily grab all the little fine hairs and are just perfection," she says.
Eyebrow specialist Elke Freudenberg told us about tweezers from Lavaque, which she uses professionally at her studio but that she also recommends for use at home. The slanted tweezers are her pick for cleaning up stray hairs. "I highly recommend using a slanted tweezer because you don't have to worry about poking yourself," says Freudenberg. "With a pointed tweezer you have to be really careful because you could easily stab yourself." Freudenberg suggests tweezing after a hot shower or after applying a warm compress to the brow area to soften and relax the skin and hair follicle. Then, use one hand to hold the skin taut, and the other to grab the hair and move the slanted tweezer so that it's flat against along your skin. "And the slower you pull, the better," Freudenberg says. "Some people go really quick with it, and that can kind of sting."
Siemieniaka calls these tweezers from Anastasia Beverly Hills — a company founded by aesthetician Anastasia Soare, who made her name in Los Angeles by tweezing celebrities' eyebrows to golden-ratio perfection — an "all-around favorite." That's because these stainless-steel tweezers "have a slightly slanted tip that is perfect for facial hair (if you've noticed some chin 'adornments' lately), eyebrow grooming, and big-toe plucking, for those 'too late to wax, but refuse to shave' situations."
Best pointed tweezers
Freudenberg uses LaVaque's pointed tweezers for "fine-tuning and detailing" — though be sure to heed her earlier warning about being careful when using pointed tweezers — and says that as she works closer to the brow, she prefers this kind of tool. "Slanted tweezers are for shaping and defining the brow, but pointed tweezers are really great for getting any hairs that broke, or the little black dots that you see when hair is about to pop through — and you can get baby hairs, as well," she says.
"For ingrown hairs, you might want a pointed-end tweezer," explains Kaiser. Though she notes: "You have to be really careful to sanitize properly because you're likely breaking skin. It's not just OCD talking, you can get staph from dirty tools, which is way less cute than an ingrown, trust me. Freudenberg also stressed the importance of using clean tools, and suggests cleaning your tweezers with 70% alcohol before and after each time you use them. (And if you are often dealing with these nasty ingrowns, here are some other aesthetician-approved products to prevent ingrown hairs and treat razor burn.)
"If we're talking about the hair that is partially hiding beneath the skin, this is the tool to get it out," says Siemieniaka. These stainless-steel ones from Rubis are, in her opinion, "probably the sharpest and narrowest pointed-tip tweezers out there, so be careful and maybe don't use it for your facial hair."
Siemieniaka is quick to warn that "Some ingrowns should be left alone. You know which ones I'm talking about: You can see that hair right under the skin. There's some inflammation and redness as well. It starts to look pretty much like a pimple." For those, the worst thing you can do is attack it with your fingers, so Siemieniaka offers a somewhat unorthodox recommendation: "Medipoint Splinter Remover. Use only to gently lift that 'trapped under the skin' hair up (and only when you can see the hair, don't perform surgeries with this little tool), and then use your regular tweezers to remove the struggler. When done, apply ointment with an antibiotic to the treated area." And remember to keep your tools and your hands clean. "Alcohol pads are super easy to use, so no excuses."
Best tool for removing larger areas of hair
If you're less concerned with precision and just want to get rid of facial hair, Kaiser likes this "little springy device." It's not technically a tweezer, but, as Kaiser explains, "this is sort of like at-home threading. Hurts, but does the job much more quickly than tweezing. It's not to be used on the brows because it's not precise. You just twist the handles until you're smooth."
The Strategist is designed to surface the most useful, expert recommendations for things to buy across the vast e-commerce landscape. Some of our latest conquests include the best hair care essentials, whitening toothpaste, very black mascara, tinted lip balm, acne mask, magnifying mirror, and all-natural deodorant. We update links when possible, but note that deals can expire and all prices are subject to change.
Every editorial product is independently selected. If you buy something through our links, New York may earn an affiliate commission.