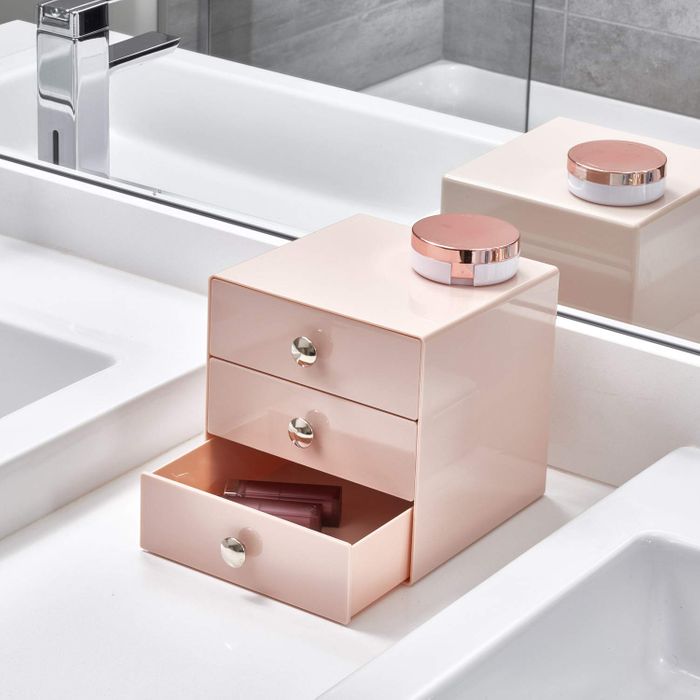 Photo: Courtesy of the retailer.
Here at the Strategist, we like to think of ourselves as crazy (in the good way) about the stuff we buy, but as much as we'd like to, we can't try everything. Which is why we have People's Choice, in which we find the best-reviewed products and single out the most convincing ones. (You can learn more about our rating system and how we pick each item here.)
And while we've written about lots of organizers before — including jewelry organizers, closet organizers, and desk organizers — here, we've rounded up the best makeup organizers, as praised by the most enthusiastic reviewers on Amazon.
Best-rated makeup organizer
With nearly 5,000 five-star reviews, this acrylic makeup organizer "makes me feel like I have my life together. Even though I'm still struggling with contour and matching wings, at least my makeup is organized," one reviewer puts it. Another reviewer typically "just throws all of my makeup into a plastic food container or Ziploc baggie," but she says, "It was just becoming very annoying." She found this "gem" and writes, "It isn't gigantic by any means but it is the perfect size to keep all of the makeup I use regularly. Everything has its place now." A few warn that this actually is on the small side, so serious makeup gurus might need two of them to fit their full collection But for one reviewer, "I am not an everyday makeup wearer kind of girl or a girl that buys tons of makeup, so for me it was perfect." Another thinks this is "simply a life-saver for makeup junkies." She adds that she owns more makeup than the average person and says, "This is my favorite makeup organizer hands down. It is so useful and holds so many products."
Best-rated (less expensive) makeup organizer
This makeup organizer may be advertised as an eyeliner and lip-liner holder, but reviewers use it for more than just that. One reviewer keeps "all of my Urban Decay 24/7 eye and lip pencils as well as my Kat Von D Everlasting Lipsticks," in it, calling it, "great addition and helps to clear up the drawers or makeup bags. I like that you can see what you're looking for and they can be displayed for ease of use." Another customer is "actually using it for makeup brushes," and explains "It works perfectly if the handles are slim enough." One reviewer with "a huge collection of makeup" loves this so much that "after receiving the first one, I ordered a second one. It holds pencils, eyeliner brushes, eyebrow brushes, tubes of concealer, tubes of highlighter, eyeliner that comes with fiber tips … and more! They hold securely, and it is so well designed that it doesn't take up tons of room on my makeup table." Another says she "honestly would never have gotten these" if it weren't for the "great price," but is glad she did and is looking to invest in a mascara holder now.
And now for some micro-picks for every type of makeup organizer you might be looking for.
Best drawers for makeup
One husband bought these clear drawers "for my wife's million and one make-up products," saying he couldn't quite stand the clutter anymore but also didn't want something bulky and unattractive sitting on their counter. "This holds a lot of stuff and it looks amazing," he writes.
"The clear plastic looks and feels really high quality and it makes her life very easy with so many different products in one case." And many more are impressed with the quality and size. One more reviewer convinced herself that these "wouldn't fit my Urban Decay Naked and Too Faced palettes," but after getting these, she writes, "Oh, I was wrong. They fit perfectly even with a little additional space. Now I can display the things I need to use most instead of storing them away and forgetting about them in a drawer." A third reviewer bought these to stack on her counter and says they hold "sooooo much stuff," adding, "It held all 16 of my foundation bottles in just TWO drawers. I was very skeptical when I bought these because I have a ton of makeup but trust me, so worth it."
Best makeup organizer for palettes
Makeup lovers understand how difficult it is to find a way to store palettes due to the awkward shape and occasional bulkiness. But lots of reviewers found this organizer to be a great solution. One reviewer keeps palettes from brands like Laura Mercier, Sonia Kashuk, NYX, and Too Faced in here and writes, "If you have a really slim and portable palette, two can fit in one slot. In general, one palette fits per slot." Another person used finally being organized as an excuse to buy more palettes, writing, "It's wide enough to hold my Lime Crime palettes and holds others too. Now I'm out of control. I'm buying more palettes. Soon I'll need a third." Aside from holding a lot of product, reviewers appreciate the design and construction, including one reviewer who writes, "It's very sturdy, and I LOVE how the product is from taller [from the back] and works its way down in height for multiple palettes at different sizes — wonderful to keep track of and store properly."
Best palette organizer with removable dividers
"I am not one to fall for the hype of Instagram and YouTube ranted and raved-over products, but this right here? This is such high quality," writes one reviewer who says the best part of this palette organizer is that she "can remove the dividers to make the space larger, if needed." And that ability to customize the size of the openings is what attracted a bulk of customers. "I have been looking for something to compactly contain and organize my eye shadow palettes for easy access and this is absolutely perfect," writes one reviewer who was fed up with her DIY organizational solutions. To get the most out of this organizer, she recommends "using it lying down, not standing up. I can fit 24 eye shadow palettes of varying sizes using the nine divisions provided. The dividers are also removable if more space per section is needed."
Best large makeup organizer
The main appeal of this large organizer is that it fits a lot of makeup, just like the more expensive options at stores like Sephora and Ulta do, as one reviewer puts it. She even thinks this is better than the $200 options she saw in Sephora, explaining, "I love that it's clear so I can see where everything is. The box is sturdy, well built and it holds just about everything." Another reviewer says her "makeup collection is not a mess anymore thanks to this product." She can fit everything needs, but the subtle nuances surprised her: "I like that it comes with drawer lining that grips to make up so they are not moving around in there as you open and close drawers." One more "beauty junkie" who owns "tons of cosmetics" kept her makeup in cleaned-out glass candle jars for the aesthetics, but she "really needed something for less cylindrical shaped items that would stack up and save space." She writes, "It's easy to pull out the drawers and find my makeup with the clear acrylic, and I think I'll probably get another one."
Best extra-large makeup organizers