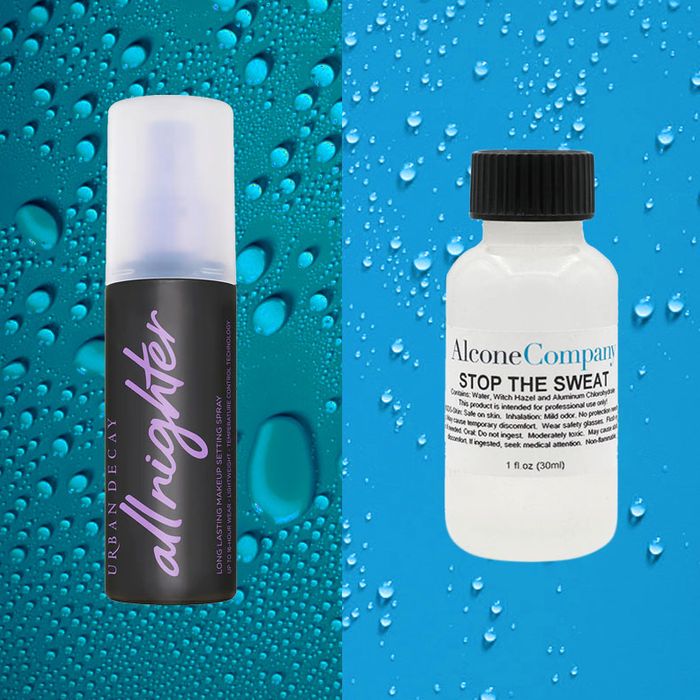 Photo-Illustration: The Strategist. Photos: Courtesy of the Retailers
In the summer, keeping makeup in place seems nearly impossible. We've all been there on sweaty days and nights: a clean winged-eyeliner look smudges into an unintentional smoky eye, or foundation somehow melts right off. But there is makeup out there that won't budge for hours, no matter how much you sweat. To find the best sweatproof products, we spoke to seven makeup artists and two beauty writers about the tried-and-true favorites they have used on their clients and themselves. Below, they recommend everything from primers and setting sprays to eyeliners and mascaras. These products have withstood everyday sweat and lasted through special occasions, like a summer Pride parade and even the New York City marathon.
The best sweatproof primers
Nearly all of the experts we spoke to said properly layering products is key for a sweatproof look — especially when it comes to face makeup. Five of them recommended starting with a face primer. Makeup and visual artist Clara Rae says that means "working in more sheer layers and letting each product do its job. Really let the primer sit and absorb in and then pack layers of foundation on top of that." Celebrity makeup artist Amy Zdunowski-Roeder says this one from Becca is ideal for anyone prone to oily, sweaty skin. "It tightens your skin and keeps your makeup looking fabulous during the steamiest of days."
If you prefer a powder primer, beauty writer and consultant Kristina Rodulfo is a "big fan" of Tatcha's Silk Canvas primer. "It smooths out pores and makes application smoother and longer lasting," she says. The formula is made with ingredients that are supposed to help support the skin's barrier function and reduce the appearance of wrinkles.
"This actually physically stops sweating," says Rae, who notes that Alcone supplies makeup for big productions like operas and SNL. Stop the Sweat isn't technically a primer, but Rae applies the tonerlike liquid product with a cotton pad or sponge and makes sure it sets before adding makeup. Because it's so effective at stopping sweat, Rae doesn't recommend it for everyday use, but she says it works wonders "when you're going out and you're really worried about sweating."
The best sweatproof foundations and concealers
The experts we spoke to recommended a wide range of foundations — including sheer and matte formulas. To make picking the right one easier, we've ordered these from lightest to fullest coverage, and we included some concealers, too.
"Products that are recommended for sweaty skin are usually matte, but I really believe there are some luminous-finish foundation products that are as amazing," says makeup artist Isabel Rosado. One of them, she says, is M.A.C Studio Radiant Face and Body Foundation, which is especially great for "minimalist makeup wearers because of its sheer-to-radiant finish." It's long-wearing, comes in over 30 shades, and even works for people with sensitive skin since it has a hydrating formula.
If you want a liquid foundation with medium coverage, Rae says Koh Gen Do's Moisture Foundation "always looks like skin and doesn't look too heavy." The lightweight formula is buildable enough to provide the coverage of a cream foundation, without the cakey feeling.