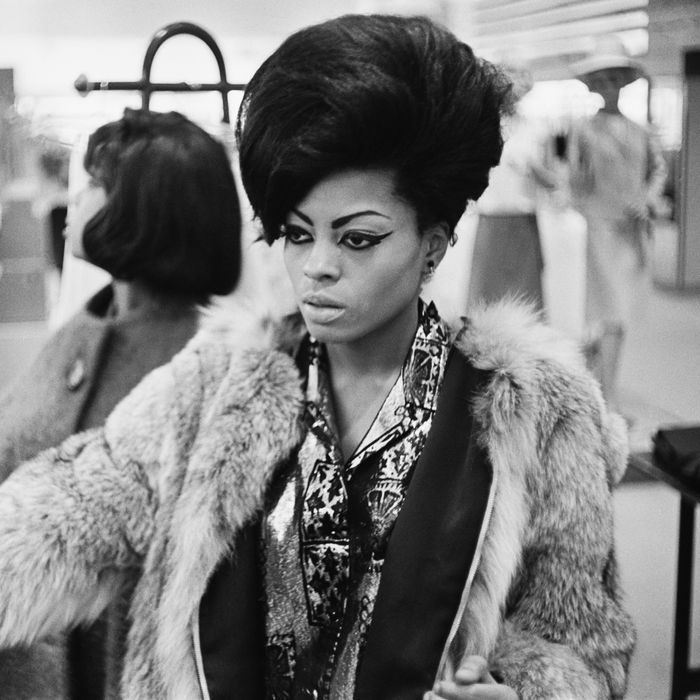 Photo: Michael Ochs Archives/Getty/Getty Images
Liquid eyeliner is a bit like the megaformer of the makeup world: challenging to figure out, but once you do, it can offer dramatic results. The right liquid eyeliner is your key to an everyday cat eye, an Amy Winehouse–esque wing, or a graphic pop of color. And not just for Sephora prices, either: Many of your drugstore liquid eyeliners can work wonders, as the eight makeup artists we spoke to below can attest. Their favorites include options with felt tips, matte pigments, and and even a highly smudge-proof formula that Winehouse herself was known to use; they've also called out the best choices for those with monolids, hooded eyelids, and mature skin. And if you're struggling to master the stroke, one guiding application rule to follow, according to makeup artist Amanda Shackleton, is to "apply very tiny, evenly spaced dots close to the lash line in the shape you wish to achieve, which will give you a much better chance of making a tighter, more precise line. Then use gentile strokes to connect the dots." Eventually, as you get more confident, you'll be able to get your flick right in one go.
Best overall drugstore liquid eyeliner
Four of the experts we spoke to praised the Maybelline Eye Studio Master Precise Liquid Eyeliner for its ease of use, super-inky pigment, and fine tip. "I find felt tip pens so much easier and more comfortable to use than traditional liquid liners," explains makeup artist Glenn Brownell, whose clients include Eva Chen and Audrey Gelman. "This one is ideal because of its superfine tip, and its fluid consistency doesn't skip so you can get the perfect wing every time." Makeup artist and groomer Amber Amos agrees and adds that "the slightly stiff felt applicator gives the control and precision you need." Both Amos and New York City–based celebrity makeup artist David Maderich also mentioned that the tube has a nifty rubber grip that helps you keep control over the line as you go.
Best drugstore liquid eyeliner for beginners


This eyeliner from drugstore standby L'Oreal Paris was another favorite among the experts we spoke to, especially for beginners, because of its precision felt-tip applicator and removable stencil that makes "drawing the perfect feline wings and flicks easy," explains Maderich. Celebrity makeup artist Amy Zdunowski-Roeder, who has worked on sets for Bravo and Netflix, agrees and adds that the pigment is "super-duper black," dries down fast, and is waterproof so it will last all day (and night). And if you happen to lose the stencil, Maderich has this hack: "Apply a small piece of scotch tape to the corner of the eye, then follow the line with your liner." If you do make a mistake, use a cotton swab soaked in eye makeup remover, like Dermalogica's Soothing Eye Makeup Remover, to get rid of any mistakes quickly, he says.
Best drugstore liquid eyeliner for experts
If you can apply a wing in your sleep, then you're ready to graduate to this liner, which Rodriguez recommends for skilled users. The trickiness comes down to the consistency, which Rodriguez describes as "very liquidy," and the stiff felt tip that doesn't conform to the eye. It also picks up a lot of product, they say, and takes a while to dry, so it isn't something to grab and go, but rather best applied when you have time to let it dry. But complications aside, Rodriguez insists that it's worth it: "It is incredibly, incredibly black, incredibly matte, and seriously lasts all day," they say.
Best classic drugstore liquid eyeliner


Liquid liners fall into two categories: those with felt-tip applicators — like the two above — and traditional liquid liners. While the felt-tip pens function more like Sharpie markers, the classic versions of these liners, of course, involve dipping your applicator into a paint pot filled with liquid pigment. Generally, the experts we spoke to agreed that felt-tip liners are easier to use and are more beginner-friendly. While it comes down to a matter of preference, if you're looking to achieve "razor-sharp wings and tight lines," Maderich suggests going for an old-school paint-pot-and-brush liner, like this one, which has been praised in reviews for the classically thick, stay-put line it creates. Maderich admits it does "take practice" and steady hands to master, and offers this tip: Steady your drawing hand by resting your elbow on your other hand, which will help you get a straight line. The product is also cruelty- and paraben-free, as well as hypoallergenic, making it a good bet for those who struggle with sensitive eyes.
Best drugstore liquid eyeliner for mature skin


Zdunowski-Roeder loves this sweat-, humidity-, and heatproof liner because it offers "a pigmented punch" while still "creating a flawless, even soft-looking effect" due to the precise applicator. She specifically uses it for her clients with mature skin, as the liner doesn't seep into fine lines around the eye. And if you find that you can still see your lid through the line, Shackleton has this trick: "Lift your lid and fill in the lash line from underneath," which will also help give more definition around the eyes.
Best long-lasting classic drugstore liquid eyeliner
Zdunowski-Roeder also loves this liner from Milani (a classic paint-pot-and-brush version), calling it "immovable," and a product that really "goes the distance throughout the day." Makeup artist Kasey Spickard is also a fan, but notes that it does require a little more skill than a felt tip liner. But, he says, the payoff is worth it. "The payoff is worth the work. Once it's locked in, it won't move for the rest of the day," he says. To add an extra level of staying power to your makeup look, remember to prime your eyelids first. And because waterproof formulas can be tough to get off at the end of the night, opting for an oil-based makeup remover, like Glossier's Milky Oil (a favorite of Rio's), is best.
Best long-lasting felt-tip drugstore liquid eyeliner
According to Zdunowski-Roeder, "This product will not move! Whether it's a hot day or you've just watched a tear-jerker movie, this liner will stay intact." Of all the drugstore liners she's used, she calls this felt-pen one "overall favorite," due to the vegan formula, highly pigmented formula, and superfine tip.
Best drugstore eyeliner for creating Amy Winehouse wings


According to New York City–based makeup artist Clara Rae, this is the liquid eyeliner used by none other than Amy Winehouse. To wit, it's great for creating wings — the tip is "super-pointy and flexible," according to Rae, and it moves with the contours of your eye. It also has a "very rich black" pigment that dries very matte, is smudge-proof, and lasts up to 16 hours. "Usually liquid liners tend to dry out fast, but I have found that this one lasts the longest," she adds, so you'll certainly get the most bang for your buck.
Best drugstore liquid eyeliner for monolids and hooded eyes


Because of the no-budge formula, Maderich recommends this eyeliner for people who have hooded eyes or monolids, promising that it "will never transfer" onto your upper lid. "Most liquid liners stay put pretty well, but L'Oréal Lineur Intense Felt-Tip Liquid Eyeliner stands out as being indestructible," says Maderich. "I've used this eyeliner on an underwater photo shoot and it held up for the entire shoot." Former Strategist writer Lori Keong also had this eyeliner on her list of the the best liquid eyeliners for monolids, calling it the best drugstore eyeliner she's ever tried. "I've gone through countless tubes of these over the years and like how well they draw lines with minimal smearing."
Makeup artist Karol Rodriguez also likes this one for hooded eyes, which dries down to a satin finish, has an ultrafine tip, and gives you an incredible amount of control. "Hooded eyes can sometimes be overpowered by liner that's too thick," they say, noting that the bristled tip adds to its flexibility. It also won't skip or bleed into any small wrinkles on the eyes, they say, and "seriously lasts all day."
Best metallic drugstore liquid eyeliner


For more rock-and-roll makeup looks, Shackleton is a fan of Wet N Wild's Metallic Mega Liner, which comes in both metallic brown and gunmetal. The hint of glitter is quite wearable, she says, and adds some "shine and dimension" to the eye. When drawing your flick, Shackleton says that if you extend it out too far past your eye or angle it too low, the eye can actually begin to look droopy. To make sure your eye looks elongated and open, she suggests using your lower lash line as a guide, and stopping where your lower lash line ends.
Best colorful drugstore liquid eyeliner


If the standard wing feels a little too expected, you can always try a colorful liner, like this one from L.A. Girl. While the color is supersaturated, the fine tip keeps the line thin, "so it's just the right amount of color," explains Shackleton. She's particularly fond of the emerald shade, but the liner also comes in dark blue and plum, as well as the more standard brown and black.
Best buildable drugstore liquid eyeliner
Zdunowski-Roeder calls this an "absolutely excellent product," due to the superthin brush and buildable formula, which she says makes it easy to "create any precise look." She promises that it also dries down quickly and doesn't smudge — even if you accidentally rub your eyes at your desk.
Best drugstore liquid eyeliner for weddings
For a clean, matte finish, celebrity makeup artist Ashunta Sheriff-Kendricks likes to use NYX Matte Liquid Liner, which she says works great for all "skin types and tones." "If a liner has a shine to it, light can reflect in different places in photos and make it look imperfect," explains Brownell. "NYX Matte Liquid Liner dries down flat," making it a good choice for events or weddings. Plus, it's super-opaque so you only need to apply one layer. And at less than $4 a tube, it is the cheapest option on this already very affordable list. And if you want the same high-intensity pigment but with a vinyl finish, makeup artist Jessica deBen is a fan of NYX's Vinyl Liquid Liner.
Best drugstore liquid eyeliner with a vinyl finish


Alternatively, if you prefer a shiny, vinyl finish or more of a Katie Jane Hughes look, there's Revlon's ColorStay Exactify Liquid Liner. The liner also features a wheel-tip applicator that is "great for beginners who want to try a cat eye or other cool effects," says Zdunowski-Roeder. "It's smudge-proof and won't fade," adds Sheriff-Kendricks.
Best drugstore liquid eyeliner with a curved brush


This Maybelline liner has a unique, angled tip that "hugs your lash line for an elegant and precise cat eye," says Zdunowski-Roeder, who adds that you can control the thickness of the line while applying by adding pressure.
Best quick-drying drugstore liquid eyeliner


Milani Eye Tech Extreme Liquid Liner Vinyl is a highly pigmented black liquid liner with a "supersharp precision-tip application" that "dries instantly for long wear," says Sheriff-Kendricks. It's available in both a matte and vinyl finish, and is also vegan and cruelty-free.
Best ultrablack drugstore liquid eyeliner
Although Sephora isn't technically a drugstore, Spickard swears by this inexpensive liner from the brand's in-house collection, calling it "one of the best liquid eyeliners out there." He first learned of it from a celebrity makeup artist he assists, and has been hooked ever since: "The intensity of the black and the staying power can not be beat, not even by luxury brands."
Best drugstore liquid, graphic eyeliner
A recent addition to Rodriguez's collection, this super-black liquid eyeliner became a favorite instantly. "It's by far the darkest drugstore liner I've ever tried," they say. It's ultrafine (it has a 0.1mm tip), making it a good option for graphic, intricate line work. This is also the liner's downside, says Rodriguez — such a thin line makes mistakes likely. "Definitely have Q-tips on hand for cleanup," they say.
The Strategist is designed to surface the most useful, expert recommendations for things to buy across the vast e-commerce landscape. Some of our latest conquests include the best acne treatments, rolling luggage, pillows for side sleepers, natural anxiety remedies, and bath towels. We update links when possible, but note that deals can expire and all prices are subject to change.