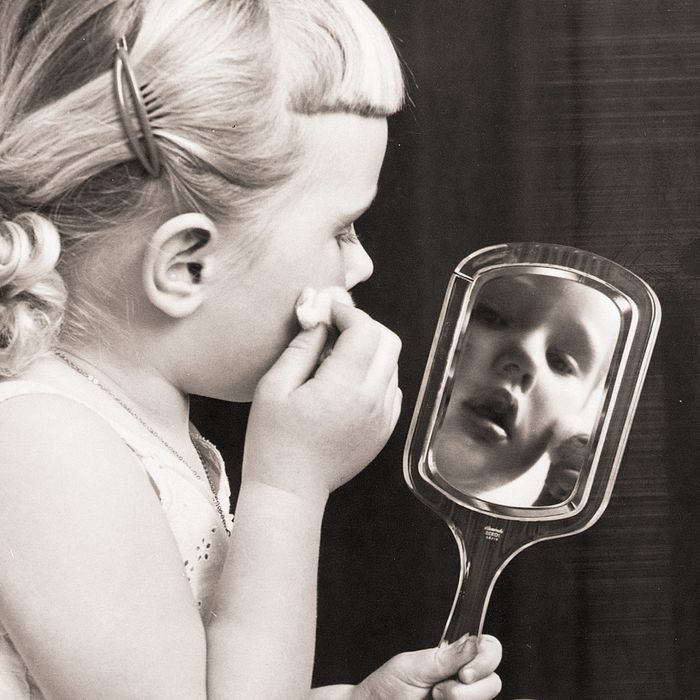 Photo: Bettmann/Bettmann Archive
If you want a smooth canvas for putting on your makeup — after you've cleansed and moisturized, of course — then primer should be the very next step in your routine. "Primer is the bridge between skin care and makeup," according to makeup artist Shara Strand. Certified physician assistant Ami Dalal of Schweiger Dermatology Group in New York City agrees, saying that primers "provide an extra layer between your makeup and your skin and help smooth the look of your skin, even out skin tone, and help your makeup last longer."
But because it's a product that will sit on your skin all day long, certified physician assistant Alexandra Gold says it's important that the primer be non-comedogenic (i.e., it won't clog pores). "You want your skin to be able to breathe throughout the day and not create an opportunity for acne to develop or worsen," she says. Luckily, there are plenty of primers out there that do double duty — nourish and protect the skin while creating the ideal base for makeup application — that are also affordable. As makeup artist Zarielle Washington advises, your regular skin-care routine has a lot to do with how your skin responds to primer: "Everything has to be in sync in order to see the best results from the primer," she says. "You want to understand what it is you want the primer to accomplish for your skin." And so, with a range of skin types and concerns in mind, we consulted a panel of nine skin-care experts and makeup artists for their favorite primers, all available at your local drugstore.
Best overall drugstore primer
NYX's Honey Dew Me Up Primer was recommended by two of our experts — Dalal and Honey Artist makeup artist Kornelija Slunjski — for its two-in-one formulation. A gel serum facial primer that does the usual primer work of giving you a smoother-looking complexion, it's also infused with honey, gold flecks, and collagen that actually help treat the skin — these ingredients work together to "specifically help neutralize redness and dark spots while giving you a glow," according to Dalal, and are purported to have anti-aging benefits that last even after you wash the stuff off. Slunjski, who says that this primer "could definitely compare to high-end hydrating primers," likes that it "sits really nicely on the skin and makes it look refreshed and dewy." She adds that the texture is interesting: "It feels sticky at first, but that disappears quickly."
Best drugstore primer for shimmery makeup
Here's another shout-out for a NYX primer, but one that's specifically for use with makeup that has glitter in it. (And we don't just mean Lady Gaga–style glitter; this could also include the more understated "glitter" you find in everyday makeup like shimmery eye shadows and cheekbone highlighters.) It's recommended by Clara Rea, a Honey Artist makeup artist, who says that it's her "all-time favorite drugstore primer." While she believes that primer isn't necessary if you take good care of your skin and use the right makeup, she says that this one "works magic with any loose glitter as well as any glittery pigments by locking them in place and increasing the vibrancy of whatever you're putting on top." She suggests using it in localized areas "for an added 'pop', like in the inner corners of the eyes, or right in the middle of the lid." And she says you can wear it under lip gloss, too, for a similar effect.
Best lightweight drugstore primer
Board certified dermatologist Dr. Sheel Desai Solomon likes this primer because it's so lightweight that she says "you don't even realize it's on your skin," adding that it "gives a healthy all over glow without looking frosty." And because of its more natural look, you can use it several ways, too: put it on without anything else for a clean, dewy look, or mix it with foundation to create a smooth finish. You can even put it on the high points of your face like a highlighter.
As Gold mentioned above, you'll want a primer that won't clog pores, and this one she recommends is a great one that's non-comedogenic and lightweight. She says that it can even be used under the eye. And while it has more of a matte finish than the Magic Lumi, the formula is quite silky, while still doing the primer's usual job of minimizing the look of pores and fine lines and creating a smooth canvas for your makeup.
Best drugstore primer for oily skin
If you have oily skin, you'll want a primer that effectively controls shine, like this one that Solomon recommends. But the additional benefit of this formulation, which, according to Solomon has "a featherweight mousse formulation that minimizes the appearance of pores," is that it manages to keep makeup in place — and withstand the "sliding" effect — even with oily skin, which other primers cannot necessarily hold up to. It's also paraben- and phthalate-free. "For a product of this quality you can't beat the price," Solomon says.
Best drugstore primer for sensitive skin
"Any skin-care product has the potential to be irritating depending on its ingredients and the tolerability of the person using it," says Gold. For those with sensitive skin, Gold recommends avoiding "fragrance, dyes, preservatives (such as parabens), oils (more for acne-prone skin), and physical exfoliants (such as beads or sand)." This primer from Revlon, which Gold recommends, is "free of oil, fragrance, and parabens, so it is perfect for someone with sensitive skin," she says. It's available in two different formulations: one for brightening the skin or reducing the appearance of pores. Makeup artist Eun Jung Kim also recommends Revlon's PhotoReady primer, saying that it "keeps skin tone bright and prevents shine."
Best drugstore primer with SPF
"I think primer should definitely be a multi-purpose product," says Honey Artist makeup artist Sofiia Strykova, which is why she loves this antioxidant-rich primer from e.l.f. "Not only does it help smooth out the skin and reduce lines, it also protects the skin against free radicals," she says. It contains SPF 50, which of course helps ward off signs of aging, Strykova stresses. She suggests applying it with your fingers if you have dry skin, and with a synthetic brush if your skin is oily. "This technique is great for keeping your skin's pH balance at its best," she says. You can use it under foundation as a makeup primer, or alone for a sheer look.
Best anti-aging drugstore primer
Dalal also recommends this serum primer from CoverGirl (in a collaboration with Olay) as an affordable primer with anti-aging properties, including ingredients like niacinamide, glycerin, hyaluronic acid, vitamin C, and retinol derivatives that, according to Dala, hydrate, smooth fine lines and wrinkles, as well as creating a base layer of protection to help your makeup go on smoothly." Bridal makeup artist Ann Benjamas Liendo also recommends it for mature skin, saying "I like that it has Olay ingredients in it," as the brand's technology "plumps the skin and makes it look fresh."
Best hydrating drugstore primer
"In winter, you don't want your makeup to look dry or cakey or crack," says Liendo. "I like a primer that I can use daily that comes with good hydration and fewer silicone ingredients." She recommends this water-based gel primer from NYX because "I like how it feels really hydrating. It's really light-weight and doesn't make you look cakey, and your skin will look fresh and grip your makeup," she says. She adds that it includes cucumber and aloe extracts that "are great for dehydrated skin."
Here's another primer that's great for dry skin — with the added benefit of a highly accessible price point — recommended by Washington, who says that you want to look for a "product that can hold and maintain the moisture of the skin." She likes Milani's hydrating primer because it contains hyaluronic acid, which is "super hydrating" and "one of the most hydrating properties that you can look for." This primer "is going to keep the skin moisturized and give it a glowy look," she says, adding, "I know a lot of us are into the matte look, but hydration is always great for youthful skin." She also recommends this primer for mature skin.
Best non-primer drugstore primer
Kim also recommends a less conventional primer for dry skin — Embryolisse's face cream, which she calls a "multi-cream with essence" — which hydrates and preps the skin to absorb moisture — "moisturizer, primer, and mask" properties. "It's called a lotion but it has essence content in it that makes it suitable to complete dewy makeup," she says. (According to Embryolisse, not only can it work as a moisturizing and protective base for makeup, it can also be used as a beauty mask, cleanser, and makeup remover, with ingredients including shea butter, beeswax, soy proteins, and aloe vera.) "I prefer using the Embryolisse as a primer over other more traditional primers in the fall and winter seasons," says Kim. "It's great for dry weather because it has an essence feature, and is very suitable for long-term shooting and weddings. It's so long lasting."
Best drugstore primer for photos
"For photo shoots, you need something that will last all day and require fewer touch ups," says Liendo. "You also want a primer that doesn't make you look too shiny, and that stays matte without looking powdery." Her go-to is CoverGirl's TruBlend primer because not only does it create a smooth base for makeup, it's also "easy to apply, looks nice and matte, and makeup stays on very well, requiring very little touching up."