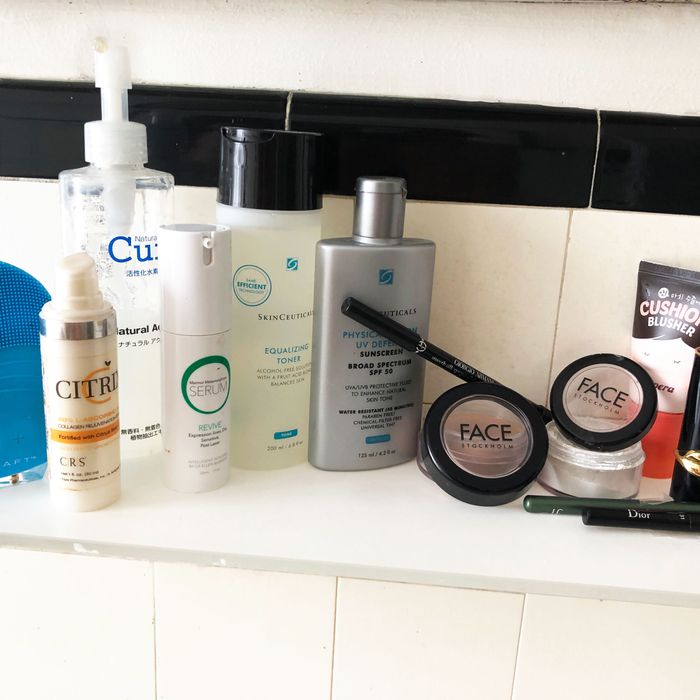 The arsenal of products the author uses regularly on her mature skin.
Photo: Linda Dyett
I began covering beauty in the 1980s — yes, I could be old enough to be your grandmother — starting out at New York Magazine and the Village Voice; then going on staff at Lear's; and then contributing to publications including Allure, Self, Glamour, Monocle, and the New York Times (to name a handful). And as much as I sometimes wish I evolved into a minimalist, the reality is that I've become even more of a skin-care and makeup fiend over the years. I try everything that cosmetics companies send me, I can't help but stop and reconnoiter any Space NK or Sephora I'm passing by, and I'll even wear lipstick and eyeliner to the gym (though not a lot).
You're probably wondering what state my skin is in. Back in my 20s, my pale complexion with yellow undertones always looked sallow. No longer. I've accumulated scattered wrinkles and creases, and my skin isn't nearly as firm as it used to be. But … after decades of Retin-A and AHAs, it's smooth and even-toned, with enough luminosity to deflect from some of the sagging. In testing new products, trial and error have taught me to cut through the hype. High-end doesn't impress me, and rock-bottom bargain prices don't deter me. Effectivity and how it looks on my skin matter most. So does the ingredient label.
When it comes to skin rejuvenators, I'm unabashedly addicted to potent vitamin-C serums and AHAs (potent meaning that the C and the AHA are high up on the ingredient label). K-beauty? Sure — some of it is deviously clever. As for makeup, I look for easy spreadability and savvy, nuanced color. And when it comes to makeup brushes, the only one I use is for my lips. Below is the 20-product skin and makeup routine I use on days I don't spend alone with my computer (when I'm known to leave my face unwashed till mid-afternoon). When it comes to makeup, things change if I'm going out at night, but that's a story for another day. And if using 20 products just to walk out the door sounds obsessive, just think of all the ones I've learned to live without over the years!
Step 1: Cleanser
This is my favorite morning exfoliating face wash. I use it several times a week, letting it sink in for up to two minutes before rinsing it off. That way, it clears away dead skin, tightens the pores, and leaves my complexion with a mild buzz. If you're new to chemical skin exfoliants/AHAs (which are shorthand for alpha hydroxy acids, such as this formula's glycolic acid), here is the perfect gateway slougher. New York City–based dermatologist Whitney Bowe agrees, saying this cleanser's short-contact application makes it a twice-weekly "stepping stone" on your way to more concentrated AHAs.
A recent find, this USB-charging, six-speed cleansing brush with its tiny silicone bristles is a must-have. Running it over my skin for the first time, working the above cleanser in, I vowed never to lose it — or its charger. It effortlessly smooths and velvetizes my skin with 12-second pulses that let me know it's time to shift to a new cleansing zone, and the three-minute auto-shut-off keeps me from getting carried away.
Step 2: Physical Exfoliant
A couple of mornings a week, I paint on a layer of this physical exfoliant, let it sit for, say, 90 seconds, then peel it off with my fingertips. Its built-in slither quotient prevents me from applying too much pressure in any one area, and the exfoliant dries into a deliciously clingy film that takes a full two minutes to remove. But I suspect the way my fingers dance around my face as I peel it off just adds to the glowing complexion the product gives me (which lasts pretty much all day).