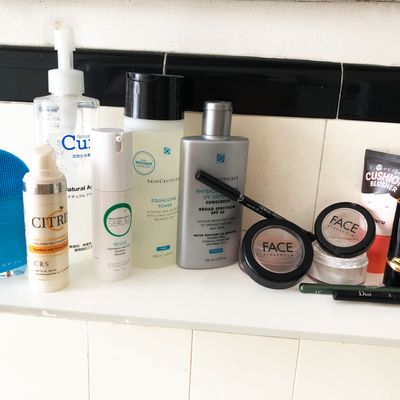 The arsenal of products the author uses regularly on her mature skin.
Photo: Linda Dyett
I began covering beauty in the 1980s — yes, I could be old enough to be your grandmother — starting out at New York Magazine and the Village Voice; then going on staff at Lear's; and then contributing to publications including Allure, Self, Glamour, Monocle, and the New York Times (to name a handful). And as much as I sometimes wish I evolved into a minimalist, the reality is that I've become even more of a skin-care and makeup fiend over the years. I try everything that cosmetics companies send me, I can't help but stop and reconnoiter any Space NK or Sephora I'm passing by, and I'll even wear lipstick and eyeliner to the gym (though not a lot).
You're probably wondering what state my skin is in. Back in my 20s, my pale complexion with yellow undertones always looked sallow. No longer. I've accumulated scattered wrinkles and creases, and my skin isn't nearly as firm as it used to be. But … after decades of Retin-A and AHAs, it's smooth and even-toned, with enough luminosity to deflect from some of the sagging. In testing new products, trial and error have taught me to cut through the hype. High-end doesn't impress me, and rock-bottom bargain prices don't deter me. Effectivity and how it looks on my skin matter most. So does the ingredient label.
When it comes to skin rejuvenators, I'm unabashedly addicted to potent vitamin-C serums and AHAs (potent meaning that the C and the AHA are high up on the ingredient label). K-beauty? Sure — some of it is deviously clever. As for makeup, I look for easy spreadability and savvy, nuanced color. And when it comes to makeup brushes, the only one I use is for my lips. Below is the 20-product skin and makeup routine I use on days I don't spend alone with my computer (when I'm known to leave my face unwashed till mid-afternoon). When it comes to makeup, things change if I'm going out at night, but that's a story for another day. And if using 20 products just to walk out the door sounds obsessive, just think of all the ones I've learned to live without over the years!
Step 1: Cleanser
This is my favorite morning exfoliating face wash. I use it several times a week, letting it sink in for up to two minutes before rinsing it off. That way, it clears away dead skin, tightens the pores, and leaves my complexion with a mild buzz. If you're new to chemical skin exfoliants/AHAs (which are shorthand for alpha hydroxy acids, such as this formula's glycolic acid), here is the perfect gateway slougher. New York City–based dermatologist Whitney Bowe agrees, saying this cleanser's short-contact application makes it a twice-weekly "stepping stone" on your way to more concentrated AHAs.
A recent find, this USB-charging, six-speed cleansing brush with its tiny silicone bristles is a must-have. Running it over my skin for the first time, working the above cleanser in, I vowed never to lose it — or its charger. It effortlessly smooths and velvetizes my skin with 12-second pulses that let me know it's time to shift to a new cleansing zone, and the three-minute auto-shut-off keeps me from getting carried away.
Step 2: Physical Exfoliant
A couple of mornings a week, I paint on a layer of this physical exfoliant, let it sit for, say, 90 seconds, then peel it off with my fingertips. Its built-in slither quotient prevents me from applying too much pressure in any one area, and the exfoliant dries into a deliciously clingy film that takes a full two minutes to remove. But I suspect the way my fingers dance around my face as I peel it off just adds to the glowing complexion the product gives me (which lasts pretty much all day).
Step 3: Toner
None of those moisturizing toners that've cropped up in recent years make sense to me. Toners are supposed to be the residue-removing finale to cleansing. I dislike it when they pile on anything new. I want them to purify. That's just what this SkinCeuticals toner does, leaving my complexion desirably taut and so ready for what comes next.
Step 4: Serums
My skin loves high-grade serums. And since I couldn't choose among my three favorites, I'm including all of them. Each has its own unique mix of ingredients and takes a different pathway in improving the skin — so for ongoing benefits from all of them, I rotate them from day to day. The Citrix active vitamin-C formula, in its airtight pump container, I'm convinced, really does what it claims to do: build new collagen and reduce brown spots (after using this serum exclusively for a few weeks, I noticed brown spots fading and my complexion becoming more even toned). It also leaves a warming sensation that Pavlovian conditioning has taught me to crave like a zealot. Right at the top of the ingredient list, along with vitamin C, are not one but four silicone compounds, allowing this serum to ease onto my face like magic. If you're new to potent C, start with one of Citrix's lower, 10 or 20 percent, formulas.
Deciem, the Canadian cosmetics company that's partly owned by Estée Lauder, has a wide range of products whose infuriating names only chemists can understand. But all is forgiven when I use this second-generation powerhouse copper potion from Deciem's Niod subdivision. It instantly firms up my cheeks and leaves a glow on my skin and, if I use it at night as well as in the morning, my face remains skating-rink smooth for a couple of days.
This one, part of a pace-setting product line from the New York dermatologist Ellen Marmur, I always use on mornings when I'm going to wear foundation. My very choosy makeup-artist friend Brigitte Reiss-Andersen introduced this wrinkle-tackling, inflammation-reducing antioxidant formula to me as a superlative makeup primer — but, if I'm pressed for time, it also works as a moisturizer for my eyes, throat, and face.
Step 5: Moisturizer
If my post-serum skin still feels dry, I pat on a dollop of this recent non-gooey discovery, based on a formula smuggled in from Uzbekistan. One of its oddball ingredients is hops, which is supposed to give the skin the same soothing effect it has in beer. Another is moisture-binding pea peptide. I can't swear that they make a difference, but I do love the way this cream sinks in immediately, leaving zero oil slick.
Step 6: Eye Cream
Nowhere is my complexion drier than on my lower eyelids. This pump-dispensed cream delivers instant but long-lasting dewiness and — I realized after a few days of use — plumps up and helps disguise the under-eye hollowness.
Step 7: Sunscreen
I finally found a titanium oxide–zinc oxide sunscreen that doesn't produce a ghostly white glow. Instead, with its translucent color spheres, this liquidy, serum-y UV protectant leaves my face with a slight even-toned glow. It's weightless, too, and feels like silk gliding onto my face, ears, and neck. Tiny pinging blender balls added to the formula remind me to shake the bottle before applying.
When I don't feel like wearing makeup, the routine ends here. But when I do, read on for the products I use.
Step 8: Concealer
I apply all my eye makeup first, so I can clear away any liner and eyeshadow soot that might otherwise fall onto my foundation-covered cheeks. I start with a concealer. This one goes on as if self-propelled, and not only covers the haunting darkness under my eyes but disguises the circles that've been forming beneath each lower lid. Plus it's got UV protection. Brilliant.
Step 9: Eyeliner
A prime goal on my first trip to Paris, back in the 1960s, was to get a Jean Seberg–in–Breathless pixie haircut at the Carita salon. I did. Divine. Back at the hotel, my friend Nicki took a long, caustic look, pounced on her makeup bag, and pulled out the not-yet-opened liquid eyeliner she'd bought that day. An eyeliner virgin, I urgently needed black-rimmed eyes, which Nicki painstakingly applied, despite all my blinking. Ever since, I haven't had an eyeliner-free day in my life. Eventually, I switched to softer pencil liners, and for the nuanced look I now desire, I combine two different colors. For starters, Armani's classic Smooth Silk Eye Pencil (which has a sponge smudger at the opposite end) in medium-brown Shade No. 2.
After drawing the brown base line, I trace on the wondrous E.L.F. pencil liner in Golden Olive, a shade that had to have been devised to bring out the murky green in my hazel eyes. Despite the rock-bottom price, it glides on effortlessly. Bonus: A sharpener is built into the lid. Genius!
Step 11: Brow Pencil
One day while I was scrutinizing the house brand Retractable Brow Pencils at Sephora, a roving makeup staffer approached and rather amiably urged me to try shade No. 7, Auburn. She was spot-on. Ever since, that chestnutty shade has been my go-to brow color; it's a softer accent to my tinted Irish-setter-red hair than my naturally ash-brown brows. I also like how thin this pencil is and how it deposits just the right amount of tint.
Step 12: Foundation
Much as the new generation of weightless liquid foundations impress me, I keep reverting to my Face Stockholm cream formula in shade E (the fifth out of 23). Taking up mere specks of this thick, high-pigment cream with my fingertip, I dot them onto my nose, cheeks, and forehead, then blend them in like crazy. Discolorations and texture irregularities vanish, yet my face doesn't look done.
Step 13: Face Powder
I know — using face powder dates me. But when I don't use it, I find my nose develops an undesirable shine every five or six hours like clockwork. So on goes this colorless, ultra-ultra-light loose powder (which I find far superior to cakey pressed powder).
Step 14: Blush
With my pale skin, I need a very light, almost imperceptible petal-pink blush. I stay away from powder formulations, which can go on too heavily; my current choice is this liquidy formula from Peripera, in shade No. 4 (which Riley Rose calls Shy Pink, but I've seen other retailers call Pleased Pink). I ignore the cushion applicator on the cap, instead squeezing out a smidgeon with my fingertip and apply it gingerly above the apple of each cheek, sweeping it beneath my lower eyelids.
Step 15: Lipstick
For years and years, I was on a nonstop quest for the perfect nude-pink lip color with hints of plum, brown, and especially caramel. How hard could that be? Turns out, very. Finally, it dawned on me that I could mix it myself. And I do, starting with a base layer of the heavily pigmented Kevyn Aucoin lipstick in a shade that's that's aptly named Bloodroses — so dark it's almost black. I wait a minute, blot it, and then over that insistently dark base layer, I brush on another matte color, the far lighter, divinely mauve-inflected Pat McGrath shade known as Venus in Furs — one of the all-time great nudes. Mixing that with the Aucoin Bloodroses produces the elusive lip color that took me three decades to find. To blend these two disparate colors, I finally acquiesce and pick up a makeup brush. It keeps my lips from bleeding and, like a collapsible periscope, the brush closes in on itself — I have a long history of losing brush caps, which is a big reason I don't use most brushes. I guess that means I'm not that big of a beauty maximalist after all.
The Strategist is designed to surface the most useful, expert recommendations for things to buy across the vast e-commerce landscape. Some of our latest conquests include the best acne treatments, rolling luggage, pillows for side sleepers, natural anxiety remedies, and bath towels. We update links when possible, but note that deals can expire and all prices are subject to change.