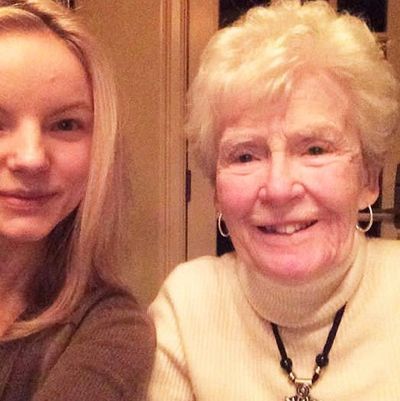 Laura and her 91-year-old grandma, who loves a good lipstick.
In our advice column, Ask the Strategist, we take your most burning shopping questions and scour friends, call up experts, and draw from personal experience to answer them. As always, please comment with one of your own — we're here to help.
QUESTION: Hello Editors at NYMag,
This summer, my 91-year-old grandmother spotted my lipstick (Revlon, Coral HD) and insisted on a tube of her own. As she approaches her 92nd birthday in October, I'd love to get her some cool-lady flattering makeup, but elderly women are rarely represented in beauty content.
I'm glad that there's more out there about being "fabulous at 70," but as life expectancies climb, there are many women who want to look "fabulous at 90" too! My grandmother lives in an assisted-living complex with many ladies who would probably love to learn a few new tips and tricks.
Is there any way you could pull in some beauty experts to make recommendations for products perfect for older ladies with super-delicate skin and excellent taste?
Included here: a pic of me and Grammy.
Thanks!
Laura
Hey, Laura,
Cute pic. My grandma lived until she was 94 and still went to the beauty parlor (parlah, as she would say), like, every week.
To get these grannys looking fresh, I reached out to Paul Gooch, a BAFTA-winning hair and makeup artist who has worked on films including Les Miserables, Miss Peregrine's Home for Peculiar Children (along with many other Tim Burton projects), and The King's Speech. Here's what he had to say:
"To my knowledge, there are no companies that manufacture cosmetics specifically for women over 70. This is because rather than change products after a certain age, it is more beneficial to change application, technique, and product choice. The market is flooded with every conceivable texture and color of makeup so the choices are almost limitless, but having made up many older actresses during my 32 years as a makeup artist, here are some things I would suggest to help with application."
"Firstly, look after your skin. Protect it from the sun and have regular facials. Always use moisturizer and eye creams after cleaning. Drink water regularly."
"Choose a foundation that gives a little more color to your natural skin. This will help give back the often-lost skin color tone. Keep the foundation very light in application. Heavy bases build up in lines and wrinkles, especially around the delicate skin near the eyes. Once you have applied a light wash of base, you can apply heavier cover to any areas that need it. Laura Mercier does a tinted-moisturizer range that gives this light cover, and most brands make suitable concealers. Professionally I use a palette from Le Maquillage, which has 24 skin tones; it's great for blemish cover and can be diluted to use as an overall base."
"Cream blushers work really well on older skin. Apply these before powdering. Avoid overpowdering as this will also cause buildup in lines and wrinkles."
"Avoid shimmery foundations and eye shadows. They can look 'sweaty' on older skin. An eye primer will help the longevity of eye shadows."
"Consider having your eyelashes tinted. This makes for a very low-maintenance makeup regime and avoids mascara smudging under the eyes. Also, it can be difficult to apply mascara if you struggle to see without glasses. Eyelash extensions are a small miracle in the makeup world and are becoming increasingly popular. This is a technique whereby single hairs are added to each of your natural lashes to increase the length and volume. There can be a tendency to overdo these, which I think looks fake and trashy. Less is more.
"For sparse eyebrows, the technique of microblading has become popular, but if you don't want this semi-permanent enhancement, simply fill and extend your brows with a suitable shade of brown eye shadow using a brush or a light application of brow pencil."
"Purchase a good-quality set of makeup brushes from a professional makeup store and, if you don't already possess one, buy a strong magnifying mirror. All of this will help with your makeup application and stray-hair removal."
Paul put together a pretty extensive list, but I also checked in with Ashley Weatherford, a beauty editor over at the Cut, and she had a few suggestions, too: Covergirl's collaboration with Olay, called Simply Ageless Foundation, was marketed for older skin (although Ellen Degeneres was the spokesperson, so not that old). Ashley also suggests Dior Capture Totale and Lancôme's lifting foundation.